No matter where you are in the world this week, from Ohio, Minnesota, and California in the U.S. to Budapest, Italy, Moravia, or just on your computer at home, there's an event or webinar waiting for you! Topics range from medtech and advanced manufacturing to SOLIDWORKS, dental 3D printing, post-processing, and more. Read on for all the details!
Call for Speakers: 2024 Implant Polymers Conference
Before we get to this week's offerings, we wanted to let everyone know that registration, and the call for speakers, is now open for the Implant Polymers Conference, which will take place both online and in Barcelona from June 20-21, 2024. This hybrid event will welcome the UHMWPE, PEEK, and polymer implant additive manufacturing community, and abstracts are focused on, but not limited to, topics such as clinical results for PAEKs; 3D printing of bioresorbable polymers, PEEK, PEKK and CFR-PAEK medical devices; point-of-care 3D printed implants; bioactive PAEK innovations; implant development for high-temperature polymers like PAEK and PPSU; and more.
"The purpose of the meeting is to bring together engineers, scientists, regulators, and clinicians from academia, industry, and government to present leading edge research on advancements in medical grade UHMWPE, PEEK, and the rapidly growing field of polymer implant additive manufacturing technology. In addition to UHMWPE and PEEK, the meeting will also broadly showcase point-of-care additive manufacturing of implantable polymers. The meeting will cover two full days and address the evolving interests of our polymer implant communities."
You can register for the conference here, and submit an abstract here.
3D Printing News Unpeeled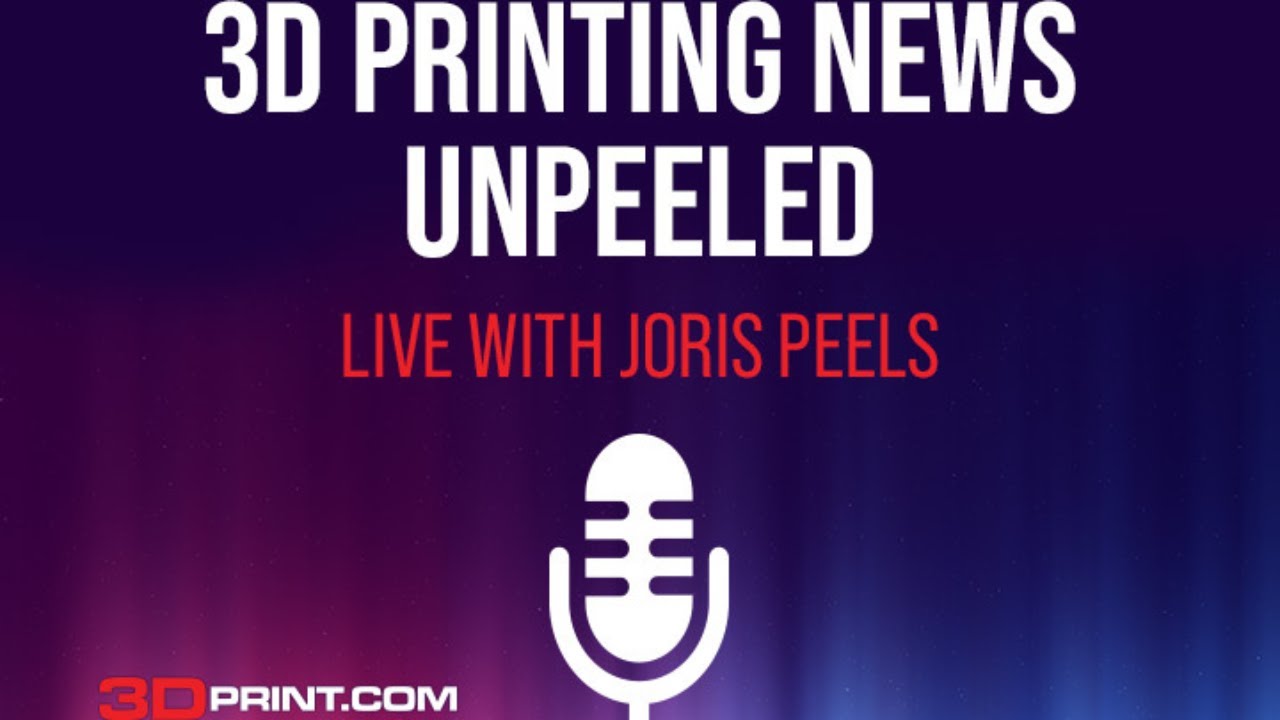 Our Executive Editor Joris Peels, who's also the Vice President of Consulting at Additive Manufacturing Research (formerly SmarTech Analysis), offers a news livestream one to two times a week called 3D Printing News Unpeeled at 9:30 am EST. For each episode, Peels gets on LinkedIn Live and tells us, in 20 minutes or less, what he considers to be the top news stories from the 3D printing industry that week, and why they're important. Some of the stories in his roundup are ones we've covered at 3DPrint.com, and some are not, but they are all equally interesting and impactful.
October 8: MiMe Global Youngstown Grand Opening
Ohio-based 3D printing company MiMe Global, which specializes in high-quality miniature replicas, is officially opening its new store in the Mahoning Valley! In June of 2019, the company won the Eastwood Mall Small Shop Showdown competition, and received six months of free rent, advertising, and marketing from the Cafaro Company, which owns the mall complex. MiMe has done so well for itself since then that it closed its location in the Eastwood Mall, and opens the new store at 2533 Belmont Avenue in Youngstown this weekend.
All weekend, there have been giveaways, discounts, and tours of the new space, and several food truck vendors were parked outside as well. But today, October 8th, will be the official ribbon-cutting at MiMe Global's new Youngstown store.
October 9 – 11: MedTech Conference
From October 9-11 in Anaheim, California, the MedTech Conference & Investor Forum will take place. Over 400 world-class speakers will be presenting on a variety of medtech topics in more than 100 sessions, and there will be over 200 exhibitors as well. There will also be plenty of time for networking, a cross-cutting educational program, and multiple tracks, including Supply Chain; Legal & Healthcare Compliance Best Practices; Diversity, Equity, & Inclusion; Business Strategies & Finance; and Digital Technologies, which will like include some discussions about additive manufacturing and other related technologies.
"Attendees can expect dynamic conversations focused on key topics, including artificial intelligence in health care, emerging regulatory and reimbursement pathways, the ways in which M&A activity is impacting health care delivery and wearable innovations for chronic condition management."
You can register for the conference here.
October 10 – 11: Advanced Manufacturing Minneapolis
The largest annual "end-to-end" design and manufacturing event in the Midwest will be Advanced Manufacturing Minneapolis, taking place from October 10-11. This will feature five trade shows under one roof, spanning the industries of automation, design, medtech, plastics, and packaging, with over 500 leading suppliers onsite to tell you all about the latest trends. There will also be three keynotes, multiple sessions in the Engineering Theater, Medtech Central, and the Tech Theater, exhibit floors, and complimentary networking opportunities, including a welcome reception and booth bar crawl.
"Come explore the latest technologies, equipment, and solutions at our five-in-one event bringing together Medical Design & Manufacturing (MD&M), Automation Technology Expo (ATX), Design & Manufacturing (D&M), MinnPack, and Plastec, all under one roof. In addition, we are partnering with the Minnesota Chapter of the American Society for Quality's Minnesota Quality Conference and the Surface Mount Technology Association's International Electronics Manufacturing Conference and Exposition."
You can register for the trade shows here.
October 10 – 12: The Experience Stratasys Tour Continues
The Experience Stratasys Tour is taking its mobile showroom across the U.S., so educators, designers, and manufacturers have a convenient way to see the company's latest materials, 3D printers, and solutions. The truck is staying down south this week, specifically Georgia. First, on Tuesday the 10th, it stops at Gwinnett Technical College in Lawrenceville, hosted by Prototyping Solutions, and then heads to the Kennesaw State – Marietta Campus on Wednesday the 11th, hosted by TriMech. Finally, on Thursday the 12th, GoEngineer will host a stop at New Realm Brewing in Atlanta.
"Speak with 3D printing experts from Stratasys and our partners to find out how your organization can benefit from 3D printing – whether it's bringing a printer in-house or utilizing additive manufacturing services from Stratasys Direct. Let us show you how Stratasys is leading the global shift to additive manufacturing with innovative 3D printing solutions for aerospace, automotive, consumer products and healthcare."
You can register for the Stratasys Experience Tour here. Stay tuned for more dates and locations in the future!
October 10 – 13: MSV International Engineering Fair
One of the most important industrial fairs in Central Europe, the MSV International Engineering Fair, will be held in Brno from October 10-13. While the primary focus is on forming and machining, all key fields of electrical engineering and machinery are represented, and there is a dedicated section of the exhibition floor dedicated to 3D printing and technology transfer, another for automation and measuring technology, one for autonomous mobility, and several others. The accompanying program includes seminars, workshops, and presentations on current technical, commercial and economic issues.
"MSV's spotlight is Industry 4.0 and Digital Factory, i.e. digitisation in production, one of the key trends of the innovation process. Other highlighted topics include the circular economy – management of material resources. This is a current trend which is a high-priority area of sustainable development as industry and trade adaptation will move forward in that direction."
You can buy tickets for the fair here.
October 10: ADDITIV Italia
Organized by 3Dnatives and powered by SPE, the first edition of ADDITIV Italia will be held virtually on Tuesday, October 10th, from 9 am until 12:30 pm CEST. This half day event is dedicated to networking, conferences, and workshops to bring together the main 3D printing players and learn more about the potential of the technology. The first conference is on the benefits of adopting AM in Industry 4.0, and then a workshop on composites 3D printing for aerospace. The final conference is about the challenges and opportunities of materials for AM, and there will time for networking as well.
"This event aims to encourage the meeting and exchange of ideas and experiences between experts and professionals who work with Additive Manufacturing or who intend to implement this technology in their business. We will talk about additive technologies, applications, and trends, with a focus on the benefits of adopting additive manufacturing in Industry 4.0 and materials for AM!"
You can register for the virtual event here.
October 10: TriMech Talks SOLIDWORKS 2024
TriMech, Solid Solutions, and Javelin are part of the TriMech Group, making up the leading SOLIDWORKS partner and among the top three Dassault Systèmes partners in the world. On Tuesday the 10th at 10 am EST, they're jointly hosting "What's New in SOLIDWORKS 2024," a free YouTube livestream focused on the software's latest enhancements and features. The livestream will have live user demos on some great new functionalities and add-ins, as well as virtual training from certified SOLIDWORKS experts on the new enhancements.
"SOLIDWORKS 2024 Pre-Release 1 is now available to all subscription customers and channel partners.

"This version is not intended for commercial work. We will update this FAQ when the release date of SOLIDWORKS 2024 SP0 has been confirmed."
There's no registration, just remember to set a notification on YouTube or add a calendar reminder!
October 10: Automated Resin Removal with PostProcess Technologies
Also at 10 am EST on the 10th, PostProcess Technologies will hold another one of its short "How it Works" webinars, this time on "Automated Resin Removal." Attendees will get to see a demonstration of the company's automated 3D post-processing, focused on removing SLA resin, and have the chance to get their questions answered live.
"Conducted by one of our post-processing experts broadcasting from our lab, you will get a close-up view of how software, hardware, and chemistry work together for transformative end part results. See the solutions running on the proprietary AUTOMAT3D® platform and engage in real-time Q&A."
You can register for the webinar here.
October 11: Würth Additive Group Demo Days
Würth Additive Group continues its 3D Printers in the Wild events this week, stopping in Denver, Colorado on Wednesday, October 11th. This exclusive event series, taking place at a number of key locations across the U.S., will showcase the power of industrial 3D printing. Each one will cover 3D scanning and making digital models, workflows and software of reverse engineering, a diverse array of materials, digital inventory solutions, and automated post-processing equipment. Plus, if you have a challenge for the team, you can either send your STL file or CAD design early, or bring your part to the event.
"Industrial 3D Printing ain't easy, but we take a comprehensive approach to simplify it for everyone. Come learn how to make a digital model of a physical part and print it on demand."
You can register for the event here.
October 11 – 12: Inaugural GLASTA Symposium
The Great Lakes Aviation and Space Technology Alliance (GLASTA) is a U.S. and Canadian effort, founded in 2022 by The Ohio Aerospace Institute (OAI), the Council of the Great Lakes Region (CGLR), and Aero Montréal, for the purpose of strategically exploring aerospace industry opportunities for business development, collaborative innovation, and supply chain in the Great Lakes region. This week, they are holding the inaugural GLASTA Symposium in Cleveland, Ohio, starting with a networking reception from 5-8 pm EST on October 11th and continuing with the symposium at OAI on the 12th.
"The inaugural Great Lakes Aviation & Space Technology Alliance (GLASTA) Symposium offers participants an opportunity to hear from industry leaders and shape the future of aerospace across the Great Lakes region. The focus of this year's Symposium will be on opportunities in Ohio and Quebec within the Advanced Air Mobility and Space sectors. Join luminaries from Ohio and Canada as we gather to set a foundation from which the alliance can develop, redefining boundaries and possibilities."
You can register for the reception here and the symposium here. OAI members are eligible for free admission, and the cost is $95 for non-members, though if you're purchasing two or more tickets, you'll get $20 off each one.
October 11: Real-World TrueDent Experience with Stratasys
At 3 pm EST (2 pm CDT) on the 11th, Stratasys will offer an exclusive webinar on "Insights from TrueDent Experts – How it really works." Attendees will hear about the real-world experiences of dental lab professionals using TrueDent, and learn tips and techniques to achieve excellent results. Real world case studies will show how TrueDent has changed how these professionals approach removables and dentures, and there will be a dedicated Q&A session with digital dentistry enthusiast John Madden CDT, who manages the prosthetics lab in the Clinics at the University of Minnesota and runs John Madden Prosthetics, a small digital removable lab.
"Don't miss this opportunity to gain invaluable insights and expertise that can elevate your dental lab practice with the latest technology. Register now to secure your spot and stay at the forefront of digital dentistry."
You can register for the webinar here. Attendees can receive one CE credit for this webinar.
October 12 – 14: Dental World Exhibition
Speaking of dental 3D printing, the international Dental World exhibition and congress will be held in Budapest, Hungary from October 12-14. 80 speakers will be presenting at the conference, which will actually consist of five international dental congresses, each one focused on a different section: Aesthetic, Endodontic, Implantology, Orthodontic and Digital Dentistry. Dental manufacturers and service providers will be exhibiting, and there will also be hands-on courses and workshops, live surgeries and demonstrations, and networking opportunities, including the Gala Dinner.
"For more than two decades now, the leading players in dentistry have been meeting in Budapest to gain knowledge, experience and expertise.

"The presence of more than 300 dental manufacturers will guarantee first-hand experience of all the innovations that will be seen in dental practices in the years to come."
You can register for the conference here.
October 13: NEPIRC's Manufacturing Day 2023
To celebrate its regional manufacturing industry, the Northeastern Pennsylvania Industrial Resource Center (NEPIRC) is hosting Manufacturing Day 2023 at the Mohegan Pennsylvania Casino & Convention Center on Friday, October 13th. There will be a keynote presentation, product and robotics demonstrations, expert-led workshops, over 80 exhibitors, and time for networking with buyers, leaders, business owners, and decision-makers. Plus, there will be several special breakout sessions, including one on 3D Scanning & Reverse Engineering, and panel discussions, like one on cybersecurity and another on women in manufacturing.
"You won't want to miss Manufacturing Day if you're a manufacturer, a non-manufacturing business that partners with manufacturers or wishes to form relationships with those in the industry, economic development organizations, students and faculty and anyone who wishes to learn more about the manufacturing sector in our region."
You can buy tickets for NEPIRC's Manufacturing Day 2023 here.
October 14 – 15: Personalized Device Design with Materialise Mimics
Finally, Materialise is holding an in-person training in Mumbai about "Personalized Device Design with Mimics Innovation Suite" from October 14-15. The training, which will be in English, includes hands-on experience with the software, as well as lunch. On the first day, the focus will be on fundamentals, including anatomy segmentation from medical image data and preparing 3D models, and then shifts to advanced features, such as design for patient-specific instrumentation (PSI), on the second day. Attendees will receive a certificate of completion after the course.
"Discover how to create a 3D anatomical model for 3D printing or other applications like advanced 3D analysis, procedure planning, simulation, personalized device design, and advanced visualization via virtual or augmented reality."
You can register for the training here.
Do you have news to share about any future webinars or virtual and live events? Please let us know!
Subscribe to Our Email Newsletter
Stay up-to-date on all the latest news from the 3D printing industry and receive information and offers from third party vendors.
---
Print Services
Upload your 3D Models and get them printed quickly and efficiently.