In this week's 3D Printing Webinar and Event Roundup, both Stratasys and 3D Systems continue their tours, SprintRay will hold a webinar on removable dentures, HP is sponsoring a webinar about how to scale your business with additive manufacturing, and more. But the big news this week is the inaugural edition of Formnext Forum Austin, and Formnext + PM South China is also taking place. Read on for all the details!
3D Printing News Unpeeled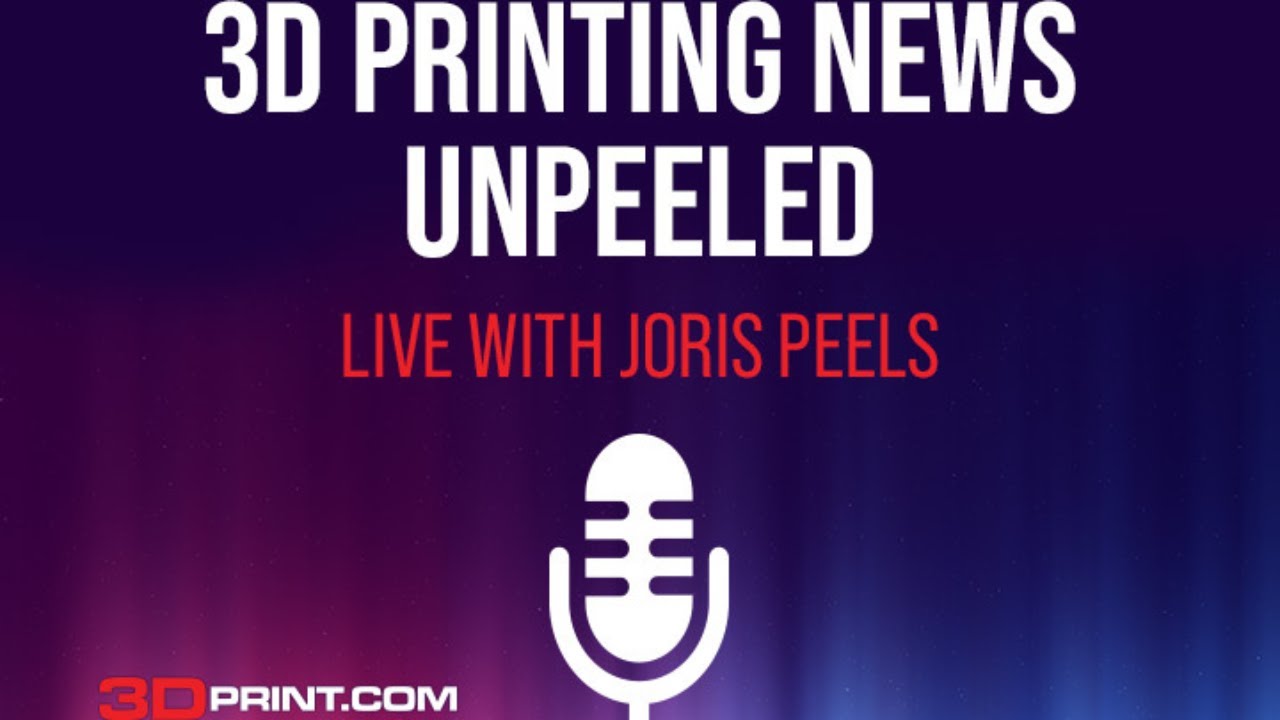 Our Executive Editor Joris Peels, who's also the Vice President of Consulting at SmarTech Analysis, offers a news livestream one to two times a week called 3D Printing News Unpeeled at 9:30 am EST. For each episode, Peels gets on LinkedIn Live and tells us, in 20 minutes or less, what he considers to be the top news stories from the 3D printing industry that week, and why they're important. Some of the stories in his roundup are ones we've covered at 3DPrint.com, and some are not, but they are all equally interesting and impactful.
August 28 – 30: The Experience Stratasys Tour Continues
The Experience Stratasys Tour is taking its mobile showroom across the U.S. and giving designers, educators, and manufacturers a convenient way to see the company's latest materials, 3D printers, and solutions. The truck is parking in San Diego, California this week, with two stops at Dave & Buster's on Monday the 28th—one hosted by SDM and the other hosted by H2i. On Tuesday, GoEngineer will host a stop at Green Acre Campus Point. Finally, on Wednesday the 30th, a stop at Park Commons will be hosted by Purple Platypus.
"Speak with 3D printing experts from Stratasys and our partners to find out how your organization can benefit from 3D printing – whether it's bringing a printer in-house or utilizing additive manufacturing services from Stratasys Direct. Let us show you how Stratasys is leading the global shift to additive manufacturing with innovative 3D printing solutions for aerospace, automotive, consumer products and healthcare."
You can register for the Stratasys Experience Tour here. Stay tuned for more dates and locations in the future!
August 28 – 30: Formnext Forum Austin
In the "Silicon Hills" of Texas this week, the first edition of Formnext Forum Austin will take place from August 28th through 30th. It seems like a must-attend industrial AM event, and will also serve as a test for how leading trade show organizer Messe Frankfurt fares with its first go at hosting a 3D printing trade show in North America. There will be over 70 industry-leading exhibitors, local facility tours, more than 20 expert-led technical sessions, networking opportunities, the Cool Parts Show, and more. If you're looking to evaluate, evolve, or expand your AM operations for functional, end-use, series part production, you don't want to miss this event.
"Formnext Forum Austin is the first in a series of events to drive industrial 3D printing innovation and growth in the Americas. Hosted in one of the world's most tech-forward manufacturing communities, Formnext Forum Austin, will connect leaders from across the industrial additive manufacturing supply chain."
You can register for the trade show here. 3DPrint.com is an official Media Partner and will be in attendance, so keep an eye out for us!
August 28 & 31: AWP & Markforged Demo Days
Markforged continues its Demo Day open house events at Advanced World Products (AWP) in Fremont, California on August 28th and 31st. These free events feature Markforged's large-format FX20 carbon fiber composite 3D printer, and there will be demonstrations of this printer, along with Smooth TPU 95A flexible filament, the Metal X, X3, X7, Mark Two, and Onyx One printers, and new Metal X updates, including 17-4 Fine Features. Visitors will also hear about tips for identifying 3D printing opportunities, and customer applications that prove the ROI of these systems. Attendees will also receive a Markforged t-shirt.
"Experience the NEW Markforged FX20 Carbon Fiber/Ultem 9085 Composite 3D Printer in action at the AWP/Markforged Open House and learn how quick and cost-effective parts can be designed and fabricated for manufacturing."
There are one-hour time slots available from 8 am until 6 pm PT, and you can register for your preferred day and time slot here. One registered person can bring up to five guests with them.
August 29 – 31: Formnext + PM South China
At the Shenzhen World Exhibition and Convention Center from August 29th through 31st, Messe Frankfurt will hold Formnext + PM South China. Over 15,000 visitors are expected from all over the world, with more than 300 exhibitors setting up across approximately 20,000 square meters of space. A range of advanced equipment, products, and technology in AM, powder metallurgy, materials, software, design, and processing technologies will be covered at the event.
"Hundreds of Chinese and foreign exhibitors will showcase a series of cutting-edge technologies and equipment, including high-performance raw materials, design, software and processing technology in additive manufacturing, powder metallurgy and advanced ceramics."
Online registration for the trade show has closed, but you can still register for free onsite.
August 29 & 31: 3D Systems Additive Insights Roadshow
Continuing its Additive Insights Roadshow this week, 3D Systems heads to three states, stopping first in Dearborn, Michigan from 3-7 pm EST on the 29th. No visits are scheduled on the 30th, but the roadshow will make two stops on the 31st. From 3-7 pm EST, the tour will stop in Columbus, Ohio, and from 4-8 pm EST (3-7 CT), it will be in Dallas, Texas. Attendees will have exclusive access to the company's experts, including product specialists and engineers, who will provide demonstrations, answer questions, and offer insights into how 3D Systems' materials, printers, and software solutions can address their applications, and empower businesses to design, iterate, and manufacture with improved precision, speed, and efficiency.
"Get inspired by real-world success stories and witness firsthand how companies across industries have leveraged 3D Systems' solutions to accelerate their product development, streamline production processes, and drive bottom-line results. From aerospace to prototyping to automotive, you'll see how additive manufacturing is transforming businesses."
Keep an eye out for future roadshow dates and locations!
August 29: HCL Mastering CAM Integration for SOLIDWORKS
HCL CAMWorks is offering a webinar on "Mastering CAM Integration for SOLIDWORKS" on Tuesday, August 29th this week. Attendees will learn how to stay competitive, increase productivity, and achieve more benefits with integrated CAD/CAM for SOLIDWORKS. Additionally, they'll hear tips and tricks for an easier transition to a new integrated CAD/CAM system, see a presentation on the technology, and more. The webinar for attendees in North America will be held at 11 am EST; for attendees in EMEA, it will be held at 10 am CEST; and the webinar will be held at 9 am IST for attendees in APAC.
"Integrated CAD/CAM saves time and money by eliminating the need to maintain separate CAD and CAM files, and full associativity with your SOLIDWORKS model provides automatic updates to toolpaths and G-code whenever design changes occur."
You can learn more about the webinar here.
August 29: Stratasys FDM Carbon Fiber Solutions
At 11 am EST on the 29th, Stratasys will hold its first of two webinars this week, about "FDM Carbon Fiber Solutions." Allen Kreemer, Sr. Strategic Applications Engineer at Stratasys, has been using FDM and other 3D printing methods for nearly two decades, and will be the speaker during this webinar, teaching attendees all about the company's various carbon fiber filled materials and compatible printers.
"The applications shown will inspire attendees to think about where they can utilize FDM carbon filled materials in their operations."
You can register for the webinar here.
August 29: Hawk Ridge Systems Open House
The last event on Tuesday the 29th is a Digital Manufacturing Lab Open House by Hawk Ridge Systems in Clifton, New Jersey.  From 11 am until 3 pm EST, attendees will be able to see and hear about the latest AM releases from Markforged and HP, learn more about the company's new partner Formlabs, and meet additive manufacturing experts. The event hosts from Hawk Ridge Systems will be 3D Printing Sales Reps Charles Murphree and Bailey Williamson and Application Engineer Andrew Garchik.
"You know how impactful additive manufacturing can be, but you also know there is no one turnkey solution that can transform all businesses. This is why Hawk Ridge Systems has an expansive portfolio to accommodate a variety of manufacturing challenges. Join our additive experts at our Digital Manufacturing Lab and learn what your unique strategy could look like."
You can register for the open house here.
August 30: Understanding the Digital Denture Workflow with Stratasys
Stratasys will hold a webinar at 4 pm EST on August 30th about "Understanding the Digital Denture Workflow, From Impression to Precision-Printed Appliances." Attendees will learn the overview of intraoral scanning candidates, including a tool for successful scanning and pre-op photos for the lab, as well as extraoral scanning, including the TrueDent workflow and design, nesting, printing, post-processing, and polishing. The speakers will be Tra' Chambers, the Owner of Express Dental Laboratory in Norman, Oklahoma, and Adrienne Slevin, Stratasys Dental Sales Enablement Lead.
"Addressing the digital workflow in detail from impression to printed appliances through scan, design, and post-process."
You can register for the webinar here. Attendees will receive 1 CE credit.
August 31: Achieving Packaging Success with 3D Printing
HP is sponsoring a Design World webinar this week on "Scaling your Business with Additive Manufacturing," at 2 pm EST on Thursday, August 31st. Foxconn has leveraged 3D printing at all stages of its packaging operations to improve efficiency, and optimized over 15,000 parts across 18 assembly lines. During the webinar, attendees will learn how to apply these strategies to elevate their own operations from speakers Josh Almeter, AM Engineer at Foxconn; Dustin Kloempken, Lead Application Engineer at HP; and Rachael Pasini, Senior Editor, Design World. Topics will include Foxconn's story of adopting AM, how purchasing has changed and led to new ways of doing business, and more.
"Packaging organizations across the globe are struggling to cut cost, minimize down time and improve efficiency.  What if we could give your engineers a superpower – to be more efficient, productive and nimble?"
You can register for the webinar here.
August 31: 3D Printing Removable Dentures with SprintRay
In the second webinar this week about 3D printing in dentistry, SprintRay will focus on "3D Printing Removable Dentures" at 7 pm EST on the 31st. Dr. Tim Anderson, owner and founder of Missouri River Dental, will give an overview of 3D printing solutions for removable dentures, including design services, hardware, and 3D printing materials. Attendees will learn about the differences between, and benefits of, digital denture 3D printing workflows compared to traditional methods, as well as efficient digital clinical and laboratory practices for 3D printing removable dentures, and more. Plus, they will receive 1 CE credit for attending.
"3D printing solutions can significantly reduce lead times for removable dentures and improve the patient experience.

"Discover the 3D printing digital denture workflow that delivers treatment in as few as 2 appointments."
You can register for the webinar here.
September 20: 3DPrint.com & EOS Present DIGITAL FOAM
We're getting this on your radar early: at 10 am EST on September 20th, EOS and 3DPrint.com will present a webinar on "DIGITAL FOAM: The Key Player in Polymer 3D Printing Customization." In a discussion moderated by Executive Editor Joris Peels, SmarTech Analysis VP Consulting, some of the top questions related to the DIGITAL FOAM platform will be discussed by Dr. David Krzeminski, EOS North America Senior Additive Minds Consultant; Caleb Ferrell, Advanced Laser Materials (ALM) General Manager & EOS North America Operations Manager; and Jon Walker, EOS North America Government Relations & Key Account Manager.
"Register to attend the webinar and listen in as EOS experts review the current polymer AM landscape, discuss future advancements of DIGITAL FOAM®, and highlight real-world DIGITAL FOAM® application examples. Learn more about how DIGITAL FOAM® can revolutionize the way you look at manufacturing customization and the possibilities that can come from leveraging polymer 3D printing."
You can register for the webinar here.
Do you have news to share about any future webinars or virtual and live events? Please let us know!
Subscribe to Our Email Newsletter
Stay up-to-date on all the latest news from the 3D printing industry and receive information and offers from third party vendors.
---
Print Services
Upload your 3D Models and get them printed quickly and efficiently.