There are several conferences and trade shows to tell you about in this week's roundup, along with a few webinars as well. Materialise will discuss what's new in Magics, 3D Systems will introduce you to the MJP 2500W Plus printer, America Makes will hold a town hall for members, Velo3D's roadshow continues in Europe, and more. Read on for all the details!
3D Printing News Unpeeled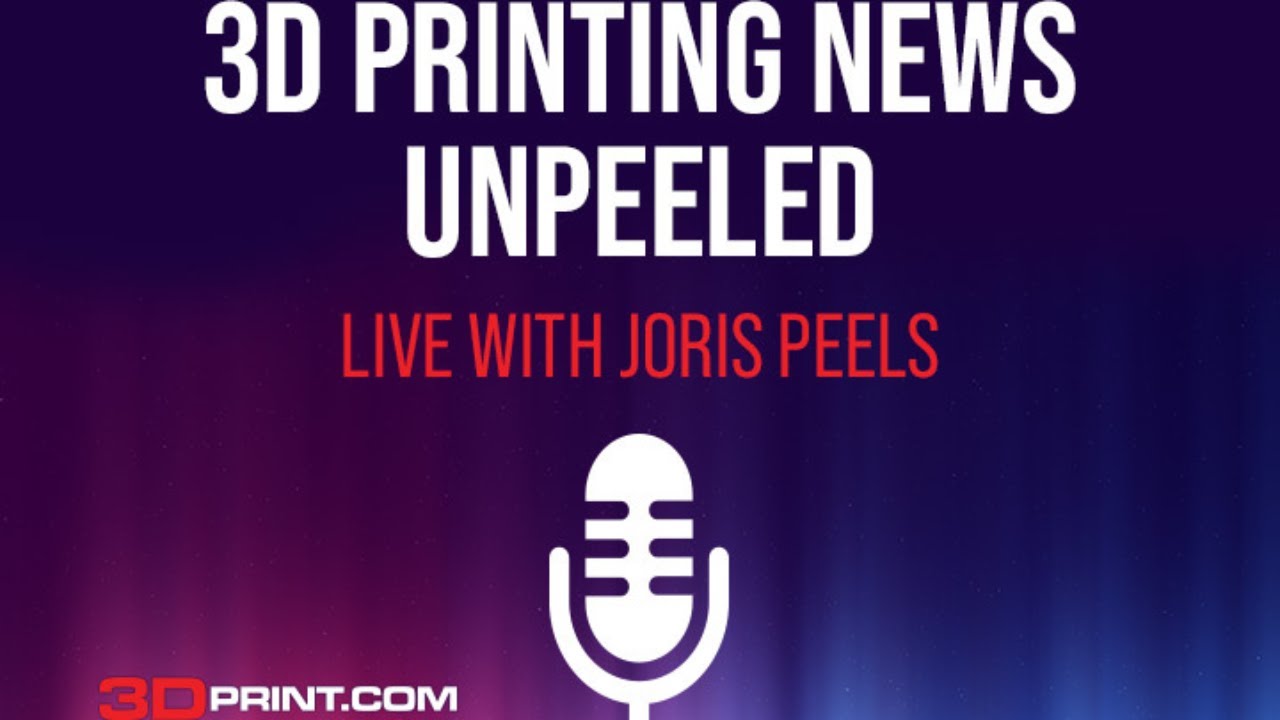 Our Executive Editor Joris Peels, who's also the Vice President of Consulting at SmarTech Analysis, offers a news livestream one to two times a week called 3D Printing News Unpeeled at 9:30 am EST. For each episode, Peels gets on LinkedIn Live and tells us, in 20 minutes or less, what he considers to be the top news stories from the 3D printing industry that week, and why they're important. Some of the stories in his roundup are ones we've covered at 3DPrint.com, and some are not, but they are all equally interesting and impactful.
May 22 – 23: ISG TechXchange – Smart Manufacturing
First up, from May 22-23, ISG (Information Services Group) is holding TechXchange: Smart Manufacturing in Chicago. With a focus on improving efficiency and productivity, the event welcomes industry leaders and ISG subject matter experts, who will share their best-practice insights to help attendees navigate the necessary processes, technologies, and culture to refocus their business strategy and achieve successful outcomes. Four main themes will be explored: technology security, the industrial metaverse, connected value chain, and sustainable manufacturing.
"Factory automation has been a dominant force for manufacturing solutions for decades, but the "Fourth Industrial Revolution" requires a greater level of connectedness between operations across the organization. A recent ISG study identified having a change management strategy that connects the value chain as the biggest challenge in manufacturing today.

"Digital technologies such as the Industrial Internet of Things, cloud computing, big data, machine learning, the metaverse and artificial intelligence are dramatically changing the way in which products are manufactured, employees work,  and customer expectations are met. Leaders are feeling the pressure to adopt innovative solutions to meet challenges and refine their smart manufacturing capabilities."
You can register for the event here.
May 22 – 25: Automate Conference
In Detroit, from May 22-25, Automate, the largest and most inspiring showcase of automation in North America, will be held. With 200 expert speakers and over 750 exhibitors on the show floor—including HP, Triton Robotics, Creaform, igus, Lumafield, and more—attendees will have the opportunity to discover powerful automation solutions, from robotics and AI to machining and 3D printing. There will be keynote presentations, small workshops, training opportunities, live demonstrations, a startup competition, and plenty of time for networking. Plus, the event will also feature a Workforce Development Day for students over the age of 12, to help them start building a strong foundation for success.
"Do you currently work, study or have a passion for automation? Interested in using it or capitalizing on it in the future? Then you need to attend Automate. As the leading automation showcase in North America, it offers hands-on, front-row experiences you can't find anywhere else."
You can register for the event here.
May 23 – 25: MedtecLIVE with T4M
If you're interested in learning more about connecting the medical technology supply chain, come to MedtecLIVE with T4M, the leading platform for the European medtech industry, in Nürnberg, Germany from May 23-25. The exhibition topics will be design and R&D; materials and components; processes, mechanical engineering, manufacturing, and automation; IT in medical technology; measurement, testing, and validation; and services in biomedical engineering. There will be a special startup area and a startup contest, as well as guided tours of the exhibition floor, and for the opportunity to discuss important medtech topics, develop new ideas, and network with other professionals, check out the Medical World Café.
"The three days of MedtecLIVE with T4M 2023 will focus on face-to-face dialogue between business partners and colleagues from medical engineering, along with discussions about the latest trends and innovations in medical technology manufacturing, from initial ideas to production."
You can purchase a ticket for the event here.
May 23 – 25: SPS Italia – Automation & Digital for Industry
Also from May 23-25, the 11th annual SPS Italia for smart, digital, and sustainable industry and industrial automation returns to Fiere de Parma in Italy. In the exhibition hall, the best automation technologies and digital solutions to help transform Industry 4.0 will be on display, and the special District 4.0 exhibition is dedicated to four fundamental areas of the industrial sector: Digital & Software, Robotics & Mechatronics, the new Sustainable Innovation, and Additive Manufacturing.
"An area dedicated to the intelligent production of the future, additive manufacturing and industrial 3D printing: from production to product development, from materials to solutions for additive manufacturing, from prototyping to digitization, to services. The project is presented by Formnext, the reference fair for additive manufacturing of the Messe Frankfurt group."
You can get a ticket for the event here.
May 23: What's New in Materialise Magics
At 10 am EST on Tuesday, May 23rd, Materialise will discuss "What's New in Magics" in a live webinar focused on the latest features of the powerful software. Attendees will learn how to automate repetitive tasks and optimize processes, how to improve control, connectivity, and traceability in production, and more from Materialise software experts Egwin Bovyn, Product Line Manager of Magics 3D Print Suite; Lieve Boeykens, Sales and Pre-Sales Enablement Manager; Laurens Schulte, EMEA Presales Manager; and Tem Bertels, CO-AM Product Line Manager.
"Experience the next level of connectivity and traceability with Magics. In this webinar, our software experts share the newest features, such as integration with our CO-AM Software Platform and the scripting options offered through our Workflow Automation tool. Join in to learn the difference our leading data and build preparation software can make in your 3D printing production."
You can register for the webinar here.
May 23: 3D Systems' New MJP 2500W Plus Printer

Also on the 23rd, 3D Systems will discuss its "New MJP 2500W Plus: Reduce gold loss with better surface finish and achieve up to 25% faster print speed" in a webinar at 2 pm EST. This new 3D printer for wax 3D printed jewelry patterns offers faster print speeds in XHD printing mode, and its new high resolution ZHD mode makes it possible to print extremely smooth casting patterns. Additionally, the printer can deliver very high-quality surface finishes, so there's less need for manual polishing at the end. Save time and waste less precious metals, while also improving quality, with this new system from 3D Systems.
"Engineered specifically to meet the unique requirements of the jewelry industry for custom and high-volume manufacturing, the new ProJet MJP 2500W Plus 3D printer produces complex, high-resolution, pure wax casting patterns with an unparalleled combination of quality and efficiency."
You can register for the webinar here.
May 24 – 25: Space Operations Summit
From May 24-25, the Space Operations Summit by Defence IQ will be held in Kensington, London. It's the only conference to look at space as not only an independent operational domain, but also an enabler for joint all-domain operations, and welcomes space commands, government officials, industry leaders, and academia to share the challenges they face, and the solutions they've found. Over 100 organizations will be involved in the conference, and as a major challenge within the sector is how space commands can better leverage commercial capabilities, outside opinions from industry, policy makers, military, and others should be especially helpful in addressing the issue.
"The conference brings together space professionals and joint operators who depend on space to deliver effect in the air, on land, at sea, providing a platform for space SMEs to engage with launch service providers, defence space leaders, and end-user customers to be all under one roof at one time."
You can register for the conference here.
May 24 – 25: Advanced Engineering 2023 at Antwerp Expo
Also from May 24-25, the Advanced Engineering conference at Antwerp Expo will take place in Belgium, which covers every stage of the product development process for all sectors of the Benelux manufacturing industry. There will be several high-tech demo zones on the show floor, including an AI Hub and a VR/AR Zone, as well as presentations, a startup event, a teacher program, and plenty of exhibitors, including 3D Infinity, Flam3D, Metal Technics 3D, and more.
"The innovations at the fair work across borders, meet and learn from your colleagues from mechanical engineering, electronics, medical devices, automotive, airspace, building materials, research, …, in short, the entire manufacturing industry. At this two-day exhibition event, you will find everything you need to take your products to the next level."
You can register for the conference here.
May 24: Velo3D Continues Roadshow in Norway
Velo3D continues its 2023 "The Proof is in the Printing" global roadshow this week with a stop in Stavanger, Norway, on Wednesday, May 24th. From 9:30 am – 4:30 pm CET, a Metal AM Workshop will be presented at Forum Jæren. The tour, which will make stops in other cities across Europe, the U.S., and the Asia/Pacific region, will show attendees how Velo3D's fully integrated solution can help achieve lower costs, better part performance, supply chain flexibility, and repeatability. There will also be real-world examples of customer-printed parts, and attendees can ask questions, and get answers from, technical experts.
"If you have struggled with production of high-quality, metal AM parts, our "Proof is in the Printing" roadshow is the perfect opportunity to speak with our team and learn how to overcome those challenges. Hear from Velo3D engineers as they share their experience in scaling up metal additive applications."
You can register for the Stavanger stop here.
May 24: America Makes Member Town Hall
Finally, on the 24th, America Makes will hold a Member Town Hall – Ecosystem at 1 pm EST. Kimberly Gibson, the America Makes Ecosystem Director, will provide an update on the Ecosystem program. The other speaker will be America Makes Membership Coordinator Laurie Wittkugle.
"This presentation is designed to inform members of recent advancements in this pillar, to promote engagement and gather feedback to ensure America Makes is responsive to the needs of the membership community."
You can register for this members-only town hall here.
Subscribe to Our Email Newsletter
Stay up-to-date on all the latest news from the 3D printing industry and receive information and offers from third party vendors.
---
Print Services
Upload your 3D Models and get them printed quickly and efficiently.