In this week's roundup of 3D printing webinars and events, Stratasys continues its North American tour, and 3D Systems starts its Additive Insights Roadshow. There's an Automation Expo in Mumbai, and XJet is holding a virtual open house for customers in North America. Webinar topics cover point of care 3D printing, CAM packing parts, SOLIDWORKS, and more. Read on for all the details!
3D Printing News Unpeeled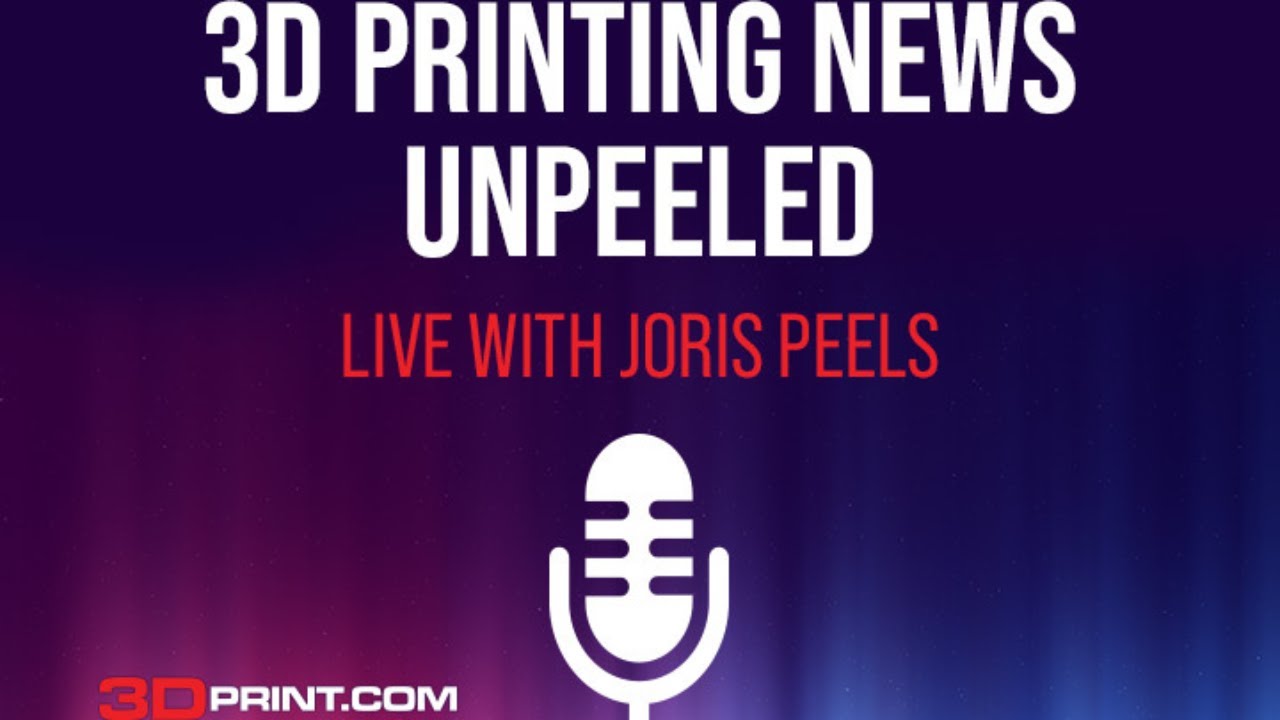 Our Executive Editor Joris Peels, who's also the Vice President of Consulting at SmarTech Analysis, offers a news livestream one to two times a week called 3D Printing News Unpeeled at 9:30 am EST. For each episode, Peels gets on LinkedIn Live and tells us, in 20 minutes or less, what he considers to be the top news stories from the 3D printing industry that week, and why they're important. Some of the stories in his roundup are ones we've covered at 3DPrint.com, and some are not, but they are all equally interesting and impactful.
August 22 – 24: The Experience Stratasys Tour Continues
The Experience Stratasys Tour is taking its mobile showroom across the U.S. and giving designers, educators, and manufacturers a convenient way to see the company's latest materials, 3D printers, and solutions. This week, the tour stays in California, visiting Topgolf in El Segundo on Tuesday, August 22nd, hosted first by SDM and second by H2i. The truck stays in El Segundo on the 23rd, with a visit to the Zimmerman Automobile Driving Museum, hosted by Purple Platypus. It finishes the week out in Hawthorne, where GoEngineer will host at Common Space Brewery.
"Speak with 3D printing experts from Stratasys and our partners to find out how your organization can benefit from 3D printing – whether it's bringing a printer in-house or utilizing additive manufacturing services from Stratasys Direct. Let us show you how Stratasys is leading the global shift to additive manufacturing with innovative 3D printing solutions for aerospace, automotive, consumer products and healthcare."
You can register for the Stratasys Experience Tour here. Stay tuned for more dates and locations in the future!
August 22 & 24: HCL CAMWorks Presents Advanced CAM for SOLIDWORKS
HCL CAMWorks is offering two "ADVANCED CAM Technologies for SOLIDWORKS Webinars" this week, which will help attendees boost productivity with design and toolpath generation. First, on Tuesday the 22nd, "Technologies to Reduce Machining Cycle Time and Increase Tool Life" will take place, focused on using the latest machining processes to remain profitable and competitive. This will be held at 11 am EST for attendees in North America; at 10 am CEST for attendees in Europe; and at 9 am IST for attendees in Asia. Then, on Thursday the 24th, "SOLIDWORKS CAM for Designs — A Path to Better Designs" will take place, teaching you how to use SOLIDWORKS CAM to improve your designs, make parts easier to manufacture, and reduce cost. Again, this will be held at 11 am EST for attendees in North America; at 10 am CEST for attendees in Europe; and at 9 am IST for attendees in Asia.
"Join us for webinars on advanced CAM technologies available for SOLIDWORKS.  These webinars will provide information on designing parts for manufacturing and generating toolpaths with shortened cycle times."
You can learn more about the webinars here.
August 22: Dassault Systèmes Focuses on Design
At 1 pm EST on the 22nd, Dassault Systèmes will offer a webinar with a "Focus on Design with SOLIDWORKS & 3D Cloud Services." Senior Industry Process Consultants Sean O'Neill and Steve Fick will teach attendees five easy ways that using SOLIDWORKS with Cloud Services will help you worry less about your data, and spend more time working on designs.
"We've all experienced it. The worry that sets in the minute you hit 'send' on a supplier email with a design attached. The heart-sink when a critical design accidently gets overwritten by a colleague. The frustration of an assembly reference lost because of a creative file-name-based revisioning scheme. It can be overwhelming trying to manage it all!"
You can register for the webinar here.
August 23 – 26: India's Automation Expo 2023
This week in Mumbai, the Automation Expo 2023 will take place at the 16th India International Trade Show. This is southeast Asia's biggest automation and instrumentation exhibition, featuring over 500 exhibitors in two halls, a CEO networking night, guided tours, and more. The show serves as an international platform to showcase the latest technology advancements, and there will be exhibitors from a wide variety of industries, including robotics, valves & piping, factory and process automation, turnkey solutions, IIOT, Industry 4.0, cybersecurity, and more.
"Automation Expo is the biggest expo for the entire South-East Asian Region for showcasing the latest innovations and providing opportunities galore to network with the best technical minds in the industry. There has been a phenomenal increase in the number and quality of exhibitors as well as visitors from across the globe. Companies from Indonesia, China, Taiwan, Singapore, Japan, South Korea, Canada, Switzerland, Denmark, Germany and Italy participate each year to reach out to the Indian market."
You can register for the expo here.
August 23: AWP & Markforged Demo Days
On Wednesday, August 23rd, Markforged continues its Demo Day open house events at Advanced World Products (AWP) in Fremont, California. These free events feature Markforged's large-format FX20 carbon fiber composite 3D printer, and there will be demonstrations of this printer, along with Smooth TPU 95A flexible filament, the Metal X, X3, X7, Mark Two, and Onyx One printers, and new Metal X updates, including 17-4 Fine Features. Visitors will also hear about tips for identifying 3D printing opportunities, and customer applications that prove the ROI of these systems. Attendees will also receive a Markforged t-shirt.
"Experience the NEW Markforged FX20 Carbon Fiber/Ultem 9085 Composite 3D Printer in action at the AWP/Markforged Open House and learn how quick and cost-effective parts can be designed and fabricated for manufacturing."
There are one-hour time slots available from 8 am until 6 pm PT, and you can register for your preferred day and time slot here. One registered person can bring up to five guests with them.
August 23: MagLev Aero Using AM to Propel eVTOL Aircraft
GE Additive is holding a webinar at 10 am EST on the 23rd about "How MagLev Aero is Using Additive Manufacturing to Propel Their Next-Generation Lean, Green Flying Machine." Magnetic levitation technology is being used to propel high-speed trains, so MagLev Aero decided to apply it to electrical vertical takeoff and landing (eVTOL) aircraft—specifically its MagLev HyperDrive platform, which enables next-gen eVTOL designs that are safer, quieter, more efficient, and more sustainable. MagLev called on GE Additive's AddWorks consultancy team to use metal 3D printing in their endeavor, and during the webinar, MagLev's Co-Founder and Chairman of the Board, Roderick Randall, and GE Additive's AddWorks team leader, Dave Chapin, will discuss how metal AM can help magnetic levitation propulsion advance urban air mobility.
"This webinar explores magnetic levitation technology, how MagLev is looking to apply it to air travel, and how additive manufacturing will play an important role in enabling magnetic levitation propulsion to advance urban air mobility."
You can register for the webinar here.
August 23: Packing Parts with Stratasys SAF Technology
Stratasys will hold a webinar at 12 pm EST on the 23rd about "Packing parts for consistency and first build success with SAF," the company's industrial-grade Selective Absorption Fusion technology, which powers the H Series Production Platform. Application Engineer Alec Logeman and Senior Project Engineer Perry Hubbling will be the speakers during this webinar.
"Presentation showing best practices to get better part to part consistency, better part quality, and optimal packing density to deliver better parts and make more money with SAF."
You can register for the webinar here.
August 23: XJet's Virtual North American Open House
The final offering on Wednesday, August 23rd, will be a webinar and virtual open house by XJet for its North American AM users. The webinar, at 12 pm EST, is "The Story of 10,000 Parts," about how XJet "cracked the code of high-quality industrial ceramic and metal AM production." The session includes a walk-through of XJet's Israeli facility, demonstrations, a deep dive into its NanoParticle Jetting technology and the materials it uses, priority access to the company's benchmark production queue for future projects, and the chance to engage in live chats with XJet's technical experts.
"Harry Danford, VP Sales North America at XJet and the whole team in Israel will take you on a tour of our unique Print-Wash-Sinter process at our facility, and showcase the remarkable capabilities of our industrial-grade AM system. You'll see how a part is made from file to final shape, and explore the possibility of manufacturing 10,000+ industrial parts with our systems that drastically reduce your production lead time!"
You can sign up for the open house and webinar here.
August 24: Advanced Post-Processing for SLS with Formlabs
Formlabs will hold "Beyond the Basics: Advanced Post-Processing for SLS 3D Prints" on Thursday, August 24th at 10:30 am IST (1 am EST/1 pm SGT). During the webinar, Minseo Kim, Application Engineer at Formlabs, will take attendees through a range of post-processing methods and high-performance materials for SLS 3D printing, plus answer any questions during a live Q&A. Topics will include advance post-processing techniques like electroplating, vapor smoothing, tumbling, dyeing, and more, as well as how to improve the durability, aesthetics, and functionality of SLS 3D printed parts.
"Selective laser sintering (SLS) 3D printing is a proven manufacturing technique with high-performance materials – and those materials can go even further in performance and appearance when paired with advanced post-processing methods."
You can register for the webinar here.
August 24: Injection Molding vs. 3D Printing with TriMech
In the second offering this week about SAF technology by Stratasys, TriMech will hold a webinar about "Injection Molding vs 3D Printing" at 10 am EST on the 24th. The differences between these two methods will be explained by TriMech's Additive Manufacturing SAF Product Specialist Tyler Shamas, and which process works better for volumized production. Attendees will learn about cost comparisons between 3D printing and injection molding, successful use cases proving 3D printing production capabilities with SAF technology, and more.
"The Stratasys H350 Using SAF technology is a powerful, production-based, powder bed fusion 3D printer. Whereas injection molding is a traditional manufacturing process used to produce high volumes of parts at a low cost with fast turnaround times.

"Not all 3D printing technologies are suitable for volume production, but the H350 is most suited for creating high volumes of complex parts with fast turnaround times at a low cost."
You can register for the webinar here.
August 24: Point of Care 3D Printing with 3DHEALS
Also on the 24th, 3DHEALS will hold a panel webinar about "Point of Care Additive Manufacturing" at 11 am EST. In addition to continuing to highlight healthcare 3D printing applications, the panel, moderated by 3DHEALS Founder and CEO Dr. Jenny Chen, will help broaden our perspective on how the technology can be integrated into current systems and other 3D technologies, like AR/VR and virtual surgical planning. Hailing from three different continents, the invited panelists will offer new experiences, inspirations, and insights with their unique lens to the 3D sector.
"Are you ready to revolutionize healthcare from the comfort of your screen? We're thrilled to invite you to an exceptional virtual event that's set to reshape the way we think about Point of Care Additive Manufacturing!"
You can register for the panel here.
August 24: 3D Systems Additive Insights Roadshow
3D Systems begins its Additive Insights Roadshow this week, demonstrating how its materials, printers, and software solutions can empower businesses to design, iterate, and manufacture with improved precision, speed, and efficiency. Attendees will have exclusive access to the company's experts, including product specialists and engineers, who will provide demonstrations, answer questions, and offer insights into how 3D Systems' solutions can address your applications and challenges. This week, the tour will stop at the Guggman Haus Brewing Company in Indianapolis, Indiana on Thursday, August 24th from 4-7 pm EST.
"Get inspired by real-world success stories and witness firsthand how companies across industries have leveraged 3D Systems' solutions to accelerate their product development, streamline production processes, and drive bottom-line results. From aerospace to prototyping to automotive, you'll see how additive manufacturing is transforming businesses."
You can register for the Indianapolis roadshow stop here. Keep an eye out for future dates and locations!
August 25: WSU/NIAR's ATLAS Research Facility
Finally, SME continues its 2023 Composite Technical Community Webinar Series with "Development of a Multi-Disciplinary Eco System for Advanced Manufacturing Innovation and Workforce Development Webinar" at 3 pm EST on Friday, August 25th. The Advanced Technologies Lab for Aerospace Systems (ATLAS) at Wichita State University's (WSU) National Institute for Aviation Research (NIAR) developed an industry-scale educational program and manufacturing environment to help prepare educators and engineers for the Factory of the Future. Launched in 2019, the facility is a makerspace for automated aerospace manufacturing research, with accessible equipment that companies can use to develop prototypes, test materials, and make informed investment decisions. ATLAS Director Waruna Seneviratne, PhD, a Research Scientist in Composites & Structures at NIAR, will host the webinar, which will teach attendees more about the lab and the work it does.
"The facility promotes collaboration among different companies working on proprietary manufacturing research. ATLAS also collaborates with industry partners to enhance efficiency, productivity, and quality. By providing access to advanced technologies, ATLAS eliminates the need for US industries to seek overseas resources for research, development, and future factory planning. Additionally, ATLAS is developing training programs to help companies quickly implement advanced manufacturing operations and aims to produce highly skilled engineers proficient in the hardware, software, and processes of future factories."
You can register for the webinar here.
Do you have news to share about any future webinars or virtual and live events? Please let us know!
Subscribe to Our Email Newsletter
Stay up-to-date on all the latest news from the 3D printing industry and receive information and offers from third party vendors.
---
Print Services
Upload your 3D Models and get them printed quickly and efficiently.