I used to picture fragile, dainty vases and pieces of pottery when I thought about ceramics; these are fairly typical applications for the non-metallic material, after all. But once I began working in the 3D printing industry, I realized that there's a lot more to ceramics than meets the eye. While the material can still be used to make decorative household objects with 3D printing, it also has applications in the medical and aerospace fields, among many others.
According to an interview that 3DPrint.com conducted with Michael Steinbach, of Steinbach AG, about technical ceramics, the material can be used in high-temperature applications, as it is able to withstand operation temperatures of 1600°C and more, remaining stable without softening or flowing. And while the cost is higher, ceramics offer a myriad of other excellent qualities, from biocompatibility and outstanding hardness to high corrosion, chemical, and wear resistance.
French company 3DCeram, a majority share of which has been owned by industrial Japanese company Sinto Group since 2017, has been 3D printing ceramic parts since 2005. Four years ago, the Limoges-based company began marketing 3D printing lines based on its Ceramaker system, which allows for the fabrication of of ceramic components without breaking the digital design chain.
3DCeram's process is characterized by laser stereolithography work conducted by Thierry Cartier, and uses a laser to polymerize a paste of ceramic and photosensitive resin. As the parts are heat treated and debinded in order to eliminate the resin and densify the ceramic for sintering, the resulting constructs have properties similar to parts made by injection or pressing.
"Based on this unique technology, 3DCERAM SINTO, together with its team of experienced technical ceramic experts, has developed a complete range of products to support its customers on technologically challenging projects: help to choose the type of ceramics, support to draw up specifications, R & D, development of a 3D part up to its industrialization, on-demand production or series-production, sale of CERAMAKER printers and associated consumables," the company states on its website.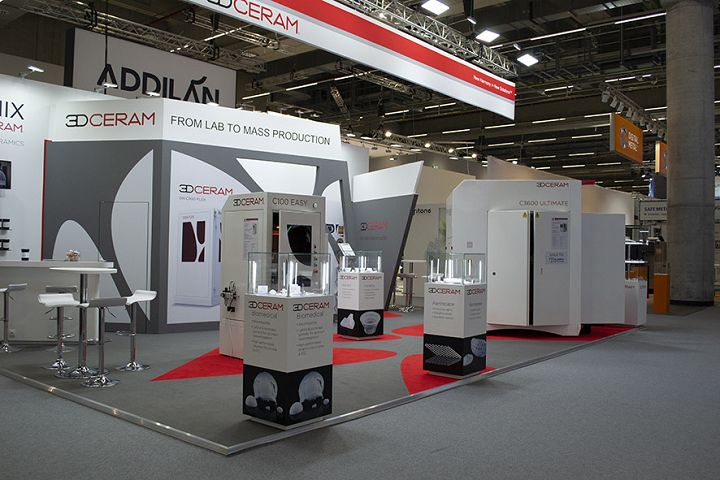 The company, which specializes in the aerospace and aviation, biomedical, and industrial sectors, recently presented its range of stereolithography-based, open 3D printers for technical ceramics at formnext 2019.
3DCeram's newest system is the C3600 Ultimate, featuring a 600 x 600 x 300 mm build platform for large-scale or mass production 3D printing. It features four lasers, which help speed the printing process up so it is, as the company stated in a press release, "compatible with industrial needs."
The C100 Easy, dedicated to prototyping and research purposes, was also showcased by 3DCeram at the recent formnext event. The user-friendly printer, with a 100 x 100 x 150 xx mm build tray and 2L-capacity cartridges, is described as an "easy scale up" to the larger C3600 Ultimate.
3DCeram's press release states, "This printer allows to launch a run in 20 to 30 minutes with only 50 ml of formulation!"
The company's first printer, the C900 Flex, comes in three different build platform sizes: 100 x 300 mm, 200 x 300 mm, and 300 x 300 mm. This way, it meets the needs of a variety of different customer types looking to print functional parts or small series out of technical ceramics.
In addition to its 3D printers, 3DCeram also offers ceramic-specific cleaning cabins, in both manual and semi-automated formats, a selection of ceramic-specific debinding and sintering kilns, and a full range of services, including training and on-site maintenance.
What do you think about this? Discuss this story and other 3D printing topics at 3DPrintBoard.com or share your thoughts in the Facebook comments below. 
[Images: 3DCeram]
Subscribe to Our Email Newsletter
Stay up-to-date on all the latest news from the 3D printing industry and receive information and offers from third party vendors.
---
Print Services
Upload your 3D Models and get them printed quickly and efficiently.