It happens with all additive manufacturing (AM) events, but with formnext in particular. It's impossible to cover every bit of news that comes out of the show in a dedicated article. For that reason, we're giving attention to the stories we missed at formnext 2023 in this week's 3D Printing News Briefs.
AM Solutions
EOS and Rösler's 3D printing division, AM Solutions, are collaborating to refine the AM workflow to enable mass production, with a focus on automating and economizing the process from printing to final product. Their partnership leverages each company's strengths in quality standards, customer-centric solutions, and a shared vision for economically viable 3D printing.
AM Solutions also announced a partnership with Shapeways at the event, with the 3D printing bureau joining AM Solutions' Beta Partner Program for the new C2 Liquid Color Smoothing technology. This collaboration follows Shapeways' earlier investment in AM Solutions' S1 and S2 technologies. The C2 technology from AM Solutions revolutionizes the finishing of 3D printed parts by combining smoothing and dyeing in one step, which streamlines the post-processing chain, diminishes capital expenses, and lowers per-part costs. The immersion smoothing technology also cuts down on processing time and is more environmentally friendly.
Having achieved the IATF 16949 standard  for the automotive sector, FKM Additive Manufacturing purchased an S2 system from AM Solutions to automate its post-processing for 3D printing. FKM will also be using the new C2 system in 2024. If you've been following Formnext news, you may have caught that FKM was the first voxeljet customer to acquire a high speed sintering company from the firm.
Equispheres
Canada-based Equispheres and Aconity3D announced a groundbreaking achievement in speed for 3D printing aluminum with laser PBF. Specifically, the pair were able to achieve build rates approximately nine times faster than the standard in the industry, reaching over 430 cm3/hr with a single laser system. This leap in productivity is attributed to the combined effect of Aconity3D's advanced printing equipment with beam shaping capabilities and the superior quality of Equispheres' aluminum powder, NExP-1. If this combined effort is applied to multi-laser machines, one can only imagine how much more productive they can get.
Materialise
While we covered the latest updates to Materialise's CO-AM platform in a separate article, separate news stories were released that signify just how foundational Materialise is to the AM sector. Specifically, HP's Multi Jet Fusion and Metal Jet technologies have been integrated into the CO-AM platform such that users can optimize their workflow and manage fleets of printers using the tools available with the suite.
Additionally, Nikon SLM Solutions, which revealed its full re-brand post Nikon acquisition at Formnext, revealed that it would work with Materialise to develop a new generation of Build Processors for Nikon's metal 3D printers, with seamless integration into the Materialise CO-AM platform. The new BPs will tackle the challenge of prolonged data processing times due to the NXG machines' large build envelopes and twelve 1kW lasers, which can lead to workflow delays.
Farsoon
At Formnext 2023, 3D Infinity publicized an order for Farsoon's efficient Farsoon Flight SS403P Dual-laser 3D Printing system to boost its series production capabilities. The Flight SS403P-2 machine, equipped with two 300-Watt lasers, will enable 3D Infinity to double its production yield within 24 hours, focusing on high-volume series production with materials such as high-performance PA11 and reinforced materials for functional end-use applications.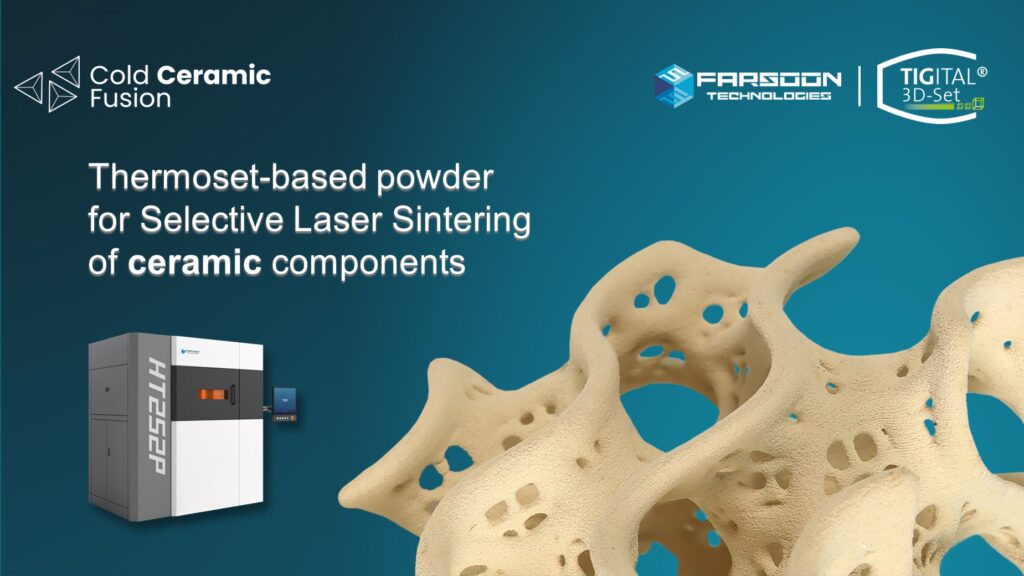 In another development, TIGER Coatings and Farsoon announced a collaboration on a ceramic thermoset-based material for laser PBF, expanding their portfolio and offering innovative solutions for the ceramic AM industry. This new material, developed within the CerAM SLS research project, is suitable for a range of applications including water treatment and catalysis, offering benefits like predictable shrinkage and the ability to print at low temperatures. The introduction of this material provides a valuable alternative for the production of high-quality ceramic parts on PBF systems, marking a step forward in Farsoon's open-platform approach and TIGER Coatings' expansion into ceramic PBF solutions.
Stratasys
In addition to releasing a new fused deposition modeling (FDM) printer at Formnext, Stratasys broadened its materials portfolio with the introduction of four new P3 materials and the development of additional validated materials for the F900. These materials, which are expected to be commercially available by late 2023 or early 2024, include Somos WeatherX 100 for durable outdoor applications, Somos PerFORM HW for high rigidity needs like injection molds, P3 Deflect 190 ESD for electrostatic dissipative parts, and P3 Stretch 80 for flexible prototypes such as seals and gaskets. Stratasys has also introduced automatic support generation in its GrabCAD Print software, simplifying workflows for Origin One printer users.
Stratasys is also expanding the F900 platform with Kimya PC-FR, a flame-resistant polycarbonate material, and FDM HIPS, a high-impact polystyrene-based material for less demanding applications, as well as introducing new colors for ULTEM, PC, and PC-ABS to increase customer flexibility and reduce post-processing costs. Alongside this, OpenAM software with an open material license is now available for the F900, allowing for printing with open materials.
AON3D
Montreal-based AON3D introduced Hylo, a high-temperature 'smart' 3D printer, and Basis, an advanced additive manufacturing software suite. Hylo stands out with its ability to print challenging materials such as carbon fiber composites and high-performance polymers like PEEK and ULTEM, which are notorious for their high strength and resistance yet difficult to print due to high temperature requirements. The printer features a large build area, remarkable print speeds, and intelligent process control powered by machine learning, which adjusts in real time for consistent quality. Basis complements Hylo by providing process simulation, thermal optimization, and part qualification tools that tackle the historical difficulties of printing high-performance polymers. It addresses defects and part performance variability by introducing material-specific thermal awareness into the slicing process.
ValCUN
Upon revealing its commercial system and first customer, startup ValCUN announced that it had been awarded a €2.5 million grant by the European Innovation Council (EIC), with the possibility of up to €5 million more in equity funding. The grant will support the development of ValCUN's Molten Metal Deposition (MMD) technology, which promises substantial cost reductions and increased sustainability over conventional metal AM technologies by using off-the-shelf metal wire, reducing energy consumption, and eliminating toxic chemicals and powders.
3D Systems
Axtra3D teamed up with Oqton and 3D Systems to unveil an innovative dental solution designed to redefine the standards of dental lab manufacturing. This solution, centered around the Lumia X1 printer, boasts an array of features such as excellent surface quality, consistent performance, and high productivity. Additionally, it offers advanced service options like expedited onsite service and predictive maintenance. The partnership harnesses Axtra3D's Hybrid PhotoSynthesis and TruLayer technologies, Oqton's AI-driven automation software, and 3D Systems' high-quality NextDent materials, providing a comprehensive package that promises to enhance the quality and efficiency of dental lab operations.
Anycubic
Anycubic took the stage to reveal the first-ever "14K resolution printer," the Anycubic Photon Mono M5s Pro, as part of their esteemed Photon lineup. This printer features a high-definition 10.1-inch monochrome LCD with 14K resolution, enhancing the detail and precision of prints. It offers remarkable print speeds—three times faster than standard, reaching 150mm/s with high-speed resin—and introduces several advanced functionalities. These include precise temperature control for the resin, effective air purification to reduce odors, and an enhanced intelligent detection system that safeguards against potential damage and improves print success rates.
It's worth noting that, often when a DLP company claims resolution beyond 4K, the increased detail is achieved using software techniques that have some drawbacks compared to native 4K resolution. True 4K resolution provides a level of precision, detail, and consistency necessary for high-quality 3D printing applications, especially where fine features and accuracy are critical. Virtual 4K can be a cost-effective alternative but may not meet the same standards as true 4K, particularly in professional or industrial environments where the finest details matter.
Sintavia
Sintavia announced its intent to be the first North American customer for the M 8K 3D printer from AMCM GmbH, one of the largest PBF 3D printers ever made. The printer boasts a build volume of 820mm x 820mm x 1600mm and is equipped with eight advanced nLIGHT lasers. The introduction of the M 8K to Sintavia's operations, expected in early 2025, is poised to significantly enhance productivity and expand design possibilities, especially for large-scale components.
Raise3D
Raise3D is broadening its horizons with the introduction of the DF2 Solution at Formnext, marking the company's foray into vat photopolymerization. This new solution leverages digital light printing (DLP) technology and is optimized for engineering prototypes, manufacturing aids, and low-volume production. The DF2 Solution is being complemented by products like the DF Wash and DF Cure, and a range of specially developed resins for various applications. Raise3D is also collaborating with partners like Henkel and BASF Forward AM to explore the future possibilities of resin 3D printing.
Nexa3D
Nexa3D unveiled its own UV curing system, designed for the desktop. According to the company, the xCURE Desktop is capable of cutting post-processing times by up to 80%. Along with the desktop curing station, Nexa3D launched three new industrial resins targeted at the automotive, aerospace, electronics, and dental sectors, expanding the potential for various applications. xPRO9400-FR, made with BASF ForwardAM, is a flame-retardant solution with high heat resistance, while PRO9499 White by Henkel provides a bright white finish ideal for detailed modeling. The Saremco Print CROWNTEC resin is meant for dental restorations, featuring a range of shades for aesthetic compatibility.
Subscribe to Our Email Newsletter
Stay up-to-date on all the latest news from the 3D printing industry and receive information and offers from third party vendors.
---
Print Services
Upload your 3D Models and get them printed quickly and efficiently.