Things are slowing down a little this week, but there are still plenty of events and webinars to attend in the additive manufacturing industry! Stratasys, and 3D Systems continue their U.S. tours, while BigRep and Solid Print3D are holding an automotive open house, ASTM International is offering a specialty workshop, and Xometry and HP take a deep dive into MJF 3D printing. There are events about medical device, materials, silicone, and more, and Materialise will hold two separate webinars this week. Read on for all the details!
3D Printing News Unpeeled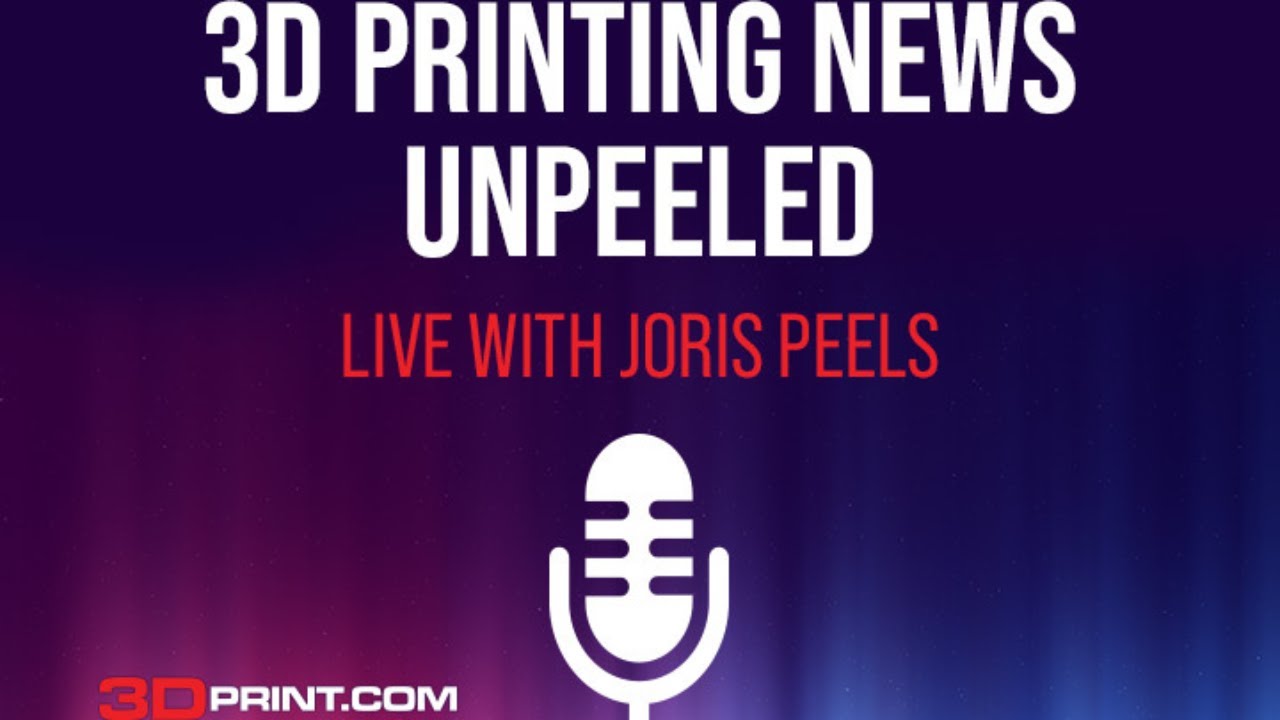 Our Executive Editor Joris Peels, who's also the Vice President of Consulting at Additive Manufacturing Research (formerly SmarTech Analysis), offers a news livestream one to two times a week called 3D Printing News Unpeeled at 9:30 am EST. For each episode, Peels gets on LinkedIn Live and tells us, in 20 minutes or less, what he considers to be the top news stories from the 3D printing industry that week, and why they're important. Some of the stories in his roundup are ones we've covered at 3DPrint.com, and some are not, but they are all equally interesting and impactful.
October 1 – 4: ASTRO Annual Meeting
In San Diego, California, from October 1-4, the American Society for Radiation Oncology (ASTRO) will hold its Annual Meeting. This is one of the world's premier radiation oncology scientific events, and will have both in-person and virtual attendance options. There will be a plenary session, posters, a Product Showcase, eight clinical trial presentations, a PRO Program, and a Presidential Symposium. Plus, there will be plenty of time for networking, especially in the Exhibit Hall.
"The meeting theme, "Pay it Forward: Partnering with Our Patients," is instilled throughout the programming. This meeting features an engaging program with the latest breaking research presented in scientific and education sessions along with dynamic networking events. Learn more about the meeting below and make your plans now to join your colleagues."
You can register for the ASTRO Annual Meeting here.
October 1 – 4: EuroPM 2023
Also from October 1-4, the European Powder Metallurgy Association (EPMA) is holding its annual EuroPM Congress & Exhibition in Lisbon. The event is an essential destination for the international powder metallurgy community to meet producers, suppliers, and end-users, and learn about the latest innovations. In addition to networking opportunities, seminars, and an exhibition, the program will feature plenary, keynote, poster, and oral presentations, focusing on all aspects of PM, from materials and production to applications, consolidation technologies, and more. Plus, Kenan Boz, Technical Manager at EPMA, told me that there will be more than 100 presentations about metal AM, "which is kind of a record."
"An expected 300 oral and poster papers will define the latest developments in Powder Metallurgy (PM) over three full days of plenary presentations and special interest seminars. In addition there will be market reviews from global specialists and workshops on essential issues."
You can register for the event here.
October 2 & 4: The Experience Stratasys Tour Continues
The Experience Stratasys Tour is taking its mobile showroom across the U.S., so educators, designers, and manufacturers have a convenient way to see the company's latest materials, 3D printers, and solutions. This week, the truck is heading to Florida, stopping first in Palm Bay at CAMID – Florida Tech on October 2nd, hosted by TriMech. On the 4th, the tour heads to St. Petersburg College in Clearwater, hosted by TTA.
"Speak with 3D printing experts from Stratasys and our partners to find out how your organization can benefit from 3D printing – whether it's bringing a printer in-house or utilizing additive manufacturing services from Stratasys Direct. Let us show you how Stratasys is leading the global shift to additive manufacturing with innovative 3D printing solutions for aerospace, automotive, consumer products and healthcare."
You can register for the Stratasys Experience Tour here. Stay tuned for more dates and locations in the future!
October 2 & 5: Würth Additive Group Demo Days
Würth Additive Group continues its 3D Printers in the Wild events this week, heading first to Chicago on Monday, October 2nd and then to Boston on Thursday the 5th. This exclusive event series, taking place at a number of key locations across the U.S., will showcase the power of industrial 3D printing. Each one will cover 3D scanning and making digital models, workflows and software of reverse engineering, a diverse array of materials, digital inventory solutions, and automated post-processing equipment. Plus, if you have a challenge for the team, you can either send your STL file or CAD design early, or bring your part to the event.
"Industrial 3D Printing ain't easy, but we take a comprehensive approach to simplify it for everyone. Come learn how to make a digital model of a physical part and print it on demand."
You can register for the event here.
October 2 – 5: ADIPEC 2023
In Abu Dhabi from October 2-5, ADIPEC 2023 will take place, hosted by ADNOC under the theme "Decarbonising. Faster. Together." The inclusive, international platform facilitates dialogue across the ecosystem, uniting industry to speed up the search, and drive investments, for collective and responsible action to decarbonize more quickly and future-proof our energy system. The conference will feature over over 350 sessions, with more than 1,600 speakers, focused on addressing critical energy and climate challenges, and 30 country pavilions, welcoming over 2,200 companies, will showcase the latest energy strategies and solutions at the exhibition, which will include Roboze, Snowbird Technologies, and Spare Parts 3D.
"ADIPEC 2023 places decarbonisation at its heart, from the cutting-edge conference programme to the innovative exhibition and exciting new features. Our mission is clear: prioritising decarbonisation across the energy ecosystem, while reducing emissions and fostering economic progress."
You can register for the event here.
October 3 – 4: Advanced Materials Show USA
Moving from the United Arab Emirates back to the U.S., the Advanced Materials Show USA will be held in Columbus, Ohio from October 3-4. Co-located with Materials Science & Technology (MS&T23), the event will showcase the latest in high-performance materials technology, including electronic materials and printed electronics, technical ceramics, graphene, composites, metals, coatings, and more. Visitors can learn about materials for a variety of applications, including aerospace and defense, automotive, batteries, electronics, energy, and semiconductors.
"Leaders in R&D, materials science and engineering will use the show to source the latest advanced materials; along with the scientific instruments and processing equipment necessary for the development, manufacture and processing of advanced materials."
You can register for the show here.
October 3: Design for Powder Characterization
On Tuesday, October 3rd, Micromeritics, a leader in powder, porous material, and catalyst characterization, will hold two sessions of a webinar about "Developing a Design Space for Powder Characterization." Often, multiple metrics are needed to offer useful insights into the behavior and characterization of powder, but, as the company explains, "large numbers of seemingly disparate parameters can be confusing and risk obscuring the useful data within." Attendees will hear more from Dr. Guy Stimpson, an Applications Scientist for UK-based Micromeritics company Freeman Technology, about this topic.
"Here we discuss ways to amalgamate data from multiple test procedures in order to produce predictive models for the selection of candidate powders in manufacturing process. Whilst the method presented focuses on tablet manufacture for the pharmaceutical industry, this approach can be used across wide ranging industries in order to provide useful test methodologies and clear metrics for powder selection."
You can register for the 9 am EST session here, and the 9 am PDT (12 pm EST) session here.
October 3: Solid Print3D's BigRep Automotive Open House
On Tuesday, October 3rd in Coventry, from 10 am until 2 pm BST, Solid Print3D is holding a BigRep Automotive Open House event at Warwick Manufacturing Group (WMG). This is an exclusive opportunity to learn about fast, accurate, and reliable large-scale 3D printing from WMG, BigRep, and Solid Print3D experts. Attendees will get hands-on with a BigRep Studio G2 and learn about the rest of its portfolio, hear about real automotive user cases, witness live 3D printing and participate in interactive product demonstrations, and get a free large-scale part analysis report if you send in your files ahead of time. Plus, you'll have the chance to take a tour of WMG's industry-leading facilities, including the International Manufacturing Centre (IMC), Energy Innovation Centre(EIC), and Mechanical Engineering Centre (MEC).
"Unique opportunity to meet with the BigRep and Solid Print3D experts, receive a FREE large scale part analysis report and tour the WMG facilities!"
You can register for the open house here.
October 3: Meet Materialise SAM
Also on the 3rd, Materialise is holding its first of two webinars of the week: "Meet SAM," the company's 3D foot scanning app. At 12 pm EST, attendees will hear from three Materialise speakers about how to use the app and upload scans, complete an analysis and create a custom patient report, why mobile scanning is a must for the future, and more.
"Get started with powerful 3D foot scanning technology on your iOS device. In this webinar, we illustrate the app's capabilities in a demo and explain how it fits seamlessly into your digital workflow to improve your practice and the patient experience."
You can register for the webinar here.
October 4 – 5: ASTM Specialty Workshop on Robotics Manufacturing
Recently, ASTM International was awarded funding from the ARM Institute to gather information and develop a roadmap for guidance and adoption of advanced robotics technologies. So together, ASTM's AM CoE and the ARM Institute are holding a specialty workshop on "Discovery & Market Analysis for Robotics in Manufacturing of Space and Hypersonic Components." The in-person workshop, held from October 4-5 at ASTM HQ in Pennsylvania, seeks input from stakeholders in manufacturing of hypersonic components, and terrestrial manufacturing of space components, to develop market intelligence, assess the current state of the industry, and lay the foundation for future technology roadmaps.
"The workshop will include active discussions and structured brainstorming sessions focused on the desired future state for this type of manufacturing within the United States, the current challenges and barriers, the R&D needs to enable faster adoption of robotics in the manufacturing process, and the timelines and action items to address the challenges and realize the future vision that is possible."
You can register for your interest for the workshop here.
October 4 – 5: Silicone Expo USA
The second edition of Silicone Expo USA, co-located with the Tape & Functional Film (TFF) Expo USA, will be held in Detroit, Michigan from October 4-5. There will be attendees from a variety of end-user groups, including consumer goods, textiles, energy, aviation, oil & gas, agriculture, construction, medical, and more. Some companies you've likely heard of in the AM industry will be exhibiting, like BASF, KraussMaffei, Saint-Gobain, and Wacker, and presentation topics include sustainability, textile silicone advancements, automation in AI labs, prosthetic application of silicone, and silicone 3D printing at ultra-low interfacial tension.
"Silicone's remarkable attributes, including its flexibility and resistance to moisture, chemicals, heat, cold, and ultraviolet radiation, contribute to the creation of stable, cost-effective, user-friendly, and exceptionally durable products. The event will draws attendees from a wide range of end user groups, fostering connections and innovation within the industry."
You can register for the expo here.
October 5: Additiv Polymers World
International virtual event ADDITIV Polymers World, offered by 3Dnatives and focused on the role and influence of polymer AM, will be held on Thursday, October 5th, from 9 am until 1:30 pm EST. Attendees will have the chance to explore and learn all about plastic 3D printing, looking at everything from material development to post-processing, with several expert speakers and the main players in polymer manufacturing. There will be plenty of time for networking, plus workshops on topics like parts certification and surface finishing, and panel discussions about the use of polymer 3D printing in consumer goods, moving towards a circular economy with AM, and more.
"When it comes to 3D printing, it is undeniable that polymers are one of the most important material families. But which are suitable for additive manufacturing? What are the applications? How can parts be certified?"
You can register for the free event here. 3DPrint.com is a proud sponsor of ADDITIV Polymers World!
October 5: What's New in Materialise Mimics 26
In its second webinar of the week, Materialise will "Discover What's New in Mimics Innovation Suite 26." At 10 am EST on the 5th, three Materialise experts will walk through the main features and new enhancements, like enhanced scripting, in Mimics 26. Attendees will learn how to use AI-enabled automatic segmentation for CMF applications, how to execute tasks in fewer clicks and gain more workflow control thanks to user interface updates, and more.
"Experience more scalable and effective personalization with updates in Mimics Innovation Suite."
You can register for the webinar here.
October 5: Deep Dive into MJF with HP & Xometry
Also at 10 am EST on the 5th, HP Inc.'s Applications Engineering Manager Justin Hopkins and Applications Engineer Dustin Kloempken will join Xometry's manufacturing experts Greg Paulsen, Director of Applications Engineering, and Sales Engineer Nikolaus Mroncz for a "Deep Dive into HP's MJF 3D Printing Technology." They will cover several topics, including how Multi Jet Fusion (MJF) works, getting the most out of processable materials, applying design strategies to save time and money on 3D printing parts, and more. The advantages of the technology, including uncompromised complex geometries and accelerated innovation cycles, will also be discussed.
"Sign up now to find out how to make high-quality final parts at scale, illustrated with examples of real-life applications. Don't forget to also submit your questions for the live Q&A!"
You can register for the webinar here.
October 5: 3D Printed Medical Device Innovations
Speaking of HP, it's joining with A3D Manufacturing for a webinar on "Unlocking Medical Device Innovations with 3D Printing" at 2 pm EST on the 5th. Experts will share their thoughts and knowledge on the fusion of medical devices and 3D printing, reshaping the landscape of these devices all the way from design and prototyping to manufacturing. As attendees will learn, the ripple effects are major, accelerating innovation timelines and improving patient outcomes.
"Seize the moment to chart your course ahead of the innovation curve within the medical device field. Register now to secure your virtual seat to access an exclusive insight graciously shared by our experts, trailblazing the domain of 3D printing for medical devices."
You can register for the webinar here.
October 5: 3D Systems Additive Insights Roadshow
Finally, 3D Systems continues its Additive Insights Roadshow this week in Bethesda, Maryland. At this stop, attendees will have exclusive access to the company's experts, including product specialists and engineers. During the event, they will provide demonstrations, answer questions, and offer insights into how 3D Systems' materials, printers, and software solutions can address their applications, and empower businesses to design, iterate, and manufacture with improved precision, speed, and efficiency. You can meet the 3D Systems team from 3-7 pm EST on October 5th at the Rock Bottom Restaurant & Brewery.
"Get inspired by real-world success stories and witness firsthand how companies across industries have leveraged 3D Systems' solutions to accelerate their product development, streamline production processes, and drive bottom-line results. From aerospace to prototyping to automotive, you'll see how additive manufacturing is transforming businesses."
Keep an eye out for future roadshow dates and locations!
Do you have news to share about any future webinars or virtual and live events? Please let us know!
Subscribe to Our Email Newsletter
Stay up-to-date on all the latest news from the 3D printing industry and receive information and offers from third party vendors.
---
Print Services
Upload your 3D Models and get them printed quickly and efficiently.