It's another busy week filled with 3D printing webinars and events! Topics include photopolymers and industrial automation, aerospace and 3D scanning, DIGITAL FOAM and composite 3D printers, biomaterial bioinks, and much more. Read on for all the details!
3D Printing News Unpeeled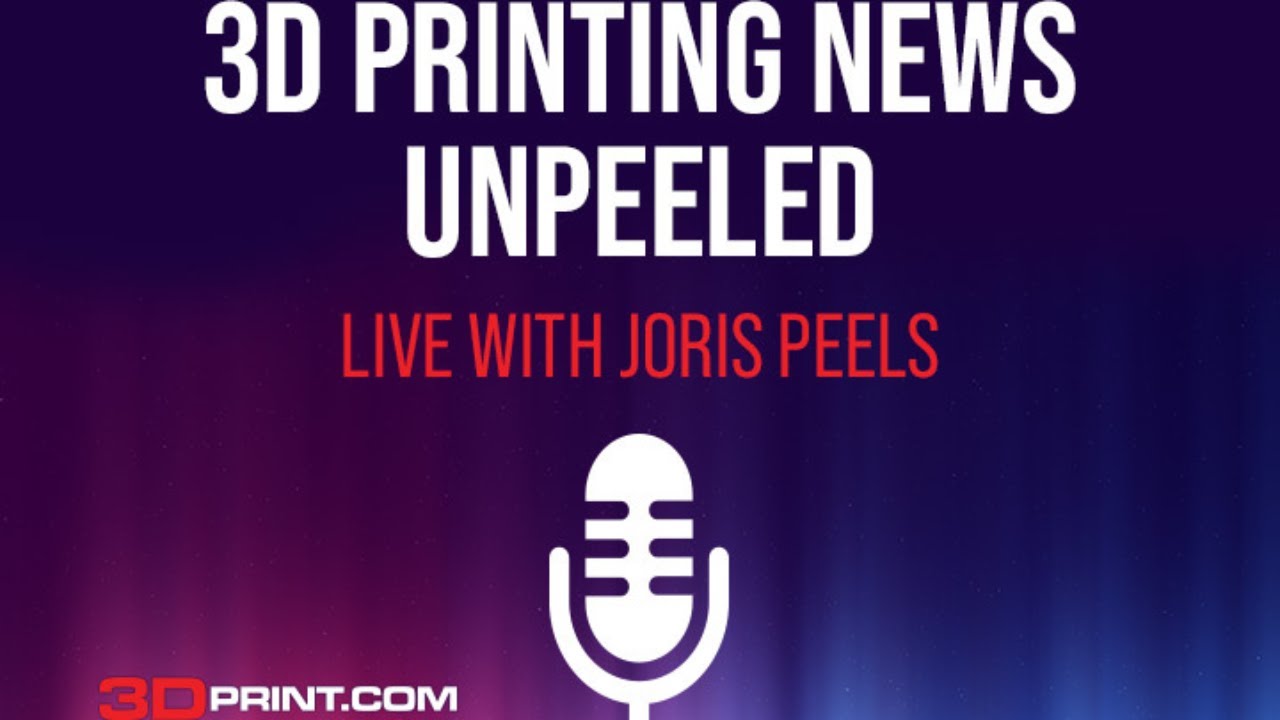 Our Executive Editor Joris Peels, who's also the Vice President of Consulting at SmarTech Analysis, offers a news livestream one to two times a week called 3D Printing News Unpeeled at 9:30 am EST. For each episode, Peels gets on LinkedIn Live and tells us, in 20 minutes or less, what he considers to be the top news stories from the 3D printing industry that week, and why they're important. Some of the stories in his roundup are ones we've covered at 3DPrint.com, and some are not, but they are all equally interesting and impactful.
September 18 – October 3: ASTM's Professional Certificate Course
ASTM International's AM Center of Excellence (AMCOE) continues its eight-module online Professional Certificate Course in Additive Manufacturing this week, covering the general concepts of the AM process chain. Attendees will gain core foundational knowledge, and, upon completing a multiple-choice exam at the end, earn a General AM Certificate that serves as the prerequisite for future role-based AM certificates through AMCOE. Plus, once the application form is filled out, attendees can receive 3.2 Continuing Education Units (CEUs). The course, which goes through October 3rd, will cover two modules each week; this week's modules, the week of September 18th, are AM Safety and Non-Destructive Inspection.
"This course will feature 16 experts across the field of additive manufacturing to provide a comprehensive course covering all of the general concepts of the AM process chain to its attendees. Attendees will be given virtual access to two modules per week for self learning and then a live Q&A session with course instructors will be held the following week to review content."
You can register for the course here.
September 18: MIT AMx Online Course
ASTM isn't the only one holding online AM courses. Starting this Monday, September 18th, MIT is offering a 12-week Additive Manufacturing for Innovative Design and Production (AMx) online course. Developed under Prof. John Hart, head of MIT's Department of Mechanical Engineering, together with experts from MIT and other leading institutions, the course requires a time commitment of 5-7 hours a week and will offer an in-depth understanding of AM technologies, applications, and materials. Participants will learn fundamental principles, design optimization, material and process selection, business case evaluation, and more, and each week will focus on one specific aspect. The course is good for professionals in the design, manufacturing, engineering, and materials science fields who want to begin their AM career or deepen their understanding of the technology.
"The AMx course is designed to provide a comprehensive understanding of additive manufacturing technologies, materials, and applications. Participants will gain experience through assignments and case studies, as well as engage in interactive sessions that cover everything from the fundamentals to advanced techniques in additive manufacturing though DfAM and AM business case evaluation."
You can enroll for the course here. MIT is also offering a 10% discount with the code FALLSALE at checkout starting the 18th.
September 18: AMCOE Snapshot Workshop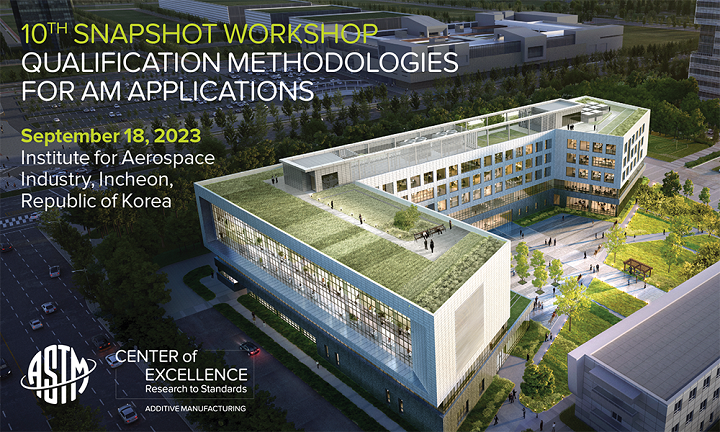 This week, ASTM'S AMCOE is also holding its 10th Snapshot Workshop at the Institute for Aerospace Industry in Incheon, Korea. The one-day workshop, hosted by 3D Fusion Industry Association (3DFIA) on September 18th, will focus on "Qualification Methodologies for AM Applications," will offer a comprehensive look at the advancements in qualification methods in progressing the industrialization of AM. It's open to all AM professionals interesting in knowing about the industry's latest standardized practices in qualifying processes and products, as well as the R&D initiatives in AM qualification. Each participant will receive a digital verification of Completion Certificate from ASTM AMCOE, and attendees interested in receiving .55 Continuing Education Units (CEUs) should complete a CEU application form.
"The 10th Snapshot Workshop covers the standardization needs in facilitating faster qualification process while incorporating recent developments. AM CoE's research programs and other initiatives with its partners in filling the standardization gaps will be another focus of the discussion."
You can register for the course here.
September 18 – 22: Photopolymer Week
Two related events will be held by RadTech, The Association for Ultraviolet and Electron Beam Technologies, at Photopolymer Week in Boulder, Colorado. The first, from September 18-19, is the PAMA Workshop, "Building a Unified Vision from Research to Regulations." As Editor-in-Chief Michael Molitch-Hou wrote, it "aims to foster innovation and cooperation while facilitating the establishment of industry-wide standards." PAMA, or the Photopolymer Additive Manufacturing Alliance, is a collaborative effort between the National Institutes of Standards and Technology (NIST) and RadTech, and works to improve industry terminology, practices, protocols, and standards. The workshop was designed to enable candid conversations regarding the state of vat photopolymerization through panel discussions, and the development of updated roadmaps for current and future directions. Then, Photopolymerization Fundamentals will be held from the 19-23, and includes a poster session, vendor exhibit, numerous scientific presentations, and an open atmosphere for technical networking.
"The presentations will be focused on presenting recent research and results from leaders in the photo polymerizations field. Each speaker will be asked to present their recent results and critical achievements that have resulted from their research or those that would aid them in product development. A significant amount of each speaker's time will be allotted for audience discussion and answering of questions. It is hoped that significant dialogue will occur between academic and industrial scientists in this rapidly expanding, critical area."
You can register for the PAMA Workshop here, and Photopolymerization Fundamentals here.
September 18 – 23: EMO Hannover
The EMO Hannover trade show for production technology is this week from September 18-23. Creaform, Hexagon, HP, Markforged, Meltio, Siemens, and more from the AM industry will be exhibiting at the world's leading trade fair for the machining industry. The event will also feature a startup area, a supporting program of congresses and special shows about additive manufacturing, data security, Industry 4.0, machine learning, artificial intelligence, and more, guided tours, and much more.
"New themes, new formats, new possibilities: EMO Hannover embodies what progress promises – with even greater advanced training and networking potential in future. Learn about the latest themes and trends in the sector. Gain an overview of the exhibitors taking part – from global players to hidden champions to innovative start-ups."
You can purchase a ticket for EMO Hannover here.
September 19 – 22: The Experience Stratasys Tour Continues
The Experience Stratasys Tour is taking its mobile showroom across the U.S. and giving designers, educators, and manufacturers a convenient way to see the company's latest materials, 3D printers, and solutions. The truck is out west this week, stopping at Rose State College in Midwest City, Oklahoma on Tuesday the 19th, hosted by Stratasys itself, and then moves on to Texas on the 20th, with a stop at Hexagon Manufacturing Intelligence in Irving hosted by SDM. On the 21st, GoEngineer hosts a stop at Topgolf in Dallas, and on the 22nd, the tour will visit Hop & Sting Brewing Company in Grapevine, hosted by PADT.
"Speak with 3D printing experts from Stratasys and our partners to find out how your organization can benefit from 3D printing – whether it's bringing a printer in-house or utilizing additive manufacturing services from Stratasys Direct. Let us show you how Stratasys is leading the global shift to additive manufacturing with innovative 3D printing solutions for aerospace, automotive, consumer products and healthcare."
You can register for the Stratasys Experience Tour here. Stay tuned for more dates and locations in the future!
September 19 – 23 & 25 – 29: MakeInspires Makerspace
MakeInspires delivers innovative STEAM programs for K-12 students and adults, on topics including circuits, microcontrollers, robotics, coding, digital photography, stop motion animation, fashion technology, video production, and of course, 3D printing. This Saturday, September 23rd, it is celebrating the grand opening for its first New York City metro area MakeInspires Makerspace, located on the upper east side. It features classrooms named after inspiring women in science, technology, engineering and math, like Katherine Johnson, as well as a first-of-its-kind retail area where items designed and made there will be available to buy, with proceeds going to help fund MakeInspires scholarships. In addition to the grand opening party, you can also take a tour of the facility from September 19-22 and 25-29.
"In addition to our highly sought-after STEAM programs, classes and workshops, the NYC MakeInspires location will feature interactive areas where the K-12 kids participating in our programs can contribute to the design. We are very excited about the CNC milled 16-foot forest wall that features circuit board trees and 3D printed stars that each child can add to create a night sky. The breadboard climbing wall has handholds made out of electronic components and leads up to a tree house that has interactive lighting and a sculpture chandelier made out of parts from our makerspace projects," said Travis Sluss, CEO and Founder of MakeInspires. "There is also a mini children's science museum in addition to the makerspace with interactive walls and exhibits. There is nothing else like it and it's all very hands-on and fun!"
You can RSVP for the grand opening party here; festivities for parents and children go from 4-6 pm EST, while it's adults-only from 6:30-9:30. You can schedule a walk-through of the facility during open house hours here.
September 19 – 23: Industrial Automation Show
Originally scheduled for the winter of 2022, the Industrial Automation Show (IAS) finally comes to the National Exhibition and Convention Center in Shanghai this week. From September 19-23, the event, described as the "industry barometer" for China's automation market, will display more new products and technologies to the manufacturing industry. There will be over 500 global exhibitors, with about 60,000 square meters of exhibition area for industrial development solutions.
"The Industrial Automation Show (IAS), as the core exhibitions of the China International Industry Fair, conforms to the high-quality development trend of advanced manufacturing, and speaks for China's intelligent manufacturing to boost confidence in global industrial development."
You can register for the show here.
September 19: 3D Systems Additive Insights Roadshow
3D Systems continues its Additive Insights Roadshow this week, where attendees will have exclusive access to the company's experts, including product specialists and engineers. During the event, they will provide demonstrations, answer questions, and offer insights into how 3D Systems' materials, printers, and software solutions can address their applications, and empower businesses to design, iterate, and manufacture with improved precision, speed, and efficiency. On Tuesday, September 19th, the tour stops at the Co-op Brew Pub in Huntsville, Alabama from 4 pm-8 pm EST (3-7 pm CT).
"Get inspired by real-world success stories and witness firsthand how companies across industries have leveraged 3D Systems' solutions to accelerate their product development, streamline production processes, and drive bottom-line results. From aerospace to prototyping to automotive, you'll see how additive manufacturing is transforming businesses."
Keep an eye out for future roadshow dates and locations!
September 20: Würth Additive Group Demo Days
After a short break, Würth Additive Group continues its 3D Printers in the Wild events in Phoenix, Arizona on Wednesday, September 20th. This exclusive event series, taking place at a number of key locations across the U.S., will showcase the power of industrial 3D printing. Each one will cover 3D scanning and making digital models, workflows and software of reverse engineering, a diverse array of materials, digital inventory solutions, and automated post-processing equipment. Plus, if you have a challenge for the team, you can either send your STL file or CAD design early, or bring your part to the event.
"Industrial 3D Printing ain't easy, but we take a comprehensive approach to simplify it for everyone. Come learn how to make a digital model of a physical part and print it on demand."
You can register for the event here.
September 20: DEVELOP3D LIVE 2023
Also on Wednesday the 20th, DEVELOP3D LIVE returns to the renovated Warwick Arts Centre in the UK as a free hybrid event. The main stage presentations on design, engineering, and technology will be broadcast live, and you can also attend in-person. Attendees will have the opportunity to learn about the latest advances, trends, and workflows in product design development technology at demonstrations in the exhibition hall, and during presentations in the conference, which has three tracks: Main Stage Presentations, Computational Design & Future Fabrication, and Product Development & Visualisation.
"Covering 3D design and engineering software, product design and development, future fabrication, additive manufacturing, visualisation and XR solutions all under one roof, it's an event like no other."
You can register to attend in-person here, and online here.
September 20 – 21: Modern Manufacturing Expo
If you're in the land down under this week, you don't want to miss the Modern Manufacturing Expo, co-located with the Expert Arena and the Smart Manufacturing Conference, in Sydney, September 20-21. The theme this year is "Connected, Automated & Digital Transformation," and the event itself is designed to accelerate excellence and innovation in manufacturing. The expo will highlight the top equipment, products, software, and technologies to help Australian manufacturers take advantage of the latest solutions, power up operations, and increase speed and efficiency for bringing new ideas and products to market.
"The Modern Manufacturing Expo is a free exhibition showcasing leading companies in advanced manufacturing, processes, products and technologies to help transition traditional manufacturers into modern manufacturers. This Expo will showcase the latest smart manufacturing equipment and technologies and help manufacturers to modernise and digitise their manufacturing processes for better outcomes."
You can register for the free expo here. Registration to the Expert Arena is included, but you have to register separately to attend the Smart Manufacturing Conference.
September 20 – 21: Aerospace AM Summit
The largest additive manufacturing event in Europe dedicated to the aerospace industry returns to Toulouse, France this week. From September 20-21, the Aerospace Additive Manufacturing Summit (AAMS) will be a one-stop shop to see the latest industry developments and products, meet the top suppliers, and find the tools you need to increase both productivity and profit. More than 200 companies and 400 participants will be in attendance, and attendees will get to hear firsthand insights from over 20 speakers.
"Aerospace Additive Manufacturing Summit 2023 will gather industry leaders, subject matter experts and academicians to gain insights on the latest developments of additive technology and new challenges in the aerospace supply chain."
You can register for AAMS here.
September 20: TriMech Scans with an Artec Leo
If you've ever wanted to learn more about handheld 3D scanners, then you won't want to miss TriMech's webinar at 10 am EST on the 20th. "3D Scanning with an Artec Leo" aims to introduce attendees to the world of 3D scanning, and why it's more advantageous than over methods. You'll learn about the fundamentals and benefits of the technology, the important features and applications of the Artec Leo scanner, functionalities like Artec Studio software, HD mode, and scanning workflow, and more.
"TriMech 3D Scanning Product Sales Specialist, Brian Metzger, will explore the cutting-edge Artec Leo and its capabilities and applications in fields like reverse engineering and inspection. The webinar will also cover essential features such as Artec Studio and HD mode, including a quick scanning demonstration and a high-level example of data processing. Attendees will gain valuable insights from a real-life case study and can ask questions for further clarification."
You can register for the webinar here.
September 20: 3DPrint.com & EOS Present DIGITAL FOAM
Also at 10 am EST on Wednesday the 20th, EOS and 3DPrint.com will present a webinar on "DIGITAL FOAM: The Key Player in Polymer 3D Printing Customization." The technology is changing up the game for polymer 3D printing production with enhanced customization and flexibility, and customers are leveraging the lattice design process across a number of industries. In a discussion moderated by our Executive Editor Joris Peels, Additive Minds consultants and ALM material experts will discuss how DIGITAL FOAM is different from other 3D printed lattice structures, what materials are used to produce it, limitations, how it can increase the functionalities of current AM applications, and more.
"Register to attend the webinar and listen in as EOS experts review the current polymer AM landscape, discuss future advancements of DIGITAL FOAM®, and highlight real-world DIGITAL FOAM® application examples. Learn more about how DIGITAL FOAM® can revolutionize the way you look at manufacturing customization and the possibilities that can come from leveraging polymer 3D printing."
You can register for the webinar here.
September 20: Composite 3D Printers with Stratasys
In addition to its tour stops, Stratasys is holding a webinar at 2 pm EST on the 20th, titled "From Prototype to Production: How to Choose the Best Composite 3D Printer." With all of the available options, and competing marketing content, it can be tough to pick the right one, which is why an informed, transparent approach is necessary. Industrial Materials Applications Engineer Rachael Wratkowski and Jon Hedlund, Senior Mechanical Design Engineer, will discuss the important considerations that can make or break composite 3D printing, including material performance and availability, throughput and build volume, ease of use, and more.
"Join us as we cut through the fluff and provide you with the essential insights you need to make an informed decision when investing in a composite 3D printer. At Stratasys, we believe in transparency and enabling our customers with the necessary information to evaluate part performance and ensure a seamless printing experience."
You can register for the webinar here.
September 21: AM Summit Copenhagen
On Thursday, September 21st, AM Summit 2023 will take place in Copenhagen. Organized by the Danish (Dansk) AM Hub, this is the leading AM-focused conference in the Nordics, and the focus this year is on "Additive Impact — AM and 3D Printing as a driver for sustainable manufacturing." There will be many exciting and interesting breakout sessions, about topics including AM in construction, a deep dive into metal 3D printing, the role of AM in decentralized manufacturing, sustainability, and more. At the end of the day, stick around for networking and a drink!
"The conference is for everyone who is interested in the newest trends and development within AM technology. AM Summit 2023 is the place to be if you want to become smarter, get inspired and network with the main influencers in AM and 3D printing."
You can register for the AM Summit here. 3DPrint.com is a proud media sponsor of this event!
September 21: Markforged & Creat3D Cheshire AM Workshop
Markforged and CREAT3D are hosting an Additive Manufacturing Workshop in Cheshire on the 21st, specifically at the Heath Business & Technical Park in Runcorn. Attendees will get to explore benchtop and industrial 3D printers, different materials from composites to thermoplastics, the best software to enhance their additive processes, learn about the various applications, including end-use parts and tooling, and more. Plus, you'll receive a swag bag of additive goodies!
"Join us with your colleagues to meet with other manufacturers and engineers to delve into Additive Manufacturing in our Access All Areas workshop. Explore how you can integrate 3D printers easily and see immediate benefits."
You can register for the workshop here; there is a 9:30 am BST session and an 11:45 am BST session.
September 21: Biomaterial Bioinks with 3DHEALS
The latest online panel discussion by 3DHEALS is this Thursday the 21st at 11 am EST, about "Biomaterials Bioinks for 3D Printing," the development of which plays an important role in the 3D printing industry within the tissue engineering, healthcare, and regenerative medicine sectors. Moderated by Craig Rosenblum, the Vice President & General Manager of biomaterials provider Himed, and Dr. Jenny Chen, the Founder and CEO of 3DHEALS, the conversation between experts will focus on the current status, immediate future, and long-term outlook on biomaterials and bioinks for healthcare 3D printing applications.
"The ability to create complex, patient-specific structures using 3D printing and bioprinting opens up unprecedented possibilities for personalized medical treatments and advancements in healthcare. Biomaterials specifically designed for 3D printing (or Bioinks for Bioprinting) enable the fabrication of intricate, biocompatible structures with precise mechanical and biological properties. By tailoring biomaterial formulations to mimic the characteristics of native tissues, researchers and clinicians can create scaffolds, implants, and organ constructs that promote cell growth, tissue regeneration, and integration with the host body. Moreover, the continuous exploration and refinement of biomaterials for 3D printing contribute to the development of innovative medical devices, drug delivery systems, and surgical tools. As biomaterial development progresses, it drives the expansion of the 3D printing industry's capabilities, offering new solutions for personalized healthcare and revolutionizing patient care and treatment outcomes."
You can register for the webinar here.
September 21: MLC Talks Industrial Production at the Point of Need
Also on the 21st, but at 12 pm EST, MLC will discuss "Industrial Production at the Point of Need" at its Houston, Texas office. In addition to enjoying lunch, attendees will get to explore the 3D printing showrooms while company experts offer demonstrations.
"Let's explore what Additive Manufacturing can offer your business through customer case studies. We'll also dive into the different material and fiber reinforcement options to better understand the benefits of Additive Manufacturing."
You can register for this free event here.
September 22 – 23: FOOTPRINT 3D 2023
Finally, from September 22-23, Barcelona-based Footwearology, an innovation platform for the footwear industry, is holding FOOTPRINT 3D, an event to bridge the gap between the footwear industry and digital manufacturing. There will be diverse exhibitors, 3D printing factory tours, a special 3D printing masterclass hosted at the Footwearology lab, and a series of panel talks, covering topics from the future of molding and the new AI workflow to 3D printing workflows for luxury and sports performance footwear.
"The event that brings 3D printing and other digital manufacturing technologies to the footwear industry, layer by layer…"
You can purchase tickets for the event here.
Do you have news to share about any future webinars or virtual and live events? Please let us know!
Subscribe to Our Email Newsletter
Stay up-to-date on all the latest news from the 3D printing industry and receive information and offers from third party vendors.
---
Print Services
Upload your 3D Models and get them printed quickly and efficiently.