Webinars and events in the 3D printing industry are ramping back up again this week! Stratasys continues its cross-country tour of the U.S. and will also host one of its Stratafest events, while Markforged continues to hold its Demo Days. Materialise is offering a webinar on metal 3D printing in the aerospace industry, along with a training for its Mimics Innovations Suite. XJet will have a virtual open house, Nanoscribe will discuss 3D printed cell culture microenvironments, and more. Read on for the details!
3D Printing News Unpeeled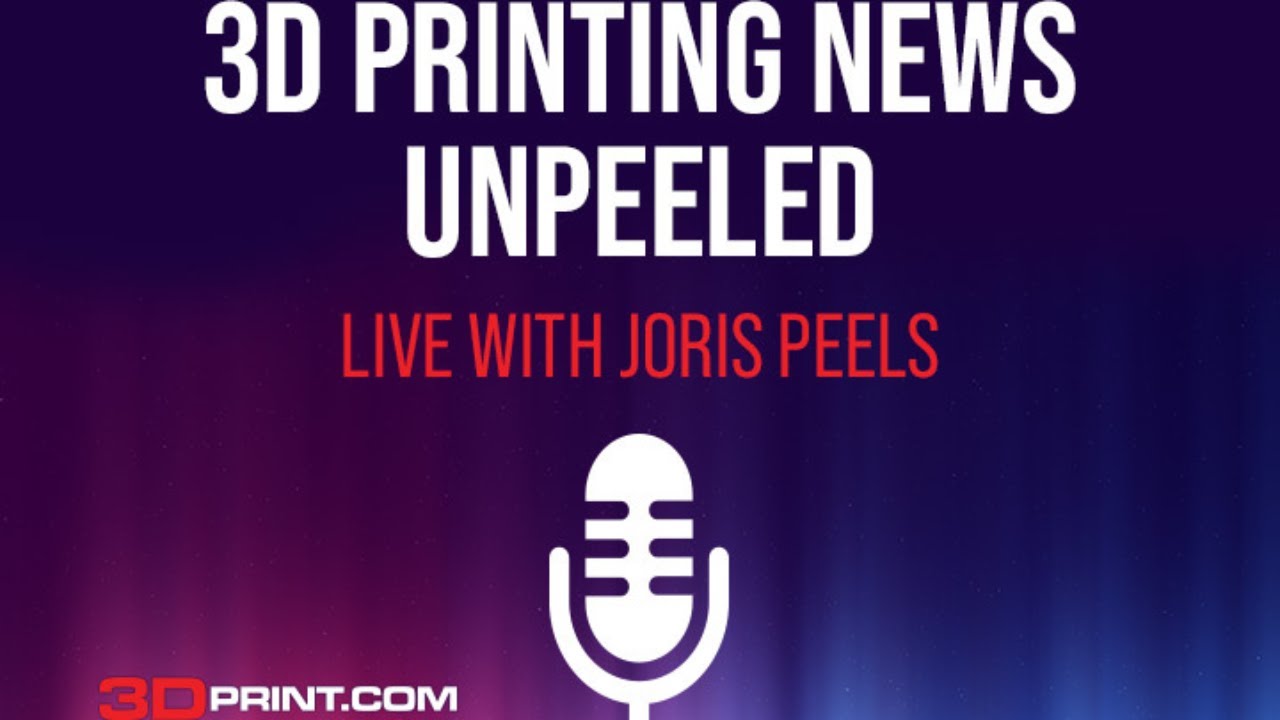 Our Executive Editor Joris Peels, who's also the Vice President of Consulting at SmarTech Analysis, offers a news livestream one to two times a week called 3D Printing News Unpeeled at 9:30 am EST. For each episode, Peels gets on LinkedIn Live and tells us, in 20 minutes or less, what he considers to be the top news stories from the 3D printing industry that week, and why they're important. Some of the stories in his roundup are ones we've covered at 3DPrint.com, and some are not, but they are all equally interesting and impactful.
July 10: The Experience Stratasys Tour Continues
The Experience Stratasys Tour is taking its mobile showroom across the U.S. and giving designers, educators, and manufacturers a convenient way to see the company's latest materials, 3D printers, and solutions. This week, the tour is only making one stop. On Monday, July 10th, the truck will head to Vincennes University in Indiana, hosted by H2I.
"Speak with 3D printing experts from Stratasys and our partners to find out how your organization can benefit from 3D printing – whether it's bringing a printer in-house or utilizing additive manufacturing services from Stratasys Direct. Let us show you how Stratasys is leading the global shift to additive manufacturing with innovative 3D printing solutions for aerospace, automotive, consumer products and healthcare."
You can register for the Stratasys Experience Tour here. Stay tuned for more dates and locations in the future!
July 11 – 13: SEMICON West 2023
In San Francisco this week, SEMICON West 2023 will be held in the Moscone Center from July 11-13. If you didn't guess from the name, the name of the game at this event is semiconductors, which is a growing AM application. Industry professionals will focus on "Building a Path Forward" under three main industry priorities: Path to $1T, Path to Net Zero, and Path for Talent. These priorities will be integrated as a theme into the daily keynote presentations, and SEMICON West will also offer a Global Cybersecurity Forum, a variety of TechTalks, symposiums on Test Vision, the SEMI Market, and SOI Markets & Technology, a workforce development track, networking opportunities, and much more.
"The event focuses on key challenges affecting the global microelectronics industry which include Supply Chain Disruptions, Climate Change, and Talent Shortages, all necessary to enable a $1T industry."
You can register for the event here.
July 11 & 13: AWP & Markforged Demo Days
Markforged will continue with its Demo Day open house events at Advanced World Products (AWP) in Fremont, California this week, specifically on Tuesday the 11th and Thursday the 13th. The event will feature Markforged's large-format FX20 carbon fiber 3D printer, and there will be demonstrations of this printer, along with Smooth TPU 95A flexible filament, the latest versions of the X7, Mark Two, and Onyx Series, and new Metal X updates, including 99.8% copper parts. Visitors will also hear about tips for identifying 3D printing opportunities, and customer applications that prove the ROI of these systems. The event is free, and attendees will also receive a Markforged t-shirt.
"Experience the NEW Markforged FX20 Carbon Fiber/Ultem 9085 Composite 3D Printer in action at the AWP/Markforged Open House and learn how quick and cost-effective parts can be designed and fabricated for manufacturing."
There are one-hour time slots available from 8 am until 6 pm PT, and you can register for your preferred day and time slot here. One registered person can bring up to five guests with them.
July 11 & 13: SOLIDWORKS CAM & CAMWorks Training Sessions
Also on July 11th and 13th, HCL CAMWorks will hold a free "SOLIDWORKS CAM and CAMWorks Training & Webinar Series." The first, "SOLIDWORKS CAM & CAMWorks – Getting Started," will focus on how to use the integrated SOLIDWORKS CAM Standard CNC programming system, covering topics like feature recognition and toolpath creation, as well as a brief introduction to the Technology Database (TechDB), which can be used to automate CNC programming. This webinar will be held on the 11th at 11 am EST for the U.S. and at 9 am IST for Asia. The second training session, "SOLIDWORKS CAM & CAMWorks: Getting Started with TechDB," will teach attendees how to use TechDB, including topics like how to create a machine and a standard set of tools for a machine, how to save machining strategies back to the TechDB for later use, and more. This webinar will be held on the 13th at 11 am EST for the U.S. and at 9 am IST for Asia.
"Sharpen your CAM skills and learn the advanced technologies in SOLIDWORKS CAM and CAMWorks to boost your manufacturing operations, such as integrated CAD/CAM, automatic feature recognition, and knowledge-based machining."
These trainings will be held on July 18th and 20th for users in Europe.
July 11: Stratafest at Andretti Autosports in Indianapolis
In addition to its ongoing Experience Stratasys tour, the company is also holding afternoon Stratafest events, which are focused on 3D printing and Industry 4.0. With an emphasis on automotive and aerospace, these will feature immersive demonstrations of the company's newest technology, networking and career advancement opportunities, and inspiring sessions from Stratasys customers, partners, and industry experts. The first of four sessions was recently held in Detroit, and this week, Stratafest is headed to Indianapolis for an afternoon stop at Andretti Autosport from 12-4 pm EST on Tuesday the 11th. Representatives and speakers from Hexagon, PostProcess Technologies, and the Milwaukee School of Engineering's Rapid Prototyping Center will also be on-hand.
"Stratafest is a free afternoon event for 3D printing and Industry 4.0. You will be able to hear from 3D printing experts, see engineering hotspots like SEMA Garage and Andretti Autosport and enjoy breakout discussions, complimentary food trucks* and music. (*Complimentary food is limited to the first 300 registrants for each event)."
You can pre-register for the free event here.
July 12 – 13: Additive International 2023 
Additive International, which was formally known as the International Conference on Additive Manufacturing & 3D Printing, is a global summit about AM and 3D printing, welcoming academic and industry experts to Albert Hall Conference Centre in Nottingham from July 12-13 to share insights on the developments and technologies shaping the industry's future. The event is supported by Additive Manufacturing UK, in association with the University of Nottingham, and HP is the headline sponsor. The conference sessions explore the latest AM developments and how they can be applied to a business's processes, including Novel AM Computation, Design for Metal Jet Printing, Volumetric Additive Manufacturing, Empowering Distributed Manufacturing with 3D Printing, Advanced Polymeric Materials, and more.
"With the global Additive Manufacturing market expected to grow from $12.6bn in 2020 to over $37bn by 2026*, this event provides the essential forum to fully understand the technical and commercial opportunities presented by this constantly evolving field of technology."
You can book tickets for the summit here.
July 12: Metal AM in Aerospace with Materialise & SLM Solutions
Materialise is holding its first webinar of the week on Wednesday, July 12th, at 7:30 am GMT+2 (1:30 am EST) about how to "Unlock the Potential of Metal 3D Printing in Aerospace." Experts from Materialise and SLM Solutions will explain how their software and hardware solutions can help optimize quality control and support generation to improve metal 3D printing. Attendees will learn how to leverage AI capabilities on powder bed layer images to consistently identify scrap and risk and reduce post-processing costs, how to use automated quality control with data gathered during 3D printing, all about SLM Solutions' Free Float technology, and more.
"Metal additive manufacturing (AM) combines AM's design capabilities with metal's mechanical properties, making it a game-changer for the aerospace industry. To utilize this technology as efficiently as possible, you must overcome metal AM's three main costs: time, material consumption, and machine use."
You can register for the webinar here.
July 12: XJet's Virtual Open House – Europe Session
This Wednesday the 12th, XJet is holding its first webinar designed specifically for European AM users at 10 am CET (4 am EST). The virtual open house, or "The Story of 10,000 Parts," will teach attendees all about the power of high-quality powderless AM production at industrial scale. There will be an immersive live tour of the company's facility and its unique Print-Wash-Sinter process, featuring XJet's Carmel printers and SMART automatic post-procession station. Andy Middleton, VP Business – Europe at XJet, will also offer a deep dive into NanoParticle Jetting technology and the ceramics and metals it uses, and attendees will get to engage in live chats with technical experts and enjoy priority access to XJet's benchmark production queue for future projects.
"Curious about how XJet systems are capable of producing 10,000 high-quality ceramic and metal parts at industrial capability without compromising on part quality? Join our upcoming webinar to find out!

"You'll see how a part is made from file to final shape, and explore the possibility of manufacturing 10,000+ industrial parts with our systems that drastically reduce your production lead time!"
You can register for the webinar and open house here.
July 12: 3D Printed Cell Culture Microenvironments with Nanoscribe
Later in the day on the 12th, Nanoscribe will hold a webinar about "3D printed cell culture microenvironments" at 5 pm CEST (11 am EST). With a subheading of "Biofabrication of microphysiological models
with enhanced cellular behaviors in vitro," the webinar will explore new research possibilities in biomedical applications that require speed, sterility, precision, and material diversity. Dr. Remmi Baker-Sediako, Life Sciences Business Development Manager at Nanoscribe, will moderate the discussion between Professor Angelo Accardo, Assistant Professor in the Department of Precision and Microsystems Engineering at TU Delft, and Dr. Benjamin Richter, Nanoscribe Application Manager, who will talk about cell culture models and mechanobiology concepts and biofabrication of 3D cell microenvironments. There will also be a live demonstration of 3D printing cell scaffolds on the Quantum X bio.
"Interested in how to overcome the limitations of 2D monolayer cell cultures and make the most of 3D printing at the scale of biological cells and tissues for cell culturing by amazingly mimicking biological structures? Then be a part of the upcoming live webinar with two experts in 3D microfabrication, 3D cell microenvironments, and cutting-edge biological research."
You can register for the webinar here.
July 13: Materialise Mimics Innovation Suite Scripting Training
Materialise finishes off the week with "A Comprehensive Guide to Mimics Innovation Suite Scripting" at 4 pm CEST (10 am EST). This free training aims to help attendees gain a comprehensive understanding of the scripting module and its functionalities, and how it can be used to streamline scripting workflows to enable more efficiency and consistency in improving patient outcomes. The intended audience is university scientists, engineers from hospitals and medical devices companies, and physicians and technicians from hospitals and universities with a focus on 3D technology. The course will cover an introduction to the module, script setups, and a real example of script automation.
"In this free online training course, our experts Noramirah Azlan and Vivek Chowdary Penumarthi will explain how Mimics Innovation Suite's scripting module provides an easy-to-use platform to automate tasks while delivering outstanding care to your patients. Peter Pijpker, 3D Specialist at the University Medical Center Groningen (UMCG) will show the clinical usage of the module."
You can register for the training here.
July 14: Appetite for Additive with Markforged
Markforged and CREAT3D will host an "Appetite for Additive" workshop in the U.K. on Friday, July 14th. Attendees can feed their minds, and their stomachs, at one of these dedicated sessions in Reading, Berkshire, learning about Markforged's industrial, metal, and composite 3D printers and various advanced uses and applications, get free DfAM advice to optimize your functional part designs for Markforged printers, explore Markforged Digital Forge software, and more. The short session will be served over a light brunch at 1 pm BST (8 am EST).
"Come to one of our Appetite for Additive events to find out more about the Markforged product line and how we're helping to bring industrial production to the point of need; from tooling to manufacturing aids, through to end-use parts."
You can register for the workshop here.
July 14: 3D Printed Metal Molds PrintJection Session
Finally, Plastic Manufacturing Technologies (PMT) will hold its second PrintJection Q&A Session of the year on Friday the 14th at 11 am EST. The live, interactive online session will focus on 3D Printed Metal Molds, which PMT calls the "future of plastics manufacturing." The event will be livestreamed from the company's Michigan Innovation Center so attendees can see PMT's technology for themselves, present their current projects and ideas to receive feedback and insights, understand the many applications and advantages of 3D printed molds, and more. The speakers will be PMT Founder Clay Stephens and Rick Stephens, Owner – Sales Engineering at North American Mold.
"Whether you're keen on enhancing your existing production process, revolutionizing your product design, or seeking new, efficient manufacturing solutions, our expert team is ready to tackle your unique challenges."
You can register here.
Do you have news to share about any future webinars or virtual and live events? Please let us know!

Subscribe to Our Email Newsletter
Stay up-to-date on all the latest news from the 3D printing industry and receive information and offers from third party vendors.
---
Print Services
Upload your 3D Models and get them printed quickly and efficiently.