We've got plenty of events to tell you about in this week's roundup, including Additive Manufacturing for Defense, Aerospace & Space, OMTEC 2023, the CDFAM Symposium, and more. Stratasys and Velo3D both continue their roadshows this week. As for webinars, topics to be covered include 3D printed anatomical models, overcoming obstacles in production 3D printing, workflow automation, and more. Read on for all the details!
3D Printing News Unpeeled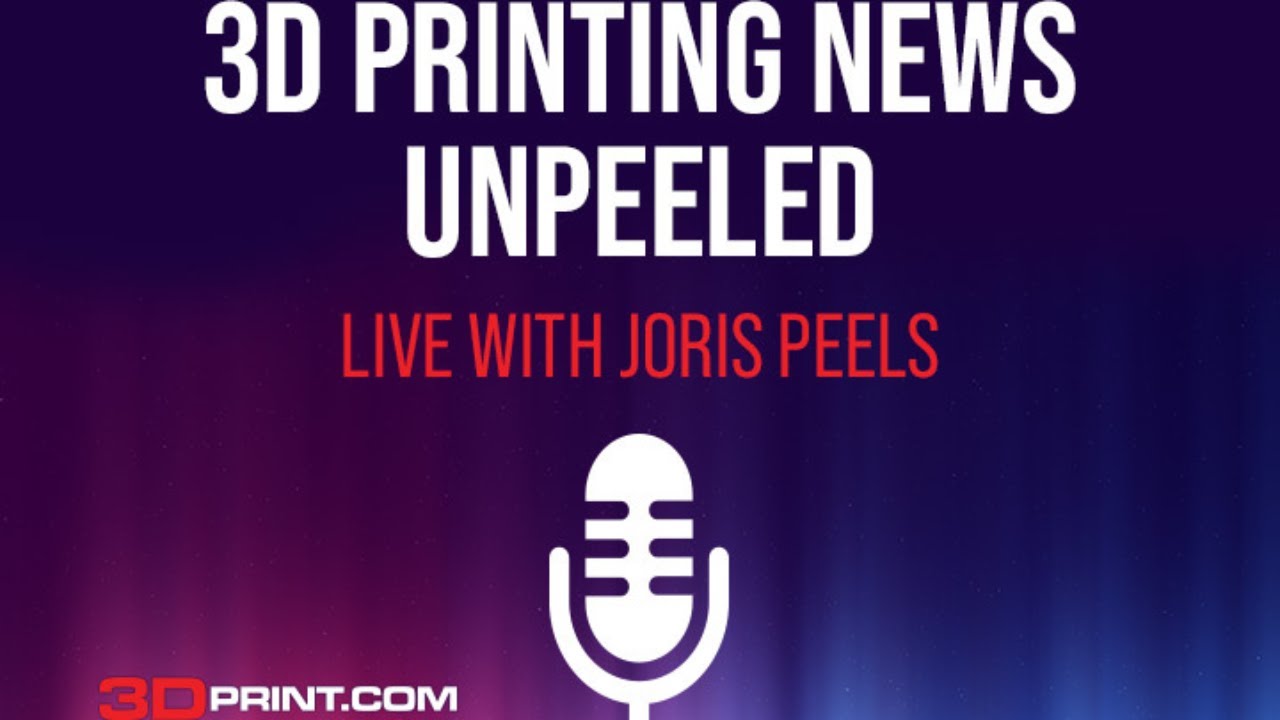 Our Executive Editor Joris Peels, who's also the Vice President of Consulting at SmarTech Analysis, offers a news livestream one to two times a week called 3D Printing News Unpeeled at 9:30 am EST. For each episode, Peels gets on LinkedIn Live and tells us, in 20 minutes or less, what he considers to be the top news stories from the 3D printing industry that week, and why they're important. Some of the stories in his roundup are ones we've covered at 3DPrint.com, and some are not, but they are all equally interesting and impactful.
June 12 – 16: Manufacturing Science & Engineering Conference 2023
Starting tomorrow, June 12th, and running through Friday the 16th, the Manufacturing Science & Engineering Conference (MSEC) 2023 will be held at Rutgers University College of Engineering in New Brunswick, New Jersey. Sponsored by the Manufacturing Engineering Division (MED) of ASME, MSEC has been co-located with NAMRI/SME's North American Manufacturing Research Conference (NAMRC) since 2011. Together, the two represent North America's largest advanced manufacturing research conference. Plus, during MSEC 2023, the fourth Women in Advanced Manufacturing Forum (WIAM) will be held to promote DEI in advanced manufacturing, and showcase successful career paths. The first WIAM panel on the 13th welcomes female leaders in additive manufacturing and will focus on advances in the industry.
"MSEC is the foremost annual forum for the scholarly exchange of advanced manufacturing research knowledge. It is intended to disseminate the most recent developments in manufacturing research through technical presentations, poster sessions, and panel sessions."
You can register for the conference here.
June 13 – 14: Additive Manufacturing for Defense, Aerospace & Space 2023
From June 13-14, the Institute for Defense and Government Advancement (IDGA) is holding its Additive Manufacturing for Defense, Aerospace and Space 2023 summit in Orlando, Florida, which will enable knowledge sharing and collaboration with stakeholders in government agencies, the U.S. military, prime contractors, cybersecurity professionals, top space companies, tier 1 and 2 manufacturers, AM industry vendors, and more. Attendees will receive an update on the U.S. domestic additive market and its role in boosting aerospace, defense, and space supply chains, as well as hear about the latest opportunities and applications for AM in these industries, like hypersonic and space craft, and learn how best to protect their projects and products from cyberattacks.
"Additive Manufacturing, or 3D printing, is quickly becoming a staple component of advanced manufacturing capability across the aerospace, space and defense industrial base. By 2028, it is set to be valued at over $13 Billion in the USA alone. Considerations for speed, lighter weights and lower costs are all paramount to the defense and aerospace sectors, and we will take a closer look at current and future applications to be adopted."
You can purchase a pass for the summit here.
June 13 – 15: The Experience Stratasys Tour Continues
The Experience Stratasys Tour has hit the road again for another year. Its mobile showroom gives designers, educators, and manufacturers a convenient way to see the company's latest materials, 3D printers, and solutions. This week, the tour will make a total of four stops, with two in New Jersey on Tuesday June 13th—both at Tommy's Tavern & Tap in Edison, hosted first by GoEngineer and second by Allegheny. The tour stays in New Jersey on the 14th, stopping at the Rutgers University Makerspace in Piscataway, hosted again by Allegheny and joined by several of partner TriMech's engineers. Finally, the tour moves on to Horsham, Pennsylvania on the 15th, stopping at America Additive Manufacturing, hosted by CADimensions.
"Speak with 3D printing experts from Stratasys and our partners to find out how your organization can benefit from 3D printing – whether it's bringing a printer in-house or utilizing additive manufacturing services from Stratasys Direct. Let us show you how Stratasys is leading the global shift to additive manufacturing with innovative 3D printing solutions for aerospace, automotive, consumer products and healthcare."
You can register for the Stratasys Experience Tour here. Stay tuned for more dates and locations in the future!
June 13 – 15: IME East 2023
Also from June 13-15, the East Coast's largest design and manufacturing event, IME East 2023, will be held in New York City. Six trade shows in one will be held at the Jacob Javits Convention Center—MD&M East (Medical Design & Manufacturing), EastPack, ATX East (Advanced Technology eXtended), D&M East (Design & Manufacturing), Plastec East, and Quality Expo East. From robotics and medtech to design plastics, packaging, and quality, the event connects across several industries and verticals. At nearly all of the shows, 3D printing is listed as a hot topic for 2023, and attendees are encouraged to "learn how continued double digit growth in 3D printing is redefining your day to day."
"This biennial, six-in-one design and manufacturing expo is designed to give you a comprehensive view of the product lifecycle—from prototype to production. Come explore the latest insights and solutions spanning medtech, packaging, automation, plastics, design, and quality."
You can register for any or all of the shows here.
June 13 – 15: OMTEC 2023
The Orthopaedic Manufacturing & Technology Expo and Conference, or OMTEC 2023, is the only conference in the world that exclusively serves the global orthopedic manufacturing industry, and its mission is to connect, educate, and empower the people who build orthopedic products. The expo, held in Chicago this week from June 13-15, is focused on solution-driven education, so new partnerships can grow while attendees can learn about business-critical topics. There will be plenty of educational sessions, networking opportunities, and in-booth presentations, and multiple 3D printing industry companies will be exhibiting at OMTEC 2023, including 3D Systems, AddUp Inc., Amnovis, Evonik, Oak Tree Additive, and more.
"A loyal contingent of product development, procurement, supply chain, operations, R&D, and C-level attendees as well as business development, regulatory and QA professionals trust OMTEC to provide access to the people and expertise required to keep their product development initiatives moving forward."
You can register for the expo here.
June 13: Transforming Tooling with Markforged FX20
If you're interested in 3D printing for production tooling, but want larger part sizes and faster print speed, you'll want to check out the Markforged webinar at 10 am EST this Tuesday, June 13th, on "Transforming Tooling Production with the Markforged FX20." Daniel Leong, Sr. Product Marketing Manager, and Doug Piazza, Field Application Engineer, will teach attendees why the FX20 is uniquely suited for large tools, how to design for hybrid parts and leverage large-scale tooling to drive business impact, and explain how to implement multiple large-scale tooling applications.
"Markforged CFR 3D printers excel at printing tooling — however, only one possesses the build size and throughput to fabricate large parts efficiently."
You can register for the webinar here.
June 13: Materialise Prepares Anatomical Models for 3D Printing
Also at 10 am EST on the 13th, Materialise will hold the first of three training sessions about "Preparing Anatomical Models for 3D Printing." The free online sessions will have Materialise experts teaching the basics of preparing anatomical models for 3D printing, with a goal of learning the step-by-step process, including segmentation, reconstruction, and refinement, of converting medical images into high-quality 3D models. Each training course will be 45 minutes, and end with a 15-minute Q&A session. This week, the course will cover 3D printable anatomical models for cardiovascular; on September 12th, the session will focus on craniomaxillofacial models, and the final class, on November 14th, will be on soft tissue.
"Discover how to create a cardiovascular 3D anatomical model for 3D printing or other applications like advanced 3D analysis, procedure planning/simulation, personalized device design, and advanced visualization via virtual or augmented reality."
You can register for the course here.
June 13: Overcoming Production 3D Printing Obstacles with JuggerBot 3D
As a follow-up to "Creating a Production Workflow with Open Material 3D Printers," pellet 3D printing company JuggerBot 3D will host a webinar at 11 am EST on the 13th about "The JuggerBot 3D Material Card: Overcoming Obstacles in Production 3D Printing." Attendees will hear about issues related to repetitive 3D printing applications, the differences between fused granulate fabrication (FGF) printing and other techniques, FGF materials, how JuggerBot 3D's Material Card enables data-driven processing, and more. Plus, President/Co-Founder Zachary DiVencenzo will explain how the Material Card is creating a more streamlined pellet 3D printing workflow while maintaining an Open Material platform, and Walter Thompson, Sr. Applications Development Engineer, at SABIC's Specialties Business – Solutions for Additive Manufacturing, will offer an in-depth explanation into the company's SABIC LNP™ Thermocomp™ AF004XXAR1 Compound- GF ABS.
"Fused Granulate Fabrication, also known as Pellet 3D printing, has gained traction as an additive manufacturing technology that unlocks access to a wide variety of material options. However, assessing and developing process parameters can be very challenging, requiring a huge investment of time for each print job."
You can register for the webinar here.
June 13: Large-Scale Applications for MELD
Also on June 13th, but at 11:30 am EST, join MELD Manufacturing for a webinar on "Large Scale Applications for the MELD Process." According to the website, MELD is a solid-state process, which means that materials don't reach the melting temperature, resulting in parts with full density and low residual stresses, but much lower energy requirements than fusion-based manufacturing process. Plus, the MELD process is able to print large metal parts at a very large scale, because the method isn't restricted to expensive vacuum systems or small powder beds.
"Since MELD is open atmosphere, it does not need to be contained like many similar technologies.  Melt-based processes either have a container to hold metal powder or operate in a chamber that prevents oxygen from getting in while the laser is running. Either way, these containers automatically limit you in the size part you can build. MELD doesn't need a powderbed or a chamber. Without these constraints, MELD can make parts as big as you want."
You can register for the webinar here.
June 14 – 15: CDFAM 23 NYC
A first of its kind event is coming to Newlab, Brooklyn Navy Yards, NYC from June 14-15— the CDFAM Computational Design (+DfAM) Symposium, founded and organized by Duann Scott, Founder of the Bits to Atoms consultancy specializing in computational design and additive manufacturing. The event is focused on generative and computational design, AI in engineering, simulation-driven geometry and materials, and workforce development, and welcomes a diverse array of expert speakers. There will be plenty of presentations by, and networking opportunities with, the top engineers, academics, designers, and software developers in the design, advanced manufacturing, and engineering space, discussing everything from performance simulation and volumetric material optimization to education on design for AM (DfAM) and more.
"Join us at the Symposium to hear from leading researchers and practitioners as they discuss the latest advances in Computational Design (+DfAM). You'll have the opportunity to learn about cutting-edge technologies and techniques and to network with leading academics and professionals in the field."
You can register for CDFAM 23 NYC here.
June 15: Eliminating Repetitive Tasks with Protolabs & Materialise
At 10 am EST on Thursday the 15th, Materialise will hold another webinar, this time on "Workflow Automation: Eliminating Repetitive Tasks with Protolabs." Attendees will learn about how Magics Workflow Automation integrates with the CO-AM platform, and how the module can transform AM processes, like Protolabs using the smart labeling tool to reduce their time spent labeling medical parts by two hours per build. Speakers will be Lieve Boeykens, Sales and Pre-Sales Enablement Manager, Materialise Software; Koen Neutjens, Product Line Manager for Incubator Applications, Materialise Software; and Christoph Erhardt, Manager of Customer Projects and Additive Design, Protolabs.
"In this webinar, you'll learn how to minimize the time and effort spent on time-consuming, manual tasks during data and build preparation with the Workflow Automation module for Magics. Plus, discover how the module integrates with Materialise CO-AM, adding customization and automation possibilities to your current workflows."
You can register for the webinar here.
June 15: Velo3D Continues Roadshow in Florida
Finally, the latest stop on Velo3D's 2023 "The Proof is in the Printing" global roadshow will be in Jupiter, Florida on Thursday, June 15th. The stop will be held at the Jupiter Beach Resort & Spa, and attendees will learn how Velo3D's fully integrated metal AM solution can help achieve lower costs, better part performance, supply chain flexibility, scalability, and repeatability. There will also be real-world examples of customer-printed parts, and attendees can ask questions, and get answers from, technical experts.
"If you have struggled with production of high-quality, metal AM parts, our "Proof is in the Printing" roadshow is the perfect opportunity to speak with our team and learn how to overcome those challenges. Hear from Velo3D engineers as they share their experience in scaling up metal additive applications."
You can register for the Jupiter stop here.
Do you have news to share about any future webinars or virtual and live events? Please let us know!
Subscribe to Our Email Newsletter
Stay up-to-date on all the latest news from the 3D printing industry and receive information and offers from third party vendors.
---
Print Services
Upload your 3D Models and get them printed quickly and efficiently.