It's another busy week of webinars and events! The Additive Manufacturing Coalition is having its first Fly-In, and Velo3D is taking its roadshow to the UK, while Creat3D is holding an AM workshop in Oxfordshire. Webinar topics include post-processing 3D scan data, 3D printed dentistry, finishing options, metal material properties, and more. Read on for the details!
3D Printing News Unpeeled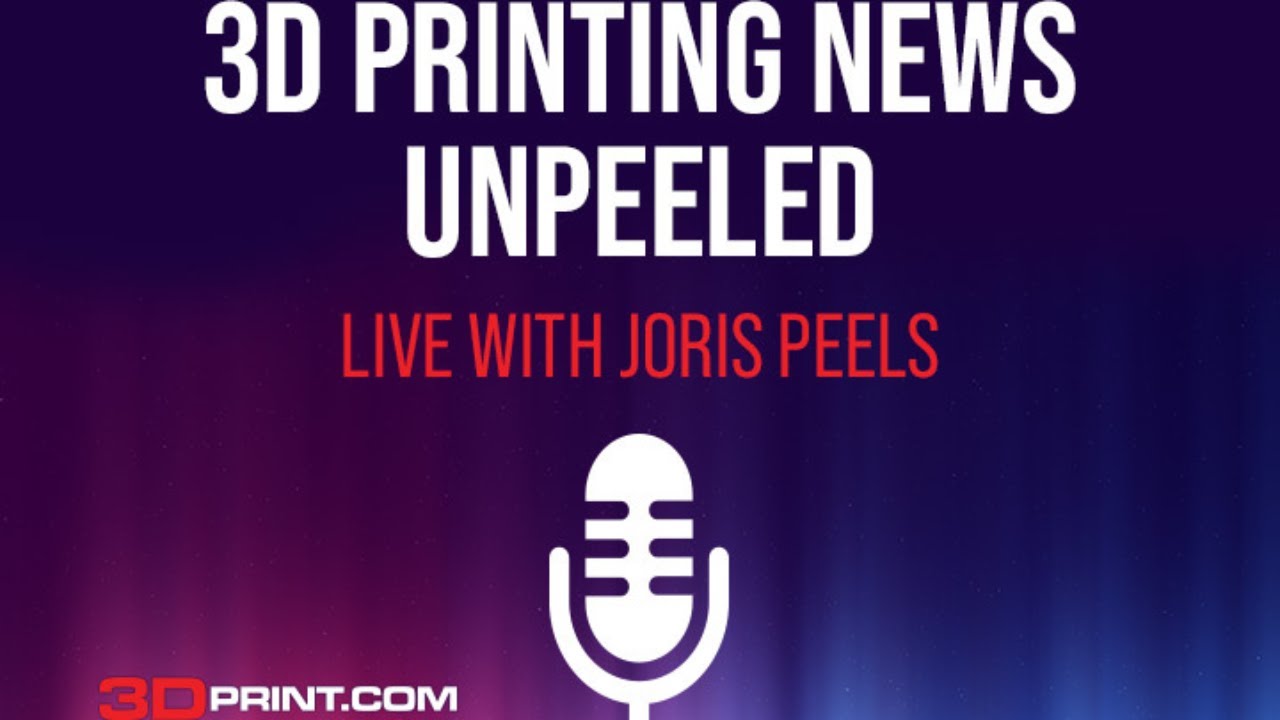 Our Executive Editor Joris Peels, who's also the Vice President of Consulting at SmarTech Analysis, offers a news livestream one to two times a week called 3D Printing News Unpeeled at 9:30 am EST. For each episode, Peels gets on LinkedIn Live and tells us, in 20 minutes or less, what he considers to be the top news stories from the 3D printing industry that week, and why they're important. Some of the stories in his roundup are ones we've covered at 3DPrint.com, and some are not, but they are all equally interesting and impactful.
May 15 – 16: AM Coalition's Fly-In
The Additive Manufacturing Coalition is holding its inaugural Legislative Fly-In from May 15-16 in Washington, DC. AM community members are invited to the nation's capitol to connect, learn about lobbying, and meet with key decisionmakers to raise awareness and discuss the Coalition's priorities in the 2024 fiscal year budget process, including additive workforce development investment and support for the PBR funding level for Manufacturing USA programs, including America Makes. A legislative workshop will be held on Monday at the FIU office, and after breakfast at the Phoenix Park Hotel Tuesday morning, participants will walk to the Capitol for a day of Congressional staff visits at the House and Senate buildings.
"This is an opportunity for members of the community to come to Washington, get a briefing on how to lobby Congress and then we will have small groups go to Capitol Hill together for a series of meetings with Congressional staff from key districts."
You can purchase tickets to the Fly-In here.
May 15 – 18: PTC's LiveWorx 23
In Boston from May 15-18, PTC LiveWorx 2023 will be held. The annual technology event is focused on digital transformation, and meant to teach people in the industrial enterprise how to achieve business efficiency, and bring together the strategic solutions, emerging technologies, and digital tools that are transforming companies around the world. There will be seven educational tracks featuring content on essential topics and technologies for industrial innovation, including environmental sustainability, product lifecycle management, software-as-a-solution (SaaS), additive manufacturing, and more.
"Join thousands of technologists at PTC's premier annual event dedicated to digital transformation for the industrial enterprise. Learn how you can create enterprise value, empower greater worker productivity, and make the world a better place through advanced technology."
You can register for PTC LiveWorx 23 here.
May 16 – 17: Ohio Global Aerospace & Supplier Summit
To learn about the aerospace supply chain, and how Ohio is pivotal in supporting manufacturing and development for this industry, you can attend the Ohio Global Aerospace & Supplier Summit in Cleveland, May 16-17. Organized by the Ohio Aerospace Institute, Parallax Advanced Research, Ohio District Export Council, JobsOhio, and International Trade Administration, the event offers attendees the chance to explore the latest commercial space advancements, engage with leading stakeholders and aerospace supply chain representatives, and learn about the many opportunities for collaboration and growth across international aerospace supply chains.
"The event will feature a B2B and B2G portal for scheduling one-on-one meetings with aerospace company representatives, OEMs, and overseas embassy specialists from Canada, Brazil, and Taiwan. Additionally, attendees can expect discussions on future travel, high-speed flight opportunities, and an overview of microelectronics in the aerospace supply chain. This event is a unique opportunity to gain valuable insights into the dynamic world of aerospace, connect with industry experts, and explore potential collaboration opportunities."
You can register for the summit here.
May 16 – 18: EASTEC 2023
Another Massachusetts manufacturing event this week is EASTEC 2023, a Manufacturing Technology Series event by SME and AMT – The Association For Manufacturing Technology. The trade show celebrates the historical importance of Northeast manufacturing, while also displaying its future in leading industries like aerospace, automotive, medical devices, defense, and industrial equipment. Attendees will learn about the latest developments, ideas, and technologies during panel discussions, keynote presentations, and optional workshops, as well as from the over 400 exhibitors that will be there, including CGTech, Farsoon Technologies, Hawk Ridge Systems, Massivit, Siemens, TriMech, and more.
"It's all here, from long-established foundational manufacturing to the advanced technology that makes possible smart manufacturing and the Fourth Industrial Revolution. Technology runs the gamut from high-end manufacturing equipment to smart technologies such as additive manufacturing and automation. EASTEC provides you with the ideal opportunity to make and renew business connections, explore the latest technology, learn from industry experts and shape the future of your business."
You can register for EASTEC 2023 here.
May 16: Velo3D Continues Roadshow in Midlands, UK
Velo3D continues its 2023 "The Proof is in the Printing" global roadshow this week with a stop in Midlands, UK on Tuesday, May 16th. The Metal AM Workshop will take place at the Thinktank Birmingham Science Museum from 9:30 am until 3 pm BST. The tour, which will make stops in other cities across Europe, the U.S., and the Asia/Pacific region, will show attendees how Velo3D's fully integrated solution can help achieve better part performance, supply chain flexibility, and repeatability. There will also be real-world examples of customer-printed parts.
"If you have struggled with production of high-quality, metal AM parts, our "Proof is in the Printing" roadshow is the perfect opportunity to speak with our team and learn how to overcome those challenges. Hear from Velo3D engineers as they share their experience in scaling up metal additive applications."
You can register for the Midlands stop here.
May 16: Creat3D Oxfordshire AM Workshop
Speaking of workshops in the UK, Creat3D is holding an Additive Manufacturing Workshop in Oxfordshire, also on the 16th. In addition to receiving a swag bag of additive goodies, attendees will get to meet with other manufacturers and engineers in Abingdon at The Bee House in Milton Park, and enjoy the exclusive opportunity to get full access to Markforged 3D printers and the Digital Forge, as well as Formlabs SLS 3D printers and Formlabs Automation Ecosystem. There will be three sessions: one from 10-11:30 am BST, another from 12:30-2 pm BST, and a third from 2:30-4 pm BST. Spaces are limited, so register now!
"Additive Manufacturing (AM) is firmly embedded into Engineering and Manufacturing firms in the UK as the engineer's problem solving tool, for applications from manufacturing aids to new product development and end-use components.

"Join us in Abingdon on May 16th to understand how to integrate 3D printers easily and see immediate benefits."
May 16: Predicting 3D Printed Part Structural Integrity
At 10 am EST on the 16th, ASTM International's AM Center of Excellence (AMCOE) is holding a webinar on "Theory and Application of Probabilistic Damage Tolerance to Predict the Structural Integrity of AM Parts." Taught by James C. Sobotka of Southwest Research Institute, the webinar will explain Probabilistic Damage Tolerance (PDT), which offers a methodology for evaluating the structural integrity of metallic components of higher criticality under fatigue. Attendees will learn the basic concepts of PDT and what makes it different from other methods, software tools and data that support PDT assessments, and more.
"In a PDT assessment, the defect-distribution drives the fracture risk of the AM part due to crack growth under cyclic loading. The PDT methodology may support Additively Manufactured (AM) processes that produce good quality material that is not necessarily defect-free. This webinar will discuss the ongoing adaptation of established zone-based PDT methods and software for safety-critical AM applications. These PDT methods explicitly address the potential size and frequency of material defects remaining in the part when it enters service. We will address alternative analysis strategies, challenges for software tools, and supporting materials data. We will also discuss recent efforts to exercise the PDT framework on AM parts to demonstrate the methodology, to document the procedure, and to determine areas for future improvement. This effort demonstrates the potential of the PDT methodology as a viable method to show the structural integrity of AM parts."
You can register for the webinar here.
May 16: What's New in nTop 4
nTop recently announced the launch of nTop 4, the latest major update to its flagship software product. At 1 pm EST this Tuesday the 16th, nTop Application Engineers Alec Guay and Neil Brayman will host a "What's New in nTop Webinar" to showcase some of the software's latest capabilities, including Implicit Interop and Field Optimization. There will be live demonstrations of nTop's holistic approach to DfAM, as well as time for a Q&A session.
"We are excited to introduce nTop 4, the next major release of our software, to help you realize the full potential of additive manufacturing."
You can register for the webinar here.
May 16: Virtual Tour of HP's 3D Printing Lab & Demo Center
Also at 1 pm EST on the 16th, HP will hold a live virtual tour of its 3D Printing Lab and Demo Center. Attendees will hear from HP 3D Printing speakers Claudia Molina and Wes Kramer, as well as Rob Bronersky, VP Operations at Mighty Oak Medical, about how HP's 3D Professional Service can help at all stage of the AM journey, and see application examples, watch a live overview of the HP Jet Fusion workflow, have their questions answered, and more.
"During the 90 minutes session you'll learn about latest innovation in MJF technology. Explore various applications, see the E2E system workflow and hear from those who are currently utilizing the new technology!"
You can register for the tour here.
May 17 – 18: Digital Construction Week
If you're interested in digital construction trends, head to London from May 17-18 for Digital Construction Week: Innovation in the Built Environment. Over 5,800 attendees will be there to hear from more than 300 speakers, and see what's new from over 150 exhibitors, including Dassault Systèmes, PERI, Cemex Ventures, and more. Plus, you can check out the National Robotarium—the leading center for AI and robotics—which will show you how robots are being used in the industry.
"Meet companies driving architecture and design, construction, engineering and operation forward. Discover how to use new technology to improve your projects, teams, business and the built environment."
You can register for this trade only event here.
May 18: Post-Processing 3D Scan Data with TriMech
On Thursday, May 18th, TriMech will hold "An Introduction to Post Processing of 3D Scan Data" webinar at 10 am EST. TriMech 3D Scanning Solution Specialist Brian Metzger will take attendees through several software solutions that can help post-process 3D scans during the design and manufacturing process. Topics will include higher power tools in Geomagic Design X, reverse engineering, the difference between CAD models and 3D scan data, how to easily generate a SOLIDWORKS part from a scan using Geomagic for SOLIDWORKS, and more.
"3D Scanning is a powerful tool for capturing complex geometric parts for manufacturing, design, and engineering applications. But once you've taken a 3D scan, what now?"
You can register for the webinar here.
May 18: 3D Printing in Dentistry with 3DHeals
The latest 3DHEALS virtual panel discussion will be this Thursday the 18th at 11 am EST, on the topic of "Additive Manufacturing in Dentistry." Experts with unique perspectives about the current status, and near future, of dental 3D printing were invited to participate in the discussion about dentistry, which appears to be a potential breakthrough industry when it comes to mass customization, local manufacturing hubs, and point-of-care delivery in 3D printing. You can check out this 3DHEALS guide if you're interested in learning more ahead of what promises to be an exciting panel discussion, moderated by 3DHEALS Founder and CEO Dr. Jenny Chen.
"Over the past several years, 3DHEALS has invited many different stakeholders to share their experiences, ranging from material innovation, and software development, to new clinical workflows. Applications ranging from surgical guides, implants, dentures, and night guards are among the new applications gaining increasing attention either in the startup world or the industry at large, in addition to the existing billion-dollar market of dental aligners. The collective thought is that 3D printing can do more and more in parallel to the maturation of technologies."
You can register for the webinar here.
May 18: Prototyping to Manufacturing with Formlabs & CLEANR
Also on May 18th, Formlabs welcomes CLEANR, which created an innovative microplastic-filtration technology for washing machines and is using its Automation Ecosystem to accelerate development. During a webinar at 12 pm EST, attendees will learn "How CLEANR Went From Prototype to Manufacturing on a Fleet of 3D Printers in 10 Months." The startup opened business just over a year ago, and is a great example of rapid product development, using a fleet of Formlabs SLA printers to go from an early filter prototype to a product that can take on microplastics pollution and is being evaluated by international governments for mandatory inclusion in new appliances. Attendees will hear all about the startup's journey, tips to manage an SLA printer fleet, 3D printing watertight parts, and more.
"Watertightness, transparent enclosures, constant validation testing, assembly capability, and above all, speed — these are the qualities that made CLEANR go from one Form 2 to ten Form 3+ printers in just a few months. Co-founders David and Chip will talk us through what they look for in new resins, how they manage ten printers, and how watertightness sealed the deal for them going with Formlabs."
You can register for the webinar here.
May 18: Plastic AM Material Properties with 3DPrint.com & 3DXTech
This Thursday at 2 pm EST, 3DPrint.com and 3DXTECH are holding a free webinar on "How Chamber Temperature Can Affect the Material Properties of 3D Printed Plastic Parts." Moderated by our Editor-in-Chief Michael Molitch-Hou, the webinar will feature an insightful presentation by 3DXTECH CEO Matt Howlett about chamber temperature, how it can affect the properties of plastic materials, and how to optimize in order to 3D print the best plastic parts. Stay on for the discussion!
"Join us on May 18th for our webinar on chamber temperature and its affect on the material properties of 3D printed plastic parts!"
You can register for this exclusive webinar here.
May 18: Expanding Secondary AM Finishing Options with Protolabs
Finally, at 3 pm EST on Thursday the 18th, Protolabs, which recently launched vapor smoothing for select MJF and SLS materials, will present a webinar on "Expanding Secondary Finishing Options for Additive Manufacturing." The more 3D printing changes, the more finishing options must be tailored to fit your AM applications. Technical Sales Engineer Eric Utley will look at the ever-expanding range of secondary finishing options available for AM, with a focus on the benefits of vapor smoothing for plastic 3D printed parts and dry electropolishing for metal ones.
"Over the last few years, the global capacity for additive manufacturing has grown tremendously, and in the process it has opened new opportunities for investment in secondary processes. This presentation will explore the expansion of secondary finishing options available for additive manufacturing and how they enable new opportunities to use additive for production."
You can register for the webinar here.
Do you have news to share about any future webinars or virtual and live events? Please let us know!
Subscribe to Our Email Newsletter
Stay up-to-date on all the latest news from the 3D printing industry and receive information and offers from third party vendors.
---
Print Services
Upload your 3D Models and get them printed quickly and efficiently.