We've got many offerings for you this week, including a few online events, like Mimaki Europe's Global Innovation Days, and in-person events, such as LMT Lab Day. Markforged will discuss winning metal FFF applications, Stratasys and Materialise will each focus on personalized medical device development, and 3DEO welcomes Jenny Wu for a virtual fireside chat to talk about LACE. Plus, 3DPrint.com and Velo3D are hosting a webinar together about scaling metal additive manufacturing production. For these offerings and more, read on for all the details!
3D Printing News Unpeeled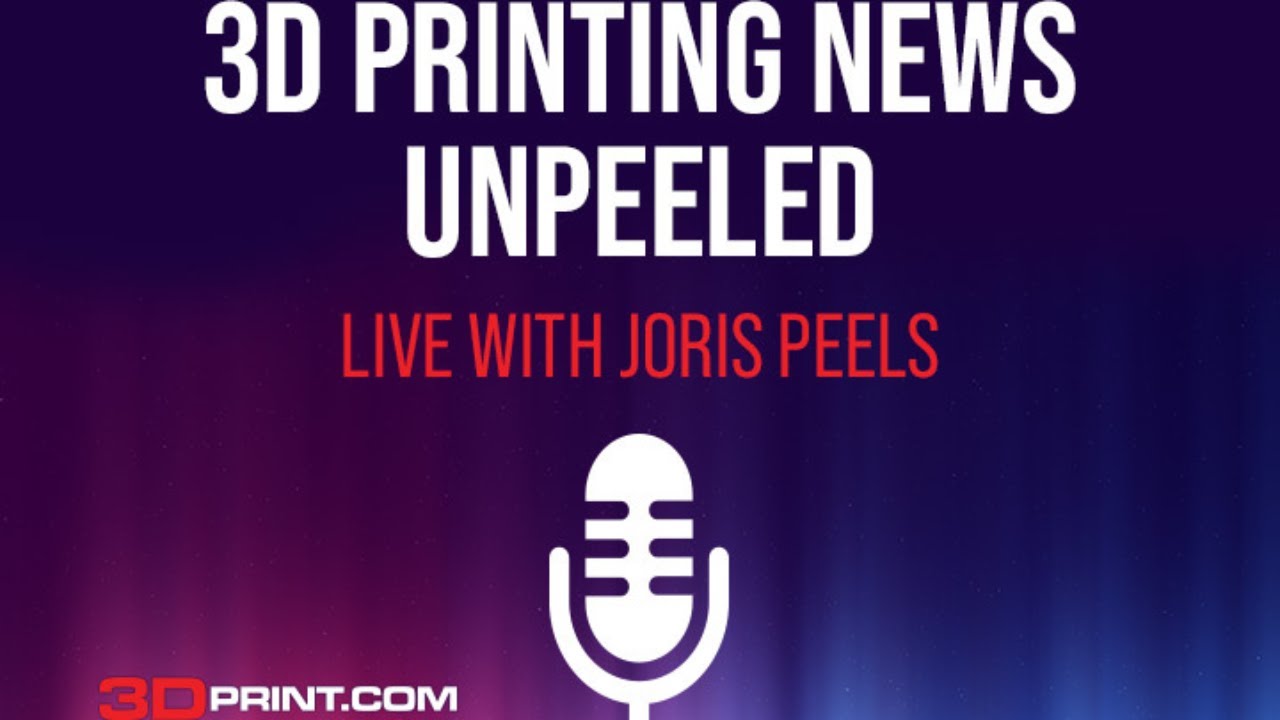 Our Executive Editor Joris Peels, who's also the Vice President of Consulting at SmarTech Analysis, offers a news livestream one to two times a week called 3D Printing News Unpeeled at 9:30 am EST. For each episode, Peels gets on LinkedIn Live and tells us, in 20 minutes or less, what he considers to be the top news stories from the 3D printing industry that week, and why they're important. Some of the stories in his roundup are ones we've covered at 3DPrint.com, and some are not, but they are all equally interesting and impactful.
February 21 – 23: Mimaki Europe's Global Innovation Days
For the fourth time, Mimaki Europe will host its online education and networking event for customers and industry peers. Mimaki Innovation Days will be held from February 21-23, and during the information-packed event, will also launch a new product to ensure its customers can run more efficient and productive businesses, enable automated and sustainable production, and meet the demands of their various industries. In addition, the event will feature a full program of webinars on hot industry topics, such as materials, art and technology, and more.
"Innovation Days has been a highly successful initiative for all who attend due to the variety of information shared and the unique chance to gain insights into the worldwide print market. This year will be another opportunity to see and hear from Mimaki's team from different corners of the globe, bringing that international industry perspective to individuals in the comfort of their own office or home. On the second day of this eagerly awaited event we'll not only be launching a brand new Mimaki solution. This printer breaks new ground for Mimaki technology, being the first of its kind to be added to our product portfolio," said Danna Drion, General Marketing Manager at Mimaki Europe.
You can register for the event here.
February 21: Winning Metal FFF Applications
At 10 am EST on Tuesday, February 21st, Markforged will hold a webinar on "10 Winning Applications in Metal FFF 3D Printing." Markforged speakers Ross Adams, Product Manager II, and Daniel Leong, Senior Product Marketing Manager will provide a clear, no-hype picture of metal FFF 3D printing today, its advantages and limitations, and what can be done with it. Attendees will get to see metal 3D printed prototypes, tooling, end-use parts, and maintenance parts from the team working every day to innovate metal AM.
"Interested in learning about the capabilities and limitations of the safest, most user-friendly, and accessible metal 3D printing process?

"This session will provide a deep dive into 10 metal FFF applications — the techniques used, why the applications work, and how you can implement them yourself."
You can register for the webinar here.
February 22 – 23: AM For Aerospace, Defence and Space
From February 22-23, the 9th Additive Manufacturing for Aerospace, Defence and Space show will be taking place in-person at The Hilton Wembley Stadium in London. Establishing itself as a top forum for R&D experts, AM users, and industry partners in the aerospace and space industry, the event welcomes several great guest speakers from the likes of Boeing, Airbus, Boeing, and the Air Force Research Laboratory (AFRL), and there will be multiple roundtables, keynote presentations, and panel discussions as well. Key themes of the show include certification and standardization strategies, commercialization of research, space, air, land, and sea applications for AM processes, developing short-term AM strategies, and more.
"This event will provide a platform to support opportunities in high value manufacturing and help prepare the aerospace industry to tackle the roadblocks of wider AM adoption. It is also a unique opportunity to maintain, strengthen and build connections across the industry following this challenging period."
You can register for the event here.
February 22:  Carbon Fiber 3D Printing Benefits
If you're interested in learning more about carbon fiber 3D printing, you'll want to attend this TriMech webinar at 10 am EST on Wednesday the 22nd for a "Demonstration of the Benefits of Carbon Fiber 3D Printing." TriMech Hardware Application Engineer Andrew Miller will discuss the major differences between the Stratasys F370 and new F370CR printers, and explain to attendees how they can take advantage of the materials and applications available with the machines.
"With the all new composite ready 3D printer and access to new materials and a wide range of applications, you can supplement your fixture and part fabrication to gain speed, throughput and cost benefits."
You can register for the webinar here.
February 22: 3D Printing Jigs & Fixtures with Formlabs
Jigs, fixtures, and other manufacturing aids are used internally by businesses to make assembly and manufacturing more reliable and simple by improving operator safety and reducing cycle times, which in turn can reduce production costs and streamline operations. To hear more, sign up for this Formlabs webinar at 11 am EST on the 22nd to learn how to "3D Print Jigs and Fixtures to Boost Manufacturing Efficiency." Juliette Combe, Application Engineer, Product Team, will teach attendees how 3D printed jigs and fixtures can lower costs, and guide them through the workflow of quickly 3D printing strong, lasting tools and replacement parts for the factory floor with both SLS and SLA printers. Real-life case studies from each stage of production will also be presented.
"With new advances in additive manufacturing technologies and materials you can now replace the standard expensive machined metal jigs and fixtures with lightweight, ergonomic, and part-specific 3D printed tools, with a wide range of materials to enable functional applications. In-house 3D printing enables you to build manufacturing aids rapidly and at a low cost to improve the speed, quality, and efficiency of production. It increases design freedom to build complex, custom tools and encourages continuous improvement. With 3D printed replacement parts, you can grow operational agility, solve day-to-day production issues and reduce machine downtime."
You can register for the webinar here.
February 22: Metal 3D Printing for Food Processing
Also at 11 am EST on Wednesday, Desktop Metal will be joined by Elliði Hreinsson, founder of Curio, which produces seafood processing machines for heading, filleting, skinning and sharpening. In a webinar on "Metal 3D Printing for Food Processing Industry," Hreinsson will share his experience using five DM Studio Systems and two ETEC Envision One 3D printers to design and optimize food equipment, all the way from rapid prototyping to batch production in 316L stainless steel with Bound Metal Deposition. His latest filleting machine uses over 100 metal 3D printed parts, and the technology enabled him to reduce time to market by a whole year. Attendees will learn how to combine metal 3D printing with other methods for more efficient production, applications from filleting machines that highlight the challenges of traditional manufacturing and the benefits of additive, and more.
"Designing and manufacturing the complex mechanical assemblies of food processing equipment can be challenging. 3D printing offers value-added solutions to overcome hurdles like long lead times and expensive tooling. Building parts layer-by-layer eliminates many limitations of CNC machining and other traditional manufacturing approaches with benefits like increased design flexibility."
You can register for the webinar here.
February 23 – 25: Chicago Dental Society Midwinter Meeting
From February 23rd through the 25th, the 158th Chicago Dental Society Midwinter Meeting will be taking place at McCormick Place. Featuring an exhibit hall with the latest dental innovations, Student Scientific Research Posters, several special networking events, and over 240 courses, including lectures and hands-on workshops, the scientific dental meeting has been called the best in the country. Some of the courses will touch on the use of 3D printing, and several industry companies will be exhibiting, including Formlabs, Glidewell Dental, Henry Schein Dental, Shining 3D, and SprintRay.
"The Midwinter Meeting is known for providing premiere speakers and exhibitors in dentistry from across the country. At the February 2023 meeting, attendees can access more than 240 CE-accredited courses on the latest practice management solutions and evidence-based clinical knowledge."
You can register for the CDS Midwinter Meeting here.
February 23: Scaling Personalized Medical Solutions with Automation
Thursday, February 23rd will be especially busy! Materialise kicks things off with a webinar at 10:30 am EST on "How Customized Process Automation Can Help Scale Up Your Personalized Medical Solution." Materialise Medical experts Karen De Leener, Market Manager, and Simon Lejaegere, Product Manager, will provide an overview of how process automation can help increase efficiency, and decrease lead times, when scaling up personalized medical solutions. Attendees will learn when to consider a customized workflow automation, how to start and the available options, examples of how this has helped other companies, and more.
"Automation plays a significant role in enabling companies to grow personalized medical cases. While the advantages of personalized solutions are now widespread across the healthcare market, the benefits of dedicated workflow automation are still to be adopted. Many companies are unaware of the easy and accessible possibilities that can decrease lead times and increase efficiency. This webinar aims to give an overview of these possibilities."
You can register for the webinar here.
February 23: Patient-Specific Medical Device Development
We stay on the medical track with Stratasys at 11 am EST on the 23rd, as it presents "Patient-Specific Medical Device Development – How to Introduce and Scale Your Personalized Programs" with new partner Axial3D. Stratasys Medical Business Manager Evan Hochstein and Axial3D's Founder and Chief Strategy Officer Daniel Crawford will have a conversation about patient-specific applications that impact medical device development. They will cover the end-to-end workflow—from getting patient data to producing the device—as well as how AI-driven segmentation can speed up the process, how to cost-effectively implement or begin scaling patient-specific programs, and more. There will also be a Q&A session.
"In the coming years, the medical industry will see increased demand for personalized medical solutions. Stratasys and Axial3D have partnered to take on this growth and enable routine and accessible patient-specific care."
You can register for the webinar here.
February 23: 3DHEALS Hosts World Community Managers Festival
3DHEALS will wrap up things on the medical front, but not in the way you might think. Also on the 23rd, from 9-10 am PST (12-1 pm EST) and 4-5 pm PST (7-8 pm EST), the organization invites its entire healthcare 3D printing and bioprinting ecosystem to meet its global community managers via Zoom during its World Community Managers Festival, as a way to say hello and learn about what the various communities have been up to during the pandemic; 3DHEALS anticipates a "revival of in-person events," as well as hybrid events, later in 2023. After updates from community managers and local partner organizations, attendees are free to visit community "booths" and connect in small groups. The first session will welcome community managers from New York, Washington, D.C., San Francisco, Detroit, and Eastern Europe / Budapest, while the second welcomes managers from Munich, Chicago, India, Vancouver, Melbourne, Brazil, Singapore, and San Francisco again.
"Since 2018, 3DHEALS has decentralized its community activities from San Francisco, California, USA, to more than twenty cities throughout the world. This growth was mostly organic by motivated and special individuals, 3DHEALS Community Managers, who came from all walks of life ranging from techies, and designers, to entrepreneurs, doctors, and investors. The goal of these local groups and events aims to bridge the knowledge and experience gap between 3D printing, an emerging technology, and the established healthcare and life science innovation ecosystem. It takes a village to make things happen!"
You can register for the virtual events here.
February 23: Scaling Metal AM Production with 3DPrint.com & Velo3D
The first of three webinars at 2 pm EST on the 23rd will be co-hosted by 3DPrint.com and Velo3D, about "Unlocking the Potential of Metal AM: Strategies for Scaling Production with Velo3D." Moderated by Joris Peels, the discussion will focus on the roadblocks to scaling metal AM, and how you can use Velo3D's fully integrated metal AM solution to overcome these challenges by mitigating variation through standardization. Velo3D's Technical Sales Engineer Sid Raje and Technical Business Development Account Manager Matt Karesh will discuss the importance of standardized print parameters, the role of fleet-level calibration in combating print variability, how a universal set of instructions allows for consistency across a global network of 3D printers, and more.
"Metal additive manufacturing (3D printing) is quickly becoming a vital technology used in the aerospace, energy, and tooling industries to manufacture complex parts more efficiently than they could using traditional manufacturing methods. But while conventional metal AM excels at producing one-off and low volume parts, many of the same conventional systems lack the repeatability required to bring parts production to scale."
You can register for the webinar here.
February 23: 3DEO's Fireside Chat with Jenny Wu of LACE
Also at 2 pm EST on Thursday, jewelry lovers can join 3DEO's intimate fireside chat with award-winning designer, innovator, and 3D printing pioneer Jenny Wu, the Founder and CEO of LACE, her original conception of luxury 3D printed jewelry. 3DEO's Emily Elpes, Vice President of Marketing, will lead the conversation, looking into Wu's path from architect to 3D printed jewelry designer and the founding of LACE by Jenny Wu. They will cover Wu's inspiration and motivation behind her 3D printed luxury jewelry brand, how her successful architecture career plays a role in her consumer brand, success stories behind various LACE collections, advice for entrepreneurs in consumer products, and more.
"Hear the story behind designing and launching her newest piece, Link, in collaboration with 3DEO: the first fully 3D printed chain bracelet."
You can register for the fireside chat here.
February 23: New Handheld 3D Scanner by Zeiss
The final 2 pm EST webinar on the 23rd is TriMech's second offering this week, and it's offering a "First Look at Zeiss' New Handheld 3D Scanner, the T-Scan Hawk 2," which is the latest addition to the GOM/Zeiss metrology tool lineup. TriMech 3D Scanning Product Sales Specialist Brian Metzger and Juan Uribe from ZEISS, Technical Lead for HandsOnMetrology Americas, will discuss the features of the new T-Scan Hawk 2, and demonstrate the handheld 3D scanner.
"Offering the highest possible standard of accuracy and resolution in a handheld 3D scanner, the T-Scan Hawk 2 will open up new possibilities for Reverse Engineering and Quality Control."
You can register for the webinar here.
February 24 – 26: LMT LAB DAY
Finally, the largest dental laboratory event in the US, LMT LAB DAY, will be held at the Hyatt Regency Chicago from February 24-26. This is the 37th year for the comprehensive trade show, which got its start with 31 exhibitors and about 400 attendees and has grown to 260 exhibitors and over 4,500 attendees. There will be plenty of educational seminars to choose from, most of which will be approved for CE credits by the NBC, and several of which will focus on 3D printing in the dental industry. Plenty of AM industry companies will be attending or exhibiting as well, including 3D Systems, SprintRay, PostProcess Technologies, and more.
You can register for LMT LAB DAY here.
Do you have news to share about any future webinars or virtual and live events? Please let us know!
Subscribe to Our Email Newsletter
Stay up-to-date on all the latest news from the 3D printing industry and receive information and offers from third party vendors.
---
Print Services
Upload your 3D Models and get them printed quickly and efficiently.