It looks like Stratasys may be wrapping up its North American roadshow this week; that's first up in our 3D Printing Webinar and Event Roundup. ICAM 2023 will be in Washington D.C., ImplementAM heads to Milwaukee, and our own AM Investment Strategies will be online, so you can join from anywhere! There are plenty of webinars to choose from as well, on topics like laser cladding and repair, SOLIDWORKS 2024, binder jetting, and more. Read on for all the details!
3D Printing News Unpeeled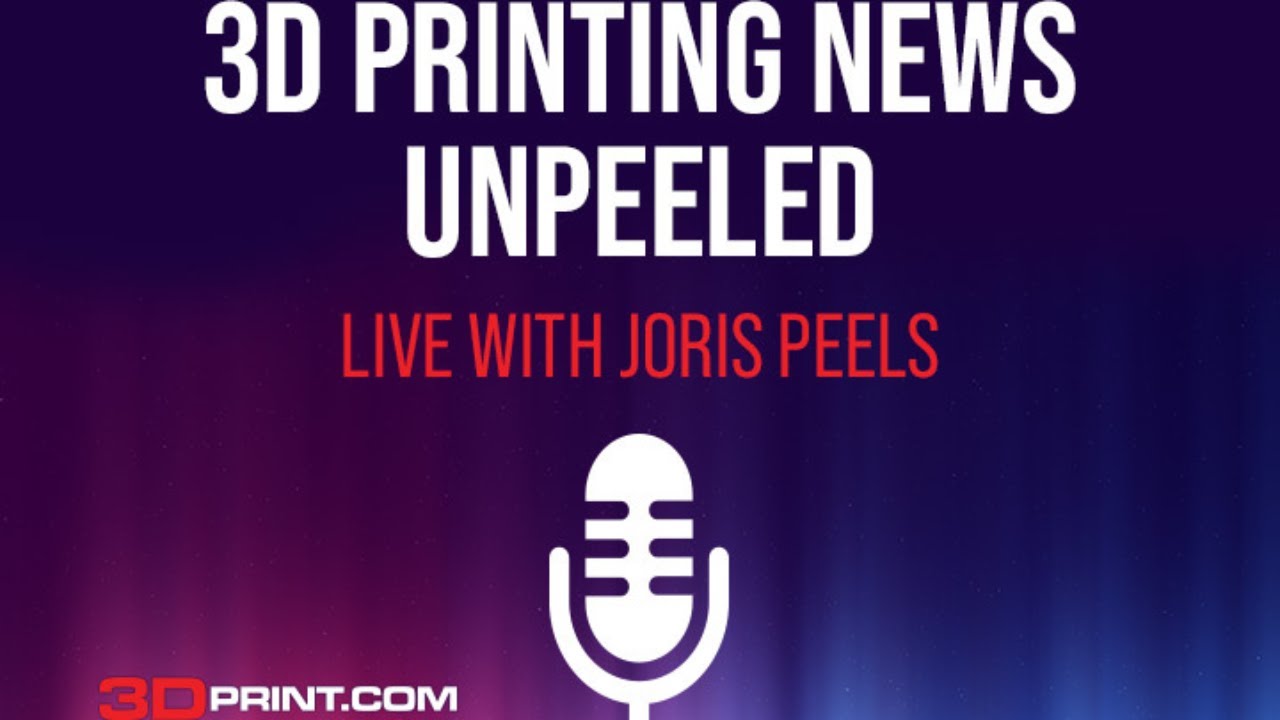 Our Executive Editor Joris Peels, who's also the Vice President of Consulting at Additive Manufacturing Research (AMR), offers a news livestream one to two times a week called 3D Printing News Unpeeled at 9:30 am EST. For each episode, Peels gets on LinkedIn Live and tells us, in 20 minutes or less, what he considers to be the top news stories from the 3D printing industry that week, and why they're important. Some of the stories in his roundup are ones we've covered at 3DPrint.com, and some are not, but they are all equally interesting and impactful!
October 30 & November 1: The Experience Stratasys Tour Continues
The Experience Stratasys Tour is taking its mobile showroom across the U.S., so educators, designers, and manufacturers have a convenient way to see the company's latest materials, 3D printers, and solutions. This week, the truck is heading first to Knoxville, Tennessee on Monday, October 30th, with a stop at Orange Hat Brewing hosted by GoEngineer. Then, after a quick break on the 31st, it moves on to Missouri, stopping at Rockwell Beer Co. in Saint Louis, hosted again by GoEngineer.
"Speak with 3D printing experts from Stratasys and our partners to find out how your organization can benefit from 3D printing – whether it's bringing a printer in-house or utilizing additive manufacturing services from Stratasys Direct. Let us show you how Stratasys is leading the global shift to additive manufacturing with innovative 3D printing solutions for aerospace, automotive, consumer products and healthcare."
You can register for the Stratasys Experience Tour here.
October 30 – November 2: CAMX Expo 2023
The largest, most comprehensive composites and advanced materials event in North America is coming to Atlanta, Georgia from October 30-November 2. CAMX 2023, the Composites and Advanced Materials Expo, is owned and produced by the American Composites Manufacturers Association (ACMA) and the Society for the Advancement of Material and Process Engineering (SAMPE). It will feature over 100 expert-led sessions, live manufacturing demonstrations, an exhibition hall, plenty of time for networking, and more. Plus, several AM industry companies will be onsite, and Massivit is hosting a special Open House at its America's Experience Center on the 30th, coinciding with CAMX 2023.
"With a robust education program and an expansive exhibit hall with hundreds of manufacturers, distributors, and suppliers, CAMX delivers a unique experience and unrivaled opportunities."
You can register for CAMX here.
October 30 – November 3: ICAM 2023
The 8th annual ASTM International Conference on Advanced Manufacturing (ICAM) comes to Washington D.C. from October 30-November 3. Hosted by ASTM's Additive Manufacturing Center of Excellence (AM CoE) and supported by more than a dozen ASTM technical committees, this flagship event is all about standardization, qualification, and certification, with a focus on industry-specific requirements addressing entire advanced manufacturing processes and value chains. Consisting of 26 symposia, ICAM 2023 will feature multiple networking opportunities, as well as over 700 presentations, panel discussions, and keynotes, an awards ceremony, and more.
"This conference addresses application specific requirements of various industry sectors in addition to covering the fundamentals of advanced manufacturing processes with the goal of transitioning research to application through standardization."
You can register for ICAM 2023 here.
October 31: AM Industry Showcase
From 9-10 am EST on Tuesday, October 31st (Happy Halloween!), you can attend the virtual Additive Manufacturing Industry Showcase – U.S.-Korea Supply Chain Commercial Dialogue. Hosted by the U.S. Department of Commerce International Trade Administration – Industry & Analysis, attendees can benefit their network, marketing, and market entry efforts by participating in the showcase, which includes speakers from America Makes, National Institute of Standards and Technology (NIST), Korea Electronics Technology Institute (KETI), and more. You can also connect with the International Trade Administration's Commercial Specialists at the U.S. Embassy in Seoul, who can help with exports and doing business in Korea, including additive manufacturing.
"The showcase will serve as a springboard for further engagement, exploration, and collaboration on additive manufacturing between the United States and Korea, giving participants the opportunity to be a part of this evolving partnership."
You can register for the webinar here.
October 31: Markforged's Digital Source Platform
Markforged will hold a webinar at 10 am EST on the 31st with a focus on "A New Way to Lower Inventory Costs and Boost Customer Sat with On-Demand 3D Printing" with its Digital Source cloud platform. Attendees will learn how Digital Source works, how to license part designs to bypass physical inventory, the benefits of on-demand spare part fulfillment with the platform, and more. The featured speakers from Markforged are Charles Lu, Product Marketing Manager, and Tripp Byrd, Director, New Platforms.
"Licensing 3D-printable parts through Digital Source simplifies supply chains, lightens your team's operational load, and helps your customers skip the wait for parts. With Digital Source, you can reduce cash tied up in physical inventory while still getting paid when customers print parts."
You can register for the webinar here.
October 31: Laser Cladding & Repair with Meltio's LMD
A webinar by Meltio at 11 am EST on the 31st will focus on "Laser Cladding and Repair with Wire-Laser Metal 3D Printing." Attendees will learn how to leverage the company's wire Laser Metal Deposition (LMD) technology to repair metal 3D printed parts, as well as for laser cladding. Possible applications will be discussed, as well as material compatibility and the advantages of laser cladding and repair.
"Join Giorgio Olivieri, Applications Manager, and Jairo Luengo, Applications Robot Engineer, who will dive deep into this versatile manufacturing process, and the significant advantages it yields to Meltio users."
You can register for the webinar here.
October 31: Desktop Metal Breaks Down AM Binders
Also at 11 am EST on Tuesday the 31st, Desktop Metal will discuss "Breaking Down AM Binder Selections for Various Applications." Eric Rhodes, a Materials Engineer with the company's Metal R&D Team, will discuss Desktop Metal's portfolio of binders for metal and ceramic powders, why they're critical to binder jetting, the impact of curing profiles and green part strength, and more. Attendees will also learn about chemistry, viscosity, and saturation constraints; key requirements for sensitive powders; and regional environmental, health, and safety compliance.
"Binder plays a critical role in additive manufacturing— but not all binders are created equal! Environmental regulation, material compatibility, post-print strength, and end part purity are just a handful of considerations when optimizing processes for your application."
You can register for the webinar here.
October 31: 3D Printed C-Band Horn Antenna
3D Systems will be joined by Thales Alenia Space for a webinar, sponsored by Microwave Journal, at 11 am EST on the 31st about a "Disruptive Corrugated C-band Horn Antenna produced with Additive Manufacturing." The space telecommunication market is increasingly competitive, and Thales Alenia Space has been using AM since 2013 to optimize its products. During the webinar, Antoine de Crombrugghe, Application Development Engineer for 3D Systems, and Laura Foucaud, Antenna Design Engineer, Thales Alenia Space, will present a typical Design for Additive Manufacturing (DfAM) approach they used for a classic C-band corrugated antenna horn.
"Using 3D Systems' large format multi-laser platform, capable of printing parts up to 500 x 500 x 500 mm, the result is a seamless horn antenna that can be manufactured in 3 days. This short lead-time opens a new world of iterative shape optimization."
You can register for the webinar here.
November 1: Fundamentals of Materialise Mimics Innovation Suite
The latest Materialise in-person training, "Mimics Innovation Suite – Fundamentals," will take place in Sydney, Australia on Wednesday, November 1st at 10 am AEST. Topics will include an introduction to Mimics and 3-matic software, the basics of optimizing a part for 3D printing and other downstream applications, how to import DICOM data and convert the images into a 3D model, and more. Attendees will get hands-on experience with the software, and lunch is included in the training as well.
"Join our course in Sydney to learn the basics of 3D model preparation with a Materialise expert. You'll discover the step-by-step process of converting medical images into high-quality, printable 3D models, including image segmentation, reconstruction, and refinement."
You can register for the course here.
November 2: ImplementAM in Milwaukee
Portland, Oregon-based ImplementAM, recently acquired by the Society of Plastic Engineers (SPE), organizes and facilitates one-day additive manufacturing workshops, and the latest one will be in Milwaukee, Wisconsin on Thursday the 2nd. These events feature networking, expert speakers, and group activities to get you away from PowerPoint and engaging in a more interactive learning experience. Join ImplementAM at the Explorium Brew Pub Third Ward, and don't forget to vote for a local school in the Milwaukee area to receive a 3D printer package and training from MatterHackers.
"Join us in Milwaukee for a day of learning, collaboration, and networking. Expand your knowledge about the foundational 3D printing technologies and learn about the business cases behind additive manufacturing. We have expert speakers from major 3D printing machine OEMs, software providers, and service bureaus."
You can register for the workshop here.
November 2: AM Investment Strategies 2023
The week before Formnext 2023, the third edition of AM Investment Strategies—produced by 3DPrint.com and Additive Manufacturing Research (AMR, formerly SmarTech Analysis) in association with Cantor Fitzgerald—will be held. This live online roundtable, from 12-1 pm EST on the 2nd, will be moderated by Troy Jensen, Managing Director at Cantor Fitzgerald, with participation from some of the leading experts and CEOs in our industry. The event seeks to dive deeper into the ever-evolving business environment and competitive dynamics of the 3D printing industry, and because it's free to attend, is accessible to a range of stakeholders looking for a more nuanced understanding of the 3D printing industry.
"Additive Manufacturing Research & Cantor Fitzgerald invite you to join in a special one-hour online roundtable diving into the business environment and competitive landscape for the 3D printing industry."
You can register for AM Investment Strategies here.
November 2: What's New in SOLIDWORKS 2024
Finally, Dassault Systèmes will hold a webinar on "What's New in SOLIDWORKS 2024" this Thursday, November 2nd, at 1 pm EST. If you can't join the live session, register anyway, and you'll get the recording once the webinar is complete.
"SOLIDWORKS 2024 is here! Take a quick trip with SOLIDWORKS experts Steve Fick and Mark Peterson on November 2nd @ 1:00PM ET as they navigate the exciting new enhancements that will help you:
Work smarter: Automate and shorten many often-used workflows

Work faster: Performance enhancements and UI improvements help you be more productive

Work together: Securely share and store your designs with Cloud Services
You can register for the webinar here.
Do you have news to share about any future webinars or virtual and live events? Please let us know!
Subscribe to Our Email Newsletter
Stay up-to-date on all the latest news from the 3D printing industry and receive information and offers from third party vendors.
---
Print Services
Upload your 3D Models and get them printed quickly and efficiently.