Webinar topics covered in this week's roundup include metal AM material development, 3D printing for wax investment casting patterns, post-processing for military applications, and more. Plus, Stratasys continues its tour, the Construct3D conference will be held in Brooklyn, and the National Science Foundation will hold a workshop on advanced manufacturing for industrial decarbonization. Read on for the details!
3D Printing News Unpeeled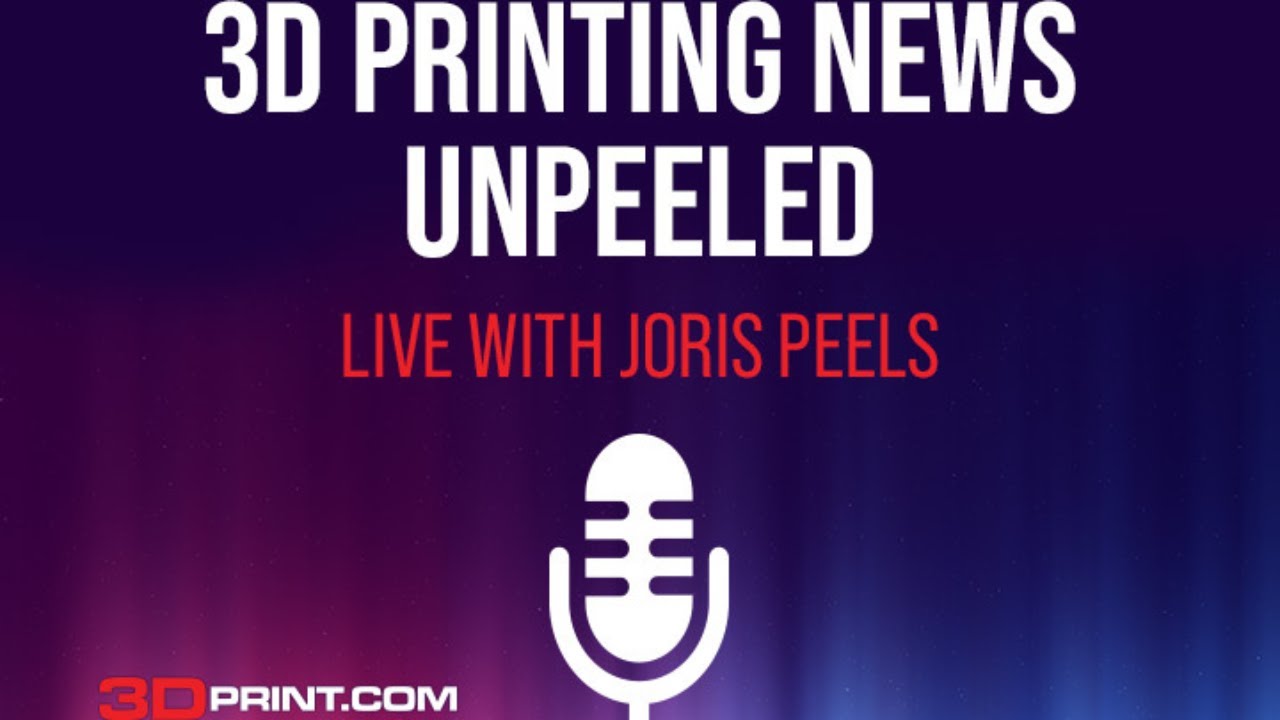 Our Executive Editor Joris Peels, who's also the Vice President of Consulting at SmarTech Analysis, offers a news livestream one to two times a week called 3D Printing News Unpeeled at 9:30 am EST. For each episode, Peels gets on LinkedIn Live and tells us, in 20 minutes or less, what he considers to be the top news stories from the 3D printing industry that week, and why they're important. Some of the stories in his roundup are ones we've covered at 3DPrint.com, and some are not, but they are all equally interesting and impactful.
July 31 & August 1, 3, & 4: The Experience Stratasys Tour Continues
The Experience Stratasys Tour is taking its mobile showroom across the U.S. and giving designers, educators, and manufacturers a convenient way to see the company's latest materials, 3D printers, and solutions. This week, the truck heads out to the Northwest, stopping first on Monday, July 31st at Wings over the Rockies in Denver, Colorado, hosted by GoEngineer. The tour remains in Denver on Tuesday, August 1st, visiting Metro State University, hosted first by PADT and then by HCTC. Utah is next, with a stop at the GoEngineer headquarters in Midvale on Thursday the 3rd, and on Friday the 4th, the tour stops in Kaysville, Utah, with visits hosted by PADT and HCTC at Hatchet Jaxe Axe Throwing.
"Speak with 3D printing experts from Stratasys and our partners to find out how your organization can benefit from 3D printing – whether it's bringing a printer in-house or utilizing additive manufacturing services from Stratasys Direct. Let us show you how Stratasys is leading the global shift to additive manufacturing with innovative 3D printing solutions for aerospace, automotive, consumer products and healthcare."
You can register for the Stratasys Experience Tour here. Stay tuned for more dates and locations in the future!
August 1 – 3: Construct3D 2023
At NYU Tandon's Makerspace from August 1-3, Construct3D 2023, the leading conference for educators using 3D printing and digital fabrication, will be held. Focused on academic explorations, best practices, and professional development opportunities for students, staff, and faculty in K-12 and higher education, the conference offers a platform for sharing applied learning experiences and research, encouraging collaboration and action through workshops, demonstrations, and some amazing keynote speakers, including 3D printed fashion designer Anouk Wipprecht. There will also be a digital fabrication art exhibition, a competitive educational challenge, and informative sessions on everything from Tinkercad and Grasshopper to advanced full-color 3D printing, 3D printing molds for casting, and food 3D printing.
"The Construct3D organizing team is gearing up for Construct3D 2023: Next Steps for Digital Fabrication in Education programming. We know that educators are facing new challenges, and the Construct3D community of educators and industry leaders are again here to work together to figure out where and how we move forward.

How can we educators and industry allies adapt to the new realities of teaching 3D printing and digital fabrication? 

Where are the best resources to help each of us not reinvent the wheel?

How can we better serve everyone in our community?
You can register for Construct3D here.
August 1: FFF 3D Metal Applications with Filamet
The most common type of 3D printing is FFF, or Fused Filament Fabrication, sometimes used interchangeably with FDM (Fused Deposition Modeling). The technology uses extrusion to print layers of material, and FFF Metal does the same thing with metal filament, except that you later debind and sinter the printed parts in a regular kiln. While there are many options, you may not be certain which applications or projects are ideal for FFF Metal. The Virtual Foundry is holding a Zoom webinar at 12 pm EST on Tuesday, August 1st, called "Ideal Applications for FFF 3D Metal with Filamet," that should answer that question. The agenda will cover:
Introduction

Basic overview of FFF Metal & Filamet

Good applications based on part shape

Good applications based on material

Applications to avoid

Other considerations

Some of our favorite applications

Special offer

Q&A

Info & Resources
You can register for the webinar here.
August 2 & 3: Post-Processing for Military 3D Printing
PostProcess Technologies will hold two webinars this week on Post-Processing for Military 3D Print Applications. The first, at 10 am EST on Wednesday the 2nd, will focus on FDM Support Removal, while the second, at 1 pm EST on Thursday the 3rd, will focus on Resin Removal.
"Register for this webinar to learn how to get mission-critical parts into warfighters hands fast with automated post-processing.
You can register for the webinars here.
August 2: Emerging Metal AM Materials with Elementum
If you're interested in what's next for metal additive manufacturing materials development, sign up for this Elementum 3D webinar on "Bridging the Gap – Emerging AM Materials" at 11 am EST on the 2nd. Four top AM materials experts from Elementum 3D, NASA Jet Propulsion Laboratory and NASA Glenn Research Center, and 6K Additive will each present on the advancements, and real-world applications, of metal AM materials for aerospace, energy, medical, and automotive applications. There will also be a 20-minute roundtable Q&A session at the end. Key insights will focus on magnetic performance, metal matrix composites, space robotics, carbide cutting tools and gears, and more.
"Are you interesting in knowing…if there is a suitable additive manufacturing (AM) material that can perform at temperatures above 1000°C with exceptional tensile, creep and dispersion performance? Or what are the next high-quality metal alloy and refractory powders being developed to fill the gap between having a revolutionary application concept and achieving printability of the next advancement in medical, energy, automotive and aerospace? If so, save the date on your calendar and register for the Emerging AM Materials webinar to learn what's next in AM material development."
You can register for the webinar here.
August 2: 3D Printed Wax Investment Casting Patterns with 3D Systems
Also on Wednesday the 2nd, at 2 pm EST, 3D Systems will hold a webinar on "3D Printed Wax Investment Casting Patterns Using the ProJet 2500 IC and 3D Sprint." The ProJet MJP 2500 IC generates high-quality wax patterns with accuracy and repeatability that can fit in current investment casting processes, which makes it a good system for customized metal components, low volume production, and bridge manufacturing. Attendees will learn about the company's fully integrated systems and workflow, producing complex parts and product iterations not feasible with conventional injection molding, tools and best practices, and more.
"Enabling the creation of the Digital Foundry, 3D Systems' technology will yield competitive advantages for those adopting digital processes, powered by 3D printing. 3D printed investment casting patterns deliver the same high quality casting outcomes, but allow:
Unmatched turnaround time – pattern production in hours

Ultimate design freedom

Dramatic cost savings

Manufacturing agility
You can register for the webinar here.
August 3 – 4: Advanced Manufacturing for Industrial Decarbonization
The National Science Foundation (NSF) will hold a workshop from August 3-4 in Arlington, Virginia, on "Advanced Manufacturing for Industrial Decarbonization." The objectives are to identify gaps and challenges in advanced manufacturing for industrial decarbonization, as well as share perspectives from federal agencies and formulate recommendations for research initiatives on decarbonization technologies that are economically viable. Workshop presentation topics include low-carbon fuels, feedstocks, and energy sources, advanced manufacturing, techno-economics, industrial electrification and energy efficiency, and more.
"The National Science Foundation (NSF) workshop will feature speakers from industry, academia, and national labs who will share their insights regarding how advanced manufacturing can contribute to industrial decarbonization. Representatives from government agencies (including ARPA-E, DoE, and NSF) will discuss funding opportunities for manufacturing researchers interested in industrial decarbonization."
You can register for the workshop here.
August 3: 3D Printing to Accelerate Molding & Core Equipment Process
At 7 am EST on the 3rd, 3D Systems will hold its second webinar of the week, about how to "Accelerate Your Molding and Core Equipment Process Using Additive Manufacturing." Marshall Miller, 3D Systems Application Engineer, will provide a comparison between the traditional pattern making process and manufacturing pattern equipment using EXT Titan Pellet 3D printers, looking at factors include cost, lead time, and bench properties. Attendees will also learn about real-world examples of how foundries have used these pellet extrusion systems to majorly reduce time to market and improve competitiveness.
"Today's foundry industry faces numerous challenges with manufacture and procurement of molding and core equipment including long lead times for materials, supply costs that seem to increase weekly, and skilled labor scarcity. However, there is a proven solution that can overcome these obstacles. Enter pellet extrusion additive manufacturing powered by 3D Systems' EXT Titan Pellet series (formerly known as Titan Atlas series) 3D Printers. This innovative technology enables the production of patterns and core boxes in significantly less time and at a greatly reduced cost compared to traditional methods."
You can register for the webinar here.
August 4: Insights into ULTEM 9085 with Roboze & SABIC
Finally, at 11 am EST on Friday, August 4th, Roboze will hold a webinar about "Super polymers and composites in additive manufacturing: insights into ULTEM 9085." The thermoplastic resin, which is a proprietary brand of chemical manufacturing company SABIC, is one of the most widely used 3D printing materials, and its superior properties mean it has potential in many industrial applications. Francesco Pantaleone, Roboze EVP Business Development, and Youness Hssaini, Business Development Manager from SABIC's Specialties Business, will answer questions, and also discuss the benefits, features, and possible applications of this high-performance material, which features a unique combination of dimensional stability, electrical insulation, and thermal and chemical resistance.
"Whether you're just discovering ULTEM 9085 or are already familiar with its high-performance potential, you'll gain valuable insights into this innovative 3D printing material. The webinar will provide tips for how to leverage its properties to unlock new applications and opportunities.

This is your chance to learn more about a high-performance material and printing technique that could open up new opportunities for your business. You'll learn from the experts about a filament that can handle high temperatures and the printer that makes it possible."
You can register for the webinar here. Capacity is limited to the first 500 livestream subscribers.
Do you have news to share about any future webinars or virtual and live events? Please let us know!
Subscribe to Our Email Newsletter
Stay up-to-date on all the latest news from the 3D printing industry and receive information and offers from third party vendors.
---
Print Services
Upload your 3D Models and get them printed quickly and efficiently.