Barcelona-based 3D printer manufacturer BCN3D just launched its Omega I60 3D printer, designed for production tooling. An innovator independent dual-extrusion (IDEX) technology, BCND3D has developed a reputation for quality, professional-grade 3D printers. The Omega I60 expands its production portfolio to include a large-format, industrial quality machine.
The Omega I60 has a 70ºC heated chamber, 120ºC flexible build plate, 60 liters of build volume (450 x 300 x 450 mm), and high-speed, dual-head IDEX. The printer is priced at $21,000, which means that it is a direct assault on the Stratasys-held part of the 3D printing market. The IDEX movement has been improved, while featuring direct drive Bondtech LGX Pro extruders and E3D Revo hotends. This should make extrusion reliable and enable hot swapping of hotends, is particularly important in an industrial environment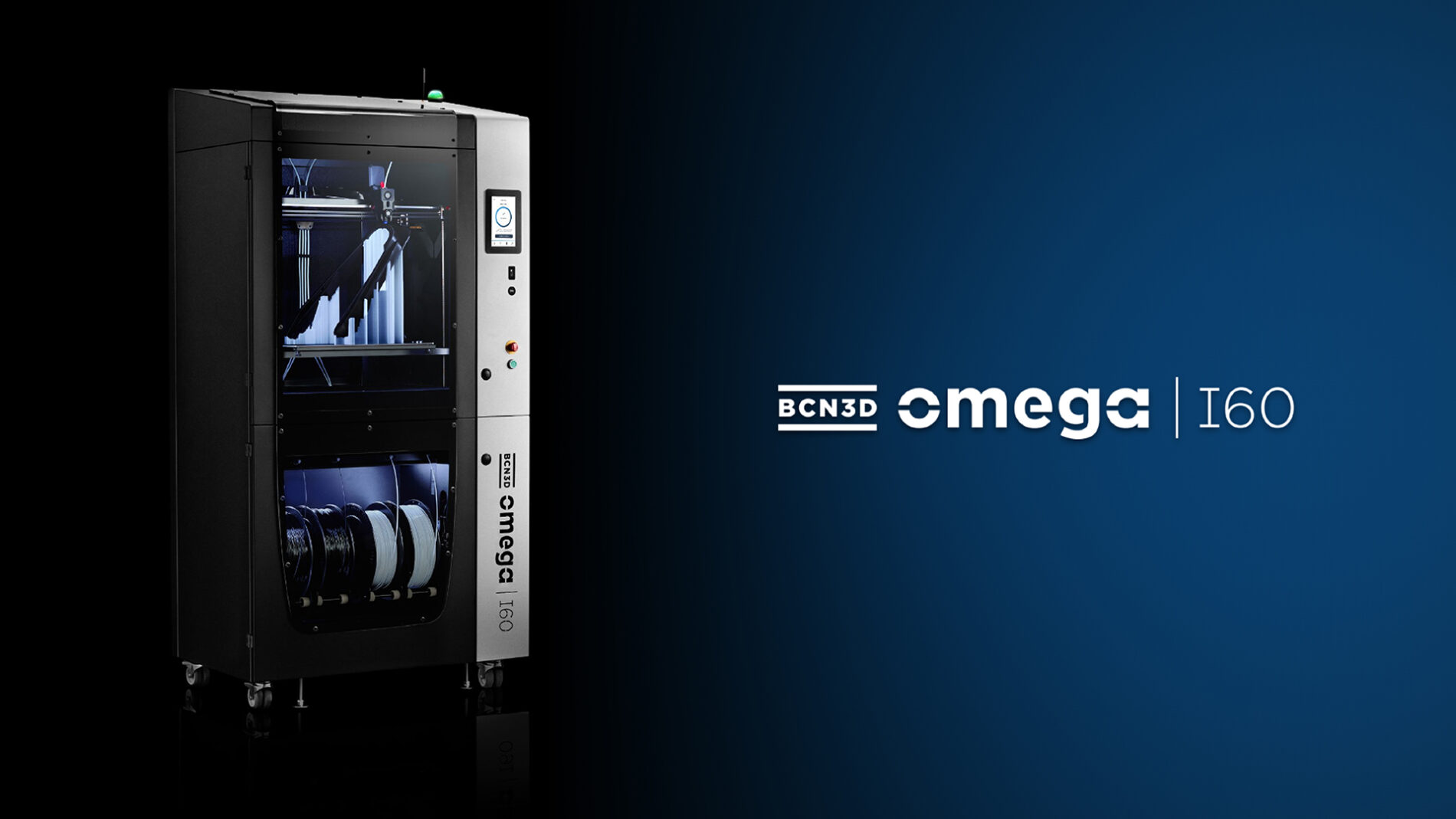 Movement speed is 300 mm/s and the heated chamber should eliminate a lot of warping and improve parts. There is also a Material Operations System (MOS), which preheats filament. By reducing the temperature gradient, the MOS can improve results, reliability, and repeatability, while storing filament under managed conditions. The chamber also helps reduce humidity, a real 3D printing bugbear that leads to a lot of issues. The Omega I60 also exchanges filament automatically, which could mean for much larger uninterrupted print runs.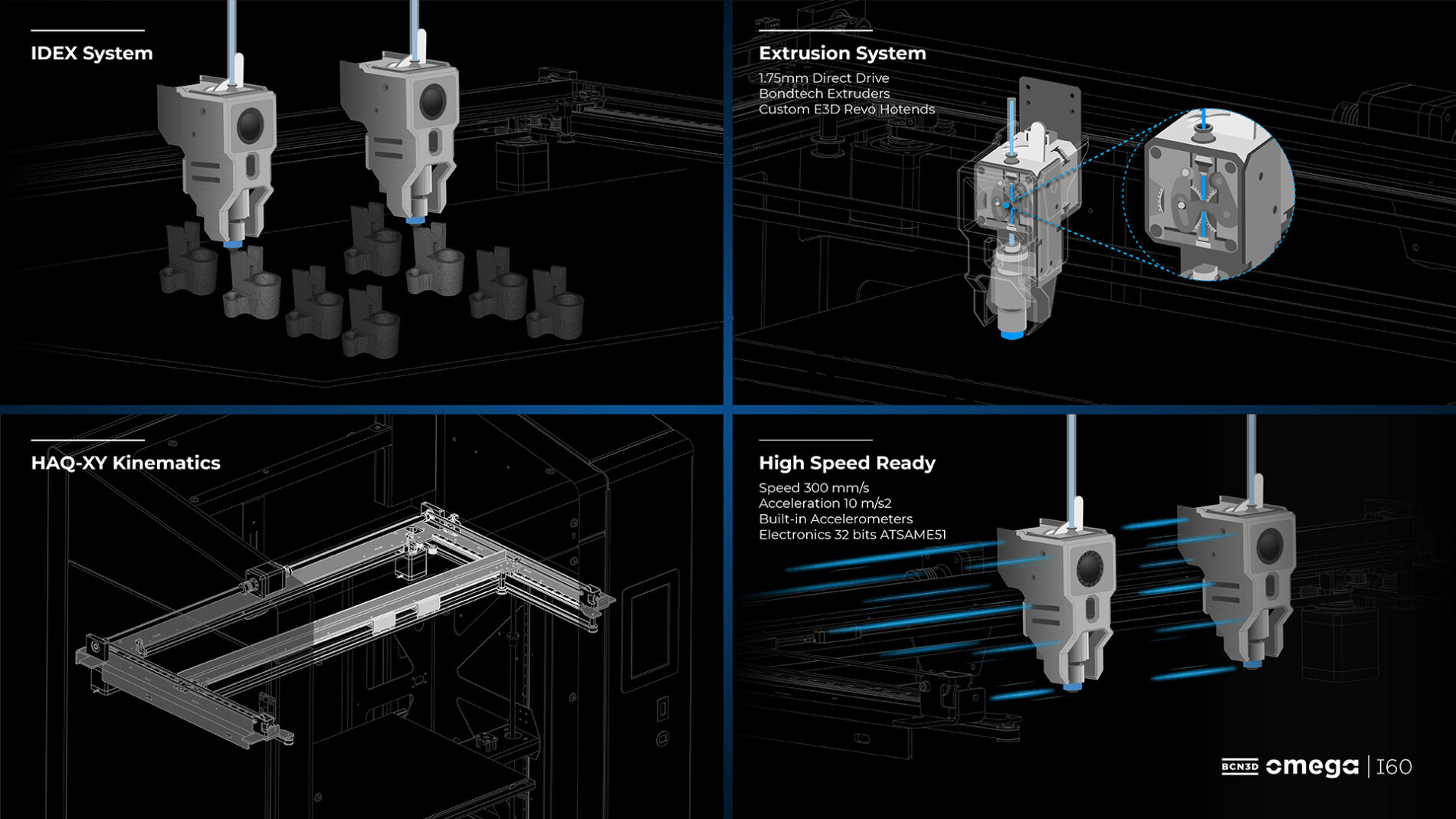 The printer uses piezoelectric sensors for height and XY offset, as well as calibrating print heads. HEPA and Carbon filters offer greater respiratory safety, while a seven-inch touchscreen and an updated Cura skin called Stratos 2.0 are meant to provide greater ease-of-use.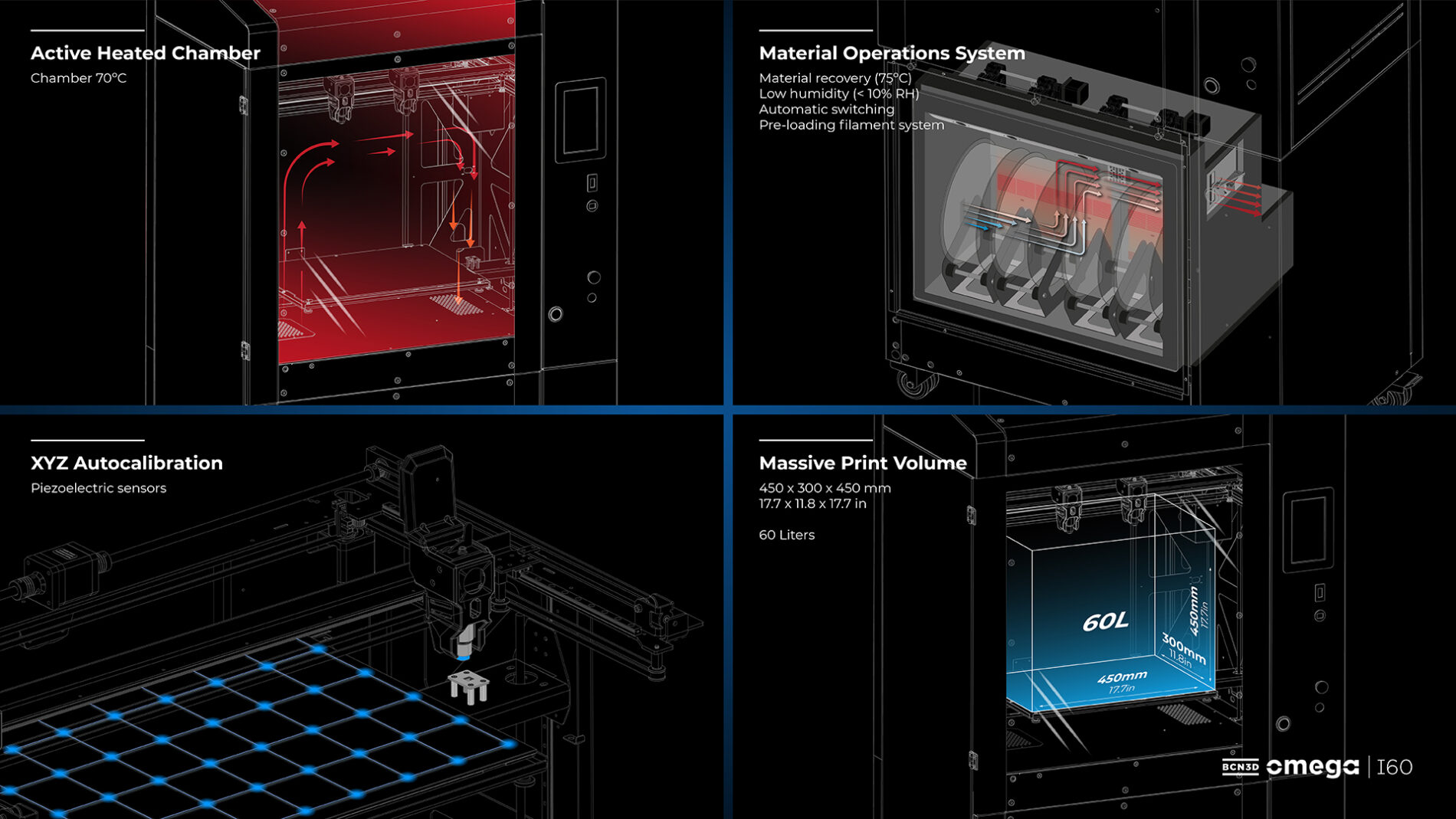 To speed up sales, the company has an Omega Launchpad Program, where prospective clients can work with applications engineers to produce parts and experience what the printer can do. This seems very sensible and is standard practice in metal, but relatively unused in material extrusion.
On the whole, the Omega I60 seems like a super sensible play. Just take the battle straight to Stratasys, offer more open and cheaper materials than the market leader and pitch it as an alternative to the entry-level Stratasys systems with low cost per part and low total cost of ownership. It also leapfrogs UltiMaker by putting a big system above the smaller and more expensive  S7. That will surely tempt some companies to produce larger parts. UltiMaker still has the edge in terms of installed base, but BCN3D is really creating opportunities for itself in that market.
All in all, this is a coherent effort that really ticks all of the boxes that you'd want for an industrial machine for a large, shared 3D printer for use in-office. It would be interesting if the team could make a version with shielded components, 420ºC print head, and 200ºC build chamber to use PEEK and the like. This would allow BCN3D reuse a lot of the same components for a high-temperature 3D printer.
BCN3D has the right vision and I really like the specs of this system and the price. Do they have the heft to market this well, and can they push it out the door to enough happy users? This remains to be seen.
BCN3D is really positioning itself as an industrial 3D printing alternative to Stratasys, far above the fray of the desktop market. This is totally what I would recommend that the company does. To be the underdog versus Stratasys and position yourself against them beats any play whereby you'd either go head-to-head with UltiMaker or focus on the super-competitive desktop market. If the company grows its capabilities and technical prowess, it could very well be a productive open 3D printing alternative to the established order. This disruption would be good for the industry.
Subscribe to Our Email Newsletter
Stay up-to-date on all the latest news from the 3D printing industry and receive information and offers from third party vendors.
---
Print Services
Upload your 3D Models and get them printed quickly and efficiently.