Once again, we've got a lot of offerings in this week's roundup, with Velo3D's Roadshow making a stop in Denver and TechBlick holding a virtual learning and networking session. There are also going to be webinars on a variety of topics, from automated PolyJet post-processing and MJF for bridges and medical devices to 3D printed molds for silicone parts, 3D printing to improve reconstructive surgery, SDKs for AM workflows, and much more. Read on for all the details!
3D Printing News Unpeeled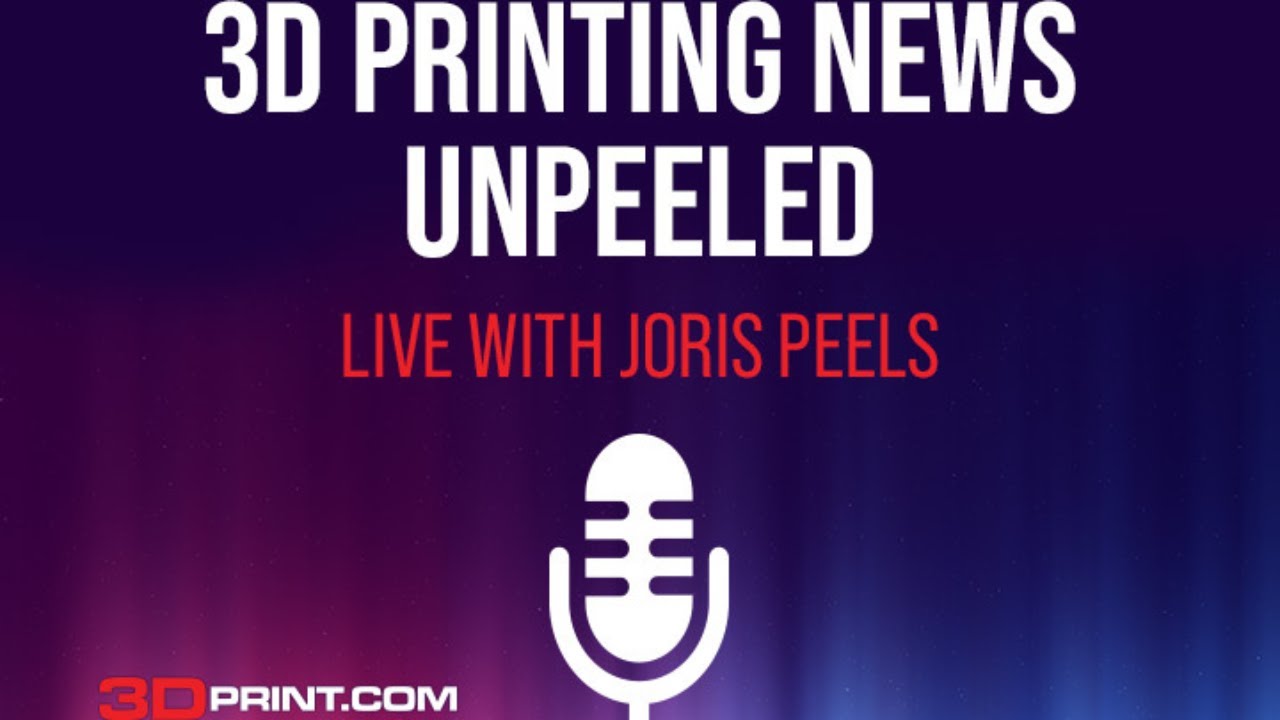 Our Executive Editor Joris Peels, who's also the Vice President of Consulting at SmarTech Analysis, offers a news livestream one to two times a week called 3D Printing News Unpeeled at 9:30 am EST. For each episode, Peels gets on LinkedIn Live and tells us, in 20 minutes or less, what he considers to be the top news stories from the 3D printing industry that week, and why they're important. Some of the stories in his roundup are ones we've covered at 3DPrint.com, and some are not, but they are all equally interesting and impactful.
April 25: When to Upgrade Your 3D Printer to a Professional One
On Tuesday, April 25th, at 10 am EST, TriMech will discuss "When To Upgrade Your 3D Printer to a Professional Level System." Additive Manufacturing Applications Engineer Mario De Lio will explain the differences between a hobbyist 3D printer and industrial-level systems, various use cases and applications to help develop an ROI for a professional 3D printer, why you should consider upgrading your printer, and more.
"Whether you have a very basic understanding of additive manufacturing or have been utilizing the technology for many years, it may still be difficult to understand the differences between the cheap hobby level 3D printer and the large-scale industrial systems."
You can register for the webinar here.
April 25: Automated PolyJet Post-Processing
Also at 10 am on the 25th, PostProcess Technologies will explain "How It Works: Automated PolyJet Post-Processing." During the webinar, attendees will get to see a demonstration of the company's automated PolyJet support removal solutions, running on its proprietary AUTOMAT3D software platform. Plus, there will also be a real-time Q&A session.
"Conducted by one of our engineering experts broadcasting from our lab, you will get a close-up view of how software, hardware, and chemistry work together for transformative end part results."
You can register for the webinar here.
April 25 & 27: SOLIDWORKS CAM & CAMWorks Training Sessions
HCLSoftware is holding a free "SOLIDWORKS CAM and CAMWorks webinar series," offering training so you can work on your basic CAM skills, and learn about some of the more advanced functionalities and features that could help you improve business operations and get more orders. The sessions on "SOLIDWORKS CAM and CAMWorks – Getting Started" will be held on Tuesday the 25th, at 11 am EST for America, 10 am CEST for EMEA, and 9 am IST for APAC. On Thursday the 27th, the sessions on "SOLIDWORKS CAM and CAMWorks – Getting Started with the TechDB" will be held, again at 11 am EST for America, 10 am CEST for EMEA, and 9 am IST for APAC.
"Sharpen your CAM skills and learn the advanced technologies in SOLIDWORKS CAM and CAMWorks to boost your manufacturing operations, such as integrated CAD/CAM, automatic feature recognition, and knowledge-based machining."
Learn more about the webinar training sessions here.
April 25: 3D Systems' Marty on Materials
3D Systems will offer a live, interactive webinar at 11 am EST on the 25th on "Understanding the data and importance of testing for production materials" with Marty Johnson from "Marty on Materials." If you've ever wondered what the data in your material datasheets really means and why it matters, this is the webinar for you. Marty will present the company's most current applications and explain the data behind them, and discuss several related topics, like what a data point in the datasheet table actually represents, how data is compared in long-term stability testing, the conditions of industry standard tests, and more. He will also answer any questions you have.
"3D Systems' extensive and versatile portfolio of 3D printing materials addresses the widest range of applications and performance characteristics in additive manufacturing, with plastic, elastomer, composite, wax, metal, biocompatible capable and more material types.

"But, even more importantly, we offer in-depth information on all those materials. Our material scientists provide extensive information on stability, data points in datasheet tables, test and classification data. But what does the data in our datasheets actually mean?"
You can register for the webinar here.
April 25: JuggerBot 3D on Production Workflows with Open Materials
Also at 11 am on the 25th, JuggerBot 3D is holding a webinar about "Creating A Production Workflow With Open Material 3D Printers." Attendees will hear from Zac DiVencenzo how the company's Material Cards can create production workflows in pellet 3D printing, while also maintaining an Open Material platform. They'll also learn how Fused Granulate Fabrication (FGF) printing is different from other methods, challenges associated with FGF process development, and more.
"Fused Granulate Fabrication, also known as pellet 3D printing, has gained traction as an additive manufacturing technology that unlocks access to a wide variety of material options. However, the process to assess and develop process parameters can be very challenging, requiring a huge investment of time set-up for each print job."
You can register for the webinar here.
April 25: Multi Jet Fusion 3D Printing with Endeavor 3D
In a webinar hosted by Endeavor 3D, attendees can learn about how HP's Multi Jet Fusion (MJF) 3D printing is a strong tool for bridge production and medical device development, as well as a great alternative to urethane casting for low-volume production. "Using MJF for Medical Device Development and Bridge Production" will be held at 12 pm EST on Tuesday the 25th, and feature Brian VanHiel of Enginuity Works, talking about multiple customer use cases completed or in progress with Endeavor 3D, the situational differences in determining the break-even point between injection molding tooling costs and MJF 3D printed parts, and more.
"Before the introduction of HP Multi Jet Fusion, many conventional 3D printing technologies were used for rapid prototyping but only rarely for end-use parts. The advanced mechanical properties and aesthetics of MJF open the door for less expensive and more aesthetically pleasing medical device parts that go directly into the consumer's hands. This webinar will address MJF capabilities for medical device design, low-volume production parts, and collaboration with Endeavor 3D."
You can register for the webinar here.
April 26 – 28: MFG Meeting 2023
AMT and NTMA are partnering to hold The MFG Meeting 2023, a trademark annual conference coming to the Wild Horse Pass resort in Phoenix, Arizona April 26-28. Speakers will discuss a wide range of topics, from emerging technologies and supply chains to cybersecurity and economic outlooks, and there will be plenty of networking opportunities as well, including a Western-themed dinner reception sponsored by Kennametal.
"Manufacturing continues to grow at a rapid rate. Stay ahead of the curve at The MFG Meeting this April. The MFG Meeting is the ultimate gathering of manufacturing technology minds, bringing together a community of solutions and solvers. Learn how to keep pace with growing demand, make lifelong connections, and see what opportunities lie on the horizon."
You can register for The MFG Meeting 2023 here.
April 26: Boost Productivity with M2 Series 5
GE Additive is holding a webinar at 10 am ET on Wednesday, April 26th about "Boosting Productivity to Scale with the M2 Series 5." The company has optimized its M2 machine architecture, leading to high reliability, repeatability, and part quality. Halima Iqbal, Project Manager for GE Additive's DMLM M2 machine, will explain how the printer's quality and stability have resulted in productivity enhancements, so users can optimize total cost per part with both operator productivity and build rate productivity improvements.
"Metal additive manufacturing offers numerous benefits for producing innovative parts. As leaders in the AM industry, GE Additive has introduced optimizations to the M2 machine architecture – from gas flow and optics all the way to intelligent software – which have led to the highest class of repeatability, reliability and part quality."
You can register for the webinar here.
April 26: Benefit from 3D Printing in Maintenance with Sinterit
Also at 10 am EST (4 pm CEST) on the 26th, Sinterit will give a webinar on "How to benefit from 3D printing in maintenance processes?" Two team members will share findings about the role of AM in maintaining production continuity, and why the technology can be a valuable asset for maintenance processes, with its cost savings, flexibility, and customization.
"Unforeseen production stoppage can become an expensive problem. Lack of spare parts may cut off your machines for hours or sometimes days. Have you ever considered using 3D printing for maintenance processes?"
You can register for the webinar here.
April 26: 3D Printed Molds for Silicone Parts
Formlabs will discuss "Creating Silicone Parts Using 3D Printed Molds" in a webinar on April 26th at 11 am EST. Attendees will see a detailed example of a gravity-filled injection overmold printed with Formlabs Clear Resin in a real-world case study, and learn about choosing the best silicone for your application, best practices for designing critical features of 3D printed molds for silicone casting, tips for silicone-resin compatibility, main differences between prototype and production molding, and more. Plus, there will be a live Q&A session.
"The possibilities for silicone rubber are endless, from product handles and grips to entertainment makeup effects. With 3D printed mold tooling, soft goods can be easily included in a designer or company's portfolio. 3D printed tooling is ideal for prototyping, small batch production, or custom end-use goods in various industries."
You can register for the webinar here.
April 26: 3D Printing with Polymers
In another webinar this week with a focus on HP's MJF technology, RE3DTECH+GoProto presents its latest Office Hours webinar, "3D Printing with Polymers: From Prototype to Production," at 2 pm EST on the 26th. Attendees will gain valuable insights into 3D printing advancements, how the technology can help them save time and money on projects, and have their questions answered by a panel of industry experts.
"Join GoProto and RE3DTECH for an "Office Hours" discussion where we'll answer *your* questions on this topic. HP's 3D printing technology, Multi Jet Fusion (MJF), is uniquely suited to address the complete product lifecycle, from prototyping to serial production – all with the same technology. There's no need to prototype with one technology only to switch to another for large-scale production. In this webinar, we'll answer your questions on this topic, including design consideration, costs, and representative applications."
You can register for the webinar here.
April 27: 3D Printed SL Patterns for Investment Casting
Stratasys, Materialise, and 3Dnatives are teaming up for this next webinar at 10 am EST on Thursday, April 27th, about "Improving Investment Casting Processes With 3D Printed Stereolithography Patterns." Investment casting is one of the oldest metal-forming methods still used today, and this webinar will focus on how 3D printed SL patterns can be used to improve the process. Attendees will learn tips on the best design for SL patterns to reduce material costs and weight, how to optimize support structures, whether the process will serve their needs, and more.
"Register for free to learn about the advantages of using SL 3D printing patterns over traditional production, potential pitfalls associated with the investment casting process, and how to overcome them. Experts from Materialise and Stratasys will join us to demonstrate how you can repeatedly achieve best-in-class 3D printed patterns."
You can register for the webinar here.
April 27: Materialise on Improving Reconstructive Surgery
Also at 10 am on the 27th, Materialise is holding its own webinar, "Discover How To Improve Your Reconstructive Surgery." Attendees will learn how to use PROPLAN CMF, and other software solutions, to optimize treatment and create predictable surgical outcomes, as well as learn the value of AR and VR planning. There will be a demonstration on using PROPLAN CMF for fibula and scapula reconstruction and DCIA, and examples from top medical experts on using preoperative visualization of a patient's anatomy, and reconstruction simulation, to focus the surgical plan.
"Your patients are unique, and 3D planning can help address their individual needs. In this webinar, medical experts from Italy and the United Kingdom, as well as Materialise Application Engineers, explain how PROPLAN CMF™ gives you the means to deliver outstanding care in reconstructive surgery. Be inspired by the 3D visualization functions of PROPLAN CMF™ that enable surgeons to preoperatively plan reconstructive surgery procedures."
You can register for the webinar here.
April 27: SDKs for Additive Manufacturing Workflows
Tech Soft 3D and Polygonica are holding a digital workshop on "Leveraging SDKs for Additive Manufacturing Workflows" on the 27th, with time slots for viewers in North America and EMEA. Attendees will learn about the value that engineering-specific SDKs bring to building AM applications, as well as core functionality like model preparation, structural analysis of printed parts, accessing native CAD data from over 30 file formats, and more.
"In this workshop, experts from Tech soft 3D and Polygonica will demonstrate how using Software Development Kits (SDKs) can help development teams stay focused on their applications' primary functionality while relying on established development tools for critical processes in additive workflows. From accessing CAD data to model preparation, and visualization we'll explore common workflows and highlight how incorporating SDKs can enable your development teams to create more effective additive software solutions."
You can learn more about the workshop here.
April 27: Thermoforming Molds with 3D Systems & SPE
In its second webinar of the week, sponsored by SPE, 3D Systems will discuss "Large thermoforming molds twice as fast for half the cost" with Duo Form at 2 pm EST on Thursday the 27th. Experts from both companies will explore the integration that made pellet extrusion 3D printing beneficial, discussing specific case studies and ROI examples, best practices that improve AM production and mold performance, and how the technology can enable mold print times up to ten times faster.
"To address growing supply chain pressures, manufacturers are turning to Additive Manufacturing (AM) to create quality, cost-efficient products faster. Plastic thermoforming companies like Duo Form have discovered how to leverage large-format extrusion 3D printing using low-cost plastic pellets to gain a competitive edge. They are producing medium-to-large-sized thermoforming molds in less than half the time, and at a fraction of the cost compared to traditional mold-making methods."
You can register for the webinar here.
April 27: Velo3D Continues Roadshow in Denver
Velo3D began its 2023 "The Proof is in the Printing" global roadshow last month, and continues this week with a stop in Denver, Colorado on April 27th. The tour, which will make stops in other U.S. cities, as well as Europe and Asia/Pacific locations, will show attendees how Velo3D's fully integrated solution can help achieve better part performance, supply chain flexibility, and repeatability. There will also be real-world examples of customer-printed parts.
"If you have struggled with production of high-quality, metal AM parts, our "Proof is in the Printing" roadshow is the perfect opportunity to speak with our team and learn how to overcome those challenges. Hear from Velo3D engineers as they share their experience in scaling up metal additive applications."
You can register for the Denver stop here. After the initial event, please stay at the Hotel Clio for small bites and cocktails.
May 18: Material Properties of 3D Printed Plastic Parts
Here's your official save-the-date for an exclusive, free webinar by 3DPrint.com and 3DXTECH! At 2 pm EST on May 18th, we'll discuss "How Chamber Temperature Can Affect the Material Properties of 3D Printed Plastic Parts." Our Editor-in-Chief Michael Molitch-Hou, will moderate the presentation and discussion with 3DXTECH CEO Matt Howlett.
"We will explore chamber temperature, how it can affect material properties, and how to optimize in order to 3D print the best plastic parts."
You can register for this exclusive webinar here.
Do you have news to share about any future webinars or virtual and live events? Please let us know!
Subscribe to Our Email Newsletter
Stay up-to-date on all the latest news from the 3D printing industry and receive information and offers from third party vendors.
---
Print Services
Upload your 3D Models and get them printed quickly and efficiently.