Get ready for a busy week that's chock full of webinars and events, both virtual and in-person, all around the world. Let's not waste time, read on for all the details!
3D Printing News Unpeeled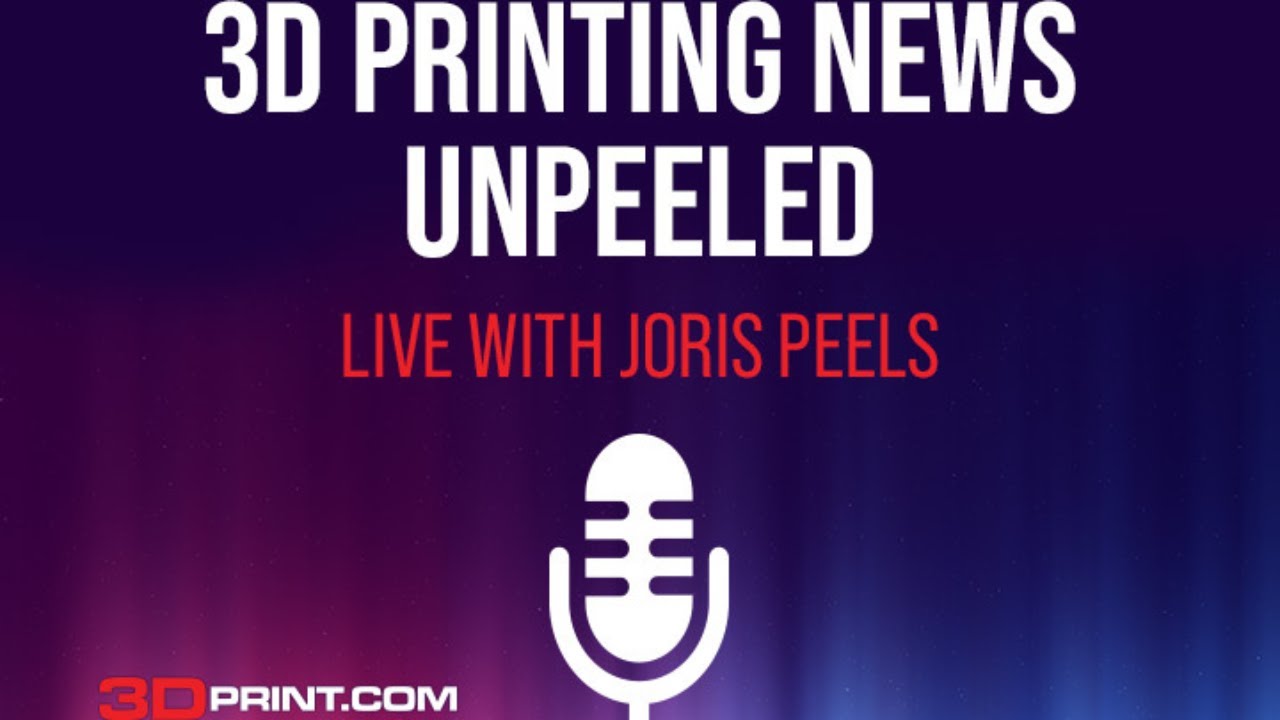 Our Executive Editor Joris Peels, who's also the Vice President of Consulting at SmarTech Analysis, offers a news livestream one to two times a week called 3D Printing News Unpeeled at 9:30 am EST. For each episode, Peels gets on LinkedIn Live and tells us, in 20 minutes or less, what he considers to be the top news stories from the 3D printing industry that week, and why they're important. Some of the stories in his roundup are ones we've covered at 3DPrint.com, and some are not, but they are all equally interesting and impactful.
March 27 – 30: Mentor Protégé Summit
Starting tomorrow, March 27th, and going through Thursday the 30th, the Department of Defense (DoD) will present its Mentor Protégé Summit 2023, designed to help reinforce small business supply chains, and their ability to compete in the modern defense industrial base, through collaboration, education, and networking. Held in Orlando, Florida, the event supports OSBP's goal to offer the small businesses in the DoD industrial base practical opportunities to develop, deliver, and competitively market innovation solutions.
"The comprehensive event will equip the small business community with reliable resources and pragmatic strategies. Learn how to develop mutually beneficial partnerships between experienced mentoring firms and small business protégés. Participate in discussions during training workshops and plenary sessions to increase your comprehension. Attend keynote addresses from industry thought leaders and subject matter experts. Lastly, join us in celebrating the recipients of the Nunn-Perry Awards for FY21 and FY22."
You can register for the summit onsite.
March 27 – 31: 3D Delta Week & AM for Production
Also beginning the 27th is the 2nd edition of 3D Delta Week (3DDW), Flemish-Dutch event week focused on additive manufacturing. The Benelux initiative, set up by Brainport Eindhoven, Flam3D, and Jakajima, is a multi-location set of activities and events, including guided tours at the AM-factory of Brainport Industries Campus, masterclasses, a high-level R&D Day, a networking dinner, and the "AM for Production" fair and conference in the Netherlands; an exciting event in its own right. This way, attendees will get a broader, more hands-on experience with AM technology in an inclusive event week, which features a tagline of "Learn, Network and Explore in 3D Manufacturing."
Ruben Fokkema, Ecosystem and Business Developer at Brainport Eindhoven, said in a press release, "The 3D Delta Weeks' purpose is to create the community, collaborations and the value-chain for users and providers."
March 27: ASTM AM CoE Snapshot Workshop
ASTM International's Additive Manufacturing Center of Excellence (AM CoE) is holding its 9th Snapshot Workshop on Monday the 27th at Penn State University, in conjunction with ASTM F42 and ISO TC 261. With a theme of "AM Adoption and Industrialization," the workshop will feature 18 industry expert speakers, covering standardization needs in accelerating AM adoption and industrialization while incorporating recent technology developments. Each attendee participant will receive a digital Verification of Completion Certificate from ASTM AM CoE.
"Open to all interested in knowing the latest and greatest in AM technology from industry leaders, this event opens a platform to engage in meaningful discussion with these industry experts and initiate dialogues for future collaborations."
You can register for the workshop here.
March 28 & 29: SOLIDWORKS Happy Hours in Cleveland & Pittsburgh
SOLIDWORKS enjoyed the recent Happy Hour event at its Waltham headquarters so much that it's decided to hold even more of them! There will be two this week, with the first at the Oak Barrel in Valley View, Ohio at 4 pm EST on Tuesday the 28th, and the second at Kingfly Spirits in Pittsburgh, Pennsylvania at 4 pm EST on Wednesday the 29th. Attendees will hear from technical experts about the 3DEXPERIENCE platform, have the chance to speak with SOLIDWORKS experts in a general Q&A session, and mingle and network with other users, and the SOLIDWORKS tech team, while also enjoying drinks and appetizers.
"SOLIDWORKS is hitting the road! Come meet our tech experts and discover how adding the Power of the Cloud to SOLIDWORKS can help you."
Reserve your ticket now, as these events have limited space.
March 28 – 29: Digital Spare Parts World 2023
Digital Spare Parts World (DSPW) Europe 2023 takes place in Essen, Germany this week, March 28th through the 29th, bringing together experts from the AM value chain and leaders from major vertical industries. At this event, six parallel industry conferences—DSP Maritime, DSP Rail, DSP Energy, DSP Automotive, DSP Defence, and DSP Aviation—will be held under the same roof, focused on best practices for digital warehousing, on-demand manufacturing, and spare parts inventory management. A few AM industry companies, including Sintratec, 3YOURMIND, and Replique, are also sponsoring the event.
"Digital warehousing and digital fabrication of spare parts are increasingly powerful solutions for companies to address challenges around keeping and maintaining a spare parts inventory, while improving their bottom line and optimizing supply chains."
March 28 – 31: TERMIS-EU Chapter Meeting 2023
In Manchester this week, from Tuesday the 28th through Friday the 31st, the Tissue Engineering and Regenerative Medicine International Society (TERMIS) European Chapter Meeting 2023 will be held. With a focus on broadening approaches and targets for regenerative medicine, the event welcomes scientists, technical experts, and researchers from both industry and academia to talk about developments in biomaterials, biofabrication, and enabling technologies for regenerative medicine.
"The TERMIS EU conference is the leading event for the dissemination of the latest research in tissue engineering and regenerative medicine, offering researchers, clinicians and industry an ideal opportunity to present and discuss their most recent findings, developments and challenges in the field."
You can register for TERMIS-EU 2023 here.
March 28: IAM3DHUB & 3Dnatives Hold ADDITIV Medical Event
This Tuesday, the IAM3DHUB and partner 3Dnatives will host ADDITIV Medical, a hybrid industry event for medical and dental 3D printing in the Spanish community. Attendees will learn from medical sector experts at a variety of panels, conferences, live demonstrations, workshops, and a showroom of AM applications and use cases. There will also be plenty of time for networking as well.
"This virtual day will feature panels, workshops and networking where we will address the main issues on 3D printing within the medical and dental sector. What does this revolution mean for hospitals in Spain? How do you help develop personalized medicine? This and many more topics will be covered by experts in the medical and dental field who work with additive manufacturing."
You can register for the free event here.
March 28: HP's Virtual Tour
Also on Tuesday, March 28th, HP will host a live, virtual tour of its 3D Printing Labs & Demo Center. The tour, which will begin at 1 pm EST, will offer a live overview of HP's 3D printing workflow, new application examples, and the chance to learn how HP's 3D Professional Services can help you at any stage of the AM journey. Plus, attendees will learn how the HP Jet Fusion 54200 and 5420W work, and have the chance to get their questions answered.
"During the 90 minutes session you'll learn about latest innovation in MJF technology. Explore various applications, see the E2E system workflow and hear from those who are currently utilizing the new technology!"
You can register for the tour here.
March 28: Implementing 3D Printing for Production
At 11 am EST on the 28th, Desktop Metal will host a webinar about "How to Implement 3D Printing for Production: Azoth3D Shares Their Experience." Metal contract manufacturer Azoth3D delivers mass production of small complex parts in the consumer goods, medical, automotive, and defense industries, helping customers transition from MIM, machining, and investment casting to metal binder jet 3D printing. During the webinar, Azoth team members will share their experiences implementing metal 3D printing for production, and discuss topics like the process flow of a binder jet part, the benefits of metal AM over traditional manufacturing, how the process is qualified, and more.
"Join Desktop Metal for expert insights from Azoth to learn how parts are optimized for additive manufacturing, what tolerances are achieved and what it takes to use binder jetting for volume part production. Learn firsthand from a Desktop Metal user on how they share their expert insights."
You can register for the webinar here.
March 29 – 30: TechBlick Virtual Event
From March 29th through the 30th, TechBlick will hold its latest virtual event, "Additive Electronics in Semiconductor Packaging & PCBs." Part of the platform's curated virtual and onsite conference and exhibition series on flexible, hybrid, printed, wearable, textile, sustainable, stretchable, and soft electronics, this two-day conference and exhibition will be co-located with "Digital & 3D Additive Manufacturing of Electronics, Sensors, Photovoltaics, Displays."
The Additive Electronics event will focus on all additive technologies used for prototyping and manufacturing of semiconductor packaging, and numerous applications for the technologies, including EMI shielding, solder mask, on-demand PCB production, 2.5-3D circuits, etching masks, post-production repair, multi-layer interpose development, and more. The other event is about the technology and applications aspects of digital and additive manufacturing of electronics, covering 3D printing of a variety of functional materials, such as OLEDS, ceramics, conductive materials, high viscosity pastes, and more, as well as applications like antennas, photovoltaics, circuits, semiconductor packaging, photodetectors, mmWave devices, and more.
March 29 – 31: MECSPE 2023
Called the "international reference fair for the manufacturing industry," MECSPE 2023 will be held in Bologna, Italy from the 29th through the 31st. The program will feature 13 synergistic halls, so that visitors can learn about all the important technological innovations in the field of industrial processes. In addition to a Mechanics Area and Subcontracting Area, there will also be an Industry 4.0 Area, which will focus on additive manufacturing, robotics and automation, the digital factory, logistics, power drive, and quality and control.
"MECSPE is the reference fair for the manufacturing industry. The meeting point between production technologies and industrial supply chains, thanks to the synergy between the exhibitions that take place at the same time and the innovative exhibition formulas such as squares of excellence, demonstration units and processing islands."
You can request a free ticket to MECSPE 2023 here.
March 29: Velo3D Begins "The Proof is in the Printing" Roadshow
This Wednesday, March 29th, Velo3D kicks off its new global roadshow, "The Proof is in the Printing," with a stop in Phoenix, Arizona at 9 am MT. The tour will build on the company's previous roadshow series, and plans to visit eight U.S. cities, as well as stops in Europe and Asia. If you've ever struggled with production of high-quality metal 3D printed parts, this is a great chance to speak with the Velo3D team and figure out how to surmount your challenges, and learn how the company's advanced technology can help scale production of complex, optimized parts with an AM-enabled global supply chain.
"Over the past year, we've heard a lot of skepticism about whether metal additive manufacturing can truly deliver consistency at scale across different machines without extensive requalification. This year's roadshows will focus on sharing real-world examples of companies that have qualified parts for production use-cases and achieved scalability across different 3D printers to create distributed supply chains," explained Renette Youssef, Velo3D Chief Marketing Officer, in a press release. "The events are a great way to learn about 3D printing and network with other engineers who are exploring the same technology."
You can register for the Phoenix stop here.
March 29: Stratasys P3 Technology for Smooth Production Parts
Stratasys will hold a webinar at 12 pm EST on the 29th about "Taking AM Production to the Next Level Using P3 Technology." The webinar showcases the company's newest technology offering: P3, or Programmable Photopolymerization, which enables smooth production parts and can achieve high throughput and excellent repeatability. Attendees will learn how P3 is different from other DLP processes, what applications are best suited for the process, and more.
"An evolution of digital light processing (DLP), P3 produces end-use parts with smooth surface quality comparable to Injection Molding. We've integrated P3 into our service offerings, opening the door for customers to achieve high throughput, best-in-class repeatability and expanded production capacity using resin materials."
You can register for the webinar here.
March 29: Rapid Prototyping Materials & Processes with Formlabs
Also at 12 pm EST on March 29th, Formlabs is having a webinar on "Rapid Prototyping: Choosing the Right Process and Materials." Attendees will learn how 3D printing enables you to cut costs and cycle time for concept models and functional prototypes, how to choose the right rapid prototyping technology and materials, and more. Plus, they'll see real-life case studies of 3D printed prototypes through the production development process.
"While 3D printing traditionally had been complex and cost-prohibitive, desktop and benchtop 3D printers have made the technology accessible to any business. Thanks to the advancement of hardware and materials over the last decade, additive manufacturing has grown capable of producing high-performance parts that can support every stage of product development.

"Watch this webinar to learn how to fabricate precise and functional prototypes with SLA and SLS 3D printing, from proof-of-concept to validation testing. Formlabs expert will guide you through the workflow, share recommendations and delve into real-life examples from innovative companies."
You can register for the webinar here.
March 30: Insights into PEEK with Roboze
On Thursday, March 30th, Roboze, which was among the first companies to offer the PEEK (polyetheretherketone) superpolymer combined with an industrial 3D printing solution, will hold a webinar at 11 am EST, focused on "Super-polymers and composites for Additive Manufacturing: Insights into Roboze PEEK." This semi-crystalline plastic belongs to the PAEK polymer family, and is one of the best performing technopolymers for extreme applications that typically require metal materials. Attendees will learn the characterization of the material, its advantages when combined with industrial 3D printing by Roboze, and more. The webinar will end with an interactive Q&A section.
"This incredible 3D printing material offers mechanical, thermal and chemical properties which enable new extreme applications, that make it compete with metals such as bronze, brass, stainless steel and aluminum alloys, in different industrial applications.

"But what happens when PEEK meets an industrial technology like Roboze 3D printing? And what are the advantages?"
You can register for the webinar here. Capacity is limited to the first 500 livestream subscribers.
March 30: Industrial Policy Speeding Up Reshoring
Finally, at 2 pm EST on the 30th, IMTS and AMT will jointly hold a very timely webinar, titled "Industrial Policy is Accelerating Reshoring: How You Can Benefit!" From just 10,000 jobs a year in 2010 to over 350,000 in 2022, reshoring has grown rapidly. Now, a recent and continuing surge of industrial policy, including the Inflation Reduction Act (IRA), the 2021 Infrastructure Investment and Jobs Act, and the 2022 CHIPS and Science Act, is making a lot of money available for the reshoring of specific products and industries. A trio of experts will discuss these policies, and their effect on reshoring.
"These new laws seek to strengthen U.S. supply chains and have further accelerated the reshoring trend. We will briefly review the reshoring trend and the impact of these laws on reshoring and how manufacturers can best benefit from them. For many companies, the largest opportunities are with the IRA."
You can register for the webinar here.
Do you have news to share about any future webinars or virtual and live events? Please let us know!
Subscribe to Our Email Newsletter
Stay up-to-date on all the latest news from the 3D printing industry and receive information and offers from third party vendors.
---
Print Services
Upload your 3D Models and get them printed quickly and efficiently.