You can breathe easy this week, because it will be much less hectic than last week, at least in terms of 3D printing webinars and events to attend! There will be a few in-person conferences, such as Sea-Air-Space in Maryland, and a couple webinars, including the latest member onboarding for America Makes. Read on for all the details!
3D Printing News Unpeeled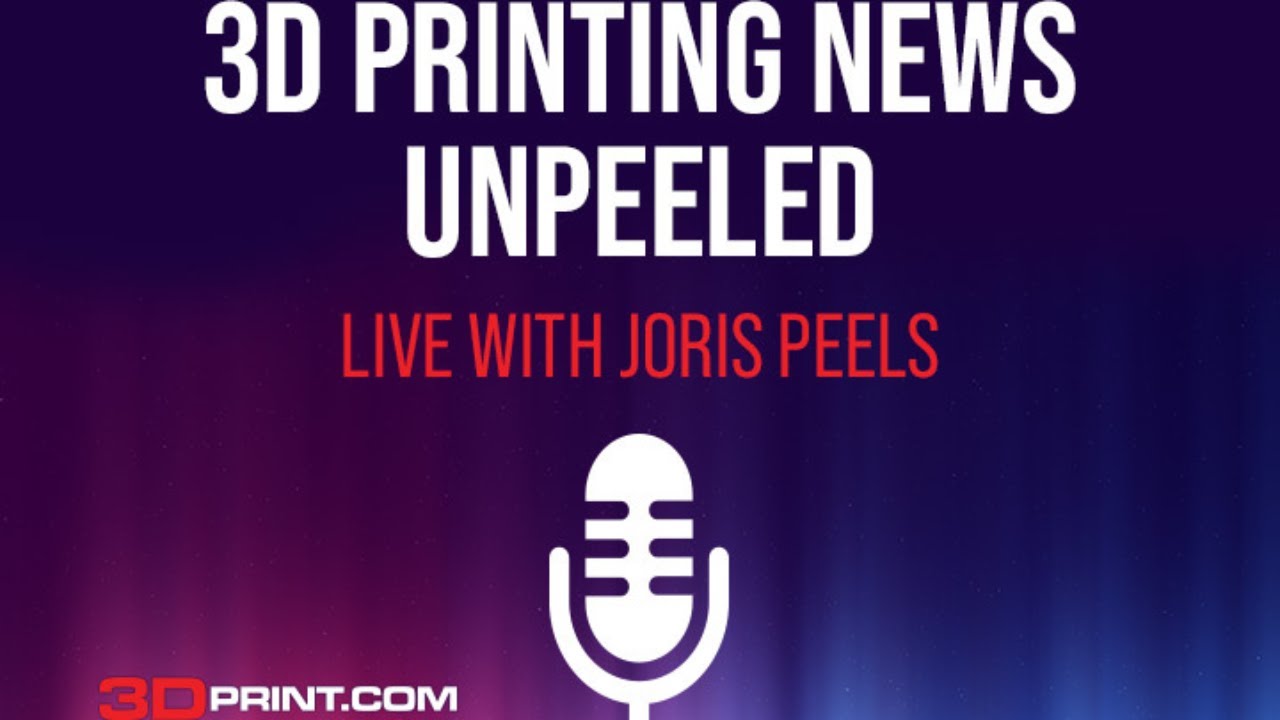 Our Executive Editor Joris Peels, who's also the Vice President of Consulting at SmarTech Analysis, offers a news livestream one to two times a week called 3D Printing News Unpeeled at 9:30 am EST. For each episode, Peels gets on LinkedIn Live and tells us, in 20 minutes or less, what he considers to be the top news stories from the 3D printing industry that week, and why they're important. Some of the stories in his roundup are ones we've covered at 3DPrint.com, and some are not, but they are all equally interesting and impactful.
April 3 – 5: Sea-Air-Space Conference
From April 3-5, the Sea-Air-Space global maritime exposition, owned and produced by the Navy League of the United States, will be held in National Harbor, Maryland, just outside of Washington, D.C. The event, which technically begins with a STEM Expo on the 2nd, attracts maritime leaders from sea services around the world. There will be guided VIP tours of the exhibit floor, professional development opportunities, keynote presentations, time for networking, and more. Plus, several AM industry companies, or ones that use the technology, will be exhibiting, including American Additive Manufacturing, LLC; Aerojet Rocketdyne; GE; Honeywell; Lockheed Martin, and more.
"Sea-Air-Space brings the U.S. defense industry and key military decision-makers together for three days of informative educational sessions, important policy discussions and a dynamic exhibit hall floor."
You can register for Sea-Air-Space here.
April 4 – 6: Aeromart Montréal
Another multi-day event this week is Aeromart Montréal, from April 4-6 in Canada. Aeromart has become a pivotal aerospace industry event in the last 25 years, with the concept beginning in Toulouse and moving on to other major hubs, such as Nagoya, Seattle, and now Montréal for its 8th edition. This international business convention is a supply chain event, bringing together aerospace and defense primes, tier suppliers, and contract-manufacturers. Commodity teams, suppliers, service providers, and those from procurement, supply chain, engineering, and fabrication will be able to meet through pre-arranged, one-on-one meetings at Aeromart Montréal. The Global Supply Chain Summit will be held on Tuesday the 4th, while the 5th and 6th will be reserved for B2B meetings and workshops.
"Constantly evolving to meet industry demands and unlike other typical aerospace events, AEROMART connects OEMs and their Tier 1 & 2 suppliers with manufacturers and service providers from both civil and defense aviation, through a series of individually tailored, B2B meetings."
You can register for the event here.
April 5: Improve Planning Operations with Dassault Systèmes
At 1 pm EST on Wednesday, April 5th, Dassault Systèmes will hold a webinar on how to "Improve Planning Operations: Stay Competitive in Manufacturing." Topic experts Mike Bradford, DELMIA Strategic Business Development Director, and Singh Amandeep, Industry Process Consultant, both with Dassault, will explain how manufacturers can quickly pivot production schedules, and stay competitive by gaining the necessary agility, flexibility, and resilience. Attendees will learn how the 3DEXPERIENCE Platform can establish consistent quality across operations, ensure on-time delivery of complex products, reduce the risk of production downtime due to legacy IT solutions, and more.
"Operation shutdowns, restarts, worker safety concerns and supply chain disruptions might have caused unending heartburn for manufacturing executives, but challenges of the past two years did the industry a major favor—they exposed everything that we were doing wrong.

"Now that we know what they are, the underlying technology issues in manufacturing can be solved. This presents the opportunity to get rid of the old, disparate legacy and manual tools and processes and get in front of future disruptions."
You can register for the webinar here.
April 5: America Makes Membership Onboarding
Also on the 5th at 1 pm EST, America Makes will hold a Membership Onboarding Webinar. Please note, this online event is for America Makes members only.
"America Makes members are invited to join this "Membership Onboarding" to learn about the benefits offered and how to access them through the Member Portal and website."
You can register for the webinar here.
April 6: Construction 3D Printing Open House
If you live in or around Ohio and are curious about 3D printing in the construction industry, then you'll definitely be interested in the Construction 3D Printer Open House happening at The Ohio State University this Thursday the 6th at 1 pm! Together with technology partners COBOD International, America Makes, and Pantheon Innovative Builders, OSU's Center for Design and Manufacturing Excellence will kick off the event with a 3D Printed Construction Symposium, followed by an open house and live 3D printing demonstrations, and ending with a social and networking event. Academia, government, and industry leaders will be onsite to see Ohio's first COBOD construction printer in action, and members of the media (like me!) will also be on hand.
"3D printing will impact next-generation housing and infrastructure. Researchers at Ohio State and partners look to leverage this technology in Ohio and beyond."
You can register for the open house here.
Do you have news to share about any future webinars or virtual and live events? Please let us know!
Subscribe to Our Email Newsletter
Stay up-to-date on all the latest news from the 3D printing industry and receive information and offers from third party vendors.
---
Print Services
Upload your 3D Models and get them printed quickly and efficiently.