We've got lots of events to tell you about in this week's roundup, starting, of course, with AMUG 2023 in Chicago. There's also the Silicone Expo Europe, Engineering Solutions Live, and more. Plus, webinars will be offered by TriMech and America Makes, while 3DHEALS is holding a virtual panel on 3D printing for orthopedic care. Plus, if you missed the recent 3DEXPERIENCE World, you can check out a recap of the event on YouTube. Read on for all the details!
March 19 – 23: AMUG 2023
First up, the 2023 AMUG Conference technically starts on Saturday, March 18th, with ASTM international's two-day AMUG Certificate Course, and then a couple of offsite tours, the New Member Welcome, and AMUGexpo Opening on Sunday the 19th, but the event really starts hopping on Monday the 20th, and doesn't stop until the doors close on Thursday the 23rd. The AMUG Education & Training Conference welcomes AM users of all levels to exchange knowledge, provide insights, and share experiences during its five days of presentations, hands-on workshops, training sessions, keynote talks, a technical competition, exhibitors, and some of the best networking events you'll ever experience.
"AMUG is a global community focused on accelerating the education and advancement of additive manufacturing and 3D printing.

"Additive Manufacturing Users Group (AMUG) Conference brings together engineers, designers, managers, and educators from around the world to share expertise, best practices, challenges, and application developments in additive manufacturing."
You can register for AMUG 2023 here.
3D Printing News Unpeeled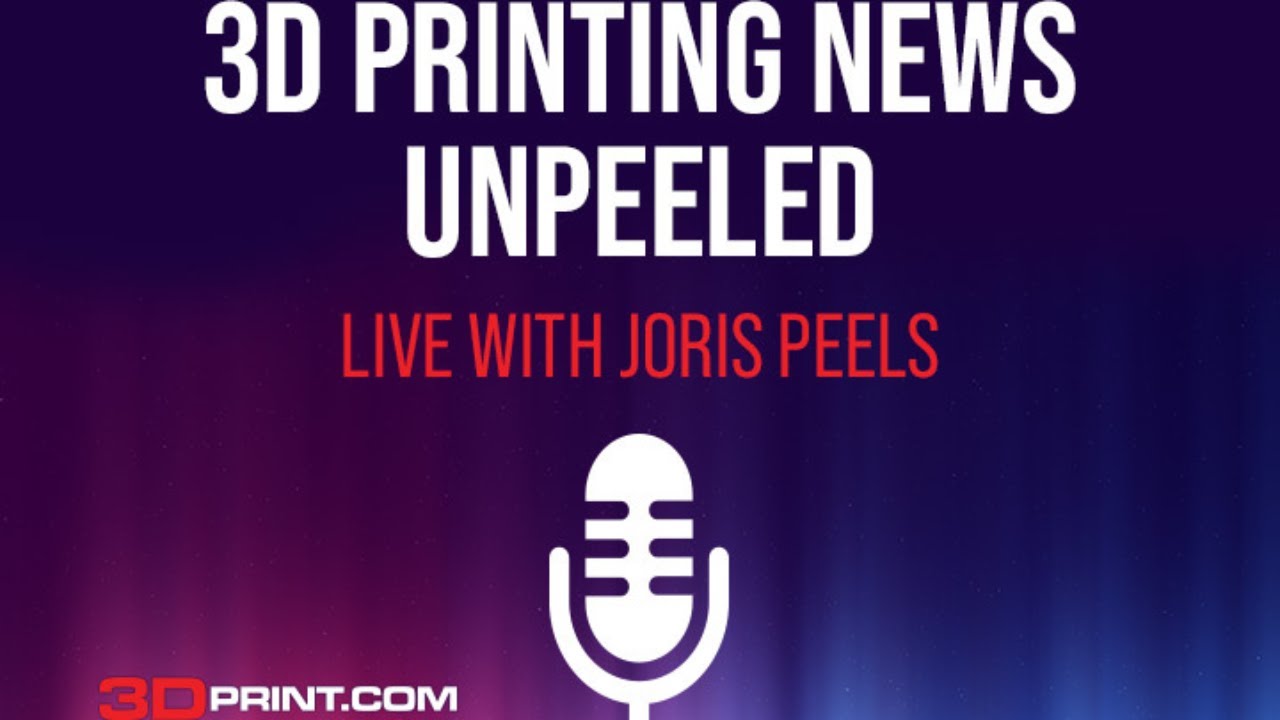 Our Executive Editor Joris Peels, who's also the Vice President of Consulting at SmarTech Analysis, offers a news livestream one to two times a week called 3D Printing News Unpeeled at 9:30 am EST. For each episode, Peels gets on LinkedIn Live and tells us, in 20 minutes or less, what he considers to be the top news stories from the 3D printing industry that week, and why they're important. Some of the stories in his roundup are ones we've covered at 3DPrint.com, and some are not, but they are all equally interesting and impactful.
March 20 – 23: NVIDIA GTC
The NVIDIA GTC conference, held online from March 20-23, is where manufacturing researchers, designers, engineers, business leaders, creators, developers, students, and IT decision-makers go to discuss using the power of data science, AI, computer graphics, accelerated computing, and more to shape our world. There will be over 650 sessions, with topics ranging from automated workflows and simulation-based design to the metaverse, 3D modeling, cybersecurity virtual reality, and much more. Plus, two-hour training labs are included with your registration, but you can also sign up for a full-day, instructor-led, hands-on technical workshop for just $149 per seat through GTC.
"Learn what's driving the latest transformations in research, industry, and business—from collaborative virtual worlds and advanced graphics to data science, healthcare, and other critical applications."
You can register for the free virtual conference here.
March 21 – 23: Silicone Expo Europe
From March 21st through the 23rd, Silicone Expo Europe will take place at the RAI Amsterdam in the Netherlands, co-located with the Tape & Functional Film (TFF) Expo. The event is a one-stop shop for industries that need silicone solutions for applications, and attendees will be there from a multitude of end user groups, such as aviation, energy, marine, HVAC, mass transit, oil & gas, medical, and more. Exhibiting companies will showcase their services and products from the entire supply chain
"A dedicated tradeshow & conference for the silicone industry, Silicone Expo Europe is the only event of its kind in Europe. Business leaders can network with other industry professionals as well as high-yield end users from all verticals in the silicone supply chain (elastomers, resins, fluids, and gels). One of the world's most important and adaptable materials will be discussed by global industry peers providing key insights, innovation, R&D, education and thought leadership."
You can register for Silicone Expo Europe here.
March 21: Additive Manufacturing Workshop
For an exclusive opportunity to learn how you can easily integrate 3D printers into your business for immediate benefits, join the Additive Manufacturing Workshop at the CREAT3D offices in Winnersh, roughly 6.4 km southeast of central Reading in the UK. The workshop will be held from 10 am to 1 pm GMT on Tuesday the 21st, and will offer full access to flagship printers, and application engineers, from both Markforged and Formlabs, such as the Markforged FX20 industrial composite fiber and high-temperature 3D printer and the Formlabs Fuse 1+30W 3D printer. Plus, attendees will get a swag bag of additive goodies as well.
"Additive Manufacturing (AM) is firmly embedded into Engineering and Manufacturing firms in the UK as the engineer's problem solving tool, for applications from manufacturing aids to new product development and end-use components."
You can reserve your place for the workshop here.
March 21: Getting Started with SOLIDWORKS
At 10 am EST on the 21st, TriMech will hold a webinar about "Getting Started With 3DEXPERIENCE SOLIDWORKS." Matt Kokoski, TriMech Technical Manager – 3DEXPERIENCE, will explain the benefits of cloud-connected 3DEXPERIENCE SOLIDWORKS, as well as the basics of part modeling by releasing a print for production while connected to cloud storage for easy collaboration with the designers. Attendees will also learn how to assign licenses in the platform, create parts, assemblies, and drawings in SOLIDWORKS, expandability beyond SOLIDWORKS, and more.
"The 3DEXPERIENCE Platform provides a wide product portfolio, but it can all start by connecting SOLIDWORKS design to the cloud.

"In this webinar, we will look at where we can expand once our data is in the 3DEXPERIENCE Platform."
You can register for the webinar here.
March 22: Open Material License for Stratasys
In its second webinar of the week, TriMech will present on the "Open Material License and Validated Materials on the Stratasys Fortus 450mc Printer" at 10 am EST on Wednesday, March 22nd. Stratasys FDM printers are accurate, durable, and consistent, but adding new materials to its lineup has always come at a slow pace. TriMech's Solutions Consultant – Additive, Rich Annino, will discuss open material licenses and validated materials that are currently available to use with the company's Fortus 450mc 3D printers. Attendees will also learn what the new OpenAM Program is, and what it can do for them.
"Stratasys chooses not to rush the release of new materials, and instead waits until they are perfectly tuned for running on the intended platform.

"Now, with the Validated Material lineup, we are poised to see an explosion in material offerings from Stratasys FDM, and the new OpenAM Program that was released on the Fortus 450mc. It enables users to tweak and tune ANY material that they would like to run on their system!"
You can register for the webinar here.
March 22: Generative Design Exploration with America Makes
America Makes is holding a webinar about how to "Enhance Your Generative Design Exploration" at 2 pm EST on the 22nd. Tony Gray with software vendor Altair will explain the workflow of using the company's Altair Inspire to design a manufacturable part. The software offers geometry parameterization for design exploration, topology optimization based on the manufacturing method, geometry realization, and manufacturing simulation. Additionally, Altair is offering members of America Makes the chance to get a two-month free trial license of both Altair Inspire and Inspire Print3D, with interactive training.
"With many industries currently exploring the design freedom allowed by various additive and hybrid manufacturing technologies, Generative Design and Design Exploration have become more widely used to reduce weight, cost, and time to market, while maintaining or improving performance and sustainability."
You can register for the webinar here.
March 23: Engineering Solutions Live
On Thursday, March 23rd, Engineered Solutions Live will be held at the British Motor Museum in Gaydon. It combines four events—Engineering Materials Live, the FAST Show, Make Measurement Matter, and PCB Design & Manufacturing Live—into one forum for design, engineering, and manufacturing professionals. The exhibition and seminar sessions are free to attend, and there will be a few exhibitors from the AM industry, including HP 3D Printing and Mark3D. Some sessions will also discuss AM industry-related topics, such as PCBS and improving adhesion.
"By attending Engineering Solutions Live you will have access to a number of technical workshop sessions led by industry thought leaders, the chance to network with your industry peers, and what's more, joining us will be over 100 other market-leading engineering and manufacturing suppliers for you to visit. So, don't miss out on this unique opportunity to keep up to date with industry trends and thrive in the years ahead."
You can register for the show here.
March 23: 3D Printing for Orthopedic Care
The latest panel discussion by 3DHEALS will take place at 11 am EST on the 23rd, and focus on "3D Printing for Orthopedic Care." Moderated by 3DHEALS Founder and CEO Dr. Jenny Chen, the speakers will be Professor Frédéric Schuind, Founder and CEO of medtech company Spirecut; Dr. Brett Carey, CEO of Kalo Multispeciality Group; Ryan Harold, MD, an orthopedic surgeon with the Illinois Bone & Joint Institute; Ruben Wauthle, CEO and Co-Founder of Amnovis; and David Jansen, CEO of SAIL Fusion. The orthopedic care field is one of the earliest and biggest adopters of 3D printing, so it's sure to be an interesting discussion.
"3D-printed orthopedic solutions can be used to create customized implants and prostheses that are a perfect fit for each patient. This not only results in a better fit and more comfortable device, but it also leads to potentially faster healing times and longer durability. 3D printing presurgical planning either using anatomical models or surgical guides is now routinely used in the operating room. In this upcoming webinar, we primarily focus on orthopedic surgical care from several different perspectives. In a future webinar in April, we will focus on 3D printing or bioprinting bone tissue using tissue engineering techniques. The commercialization and regulatory pathways for 3D-printed orthopedic implants are approaching maturity, with industry leaders like Stryker, JNJ, and more continuing to expand their 3D printing product and service portfolio. Naturally, this is an active area of innovations and entrepreneurial activities, and investments, since short-term favorable exit is more likely compared to other applications. Join us for an intimate and engaging conversation with a world-class panel with diverse backgrounds and knowledge bases in this energetic 90 minutes virtual event on our Event Hub."
You can register for the discussion here.
March 23: 3DEXPERIENCE World Recap
Finally, if you missed the recent 3DEXPERIENCE World 2023 event, fear not, because Dassault Systèmes and 3DEXPERIENCE Works are giving you a second chance. Also at 11 am EST on Thursday the 23rd, you can tune in to the new 3DEXPERIENCE Works YouTube channel for an extensive recap of the hybrid conference from when it came to Nashville, and online, last month.
"Join us for an extensive recap of THE premiere SOLIDWORKS and Dassault Systèmes conference, 3DEXPERIENCE World 2023! Learn about the culture that made the event so great, as well as highlights from the General Sessions, announcements, special in-person activities, and so much more! This is an episode you WON'T want to miss!"
You can subscribe to the 3DEXPERIENCE Works YouTube channel, and add a reminder to your calendar for the live stream, here.
Do you have news to share about any future webinars or virtual and live events? Please let us know!
Subscribe to Our Email Newsletter
Stay up-to-date on all the latest news from the 3D printing industry and receive information and offers from third party vendors.
---
Print Services
Upload your 3D Models and get them printed quickly and efficiently.