There are plenty of webinar and event options this week, starting with the hybrid 3DEXPERIENCE World, being held both online and in-person in Nashville. Webinars this week include offerings from ASTM, nTopology, 3DEO, Roboze, and more, and The Virtual Foundry begins its FFF metal 3D printing course. For details on these and others, keep on reading!
3D Printing News Unpeeled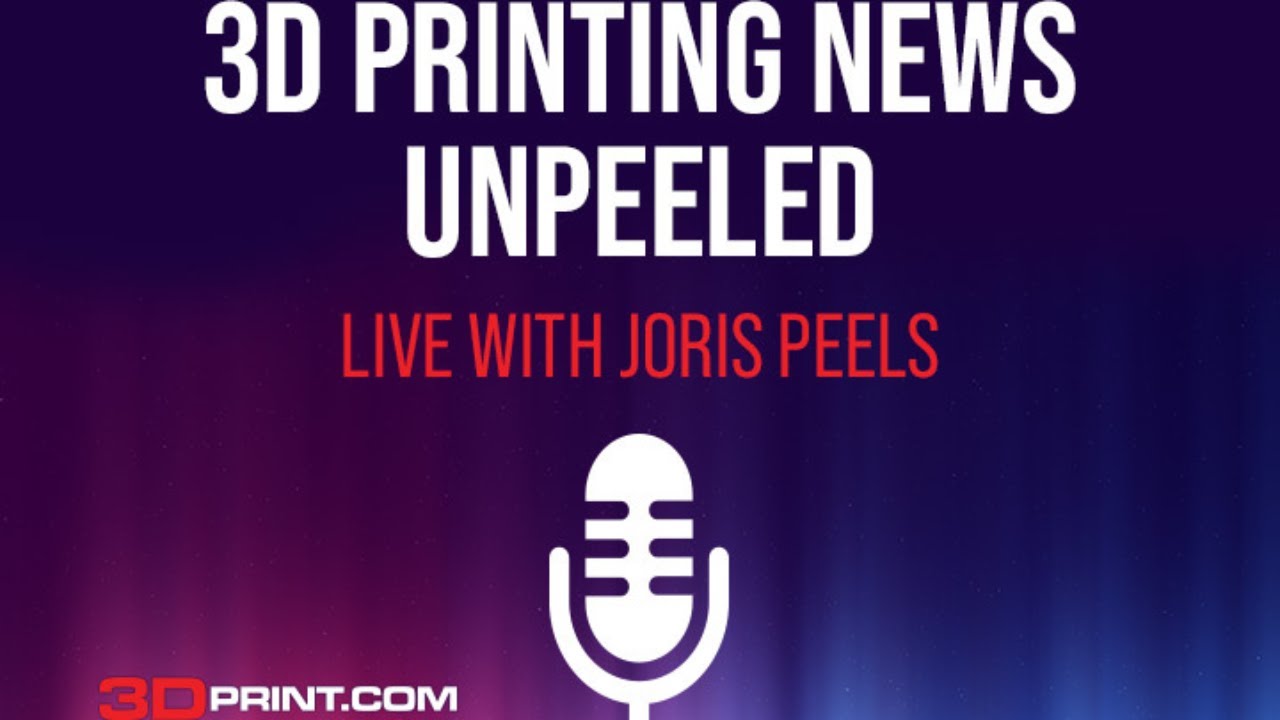 Our Executive Editor Joris Peels, who's also the Vice President of Consulting at SmarTech Analysis, offers a news livestream one to two times a week called 3D Printing News Unpeeled at 9:30 am EST. For each episode, Peels gets on LinkedIn Live and tells us, in 20 minutes or less, what he considers to be the top news stories from the 3D printing industry that week, and why they're important. Some of the stories in his roundup are ones we've covered at 3DPrint.com, and some are not, but they are all equally interesting and impactful.
February 12 – 15: 3DEXPERIENCE World 2023
Starting today and going through Wednesday, February 15th, thousands of engineers, designers, entrepreneurs, business leaders, and students will come together for 3DEXPERIENCE World 2023, being held both online and, for the first time in three years, in-person at Music City Center in Nashville, Tennessee. Attendees will engage, learn, share knowledge and drive innovation around the SOLIDWORKS ecosystem and the 3DEXPERIENCE Works portfolio, with hundreds of training sessions, plenty of time for networking, free certification exams, and the event's popular General Sessions. Plus, if you can't make it to Nashville, not to worry—the keynotes and General Sessions, as well as Partner Pavilion highlights—will be streamed live on the SOLIDWORKS YouTube and virtual event platform!
"3DEXPERIENCE World 2023 is the place to explore new solutions designed to solve your product development challenges. You'll get sneak peeks into emerging technologies, sessions on the latest in concept to manufacturing, and a preview of some of the newest enhancements coming to SOLIDWORKS 2024."
You can register for the event here.
February 14: Computed Tomography for AM
At 10 am EST on Tuesday, February 14th, ASTM International's Additive Manufacturing Center of Excellence (AMCOE) will hold a webinar on "Best Practices and Approaches for Computed Tomography for Additive Manufacturing." The webinar is meant for AM process engineers, manufacturing engineers, and research engineers who have limited or no experience in using CT for AM, as well as CT inspection services personnel seeking a better understanding of AM inspection challenges, and will be taught by Anton Du Plessis, Associate Professor at Stellenbosch University and Applications Scientist at Object Research Systems. Topics include CT inspection basics, best practice guidelines, CT automation and artificial intelligence approaches, CT for AM applications, and more.
"After explanation of basic principles of CT inspection, a range of typical inspection scenarios will be demonstrated. Discussion will focus on what can be learned, what are the limitations and what best-practice guidelines can be applied. After this, some advanced applications will be discussed. This will be followed by the latest advances including artificial intelligence approaches to image segmentation and analysis, and approaches for automatic processing of data allowing inline inspection."
You can register for the webinar for $49 here.
February 15: What's New in nTopology
This summer, nTopology released its third-generation latticing technology, and if you're interested in learning to take your latticing to the next level, you won't want to miss its webinar this Wednesday, February 15th at 1 pm EST. "What's New in nTop" will focus on the software company's newest latticing capabilities and features, including warping cell maps to volumes, generating TPMS lattice with precise wall thickness, creating and using custom unit cells, and more. Application Engineers Gabrielle Thelen and Alec Guay will walk attendees through these new capabilities during the 35-minute webinar.
"Back in June, we released our third-generation latticing technology.

"Since then, we have continued to build upon this core infrastructure, creating features that give nTop users even greater control over complex geometry."
You can register for the webinar here.
February 15: 3D Printing for High Volume with 3DEO
Also at 1 pm EST on the 15th, 3DEO will hold "3D Printing for High Volume Production," a live webinar focused on the main differentiators of moving to production in 3D printing. Doug Partridge, 3DEO's Product Engineering Manager, will explain how adopting an additive approach to production can help users bring premium products to market, and minimize tradeoffs faced throughout development into scale. Attendees will learn about the advantages and complications of high volume production in AM, design and development tips for optimizing designs for AM, steps and considerations to help incorporate the technology into product strategy, and more.
"Together, we'll explore how adopting an additive manufacturing approach to your production strategy – whether as the sole manufacturing method or a complement to traditional manufacturing – enables you to bring a premium, cutting-edge product to market."
You can register for the webinar here.
February 16: Insights on Roboze ToolingX CF
Thursday, February 16th will be a busy busy for webinars! First up, Roboze will hold a webinar at 11 am EST dedicated to ToolingX CF, a stiff, carbon-fiber filled material with high mechanical strength, light weight, and chemical resistance. In "Super-polymers and composites for Additive Manufacturing: insights into Roboze ToolingX CF," attendees will learn the main characteristics of ToolingX CF, application opportunities and case studies, and how this special composite material can help them optimize production flow by reducing time and costs by over 60%. The speaker, Davide Schiena, Roboze Head of Application Engineering & Customer Success, will participate in a Q&A section at the end of the webinar.
"After less than a year from its market launch, we decided to dedicate a webinar to this special material, which is chosen by Roboze customers not only for functional prototyping, but also for production of strategic finished parts for an optimised, cost-effective and fast workflow."
You can register for the webinar here.
February 16: Faster, Better Product Development with Formlabs SLS
Also at 11 am EST on the 16th, learn how to achieve "Faster, Higher Performing Product Development With In-House SLS" with Formlabs. The company's Fuse 1+ enables powerful powder bed printing from the desktop, so users can fabricate high-performance end-use parts in just hours, but how to determine if SLS 3D printing is the right choice for your business? Attendees will learn when to choose SLS over other technologies, how to pick the right SLS material for their applications, how to use the Formlabs Fuse Series SLS ecosystem to enable a seamless workflow, and more, from Formlabs speakers Dan Kirchgessner, Partnerships Manager; Chris Haid, Hardware Product Manager; and Connor Evans, SLS Materials R&D.
"Illustrated through exciting use cases from the field, join the Formlabs product team for a deep dive into how SLS 3D printing technology, materials, and workflows can accelerate and advance your product development. If you still have questions by the end, get them answered directly by our product experts during a live Q&A."
You can register for the webinar here.
February 16: The Virtual Foundry Begins FFF Metal 3D Printing Course
The Virtual Foundry is working to further the vision of democratized manufacturing, and is offering a course that will teach just that. Its new "FFF Metal 3D Printing Course," taught via Zoom, will offer a deep dive into each step of the FFF 3D printing process using Filamet metal, glass, and ceramic filaments, and attendees will receive personalized instruction on 3D printing full metal parts, as well as a Getting Started Bundle to experiment with between classes, and automatic membership in the alumni group. To get the most out of this class, you should have an FFF 3D printer, be able to print plastic, know how to work your slicer, and have a kiln, though sintering services will be provided if you don't.
The FFF Metal 3D Printing Course begins this Thursday, February 16th and runs for 13 weeks; registration deadline is Wednesday the 15th. The class size is limited to 10 participants, so don't wait to register! There will be one session every other Thursday (see the syllabus here) at 12 pm EST, and all digital files will be provided in the downloads section before each one. We're past all the early bird dates, so the course is now priced at $2,150, and there will be no tuition refunds after the start of the first session.
February 16: Qualification for Sustainable Metal AM Powders
At 2 pm EST on the 16th, Morf3D and 6K Additive will team up to present a webinar on "Qualification Process When Using Sustainable Metal Powders for AM in a Production Environment." From whether materials will meet the necessary specifications and if quality will suffer to if there are any additional benefits or a higher cost, many companies have burning questions when deciding whether to use metal AM powders derived from sustainable sources, like used or scrap powder. Dr. Behrang Poorganji, Vice President of Materials Technology at Morf3D, and Jamie Perozzi, VP of Technology, 6K Additive, will discuss qualification of metal powders made from sustainable sources, requirements needed to satisfy demanding applications and strategic customers, and more.
"Sustainability and recycling are two words that have been grabbing headlines in additive manufacturing. AM organizations have been looking at ways to incorporate sustainable materials into their production processes. However, there is a lingering skepticism surrounding the use of sustainable materials…"
You can register for the webinar here.
February 16: 3D Systems & Interactive's AM Open House
The week's final offering is by 3D Systems and its Reseller Partner InterActive, which are hosting a 3D Printing Open House in Texas from 3 until 5 pm EST on Thursday, February 16th. Attendees will have the chance to see the company's AM solutions for themselves at the event, which will be held at InterActive, 14102 Farm to Market Rd 529 in Houston.
"As the industry has evolved, so must your business and its ability to compete in a rapid turn environment – It could be a great time to consider new 3D printing technology! Whether you're looking into 3D printing for the first time, or if you are looking to add to your capabilities, the perfect place is where you can see the technology in action."
You can register for the open house here.
Do you have news to share about any future webinars or virtual and live events? Please let us know!
Subscribe to Our Email Newsletter
Stay up-to-date on all the latest news from the 3D printing industry and receive information and offers from third party vendors.
---
Print Services
Upload your 3D Models and get them printed quickly and efficiently.