It's a busy week for the 3D printing industry in terms of webinars and events! Satellite 2023 takes place in Washington, DC, while the International Dental Show is coming to Germany. 3D Systems is holding an open house in Colorado, and Kornit will welcome visitors to a showcase event in New Jersey. Plus, there will be webinars on accelerating digital production, coating for SLA 3D printed parts, carbon fiber hinges, 3DEXPERIENCE, and more. Read on for the details!
3D Printing News Unpeeled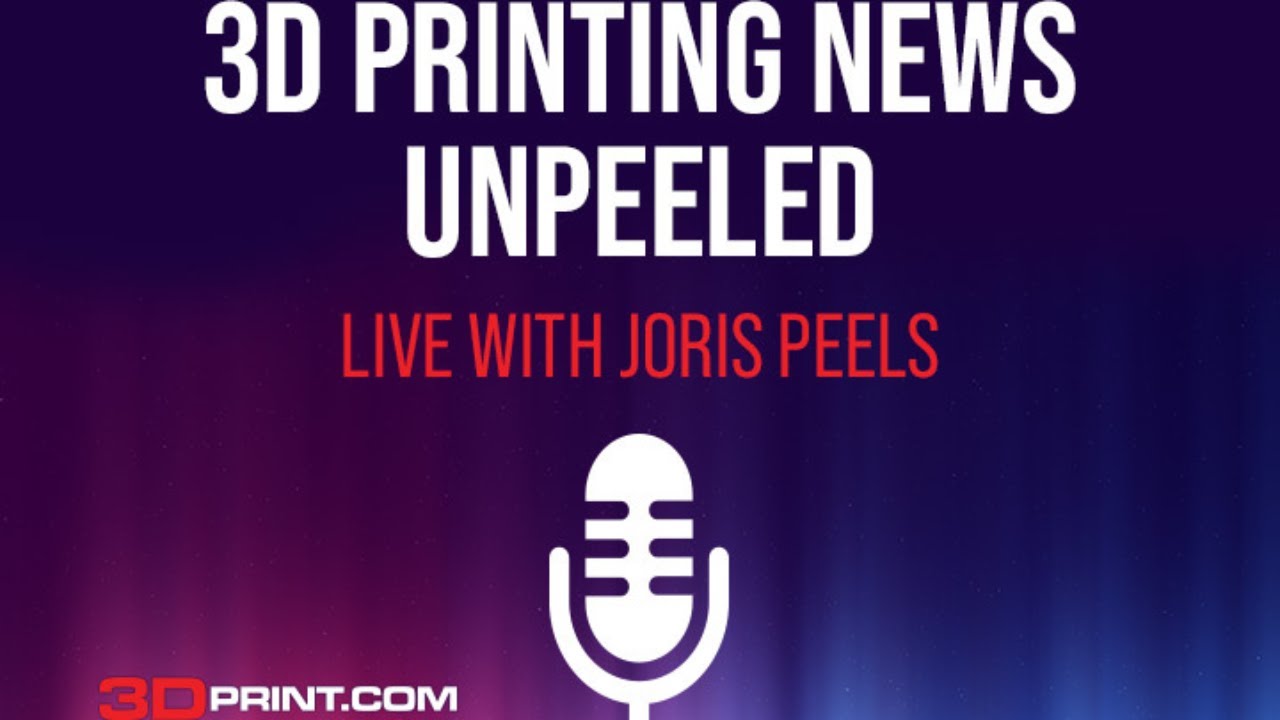 Our Executive Editor Joris Peels, who's also the Vice President of Consulting at SmarTech Analysis, offers a news livestream one to two times a week called 3D Printing News Unpeeled at 9:30 am EST. For each episode, Peels gets on LinkedIn Live and tells us, in 20 minutes or less, what he considers to be the top news stories from the 3D printing industry that week, and why they're important. Some of the stories in his roundup are ones we've covered at 3DPrint.com, and some are not, but they are all equally interesting and impactful.
March 13 – 16: Satellite 2023
First up, the 2023 SATELLITE Conference and Exhibition will be held in Washington, DC from March 13-16.  Satellites impact millions of lives, global businesses, and government action, and there are unlimited opportunities for companies to take advantage of the benefits, efficiencies, and savings that satellite and space technology can offer. The entire ecosystem of manufacturers, service providers, and integrators for these sectors, serving all technology end-user markets, will be represented by the exhibiting companies, and attendees include Optisys, Ball Aerospace, Roboze, Airbus, Blue Origin, Raytheon, Boeing, NASA, SpaceX, Honeywell Aerospace, Blue Origin, and more.
"Since 1981, SATELLITE Conference & Exhibition has been universally recognized as the meeting place for the global space and satellite communities. Now you can take part in the four days of discussion, business, and connections that determine the industry mission statement for the rest of the year.

"SATELLITE proudly serves the entire ecosystem of the satellite and space communities while also including professionals in commercial markets benefiting from satellite technology and applications, such as government, military, broadcasting, media & entertainment, aviation, maritime, automotive, financial, and telecommunications, among others."
You can register for SATELLITE 2023 here.
March 14 – 18: International Dental Show
About the same time, from March 14-18, the dental community will converge on Cologne, Germany for the 100th iteration of the International Dental Show (IDS), the leading global trade fair for the dental community. At this year's event, with 180,000 m² of exhibition space, about 2,000 exhibitors are expected from 65 countries, many of which will surely be interested in 3D printing dental applications. Held every two years, the IDS will feature a large selection of products and many opportunities for networking with colleagues both old and new.
"In 2023, at the 40th IDS, the fair will once again generate momentum while paving the way for pioneering advances, demonstrating its role as a successful presentation platform and meeting place for all decision-makers in the dental-medicine market."
You can purchase tickets for IDS 2023 here.
March 14: Zetamix 3D Printing Demo by Nanoe
At 6 am EST on Tuesday, March 14th, Nanoe is holding a Zetamix 3D Printing Demo. As the company's CEO Guillaume de Calan explained on LinkedIn, there will be a practical demonstration of FFF 3D printing metal and ceramic with Nanoe's Zetamix filaments, and attendees will learn how to go from a 3D printed green part to fully dense metal or ceramic ones.
"Do you want to print Zetamix ceramic filament? This webinar demo is for you! From the file preparation to the sintering step, the Zetamix process will be fully detailed to help you start your own printing!"
You can register for the webinar here.
March 14: 3D Systems Innovation Center Open House
3D Systems is holding an Open House at its Littleton, Colorado Customer Innovation Center. From 10 am to 5 pm MST, visitors can see the company's wide range of AM solutions, meet with top 3D printing experts to discuss best practices, challenges, and solutions with AM, and see lots of sample parts 3D printed for industrial industries, such as consumer, medical device, aerospace and defense, semiconductor, transportation and motorsports, energy, and more. There will also be presentations on 3D Systems' solutions, and refreshments will be served as well.
"Solutions on display include DMP, SLA, SLS, MJP, DLP and our newest pellet Extrusion technology.  This unique day has been designed to help you uncover and expand your capabilities."
You can register for the open house here.
March 14: Accelerating Digital Production with Roboze
To introduce Additive Plus, its new U.S. reseller, Roboze is hosting a webinar that will teach you how to "Accelerate your digital production with Roboze 3D Printing." Held on March 14th at 12 pm EST, the live webinar will focus on trends in AM, how to face supply chain challenges with Roboze solutions, why you should implement a dedicated solution for super polymers and composite materials, and more. At the end, there will be an interactive Q&A session with speakers Francesco Pantaleone, Roboze EVP Business Development; Ashkhen Ovsepyan, Additive Plus CEO; and Davide Schiena, Roboze Head of Application Engineering & Customer Success.
"Additive Plus, a tightly welded team of seasoned professionals passionate about Additive Manufacturing, becomes reseller of Roboze solutions in the USA. The team has a great experience in delivering the 3D printing solutions for the applications in various industries such as Aerospace and Industrial.

"In occasion of this partnership we are hosting a webinar to introduce the team and show you how to accelerate your digital manufacturing transition and achieve new levels of cost and lead time breakthroughs."
You can register for the webinar here. Capacity is limited to the first 500 livestream subscribers.
March 15: Sinterit on Performance AM Materials for Special Applications
Sinterit will hold a webinar at 11 am EST on Wednesday, March 15th about "Performance materials for special applications." Attendees will learn all about PA11CF, PA12 Industrial, and the latest powder in Sinterit's portfolio. In addition to a closing Q&A session, topics will cover what can be done with Sinterit's high-performance SLS materials, industrial applications for which the materials are used, and more.
"Sinterit's wide spectrum of materials meets the needs of an even wider range of industries. In the next webinar, our experts – Jakub Malec, Jarek Pieniążek and our special guest Valentin Holz from BASF/FORWARD AM will present the characteristics of some special powders."
You can register for the webinar here.
March 15: Cerakote Ceramic Coating for SLA Parts
To learn how to apply ceramic coating to create functionally and aesthetically enhanced SLA 3D printed parts, join the Formlabs webinar on "Ceramic Coating for SLA 3D Printed Parts with Cerakote" at 12 pm EST on the 15th. Attendees will hear from Kyle Winger, CEO of government contractor Wingate Durham; Tim O'Malley, Industrial Account Manager from Cerakote; and Chris Lee, Formlabs Sales Engineer, about how using the Form 3+ and Cerakote C-Series for ceramic coating can enable the creation of rugged, high temperature-resistant parts for end-use applications. They'll also learn if Cerakote SLA 3D printed parts can be easily created in-house, how to choose the proper SLA resin, why you should use Cerakote C-Series coating, and more.
"Learn how to do ceramic coating to create aesthetically and functionally enhanced end-use SLA 3D printed parts with an easy, scalable Cerakote workflow."
You can register for the webinar here.
March 15: AFX in Practice with America Makes
America Makes and AconityUS will hold "AFX in Practice: From Cubes to Real Parts" at 2 pm EST on Wednesday the 15th. Attendees will have the opportunity to learn about the programmable AFX laser.
"Presented by Cesar Terrazas, Managing Director at AconityUS, this webinar details the use of the programmable mode AFX laser to shape the beam and investigate its effect on microstructure and mechanical properties for Inc718."
You can register for the webinar here.
March 15: Fortus 450mc 3D Printer
Also at 2 pm EST on the 15th, Stratasys is holding "Unleash the Fortus 450mc 3D Printer," a webinar/giveaway. Its industrial Fortus 450mc has a 16" x 14" x 16" build volume and can print strong end-use parts thanks to high performance materials like Nylon 12CF, and ULTEM 9085 resin. Pairing the printer with its OpenAM software, users can easily optimize print parameters and build settings, such as extruder and oven temperature, start of toolpath control, volumetric flow control, and more. Plus, eligible viewers will have the chance to win one of two Kimya PC-FR Print Bundles, valued at $1,460; you must be present during the live session to be eligible to win.
"The webinar will go also over requirements for success with OpenAM and take you through a full walkthrough of the tuning application. You'll also have an opportunity to engage in live Q&A with the OpenAM product manager and applications engineer."
You can register for the webinar here.
March 16: Kornit Exploration Day
In Englewood, New Jersey, on Thursday, March 16, Kornit Digital is holding an exclusive Exploration Day event, focused on its digital, sustainable on-demand production for fashion and textiles. Track 1 in the morning will focus on how digital production can help reduce time to market and inventory, as well as an expanded product line. Attendees will also learn how influencers are influencing brand and retail direction, and increasing the velocity and variety of consumer trends. During Track 2 in the afternoon, you'll hear about the latest in digital decoration technology from industry experts, learn what "nearshore" and "onshore" really mean, and more.
"The market for custom apparel, fashion, fabrics, home décor, and other textile applications has changed dramatically in the e-commerce age. Creators and consumers demand quality, speed, variety, and sustainability, and without digital on-demand production, you're leaving real money on the table.

"Join us on March 16 to hear a complete breakdown of how the market is changing, and will continue to change, as brands and designers are empowered with endless creative possibilities. Then we'll show you how the right combination of business strategy and cutting-edge technology can ensure you capitalize on those changes, for years to come – proven."
Get your free ticket here.
March 16: Carbon Fiber Hinges for Mobility & Aerospace
Hosted by Composites World and presented by 9T Labs, the "Innovating Carbon Fiber Hinges for Mobility and Aerospace" webinar will take place at 10 am EST (4 pm CET) on the 16th. Andrea Borlenghi, Head of Marketing at 9T Labs, will discuss the company's technology, applications for the technology, and scenarios for its use in future applications. Additionally, details will be featured from three case studies where the company's AM system helped to optimize hinges.
"Composites manufacturing is evolving rapidly toward automated, high-volume fabrication that demands robust design-for-manufacturing capability combined with rigorous process control. In this webinar, 9T Labs will explore how its Fibrify design optimization within the Additive Fusion Technology (AFT) manufacturing system innovated three hinges in three different applications: Motorcycle, bicycle, aircraft interior."
You can register for the webinar here.
March 16: 3DEXPERIENCE FD01 with TriMech
Also at 10 am EST on the 16th, TriMech will hold a webinar on "What's New in 3DEXPERIENCE FD01." With each update of the 3DEXPERIENCE platform, many new and streamlined features are introduced that could be helpful to you and your team. TriMech Solutions Consultant – 3DEXPERIENCE, Wayne White, will discuss the latest enhancements in the 3DEXPERIENCE Cloud Data Management for SOLIDWORKS teams, and attendees will learn how to save and condition files, an overview of SOLIDWORKS Cloud for Cloud Design, 3DEXPERIENCE commands within the SOLIDWORKS interface, and more.
"Whether you are an existing SOLIDWORKS customer using the platform, or you are considering the benefits of a cloud-based platform for data management, this webinar will have relevant information for your team. We will also quickly touch on cloud-design apps within the platform."
You can register for the webinar here.
March 16: Localized Manufacturing in North America
For its second webinar of the week, Roboze is focusing on "Localized Manufacturing in North America: The Industrial 3D Printing Advantage," at 12 pm EST on Thursday the 16th. Attendees will find out how the company's industrial AM technology can help support the digital transition of manufacturing, and the webinar will be of particular interest to those in the aerospace, energy, and transportation industries. Topics include how to replace obsolete production methods with on-demand 3D printing of super polymer and composite materials, increase accessibility to custom parts, decrease costs by negating the need for expensive end-use metal parts, and more. The speakers will be Francesco Pantaleone, Roboze EVP Business Development; Mike Brown, Quickparts US Sales Director; and Joel Alfano, PhD, Siemens Energy Principle Technology Development.
"Quickparts and Roboze together are accelerating the local production of customized parts around the world, wherever and whenever needed, bringing the production value back to the point of use and generating business models more consistent with the current market.

"Find out how Roboze Industrial 3D printing technology is helping manufacturers digitalize their production process and transition away from traditional manufacturing."
You can register for the webinar here. Capacity is limited to the first 500 livestream subscribers.
March 18 – 19: AMUG Certificate Course by ASTM International
It's not quite time for the 2023 AMUG Conference, but ASTM international is holding an AMUG Certificate Course on "Establishing an AM Facility for Critical Part Production using PBF-LB/M" from March 18-19 before the conference begins in Chicago. Taught by Shane Collins, Wohlers Associates, and Youping Gao, Castheon Inc., an ADDMAN Group Company, the course is based on ASTM and ISO standards, and will provide detailed instruction on all AM operation aspects, including feedstock selection and qualification and post-processing, using real parts from attendees. Many topics will be covered, including workflow and efficiency, facility considerations and requirements, metallurgical process qualification, machine calibration and certification, digital twins, personnel training requirements, manufacturing plan creation, in-situ monitoring, inspection and NDE for production, and more. After successful course completion, participants will receive an ASTM AM Certificate, and the online exam will be held two weeks after the training.
"This course is aimed at individuals with existing experience in AM, who wish to understand all the information needed to update an existing facility or create a new facility for the purpose of manufacturing safety critical parts using the laser powder bed fusion (PBF-LB) process with metal powders."
The cost to take this course is not included in the registration for AMUG 2023, so you can register for the certificate course here.
Do you have news to share about any future webinars or virtual and live events? Please let us know!
Subscribe to Our Email Newsletter
Stay up-to-date on all the latest news from the 3D printing industry and receive information and offers from third party vendors.
---
Print Services
Upload your 3D Models and get them printed quickly and efficiently.