3D Printable Construction Kits Let You Construct Buildings of Any Size, Including Life-sized House Models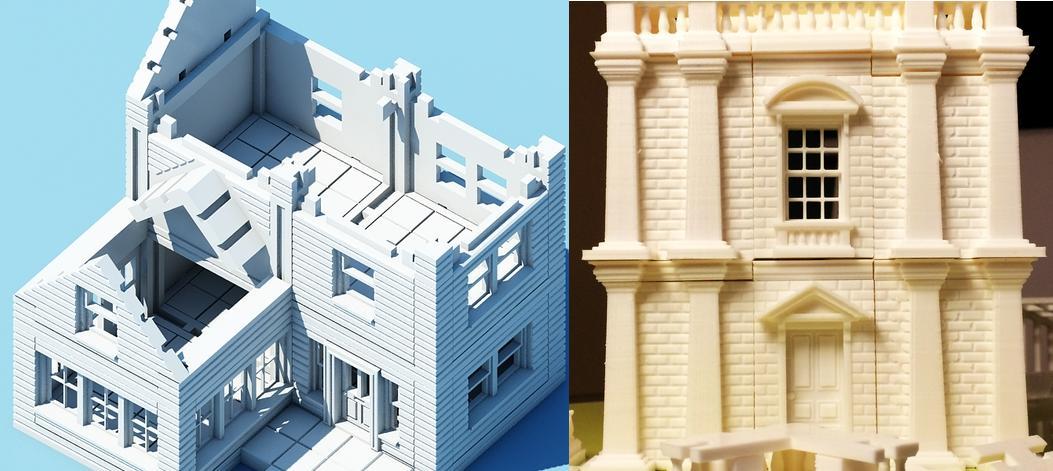 Over the past few months, we have done numerous stories on 3D printable construction sets. Some these have included custom shaped blocks that are compatible with traditional Lego sets, while others have been completely new altogether.
I remember as a child, sitting on my living room floor building all sorts of things with my Legos. The majority of the time, I would construct miniature houses, and then assemble them into a small villages. Of course, these houses all pretty much looked the same, as Lego blocks are quite generic looking. I still had a blast though.
Now, one man named Teinye Horsfall, has taken the ideology behind construction kits and created a means for learning about and fabricating architectural designs for students, children, and model makers. His creations, which are simply referred to as 'Printable Architecture Kits,' take the idea of Legos, but focus more on architectural design of buildings.
"I've always been interested in 'Modular Architecture,'" Horsfall tells 3DPrint.com. "I come from an architectural background, and over the years I've been involved in a lot of architectural visualisation projects. I realised during this time that the fastest and most effective way to design certain buildings virtually, was to break them into modular parts and assemble these parts to create different design configurations. This method worked really well for us in meeting incredibly tight deadlines."
So when Horsfall learned of 3D printing, he decided to utilize this technique in creating real-world, buildable models.
At first he started simple. He began creating basic shapes in 3D via 3D modeling software. He used AutoCAD to create the shapes from initial design sketches, and then 3ds MAX to build the shapes into digital 3D models. He then printed them out and stacked them up. Once he realized the potential that these creations had, he began adding more details to the designs.
In designing the blocks he wanted to ensure that they would easily be 3D printable on FFF-based 3D printers. This meant that the designs would require no support material when printing.
"This was very challenging but so much fun to resolve," Horsfall tells us. "I proceeded to add interlocking connectors for each block. The idea was that each block would connect seamlessly without the need for any adhesive or glue. Once I had the structural blocks (slabs, walls, columns) designed, the process became much easier. I was able [to] evolve new block types from the original structural blocks."
Horsfall, who is a digital designer by trade, currently works as a Senior Design Visualizer in the construction industry, specializing in commercial exteriors and interiors. He has so far made 2 different themed designs available for anyone to down for free and 3D print at home. They include the Victorian Town House Kit, which features 15 different STL files for different modular construction pieces, and the more traditional Original Architecture Kit, which contains 11 separate STL files for Beams, Columns, Floor Slabs, Stairs, Roofs, Walls, and Interior Partitions.
What I find extremely fascinating is that these kits are completely expandable, meaning that any quantity of multiples desired may be printed out and buildings of virtually any size can be created. You can also scale the blocks up and down in order to create larger, or smaller buildings.
"With a larger printer and enough time you can build a life size building," explains Horsfall.
Horsfall tells us that he plans on releasing even more of these kits in the near future, including blocks that can be used for fabricating skyscrapers, industrial sheds, and modular cityscapes. He has a goal of creating a huge database of building blocks in 3D printable formats, representing various architectural styles. He then wants to make these available to schools, designers, architects, hobbyists, and model makers. It appears as though he is well on his way to reaching these goals.
"I'm a Lego enthusiast, always have been," he tells us. "I have a passion for architecture and the built environment. Buildings fascinate me. Especially large public spaces. I spend a lot of my time studying them, experiencing them, and creating generic, concept design ideas of my own."
The models pictured here were printed on Horsfall's Ultimaker 2 3D printer, but are compatible with virtually any FFF-based printer, include extremely large printers, enabling the right person with access to the right 3D printer to fabricate full sized buildings. Will that happen anytime soon? It certainly wouldn't surprise me. What do you think about Horsfall's modular 3D printed architecture construction kits?  Discuss in the 3D Printed Architecture Kits forum thread on 3DPB.com.
Subscribe to Our Email Newsletter
Stay up-to-date on all the latest news from the 3D printing industry and receive information and offers from third party vendors.
---
Print Services
Upload your 3D Models and get them printed quickly and efficiently.