If you're fully recovered from formnext already, may we suggest some more 3D printing events, and webinars, for this coming week? There will be plenty of opportunities to learn the latest about SOLIDWORKS 2024, and 3DPrint.com is hosting a webinar with 6K Additive and Agile Space Industries. Xometry will give a demo of its Teamspace, 3D Systems will talk about jewelry manufacturing, and Stratasys focuses on 3D printing for advanced rapid prototyping. Read on for all the details!
3D Printing News Unpeeled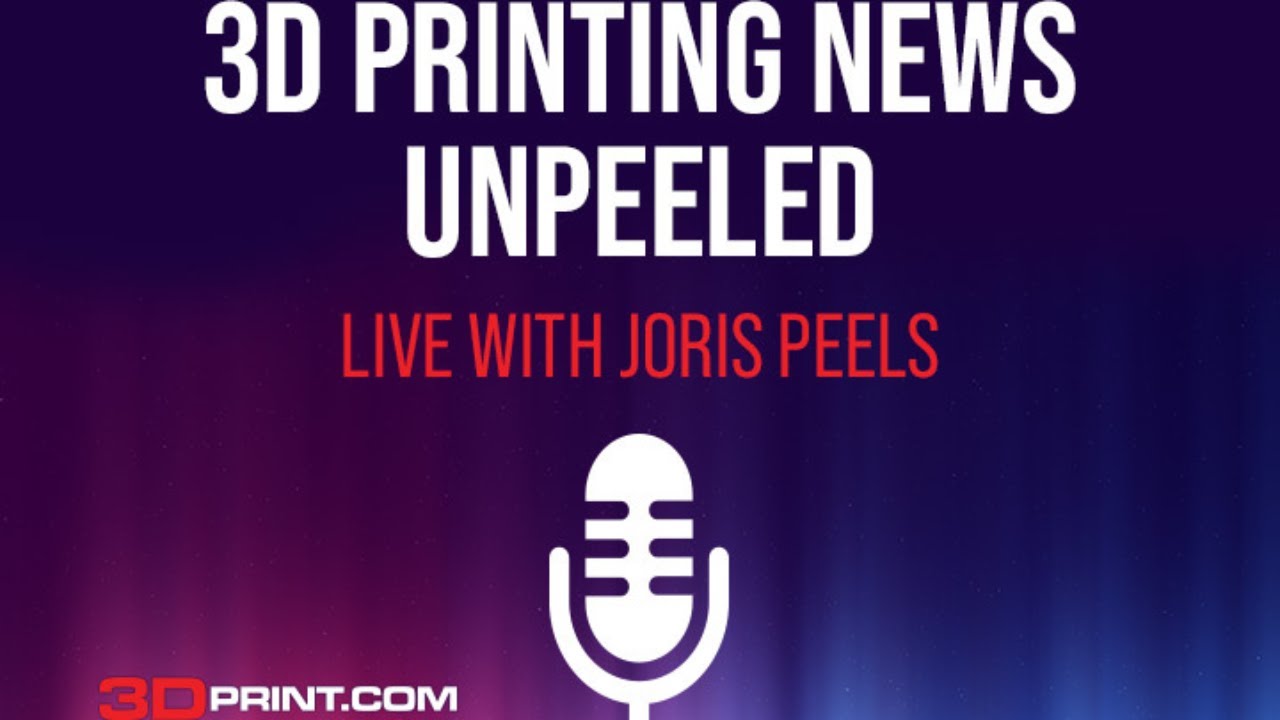 Our Executive Editor Joris Peels, who's also the Vice President of Consulting at Additive Manufacturing Research (AMR), offers a news livestream one to two times a week called 3D Printing News Unpeeled at 9:30 am EST. For each episode, Peels gets on LinkedIn Live and tells us, in 20 minutes or less, what he considers to be the top news stories from the 3D printing industry that week, and why they're important. Some of the stories in his roundup are ones we've covered at 3DPrint.com, and some are not, but they are all equally interesting and impactful!
November 13 – 15: AU 2023 Design & Make Conference
In Las Vegas, and online, from November 13-15, you're invited to attend "the conference for those who make anything" by Autodesk University (AU). AU 2023, the Design & Make Conference, welcomes innovators in construction, architecture, engineering, manufacturing, media and entertainment, and product design to share their knowledge and ideas, explore future opportunities, and advance industry practices, all focused around the Autodesk Design and Make platform. There will be over 600 expert-led sessions, an expo featuring Autodesk service partners, networking opportunities, and more.
"The way we design and make have always been connected by purpose. Now, we can connect the people, processes, and data, too. AU is the conference where you can learn how to put the possibilities of Autodesk's Design and Make Platform to work. Together, we can make anything."
You can register for the hybrid event here.
November 14 – 15: What's New in SOLIDWORKS 2024 with TriMech
TriMech is hosting several live launch parties in North America this week to let everyone know "What's New in SOLIDWORKS 2024." Attendees will learn about the new features and enhancements in this release from certified SOLIDWORKS experts, starting with a live event in Charlotte, North Carolina from 8:30-12:30 EST on Tuesday the 14th, and another one in Bedminster, New Jersey from 10-2 EST the same day. There will be three of these events on Wednesday the 15th, starting in Oakville, Ontario from 9:45-2 EST, another one in Calgary, Alberta from 9-4 MST, and finally in Glen Allen, Virginia from 9-1:30 EST.
"From the beginning, SOLIDWORKS® has been at the forefront of making design accessible to every designer and engineer. Our job is putting you in a position to create, collaborate, and deliver innovative product experiences with powerful, yet easy-to-use product development solutions. SOLIDWORKS 2024 continues this expectation, while opening new possibilities to enhance the way you design, communicate, and manage your 3D designs with SOLIDWORKS."
Stick around after the presentations for lunch and a Q&A session with the technical team.
November 14 – 16: Space Tech Expo Europe
The sixth edition of Europe's largest B2B event for the space industry, Space Tech Expo Europe, will be held in Bremen, Germany from November 14-16. Attendees will have the chance to see a variety of new space technologies used in manufacturing, learn from the industry's in-demand experts and leaders, and meet new business partners. More than 150 speakers will present during the event, which is expected to welcome over 6,200 attendees and 650+ exhibitors.
"We are the leading showcase for space manufacturing & testing services, components and systems engineering for spacecraft, launcher, and satellite programs. Our attendees recognize us as the main event in the space industry calendar, providing the ultimate platform to network with peers and form vital new business connections and partnerships face-to-face."
You can register for the event here, and sign up for B2B matchmaking here.
November 14: Automated FDM Post-Processing
At 10 am EST on the 14th, PostProcess Technologies will another How it Works webinars, this one about "Automated FDM Post-Processing." Attendees will get to see a live demonstration of the company's FDM support removal solutions running on its proprietary AUTOMAT3D platform, and ask questions in real-time.
"Conducted by one of our post-processing experts broadcasting from our lab, you will get a close-up view of how software, hardware, and chemistry work together for transformative end part results."
You can register for the webinar here.
November 14: 3D Systems on Jewelry Manufacturing
3D Systems will hold a webinar about how to "Boost Efficiency, Quality and Creativity in Jewelry Manufacturing" at 11 am EST on the 14th. The company's range of 3D printing solutions fits into the standard manufacturing workflow, from mold making and finely detailed prototypes to lost wax casting, to address all jewelry production challenges and design styles, reduce cost, and deliver designs with extended geometric freedom. Attendees will learn about new capabilities with the MJP 300W next generation wax patterns 3D printer, see examples of jewelry casting use cases, and more from speakers Michael Simmons, Manager, Application Innovation Group – Berkeley, and Rob Noce, Product Manager, Jetting Technologies.
"Successful jewelry design requires creativity, quality, and the ability to produce high-fidelity patterns. 3D Systems' advanced 3D printing solutions accelerate your time-to-market and give you a competitive advantage in high-volume production and mass-custom jewelry making."
You can register for the webinar here.
November 14: Busting AM Myths & Simulating Metal Prints
Join Fastway Engineering, 3D Metal Konsulting, and Ansys at 12:30 pm EST on the 14th for a webinar all about "Busting Myths and Simulating Successful Metal AM Prints." Attendees will receive clarity on common AM misconceptions, learn about metal 3D printing and simulation software from industry experts, and connect with other like-minded professionals to discuss topics including applications, materials, DfAM, market landscape, cost, and qualification. There will be a Q&A session at the end, so don't go anywhere!
"Navigating the world of additive manufacturing requires expertise from multiple angles. That's why Fastway Engineering and 3D Metal Konsulting are joining forces to bring you a unique, free webinar combining the best of both worlds – Decades of Experience and cutting-edge Simulation Tools."
You can register for the webinar here.
November 14: Preparing Anatomical Models for 3D Printing
At 1 pm EST on Tuesday the 14th, Materialise will hold the next free training in its online series about "Preparing Anatomical Models for 3D Printing," this one focused on soft tissue. These quarterly online courses consist of 45 minutes of training, followed by a 15 minute Q&A session. Attendees will learn every step of how to convert medical images into high-quality, 3D printable models, including importing DICOM data, image segmentation, optimizing, reconstruction, and refinement.
"Join our online series to learn the basics of preparing anatomical models for 3D printing directly from Materialise experts. Discover how to create a soft tissue 3D anatomical model for 3D printing or other applications like advanced 3D analysis, procedure planning/simulation, personalized device design, and advanced visualization via virtual or augmented reality."
You can register for the training here.
November 14: Xometry's Teamspace Demo
The final November 14th webinar is by Xometry about Teamspace, a workspace within a Xometry account that allows users to collaborate easily with colleagues on custom part orders and projects, which offers Team members quick and easy access to part statues, quotes, order placement, tracking information, and more. In "Build Big Ideas Together: Xometry Teamspace Demo and Q&A" at 2 pm EST, attendees will learn what Teamspace is, how to create Teams, add team members, and assign specific roles, and more. Before the webinar, create a Team and test out the collaborative tools for yourself; that way, you'll be prepared with any relevant questions during the live Q&A portion after the presentation.
"To help you take full advantage of these collaborative tools, the Product Team at Xometry wants to give you a tour of Teamspace with a live demonstration. Project managers, procurement professionals, buyers, engineers, and more can benefit from this walkthrough and are all encouraged to attend!"
You can register for the webinar here.
November 16: 3D Printing Organs on a Chip & Microfluidic Devices
On Thursday, November 16th, 3DHEALS will hold its latest panel discussion, about "3D Printing Organ on a Chip, Microfluidic Devices," at 11 am EST. There are several advantages to 3D printing both microfluidic devices and organ-on-a-chip systems, including precision and flexibility, fast and cost-effective production of intricate microscale structures, and more, and the technology has opened new horizons in personalized medicine and biomedical research. Dr. Jenny Chen, CEO and Founder of 3DHEALS, will moderate the discussion between top entrepreneurs as they explore the future of this promise application.
"Researchers can now customize microfluidic devices to emulate specific physiological conditions, allowing for more accurate drug testing and disease modeling. Moreover, the ability to integrate multiple materials in a single print enables the recreation of tissue interfaces and vascular networks, fostering the development of more lifelike organ-on-a-chip platforms. This innovative approach promises to revolutionize drug development, toxicology testing, and disease understanding, offering a glimpse into a future where personalized medicine is driven by these advanced, 3D-printed microsystems."
You can register for the Zoom panel here.
November 16: Stratasys 3D Printing for Advanced Rapid Prototyping
Stratasys will hold a webinar on "3D Printing for Advanced Rapid Prototyping" at 12 pm EST on the 16th. Tailored for product managers, design and manufacturing teams, and engineers in the consumer goods business looking to improve product development, attendees will gain insights into how the technology can drive innovation. Fred Fischer, Senior Director of Revenue Enablement and Application Engineering at Stratasys, will cover topics such as the benefits of 3D printing in rapid prototyping, real-world success stories, and more.
"Consumer goods companies are under constant pressure to innovate and bring new products to market swiftly. Traditional product development processes often result in delays, higher costs, and limited design flexibility.

"The solution? 3D Printing for Advanced Rapid Prototyping."
You can register for the webinar here.
November 16: 3DPrint.com Hosts Webinar on Lunar 3D Printing
Also on the 16th, 3DPrint.com will host a webinar by 6K Additive and Agile Space Industries about "Getting to the Moon with AM" at 2 pm EST. Choosing the right platform, and the right material, is crucial when 3D printing parts that must survive in the rigorous conditions to which they're subjected by lunar vehicles. Agile's Chief Engineer Charlie Garcia and AM Engineer Dustin Crouse Sr., along with 6K Additive's Chief Commercial Officer Nick Pflugh, will discuss Agile's products, as well as specifics of its A2200 program, the importance of Ni625 as the selected material, and more.
"Agile's A2200 engines will be used on a Lunar lander vehicle. The A2200 engine was developed to provide maximum performance on demanding missions, with a specific impulse of more than 318 seconds. Using an integral pintle sleeve throttling mechanism, the engine is capable of deep throttling, providing a smooth ride and fine control for a variety of missions. The engine can throttle from 50 to 100% thrust in under 650 milliseconds. Making it the perfect engine for heavily demanding maneuvering sequences that lunar missions require."
You can register for the webinar here.
November 16: Full Arch 3D Printing Workflows with SprintRay
Finally, at 7 pm EST on Thursday, October 16th, SprintRay will hold a complimentary CE credit webinar on "Full Arch 3D Printing Workflows." As Dr. Mike Tran will explain, in-office 3D printing can mean better patient satisfaction, more same-day care, and fixed hybrid dentures with superior aesthetics. Attendees will learn how to get the most out of their digital dental workflows using specialized hardware, as well as the first FDA-cleared 3D printing resin for fixed hybrid dentures.
"Discover all-new 3D printer hardware that speeds up print times for the most common dental appliances. In this webinar, Dr. Mike Tran will focus on the fixed hybrid denture workflow and the only 3D printing resin on the market with FDA clearance for fixed hybrid dentures. He will also show the versatility of specialized 3D printing hardware and how it significantly reduces print times of night guards, dental models, removable dentures, and more."
You can register for the webinar here.
Do you have news to share about any future webinars or virtual and live events? Please let us know!
Subscribe to Our Email Newsletter
Stay up-to-date on all the latest news from the 3D printing industry and receive information and offers from third party vendors.
---
Print Services
Upload your 3D Models and get them printed quickly and efficiently.