We've got another eventful week coming up in the 3D printing industry! There are events and conferences in several countries, including the U.S., Canada, and Singapore, and webinars on all sorts of topics, from automated wax support removal and 3D printing for cosmetic dentistry to power bed fusion processes, personalized surgical solutions, and more. Read on for all the details!
3D Printing News Unpeeled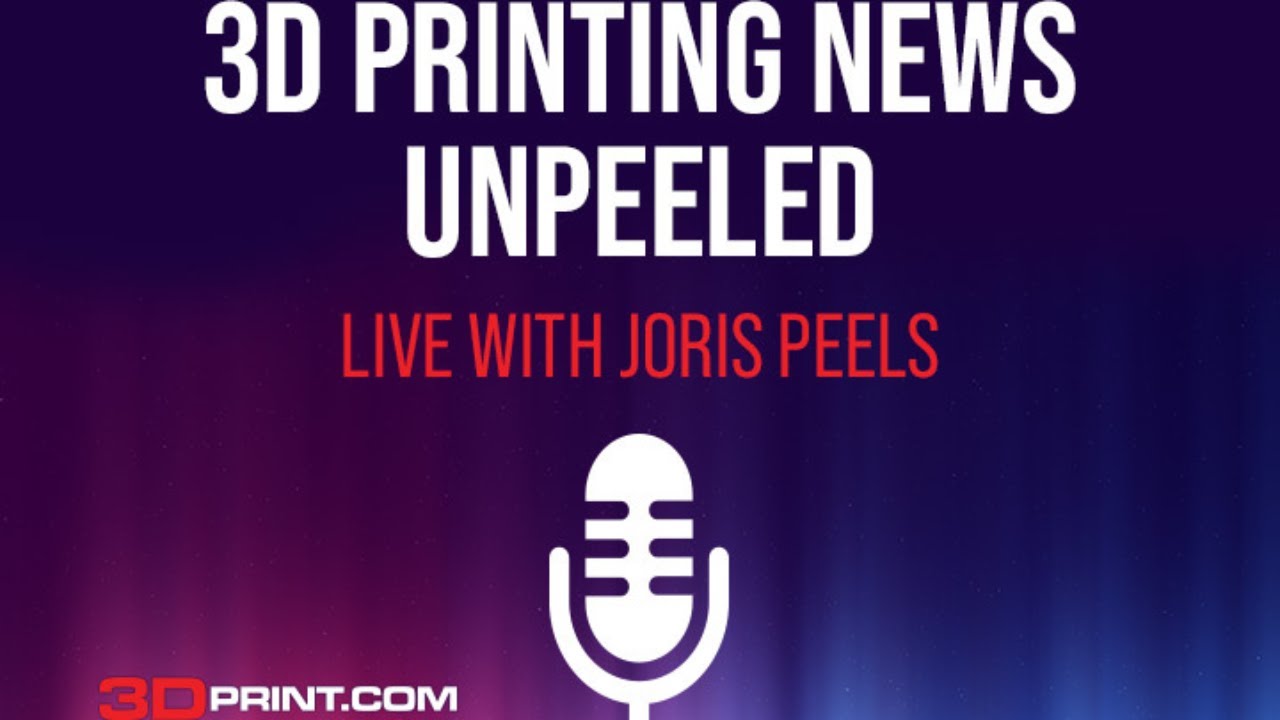 Our Executive Editor Joris Peels, who's also the Vice President of Consulting at Additive Manufacturing Research (formerly SmarTech Analysis), offers a news livestream one to two times a week called 3D Printing News Unpeeled at 9:30 am EST. For each episode, Peels gets on LinkedIn Live and tells us, in 20 minutes or less, what he considers to be the top news stories from the 3D printing industry that week, and why they're important. Some of the stories in his roundup are ones we've covered at 3DPrint.com, and some are not, but they are all equally interesting and impactful.
September 25 – 26: International Webinar on 3D Printing & AM
First up, the International Webinar on 3D Printing & Additive Manufacturing by Scholars Conferences will take place from September 25-26, with a theme of "Enlightening the latest advancement in 3D Printing & Additive Manufacturing." 3D printing professionals, stakeholders, researchers and innovators, graduate and undergraduate students, and members of the advanced materials supply chain, like service bureaus and software providers, are all welcome to attend the event, which is great for both professional and personal development.
"3D Printing 2023 Webinar will aims to bring together the renowned researchers, scientists and scholars to exchange ideas, to present sophisticated research works and to discuss hot topics in the field and share their experiences on all aspects of 3D Printing & Additive Manufacturing."
Learn more here.
September 25 – 27: ReAM 3D Conference and Showcase
In Duabi this week, ReAM3D, the Middle East's premier reverse engineering and manufacturing show, will be held. Hosted by the United Arab Emirates (UAE) and organized by ALDRICH Energy, the event welcomes industry experts from around the globe to discuss the latest advancements in AM/3D printing and reverse engineering technologies, with a focus on applications in industries like energy and oil & gas. Key service providers and engineers involved in standards, maintenance, and equipment design will offer a fresh perspective, and academics will provide their insights into the current market situation and future trends. SpEE3D, Immensa, Ai Build, Farsoon Technologies, and other big names from the AM industry will be exhibiting at ReAM3D.
"Get ready to be amazed by state-of-the-art Reverse Engineering and Additive Manufacturing technologies at ReAM Show 2023, where you will have the opportunity to connect with industry experts and gain an in-depth understanding of the industry. During the event we will be seeing how Additive Manufacturing is used within the Energy Sector, Oil, Gas and Petrochemical Sector, Mobility Sector, covering the Automotive and Aerospace Industry, Healthcare Sector, with a keen focus on Pharmaceutical industries, and the Construction Sector, focusing on Residential, Commercial and Civil. 3D Printing Experts, Industry Leaders, Manufacturers, Chief Engineers, Software Engineers and more will gather under one roof to highlight the challenges and opportunities this industry offers their audience."
You can register for the conference here.
September 25 – 28: Micro and Nano Engineering Conference 2023
In Berlin this week, the 49th international Micro and Nano Engineering Conference (MNE)—the flagship event of the International Society for Micro- and Nanotechnology (iMNEs)—will take place from September 25-28. Multiple plenary talks will be held, as well as oral and poster presentations and tutorials and a commercial exhibition, and the conference will also cover the application of micro- and nanostructured devices and microsystems in fields like chemistry, electronics, photonics, and life sciences. Several AM companies will be in attendance, including Nanoscribe, Boston Micro Fabrication (BMF), Jeol, UpNano, and more.
"It has always been the leading international conference for micro- and nano-fabrication, manufacturing techniques, as well as applications of the fabricated micro/nanostructures, devices and microsystems into electronics, photonics, energy, environment, chemistry and life sciences. The MNE brings together researchers and experts from all over the world to meet and discuss the latest research results and their applications. Furthermore, the conference aims to promote, involve and train young talent in the field of micro and nano engineering."
You can register for MNE 2023 here.
September 25 – 28: Canadian Manufacturing Technology Show
Also from the 25th through the 28th, the Canadian Manufacturing Technology Show (CMTS) will be going on in Toronto. This is the country's national stage for manufacturing technologies, industry connections, and best practices, and will focus on the latest advancements in forming, tooling, machine tools, and fabrication technologies, in addition to breakthrough innovations in advanced manufacturing, such as robotics, automation, digital transformation, and additive manufacturing. The event will feature keynote presentations, thought leadership panels, an SME Zone, Smart Theatre, happy hours and networking events, and a technology exhibition, featuring AM industry companies like DMG MORI, TriMech, GoEngineer, Creaform and more.
"For more than 40 years, the CMTS audience from within Canada's leading industries including automotive and aerospace have come together to source solutions and knowledge from the global leaders in machine tools and tooling, metalworking, and advanced manufacturing."
You can register for CMTS here.
September 25 – 29: Singapore AM Week
Singapore Additive Manufacturing (AM) Week hasn't been held in-person since 2019, but that changes this week! This week-long series of AM activities by Singapore's National Additive Manufacturing Innovation Cluster (NAMIC) focuses on discovery, engagement, innovation, and inspiration, and will end with the Global AM Summit, which we'll talk more about later. Each day will feature one to three different activities, including workshops, lab tours, a startup pitching session, and a design exhibition.
"Dedicated to the AM ecosystem, the week will bring together international AM experts and industry leaders to connect and exchange valuable insights, applying 3D printing to change the way we design, make and recycle."
You can register for individual activities by clicking on each day of the program.
September 25 – October 3: ASTM's Professional Certificate Course
ASTM International's AM Center of Excellence (AMCOE) completes its eight-module online Professional Certificate Course in Additive Manufacturing this week. Attendees will gain core foundational knowledge of the AM process chain, and, upon completing a multiple-choice exam at the end, earn a General AM Certificate that serves as the prerequisite for future role-based AM certificates through AMCOE. Plus, once the application form is filled out, attendees can receive 3.2 Continuing Education Units (CEUs). The course, which goes through October 3rd, will cover one module each week, and the final two—the weeks of September 25th and October 3rd—are Mechanical Testing and Qualification & Certification.
"This course will feature 16 experts across the field of additive manufacturing to provide a comprehensive course covering all of the general concepts of the AM process chain to its attendees. Attendees will be given virtual access to two modules per week for self learning and then a live Q&A session with course instructors will be held the following week to review content."
You can register for the course here.
September 26 – 27: MGA Annual Meeting & Women in AM Summit
We're back to Berlin for the MGA Annual Meeting & Women in AM Summit 2023 by MGA Mobility | MGA Medical – Mobility goes Additive e.V. The Women in AM Summit, MGA's event for female leaders in cooperation with Women in 3D Printing (Wi3DP), will take place on Tuesday, September 26th, followed by the General Assembly and 3D Evening Event. Then, on Wednesday the 27th, the MGA Annual Meeting will take place, featuring working group pitches, workshops, and panel discussions with great speakers (including our own Joris Peels) about the latest AM developments, and plenty of networking time.
"The world of Additive Manufacturing is currently spinning incredibly fast: major takeovers, internationalisation, China pushing into the markets – it's time to put it all into an overall context."
You can register for the MGA Annual Meeting & Women in AM Summit 2023 here.
September 26 – 27: The Experience Stratasys Tour Continues
The Experience Stratasys Tour is taking its mobile showroom across the U.S. and giving designers, educators, and manufacturers a convenient way to see the company's latest materials, 3D printers, and solutions. It's stopping in Houston, Texas this week, first at Sindle Tap, hosted by PADT, on the 26th, and then at the Lone Star Flight Museum on the 27th, hosted by GoEngineer.
"Speak with 3D printing experts from Stratasys and our partners to find out how your organization can benefit from 3D printing – whether it's bringing a printer in-house or utilizing additive manufacturing services from Stratasys Direct. Let us show you how Stratasys is leading the global shift to additive manufacturing with innovative 3D printing solutions for aerospace, automotive, consumer products and healthcare."
You can register for the Stratasys Experience Tour here. Stay tuned for more dates and locations in the future!
September 26: Velo3D Continues Roadshow in Augsburg
Velo3D continues its "The Proof is in the Printing" roadshow this week with a stop in Augsburg, Germany on Tuesday, September 26th, from 9 am to 6 pm CET. The tour, which has been making stops in other cities across Europe, the U.S., and the APAC region, will show attendees how Velo3D's fully integrated solution can help achieve better part performance, supply chain flexibility, and repeatability. There will also be breakfast, real-world examples of customer-printed parts, several experts to answer all of your questions, lunch, and networking. The stop will be held at Augsburg Energy Academy at Velo3D's EU Technology Center.
"If you have struggled with production of high-quality, metal AM parts, our "Proof is in the Printing" roadshow is the perfect opportunity to speak with our team and learn how to overcome those challenges. Hear from Velo3D engineers as they share their experience in scaling up metal additive applications."
You can register for the Augsburg stop here. Stay tuned for future dates and locations!
September 26: Würth Additive Group Demo Days
Würth Additive Group continues its 3D Printers in the Wild events in Louisville, Kentucky on Tuesday, September 26th. This exclusive event series, taking place at a number of key locations across the U.S., will showcase the power of industrial 3D printing. Each one will cover 3D scanning and making digital models, workflows and software of reverse engineering, a diverse array of materials, digital inventory solutions, and automated post-processing equipment. Plus, if you have a challenge for the team, you can either send your STL file or CAD design early, or bring your part to the event.
"Industrial 3D Printing ain't easy, but we take a comprehensive approach to simplify it for everyone. Come learn how to make a digital model of a physical part and print it on demand."
You can register for the event here.
September 26: Automated Wax Support Removal
PostProcess Technologies will hold a webinar about "How it Works: Automated Wax Support Removal" at 10 am EST on the 26th. Attendees will get to see a demonstration of the company's automated wax support removal solution, and engage in a real-time Q&A with the presenter.
"Conducted by one of our post-processing experts broadcasting from our lab, you will get a close-up view of how software, hardware, and chemistry work together for transformative end part results. See the solutions running on the proprietary AUTOMAT3D® platform and engage in real-time Q&A."
You can register for the webinar here.
September 26: Aerospace Production with Stratasys & GrabCAD Print Pro
At 12 pm EST (11 am CDT) on Tuesday, Stratasys will hold its first of two webinars this week, "Simplifying Part Validation for Aerospace Production with GrabCAD Print Pro." The software is a great solution for aerospace manufacturers looking to scale AM operations. The speakers for this webinar will be Stratasys VP of Global Software Product Strategy Victor Gerdes and Senior Vertical Applications Engineer Patrick Price, along with Arjun Marrey, Lead Additive Engineer at AlphaStar.
"In our feature webinar, learn how the suite of features and partner plug-ins in the GrabCAD ecosystem will allow additive operations of any size to become faster and more agile. From our new precision center to partner solutions like Alphastar's simulation technology, come to learn why GrabCAD's software offering will help you get more out of your 3D printers."
You can register for the webinar here.
September 26: Titanium Material Allowable Data for LPBF
While it's taking a break from its Additive Insights Roadshow, 3D Systems is holding two webinars this week, with the first one at 2 pm EST on the 26th. "Generation of Titanium Material Allowable Data for Laser Powder Bed Fusion" welcomes 3D Systems experts Dr. Mike Shepard, VP of Aerospace and Defense, and Ryan Fishel, Process and Validation Engineer to talk about the company's high-fidelity dataset, including a range of material and mechanical properties for LaserForm Ti Gr23 (Ti-6Al-4V ELI) 3D printed on the DMP Flex 350.
"The full dataset includes raw data for tensile, fatigue, pin-bearing, shear, compression, chemistry, microstructure, and more. This data may be useful to:
Accelerate machine, material, and part qualification for critical applications.

Perform a delta qualification for new machines to demonstrate equivalence to the dataset.

Add to internal datasets for Laser Powder Bed Fusion of Metals (PBF-LB/M) process qualification."
You can register for the webinar here.
September 27-28: AM Ceramics 2023
Lithoz is holding AM Ceramics 2023 in Vienna, Austria from September 27-28 this week, giving attendees the chance to explore the latest developments and applications in ceramic 3D printing and meet innovators from all around the world. There will be several free workshops during the event, including the CeraFab 2M30 MultiWorkshop, LCM Printer Workshop, and 3D-Printed Ceramic Medical & Dental Workshop, and the event will also feature insights from industry experts into research projects and use cases, the Lithoz Innovation Lab Experience, and the AM CeramYcs award, which builds bridges between young scientists at this conference and yCAM, organized by Europe Makes Ceramics.
"Join the top ceramic specialists at AM Ceramics. Experts ranging from industry to research will present developments in the ceramic process chain, advances in 3D printing and more. Enjoy the atmosphere of Imperial Vienna."
You can register for AM Ceramics here.
September 27: Personalized Solutions for Orthognathic Surgery
At 10 am EST on Wednesday, September 27th, Materialise is holding a webinar on "How Personalized Solutions Can Support Orthognathic Surgery." This is the first part of a series that welcomes three renowned craniomaxillofacial (CMF) surgeons, who will share firsthand experiences and insights on how personalized surgical solutions have influenced their clinical procedures. Attendees will be guided through real-life case studies on minimally invasive approaches and more, and learn how those solutions can help in achieving accuracy and predictability in the OR.
"Are you seeking CMF solutions tailored to your surgical preferences and patients' needs? ​Join us for this webinar, where you will discover the power of Materialise Personalized Solutions for orthognathic surgery. With our comprehensive range of surgical splints, guides, and implants, you can achieve surgical outcomes that are not only more accurate and predictable but also enhance patient safety.​"
You can register for the webinar here.
September 27: Increase Efficiency for Localized Production with BigRep
BigRep is holding a webinar about "Maximizing Efficiency for Localized Production" with the BigRep PRO 3D printer at 11 am EST on the 27th. Attendees will hear from the company's Marketing Manager Jason Tzintzun and Business Product Manager Printing Solutions Jürgen Boss about the common issues that industrial manufacturers face, and how BigRep's platform can solve these issues. Customer success stories will be presented, and topics include how to simplify logistics and minimize supply chain risks, the benefits of producing spare parts on demand, how large-format 3D printing can lower costs for low-volume and custom production, and more.
"Learn how 3D printing can make a huge impact to reduce production costs and speed up manufacturing times. Particularly for low-volume and custom parts, highly skilled labor and outsourcing can massively inflate costs and lead times. Learn how large-format 3D printing can streamline processes, simplify logistics, and minimize supply chain risks to deliver the biggest business impact."
You can register for the webinar here.
September 27: Scaling Laser Powder Bed Fusion
Also at 11 am EST on the 27th, 1000Kelvin will hold "Beyond buzz – how AI will concretely help you scale your Laser Powder Bed Fusion (LPBF) operations" about its AI-based AMAIZE scan path analyzer and optimizer. Hosted by the startup's CEO and Co-Founder Omar Fergani, the webinar will show firsthand how AMAIZE delivers on what it promises. Through real-world use cases and foundational concepts, attendees will gain a comprehensive understanding of how AI is truly helping to revolutionize additive manufacturing.
"Our primary aim is to delve beyond the surface buzz and explore how AI is actively reshaping the additive industry, leading to enhanced efficiency, heightened precision, and, most importantly, the discovery of untapped operational margins."
You can register for the webinar here.
September 27: Resin-Based Print Cleaning Alternative
PostProcess Technologies will join Proto3000 to discuss "An IPA Alternative: A Better Way to Clean Resin-Based 3D Printed Parts" at 1 pm EST on the 27th. Attendees will learn a new method for cleaning resin prints, using a safe, non-combustible, non-flammable detergent solution, instead of IPA, and how to preserve geometry in post-processing by minimizing IPA use, which improves part accuracy. Other topics include the ROI of detergent, how to reduce labor by post-processing larger batches of models, an overview of the PostProcess integrated solution, and more.
"Join the Proto3000 team and our guests from PostProcess as we explore how switching from an IPA workflow to a PostProcess detergent for resin-based 3D printed part cleaning, will enable a range of benefits including increased model accuracy, improved productivity, better health and safety for your team, and cost savings from reducing IPA usage."
You can register for the webinar here.
September 27: Semiconductor Equipment Performance
The second 3D Systems webinar this week will be about how to "Advance Semiconductor Equipment Performance with Additive Manufacturing." At 2 pm EST on Wednesday the 27th, Scott Green, Principal Solutions Leader at 3D Systems, will discuss how the design freedom enabled by metal AM makes it possible to print optimized components that improve the reliability, performance, and productivity of semiconductor manufacturing equipment. Topics will include how to successfully integrate AM into your process, featured applications like fluid flow optimization of fluid and gas manifolds, feeders, and showerheads, and more.
"With over two decades of semiconductor and additive manufacturing experience, 3D Systems will help you quickly adopt metal 3D printing technology, giving you the control you need to produce high-performing, optimized parts."
You can register for the webinar here.
September 28: Evaluating Powder Bed Processes
TriMech is holding a webinar at 10 am EST on Thursday, September 28th, about "How to evaluate Powder Bed 3D printing processes." Powder bed fusion has brought 3D printing to more of a production processes, and allows engineers to design with few limitations. Additive Manufacturing SAF Product Specialist, Tyler Shamas, will be discussing three forms of powder bed fusion 3D printing—Selective Absorption Fusion (SAF), Multi Jet Fusion (MJF), and Selective Laser Sintering (SLS). Topics will include the differences between these three, powder bed fusion material options, unidirectional vs bidirectional 3D printing, and more.
"Selective Absorption Fusion (SAF), Multi-jet fusion (MJF), and Selective Laser Sintering (SLS) all have their advantages and disadvantages. However, it is important to understand these technological differences in order to optimize your decision when choosing the process that best suits your manufacturing needs."
You can register for the webinar here.
September 28: Stratasys SAF PA12
Speaking of SAF 3D printing, in its second webinar of the week, Stratasys will focus on "SAF PA12: High Volume, High Accuracy, Low Costs." At 11 am EST (10 am CDT) on the 28th, Shaun Cooper, Sr. Strategic Applications Engineering, and Steven Goodwin, SAF Corporate Applications Engineer, will discuss and highlight the advantages and characteristics of the company's recently released SAF PA12 polymer powder.
"Production-grade parts produced with SAF PA12 are precisely accurate, repeatable, and fit correctly into place. These parts can be rigid and stiff or involve highly complex geometries without any productivity trade-offs. Additionally, thanks to material pricing and higher nesting capabilities from SAF, this material offers the lowest cost per part."
You can register for the webinar here.
September 28: AM Coalition Technical Demo and 3D Printing Solutions
The latest live Zoom forum from the Additive Manufacturing Coalition will be an "AM Technical Demo and Solutions Utilizing 3D Printing," starting at 2 pm EST on Thursday the 28th. Panelists will include Derek Mathers, Director, Business Development & Clinical Applications (Medical 3D Printing), Ricoh USA; Anna Tomzynska, Director, Boeing Additive Manufacturing Chief Engineer; and Lihua Zhao, Global Head of Personalization and 3D Printing Labs, HP.
"We will be showcasing a variety of AM technologies to help people have a better understanding of the current state of technology."
You can RSVP for the forum here.
September 28: Mastering Metal 3D Printing 
Also at 2 pm on the 28th, HP and Endeavor 3D will host a Design World webinar on "Mastering Metal: Endeavor 3D's Adoption of Metal 3D Printing." Tibor Gyorfi, Metal AM Program Manager at Endeavor 3D; Mark Reibel, 3D Print Metals Business Developer for HP; and Rachael Pasini, Senior Editor at Design World, will discuss how Endeavor 3D turned a 65,000 square foot warehouse into a metal 3D printing hub, sharing the technical details, facility and environmental considerations, and more. They will also discuss material handling considerations in terms of temperature control and powder characterization, and Endeavor 3D's quality control and improvement methods for high-quality parts.
"Experts in HP's polymer 3D printing, Endeavor 3D has now turned to metals 3D printing with the HP S100 Metal Jet.

"Learn how they turned a 65,000 sq foot warehouse into a state-of-the-art advanced manufacturing center, equipped with the most sophisticated polymer and metal additive technologies from HP Inc."
You can register for the webinar here.
September 28: SprintRay 3D Printing for Cosmetic Dentistry
The final September 28th webinar will be at 7 pm EST, as SprintRay will host "3D Printing for Cosmetic Dentistry," featuring Dr. Diana Tadros. This complimentary CE credit webinar will focus on the advantages of in-house digital workflows, including efficiency, in-house design, diagnostic wax-ups, temporization, and 3D printing applications. Learning objectives include streamlining multidisciplinary cases with digital technology, leverage AI to seamlessly design and print cases, and more.
"Gain a comprehensive understanding of how to utilize digital designing and 3D printing to guide cases toward superior aesthetics."
You can register for the webinar here.
September 29: Global AM Summit 2023 by NAMIC
The big finish to Singapore's AM Week is Global AM Summit 2023, held on Friday, September 29th. This hybrid event, back for its 12th edition, will have a theme of "Enabling Sustainability and Supply Chain Resilience with Additive Manufacturing," which should definitely connect with a global audience. Presenters and speakers, including our own Joris Peels, will discuss how AM has been playing a role in sessions on cellular agriculture, sustainable urban solutions, and Renewables & Environment. In addition to the conference, there will also be an exhibition.
"The Global Additive Manufacturing Summit will provide a one-stop learning and networking platform for students, academia, industry professionals, and innovators along the entire AM value chain, looking to adopt additive manufacturing."
You can register for the Global AM Summit here.
October 5: Deep Dive in MJF with HP & Xometry
We're giving you some extra time to put this one on your calendar! On October 5th, at 10 am EST, the HP 3D Printing team will team up with Xometry's manufacturing experts Greg Paulsen and Nikolaus Mroncz for a "Deep Dive into HP's MJF 3D Printing Technology." They will cover several topics, including how MJF works, getting the most out of processable materials, and more. The benefits of the technology, including uncompromised complex geometries and accelerated innovation cycles, will also be discussed.
"Sign up now to find out how to make high-quality final parts at scale, illustrated with examples of real-life applications. Don't forget to also submit your questions for the live Q&A!"
You can register for the webinar here.
Do you have news to share about any future webinars or virtual and live events? Please let us know!
Subscribe to Our Email Newsletter
Stay up-to-date on all the latest news from the 3D printing industry and receive information and offers from third party vendors.
---
Print Services
Upload your 3D Models and get them printed quickly and efficiently.