This week's webinar and event roundup is a little lighter, but there are still plenty of 3D printing offerings! Stratasys continues its U.S. tour, Markforged offers two more Demo Days, and there's a practicum on metallic 3D printing at Penn State. Formlabs is holding a webinar on jigs and fixtures, and 3DHEALS will hold a panel discussion on the use of AI and ML in healthcare 3D printing. Plus, the first Coalition of Additive Manufacturers in Ohio is meeting at Fabrisonic. Read on for all the details!
3D Printing News Unpeeled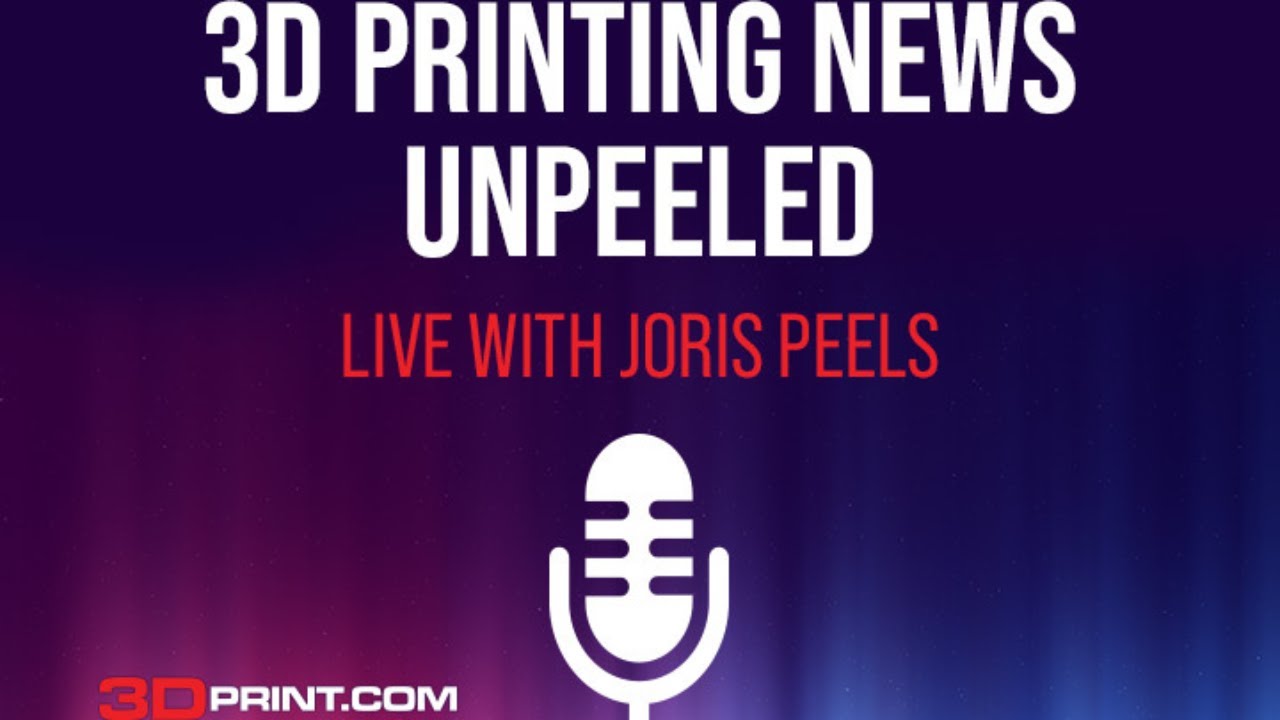 Our Executive Editor Joris Peels, who's also the Vice President of Consulting at SmarTech Analysis, offers a news livestream one to two times a week called 3D Printing News Unpeeled at 9:30 am EST. For each episode, Peels gets on LinkedIn Live and tells us, in 20 minutes or less, what he considers to be the top news stories from the 3D printing industry that week, and why they're important. Some of the stories in his roundup are ones we've covered at 3DPrint.com, and some are not, but they are all equally interesting and impactful.
July 24 – 26: The Experience Stratasys Tour Continues
The Experience Stratasys Tour is taking its mobile showroom across the U.S. and giving designers, educators, and manufacturers a convenient way to see the company's latest materials, 3D printers, and solutions. It stops first this week in Iowa, heading to Geater Machining & Manufacturing in Independence on Monday, July 24th, hosted by AdvancedTek, and then on to West Des Moines, Iowa on the 25th, hosted by GoEngineer at Smash Park. Finally, the tour moves to Lincoln, Nebraska on the 26th, hosted by AdvancedTek at the Nebraska Innovation Campus.
"Speak with 3D printing experts from Stratasys and our partners to find out how your organization can benefit from 3D printing – whether it's bringing a printer in-house or utilizing additive manufacturing services from Stratasys Direct. Let us show you how Stratasys is leading the global shift to additive manufacturing with innovative 3D printing solutions for aerospace, automotive, consumer products and healthcare."
You can register for the Stratasys Experience Tour here. Stay tuned for more dates and locations in the future!
July 24 & 26: AWP & Markforged Demo Days
Markforged will continue with its Demo Day open house events at Advanced World Products (AWP) in Fremont, California this week, specifically on Monday the 24th and Wednesday the 26th. The event will feature Markforged's large-format FX20 carbon fiber 3D printer, and there will be demonstrations of this printer, along with Smooth TPU 95A flexible filament, the latest versions of the X7, Mark Two, and Onyx Series, and new Metal X updates, including 99.8% copper parts. Visitors will also hear about tips for identifying 3D printing opportunities, and customer applications that prove the ROI of these systems. The event is free, and attendees will also receive a Markforged t-shirt.
"Experience the NEW Markforged FX20 Carbon Fiber/Ultem 9085 Composite 3D Printer in action at the AWP/Markforged Open House and learn how quick and cost-effective parts can be designed and fabricated for manufacturing."
There are one-hour time slots available from 8 am until 6 pm PT, and you can register for your preferred day and time slot here. One registered person can bring up to five guests with them.
July 25 – 28: CIMP-3D's Metallic Materials Practicum
From July 25th through the 28th, an intensive, hands-on industry practicum on "Additive Manufacturing of Metallic Materials" will be held at Penn State's Center for Innovative Materials Processing through Direct Digital Deposition (CIMP-3D). Each day begins at 8:30 am EST, and the practicum will be over by 1:30 pm on the 28th. Each morning there will be speakers and presentations, and there will be demonstrations and hands-on experiments with AM technologies used in industrial applications. Topics include materials, the digital workflow, DfAM, AM for repair and restoration, non-destructive inspection, and more.
"Participants will become familiar with all aspects of engineered AM components, including metallic material systems, design and optimization tools for AM, AM process modeling and simulation, process monitoring and sensing, and inspection and qualification techniques for additive manufacturing of metallic materials."
You can enroll for the practicum here; cost includes course materials, experiment supplies, and lunch.
July 25: AM for Scenic Fabrication & Engineering
At 11 am EST on the 25th, a webinar called "Massivit: Where Scenic Fabrication and Engineering Meet" will be held. Massivit's patented, high-speed Gel Dispensed Printing (GDP) dual-head systems offer both precision and creativity, which means the Massivit 5000 is great for rapid prototyping and custom props measuring 4 x 5 x 6 ft. It enables structural supports and complex geometries, and also optimized production workflows for industries like construction and entertainment. During the webinar, you can see the Massivit 5000 in action, and learn why it's used to print everything from individual prototypes and large-scale, durable models to customized fiberglass parts.
"In a world where fabricating parts for large-scale engineering applications or models for theming & entertainment often require elements of the other, Massivit merges its 3D printing technological capabilities to provide functionality in both industries."
You can register for the webinar here.
July 26: 3D Printed Jigs & Fixtures with Formlabs
Formlabs will hold a webinar at 11 am EST on Wednesday the 26th about how to "Enhance Manufacturing Efficiency with 3D Printed Jigs and Fixtures." Attendees will learn how to use SLA and SLS technology to quickly print strong tools that last on the factory floor, for applications like inspection and assembly. Formlabs Sales Engineer Claire Bartell and Application Engineer Juliette Combe will guide everyone through the workflow, discuss real-life examples, and share recommendations. Topics include how 3D printed jigs and fixtures can reduce production costs, how to design and post-process these parts, case studies at all stages of production, and more.
"With new advances in additive manufacturing technologies and materials you can now replace the standard expensive machined metal jigs and fixtures with lightweight, ergonomic, and part-specific 3D printed tools. In-house 3D printing enables you to build manufacturing aids rapidly and at a low cost to improve the speed, quality, and efficiency of production to grow operational agility, solve day-to-day production issues and reduce machine downtime."
You can register for the webinar here.
July 27: 3DHEALS on AI & ML in Healthcare 3D Printing
3DHEALS will hold a panel discussion at 11 am EST on Thursday the 27th, sponsored by Synopsys, on "AI/ML in Healthcare 3D Printing." Founder and CEO Dr. Jenny Chen will moderate the discussion about artificial intelligence and machine learning and how they can have a major impact on healthcare 3D printing, from design optimization and predictive maintenance to quality control, patient-specific modeling, and precision medicine.
"Overall, AI and ML can help healthcare 3D printing produce more personalized and effective medical devices and implants, reduce costs, and improve patient outcomes. In this upcoming virtual event, join a group of movers and shakers in the field of healthcare 3D printing and bioprinting, AR/VR, leveraging AI/ML as a core technology (including LLM) to push the boundaries in their products, services, and research."
You can register for the webinar here.
July 27: Virtual TRX by America Makes
Also on the 27th, starting just a little later at 11:30 am EST, America Makes will hold a "Virtual TRX Featuring Rapid Innovation Call Presentations." This special TRX version welcomes members Colorado School of Mines, EWI, Penn State University Applied Research Lab, and University of Dayton Research Institute to present on the RIC. There will also be a live Q&A session during this special Technical Review & Exchange.
"America Makes Project Calls leverage collaboration and perspectives from the membership, working groups, Roadmap Advisory Group (RMAG), and roadmap workshop efforts to create actionable focus areas to address the needs of the membership. Technical topic areas have been prioritized based on the AM Technology Roadmap (Design, Materials, Processes, Value Chain, and AM Genome) and the Education Workforce Development (EWD) Roadmap."
You can register for the event here.
July 27: Fabrisonic Hosts First Coalition of Additive Manufacturers in Ohio Event
Finally, a new group called The Coalition of Additive Manufacturers in Ohio (CAMO) has just begun, for the purpose of informally gathering at different locations across the state to get to know each other, and our technologies, better. The free, inaugural meeting will be hosted by metal AM company Fabrisonic, held on July 27th from 5 pm "until we get tired." Come to the company's new headquarters in Lewis Center to meet with colleagues from multiple industries for food, drinks, and conversation.
"We are hoping to have quarterly get togethers at various shops around the state to socialize and see cool printing toys. Fabrisonic is hosting the first inaugural event on JULY 27 at our galactic headquarters just North of Columbus. To up the ante , EWI's Additive Manufacturing Consortium will be joining us as they wrap up their quarterly meeting that day. This will add AM experts from around the country," Fabrisonic President Mark Norfolk said on LinkedIn.
You can register for the inaugural CAMO event here.
Do you have news to share about any future webinars or virtual and live events? Please let us know!
Subscribe to Our Email Newsletter
Stay up-to-date on all the latest news from the 3D printing industry and receive information and offers from third party vendors.
---
Print Services
Upload your 3D Models and get them printed quickly and efficiently.