We've got a little lighter week in terms of webinars and events, but there are still plenty of offerings to keep you busy! In addition to AITS Bremen, there will be two webinars about SOLIDWORKS CAM and CAMWorks. BigRep is holding a webinar on carbon fiber 3D printing, Nexa3D will host a tech discussion between industry CEOs, America Makes is holding a members-only onboarding meeting, and more. Read on for the details!
3D Printing News Unpeeled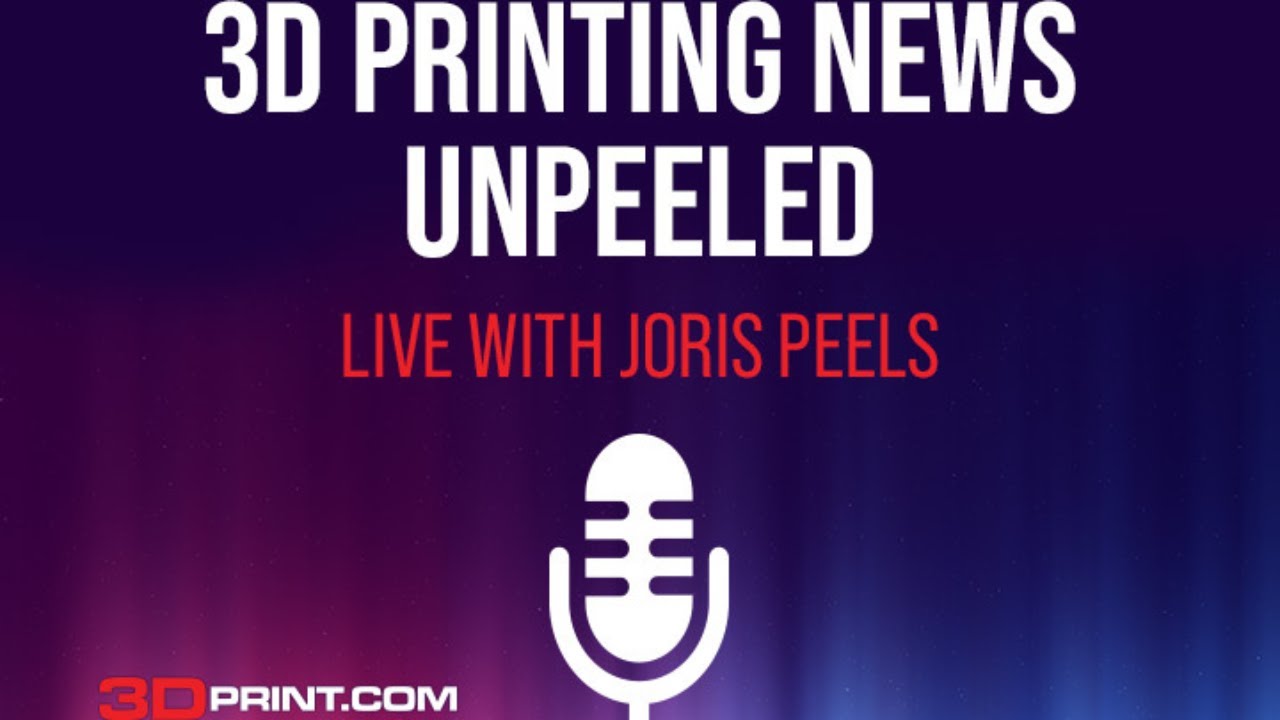 Our Executive Editor Joris Peels, who's also the Vice President of Consulting at SmarTech Analysis, offers a news livestream one to two times a week called 3D Printing News Unpeeled at 9:30 am EST. For each episode, Peels gets on LinkedIn Live and tells us, in 20 minutes or less, what he considers to be the top news stories from the 3D printing industry that week, and why they're important. Some of the stories in his roundup are ones we've covered at 3DPrint.com, and some are not, but they are all equally interesting and impactful.
February 28 – March 2: AITS Bremen
After first being held online in 2021, the Aeronautics & Space Innovative Technology Summit, otherwise known as AITS Bremen, makes its in-person debut in Bremen, Germany from February 28th through March 2nd. It's an international platform for discussing challenges and opportunities in developing disruptive technologies for the aeronautics, space and security supply chains, and covers main topics such as 3D printing, cybersecurity, digitalization and automation, and more. Materialise is sponsoring AITS Bremen, and attendees can network with over 150 suppliers and attend numerous panel discussions and presentations, including "Hybrid and muItimaterial components with additive manufacturing – new opportunities for manufacturing sustainable components in aviation," "Additive Manufacturing for Aerospace: What are the Opportunities Today?" and others.
"AITS Bremen will gather industry suppliers and OEMs, R&D centers, associations and clusters, academia, and public and private organizations to identify further business opportunities and develop partnerships."
You can register for the summit here.
February 28: Automated Resin Removal
At 10 am EST on Tuesday, February 28th, PostProcess Technologies is holding a webinar about "How It Works: Automated Resin Removal." Attendees will learn about, and see a demonstration of, its automated 3D post-processing technology, specifically focused on SLA resin removal.
"Conducted by one of our post-processing experts broadcasting from our lab, you will get a close-up view of how software, hardware, and chemistry work together for transformative end part results. See the solutions running on the proprietary AUTOMAT3D® platform and engage in real-time Q&A."
You can register for the webinar here.
February 28 & March 2: SOLIDWORKS CAM & CAMWorks
HCLSoftware is holding a webinar series this week on "SOLIDWORKS CAM and CAMWorks." Attendees will have the chance to sharpen their CAM skills, and even learn about some more advanced CAM features and functionalities, which could help secure additional orders and boost business. The first session, "Technologies to Reduce Machining Cycle Time and Increase Tool Life," will be at 11 am EST on Tuesday the 28th, while the second one, "SOLIDWORKS® CAM for Designers – A Path to Better Designs," will be at 11 am EST on Thursday the 2nd.
"To serve and provide easily accessible training and educational material to the CAM industry professionals, we are launching FREE CAMWorks webinar series to help you utilize the extra time for gaining an advantage in the future. This webinar series will provide an opportunity to sharpen your CAM skills and possibly learn more advanced features and functionalities that might help you secure additional orders, helping boost your business operations."
February 28: BigRep Talks Carbon Fiber 3D Printing 
Some of the best advanced materials to use with extrusion-based 3D printers when dealing with challenging applications are carbon fiber filaments. To learn more, you'll want to check out this BigRep webinar on "Carbon Fiber 3D Printing: How to 3D Print Strong Parts," at 11 am EST on the 28th. Attendees will learn all about the unique properties of CF filaments, requirements to work with them, the benefits of carbon fiber 3D printing for your manufacturing business, and more from Michael Eggerdinger, Business Manager Materials, BigRep.
"Adding carbon fiber (CF) to filaments improves both strength and stiffness. The added strength and increased stiffness provided by the addition of CF leads to a better strength-to-weight ratio, achieving lighter, stronger parts with less printing time."
You can register for the webinar here.
February 28: Polymer 3D Printing with GoProto + RE3DTech
Speaking of materials, if you've ever wondered about polymers for 3D printing, join the Office Hours webinar by GoProto+RE3DTECH at 2 pm EST on the 28th on "3D Printing Polymers: The Materials." To learn which material is right for your project, which one offers the necessary surface tolerance, what should be considered regarding technology, part design, finishing, and speed of manufacturing, the key characteristics of various polymer materials, and more, join senior leadership for the discussion. Different materials will be discussed, and questions will be answered in real time.
"There are a lot of material options to consider when 3D printing polymer parts. Which should you use and why? GoProto and RE3DTECH just joined forces and so we're now more ready than ever to help you navigate your manufacturing options: whether 3D printing or traditional methods – we do both!"
You can register for the webinar here.
March 1: 3D Printing CEO Discussion
At 11:30 am EST on Wednesday, March 1st, AdditiveManufacturing.com is hosting an online discussion, moderated by Adam Penna, called "Talking Tech with 3D Printing's CEOs." The webinar will welcome organizer Nexa3D's CEO Avi Reichental; Shai Terem, CEO of Markforged; and Ziad Abou, Quickparts CEO. Together, they will discuss upcoming technology breakthroughs, what sustainability looks like in 2023, how to make post-processing better, and more.
"Wondering what the future holds for 3D printing? The next tech breakthroughs? We're sitting down with three of the changemakers in the industry to ask for their takes on tech, manufacturing, sustainability, and what that means for future users."
You can register for the webinar here.
March 1: SAF 3D Printing for Parts Providers Part 2
Stratasys will hold the second part of its SAF technology webinar series this Wednesday the 1st at 11 am EST. "SAF For Parts Providers Part 2: Operating Costs and Part Pricing" will feature speakers Alec Logeman, Stratasys Application Engineer, and Perry Hubbling, Stratasys Sr. Project Engineer.
"In part 2 of our SAF series we are going over a highly detailed look at all the operational cost associated with the H350, pricing strategies for parts providers, and competitive landscape of powder based parts."
You can register for the webinar here.
March 1: America Makes Membership Onboarding
Finally, America Makes closes us out this week with a "Membership Onboarding" at 1 pm EST on Wednesday, March 1st. This is a members-only event, and registration is required to attend.
"America Makes members are invited to join this "Membership Onboarding" to learn about the benefits offered and how to access them through the Member Portal and website."
You can register for the onboarding event here.
Do you have news to share about any future webinars or virtual and live events? Please let us know!
Subscribe to Our Email Newsletter
Stay up-to-date on all the latest news from the 3D printing industry and receive information and offers from third party vendors.
---
Print Services
Upload your 3D Models and get them printed quickly and efficiently.