There's plenty to do in the 3D printing industry this week! We'll tell you about events happening all over the world, and webinars about everything from pellet 3D printing for thermoform molds and digital twins to post-processing, surgical guides, 3D printed prosthetics and orthotics, and more. Read on for all the details!
3D Printing News Unpeeled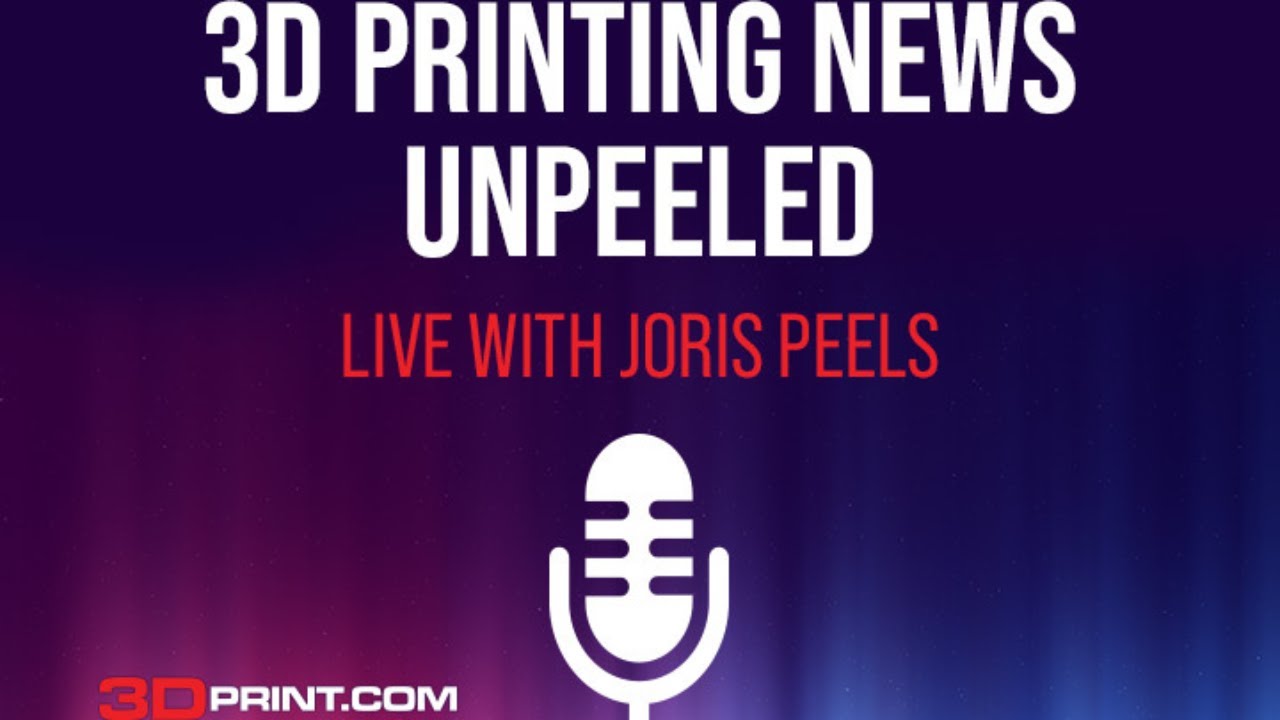 Our Executive Editor Joris Peels, who's also the Vice President of Consulting at Additive Manufacturing Research (AMR), offers a news livestream one to two times a week called 3D Printing News Unpeeled at 9:30 am EST. For each episode, Peels gets on LinkedIn Live and tells us, in 20 minutes or less, what he considers to be the top news stories from the 3D printing industry that week, and why they're important. Some of the stories in his roundup are ones we've covered at 3DPrint.com, and some are not, but they are all equally interesting and impactful!
October 23 – 27: The Experience Stratasys Tour Continues
The Experience Stratasys Tour is taking its mobile showroom across the U.S., so educators, designers, and manufacturers have a convenient way to see the company's latest materials, 3D printers, and solutions. The truck heads first to North Carolina this week, stopping at Foothills Brewery Tasting Room in Winston-Salem, hosted by TriMech, on Monday, October 23rd. It then moves on to Raleigh on the 24th, with a stop at Maywood Hall & Garden hosted by Prototyping Solutions, and on Wednesday the 25th, SDM will host a stop at Joe Gibbs Racing in Huntersville. The tour takes a quick break on the 26th, and then heads to Kentucky on Friday the 27th, with TriMech hosting a stop at Topgolf in Louisville.
"Speak with 3D printing experts from Stratasys and our partners to find out how your organization can benefit from 3D printing – whether it's bringing a printer in-house or utilizing additive manufacturing services from Stratasys Direct. Let us show you how Stratasys is leading the global shift to additive manufacturing with innovative 3D printing solutions for aerospace, automotive, consumer products and healthcare."
You can register for the Stratasys Experience Tour here. Stay tuned for more dates and locations in the future!
October 24 – 26: The Quality Show
Coming to Rosemont, Illinois October 24-26, The Quality Show is a biennial tradeshow to connect process improvement vendors and quality manufacturing professionals in several key markets, including machinery, medical equipment and supplies, transportation equipment, fabricated metal parts, energy, and more. Ideas on the latest innovations to standardize and improve manufacturing processes will be shared during networking opportunities, live demos, guided exhibit hall tours, educational sessions, and more.
"The Quality Show connects quality manufacturing professionals with process improvement vendors for all things QUALITY. This 3-day tradeshow features education sessions led by industry experts, product demos, hands on equipment evaluation, networking events and an expansive exhibit hall. The Quality Show is where you'll find actionable solutions that improve quality in your manufacturing planning."
You can register for The Quality Show here.
October 24 – 26: SOUTHTEC 2023
SOUTHTEC, part of the four-event Manufacturing Technology Series produced by SME and AMT and powered by CESMII, will be in Greenville, South Carolina from October 24-26. Tooling U-SME will host a Workforce Day and virtual labs, and there will also be keynote presentations and panels, the SMART Manufacturing Experience Pavilion, an educational workshop, the Digital Solution Showcase, SME Zone, a student summit, happy hours, a full exhibition hall, and more.
"Each Manufacturing Technology Series event draws together key decision makers, major tool and technology suppliers and thought leaders from across a broad spectrum of manufacturing disciplines for an unparalleled three-day experience."
You can register for SOUTHTEC here.
October 24: Large Thermoforming Molds with EXT Titan Pellet 3D Printers
At 9 am EST on the 24th, 3D Systems will hold a webinar, sponsored by SPE, about how to "Reduce Costs and Lead Times for Large Thermoforming Molds with EXT Titan Pellet 3D Printers," specifically focusing on Duo Form's journey of adopting pellet extrusion. Attendees will learn about how pellet extrusion 3D printing enables faster mold times and material cost savings, best practices to improve AM production and mold performance, selecting the right AM solution, and more.
"To address growing supply chain pressures, manufacturers are turning to Additive Manufacturing (AM) to create quality, cost-efficient products faster. Plastic thermoforming companies like Duo Form have discovered how to leverage large-format extrusion 3D printing using low-cost plastic pellets to gain a competitive edge. They are producing medium-to-large-sized thermoforming molds in less than half the time, and at a fraction of the cost compared to traditional mold-making methods."
You can register for the webinar here.
October 24: Using Digital Twins to Assess Anatomical Fit
Materialise is holding a webinar about "How Carmat Uses Digital Twins to Assess the Anatomical Fit of Their Total Artificial Heart Device" at 10 am EST on October 24th. Medical device company Carmat developed a new total artificial heart for patients with severe heart failure, and webinar attendees will hear how the company uses a patient's digital twin to evaluate their anatomical compatibility with the device, which leads to more successful treatment. They'll learn how Carmat's Total Artificial Heart device functions, the process of virtual implantation and why it's necessary, and more.
"The use of digital twins in the healthcare space is on the rise. Not only are they being used in research and development, but they are also helping to define the best, personalized treatment for individual patients."
You can register for the webinar here.
October 24: Automated PolyJet Post-Processing
Also at 10 am EST on Tuesday the 24th, PostProcess Technologies will hold another one of its How it Works webinars, this one focused on "Automated PolyJet Post-Processing." Attendees will get to learn about, and see a demonstration of, the company's automated PolyJet support removal solutions, and have their questions answered as well.
"Conducted by one of our engineering experts broadcasting from our lab, you will get a close-up view of how software, hardware, and chemistry work together for transformative end part results. See the solutions running on the proprietary AUTOMAT3D® platform and engage in real-time Q&A."
You can register for the webinar here.
October 24: Additive Manufacturing in Oil & Gas
The latest episode of the 3D Talk Show, presented by 3YOURMIND, will focus on "What's the Big Deal With AM in Oil & Gas?" This will be held at 11 am EST on the 24th, and three experts will discuss the roles of 3D printing in the oil and gas industry, real-world AM applications and case studies, how to manage digital inventory to ensure on-demand readiness in this industry, and more.
"This episode focuses on the growing use of additive manufacturing (AM), its impacts, and applications in the oil and gas (O&G) industry and brings together well-accomplished, esteemed industry experts."
You can register for the episode here.
October 25 & 26: CDG 3D TECH Open Days
On October 25th and 26th, UK-based 3D technology supplier CDG 3D TECH will host Open Days at its Derby headquarters. Starting with tea and coffee in the morning, each day will feature four presentations on 3D technology products like 3D printers, scanners, and new materials. After a panel Q&A session, there will be a complimentary buffet lunch, and then live demonstrations on a variety of 3D printers, including FFF, SLS, and DLP, as well as post-processing equipment, 3D scanners, 3D software, and more. Attendees will also get a hands-on look at 3D printed sample parts.
"This event is completely free to attend and you are more than welcome to bring colleagues with you."
You can register to attend one of the Open Days here.
October 25 – 27: CELLINK Partnership Conference 2023

Also in the UK this week, CELLINK will welcome life science and bioprinting experts and key opinion leaders to its two-day bioprinting Partnership Conference in Portsmouth, October 25-27. This is the fifth installment of the conference, and participants will have the opportunity to attend a wide range of scientific sessions, be inspired by and showcase the latest breakthroughs, hear from multiple leaders in the life science arena, see demonstrations of the top bioprinters, connect with scientists and other leaders, build partnerships for future research projects, and more. Session topics will include biomaterials, cancer research, tissue engineering, drug development, 3D cell culture, and more.
"Over the course of the two day event, listen to industry leaders on how they are leveraging bioprinting in their research to tackle research challenges across a variety of application areas. With a mix of sessions, the agenda offers a unique opportunity to learn about the current uses of bioprinting technologies, explore new trends and solutions, gain practical knowledge through interactive workshops and network with the bioprinting community."
You can register for the CELLINK Partnership Conference here.
October 25: 3D Printing Scotland Event
At the Scotland Manufacturing & Supply Chain Conference & Exhibition on October 25th in Glasgow, held in partnership with Scottish Engineering, the 3D Printing Scotland Event will take place. Attendees will gain insights from expert speakers during engaging panels, sessions, and workshops, connect with delegates from a variety of disciplines and industries, explore the exhibition area, and more. These events are also co-located with a variety of others, including the Scotland Renewable Energy Event, the Scotland Automation & Robotics Event, the Scotland High-Tech Manufacturing & Precision Engineering Event, the Scotland IoT & Industry 4.0 Event, and more.
"The 3D Printing Scotland Event celebrates the creativity and limitless possibilities offered by 3D printing technology. It showcases the transformative power of this technology and its potential to disrupt traditional manufacturing processes, drive innovation, and unlock new business opportunities. The event provides a platform for collaboration, learning, and inspiration, empowering attendees to harness the capabilities of 3D printing and drive progress in their respective industries."
You can register for the event here.
October 25: BigRep America Open House
From 10 am to 4 pm EST on Wednesday, October 25th, BigRep invites you to its Massachusetts headquarters to attend the Large Format AM Open House. Each of the company's large-format 3D printers will be showcased, like the BigRep PRO and BigRep STUDIO, and attendees can have all their questions answered by team members on-site. There will be live demonstrations, hands-on experience with BigRep software solutions, and the chance to learn how many industries, like automotive and aerospace, are integrating large-format AM into their workflows.
"This free, one-day event is designed to give companies and individuals interested in large-scale additive manufacturing hands-on experience with our portfolio of solutions. Hear customer success stories, see BIG parts, and enjoy complimentary food and networking opportunities."
You can register for the open house here.
October 25: Designing Surgical Guides with Materialise Mimics
In its second webinar of the week, Materialise will discuss "Mastering Surgical Guide Design: Creating Excellence with the Mimics Innovation Suite" at 11 am EST on the 25th. Attendees will learn about Mimics Innovation Suite and its platform of intuitive tools for elevating surgical guide design, gain a deeper understanding of creating surgical guides with improved control, efficiency, and precision using the software, experience the benefits of a seamless, streamlined workflow that reduces errors, and more.
"Create personalized surgical guides with unmatched ease and efficiency using Mimics Innovation Suite. From streamlined workflows to comprehensive tools and interactive design capabilities, this webinar will reshape your approach to guide creation."
You can register for the webinar here.
October 25: Exploring Contributions of Women in Industry
Continuing with more of its Manufacturing Month activities, SME will hold "Shop Talk: Breaking the Stereotype: Exploring the Contributions of Women in Industry" at 1 pm EST on October 25th. Held on Microsoft Teams, the discussion will focus on discovering important strategies and skills for breaking barriers and advancing into leadership roles in manufacturing. Attendees will learn about challenges and opportunities women encounter in the industry, explore effective initiatives and practices for promoting diversity and inclusion in the manufacturing industry, and more.
"Explore how industry leaders are actively attracting women to manufacturing and showcasing diverse career paths. Gain a vision of the future of the industry and its potential for women. Don't miss this empowering event that challenges stereotypes and celebrates the outstanding contributions of women in manufacturing."
You can register for the talk here.
October 25: Workforce Solutions Forum by AM Coalition
The latest virtual forum by the Additive Manufacturing Coalition will be held at 3 pm EST on Wednesday the 25th, with a focus on Workforce Solutions. Panelist will include Josh Cramer, Director of Education and Workforce Development for America Makes; U.S. Marine Corps Veteran Nick Duncan, Business Development and SkillBridge Champion, MatterHackers; U.S. Navy Veteran Michael Pecota, AM SME for DoD, Naval, Aviation School for Additive Manufacturing; and Chris Hill, Program Director, Iowa State University's Center for Industrial Research Service (CIRAS).
You can RSVP for the forum here.
October 26: How Understanding Particle Shape Can Revolutionize 3D Printing
TCT Magazine and Malvern Panalytical, a leading innovator in advanced analytical instrumentation and material characterization, are holding a free webinar at 10:30 am EST on Thursday, October 26th, about the "Application of morphological group classifications to interpret, evaluate and predict the performance of metal powders in the laser powder bed fusion (LPBF) process." Attendees will learn how static imaging can help classify and group metal powders based on size and morphology, how the parameters can be used to predict powder flowability and processability in LPBF, and more.
"In the first part of this webinar, Malvern Panalytical's Imaging expert Jenny Burt will introduce the Morphologi 4 system including how it disperses, images and analyses particles to give particle specific size and shape information. Jenny will also cover the various morphological parameters derived and their statistical presentation. In the second part of the webinar, Ehsan Rahimi from the Materials Processing Institute will show how these parameters can be used to predict powder flowability, and how powder producers and additive manufacturers can use this method to rank their products and evaluate their performance in the laser powder bed fusion process."
You can register for the webinar here.
October 26: Design to Manufacturing Virtual Conference
Starting at 11 am EST on the 26th, Hawk Ridge Systems will host the Design to Manufacturing (D2M) virtual conference, filled with 12 breakout sessions—like Cutting-Edge Developments in Additive Manufacturing and What's New for Simulation in 2024—to help you boost your designs. Attendees will hear insider tips and tricks from industry experts about the latest features and tools in manufacturing, design, and product development. Plus, you can win big prizes, like a Creality Laser Engraver and Smart Robot Arm Kit, just by attending.
"Meet with Hawk Ridge experts and learn more about what we have to offer in Training, Services and Support.  Discover the latest technology to help you overcome the challenges holding you back from what is possible."
You can register for the conference here.
October 26: 3D Printed Prosthetics & Orthotics Panel
The latest 3DHEALS Zoom panel discussion will take place at 11 am EST on October 26th, with a focus on "3D Printed Prosthetics and Orthotics." Moderated by Dr. Jenny Chen, the Founder and CEO of 3DHEALS, the discussion will have an emphasis on academic research and design, as well as clinical applications and commercialization. Conversations will surround quality, scalability, feasibility, affordability, and other elements that are critical to the future success of these emerging technologies in the healthcare field.
"In the ever-evolving landscape of healthcare and technology, staying updated on the latest advancements is not just a choice; it's a necessity. Nowhere is this truer than in the field of prosthetics and orthotics, where 3D printing has emerged as a transformative force. The importance of keeping abreast of 3D printing's applications in prosthetics and orthotics cannot be overstated, as it holds the key to revolutionizing patient care and reshaping the industry itself."
You can register for the webinar here.
October 26: Aligned 3D Printing on Photonic Chips by Nanoscribe
Nanoscribe will hold a webinar at 11 am EST (5 pm CEST) on Thursday the 26th that's all about "Aligned 3D printing on photonic chips." With a focus on efficient microoptics for photonics packaging and quantum technology, attendees will experience the complete printing workflow for photonic chips, including print preparation with advanced nanoPrintX software and printing itself with microfabrication flagship system Quantum X align. They'll also learn about novel approaches like aligned 3D printing, and real-world applications for photonic chips with integrated photonics, photonics packaging, and 3D printed high precision microoptics.
"Interested in how to efficiently fabricate microoptical elements and interconnects on-chip for photonic integration and innovative communications applications? Then join the upcoming live webinar with three technology experts in new integrated photonic systems and photonics packaging applications. Get inspired with how 3D aligned microfabrication on photonic chips drives innovations in quantum physics based communication and light detection systems."
You can register for the webinar here.
October 26: Stratafest in Santa Ana
Finally, in addition to its ongoing Experience Stratasys tour, the company is also holding afternoon Stratafest events, which are focused on 3D printing and Industry 4.0. This Thursday, October 26th, the latest Stratafest event will be held at Lyon Air Museum in Santa Ana, California, from 11 am until 4 pm PDT. Attendees will learn how AM can help solve for manufacturing challenges, from accelerating product development to full production. Guest speakers will be Andy Kwas from Northrop Grumman and Ant Anstead from Radford Motors, and several authorized resellers will also be on hand.
"Speak directly with our 3D printing experts about your applications and hear how automotive and aerospace leaders are using additive in their production process. Plus, network with people in the industry, experience live demonstrations, see a range of our printers, and enjoy complimentary food and drink."
You can register for the event here.
Do you have news to share about any future webinars or virtual and live events? Please let us know!
Subscribe to Our Email Newsletter
Stay up-to-date on all the latest news from the 3D printing industry and receive information and offers from third party vendors.
---
Print Services
Upload your 3D Models and get them printed quickly and efficiently.