It's another busy week of events and webinars in the 3D printing industry! Stratasys and 3D Systems continue their roadshows, Velo3D is holding a summit, and the Fakuma International Trade Fair for Plastics Processing is taking place. There will also be webinars on 3DEXPERIENCE tools, hybrid DfAM, 3D printed dentures, and more. Read on for all the details!
3D Printing News Unpeeled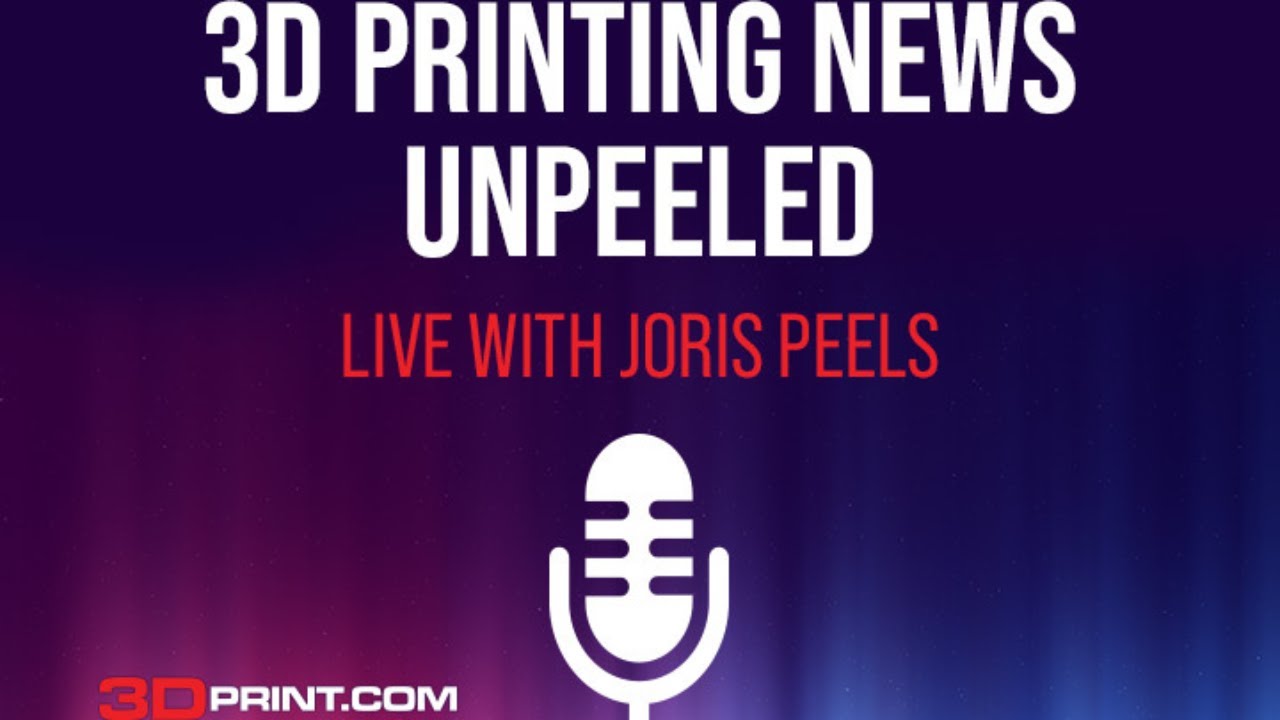 Our Executive Editor Joris Peels, who's also the Vice President of Consulting at Additive Manufacturing Research (AMR), offers a news livestream one to two times a week called 3D Printing News Unpeeled at 9:30 am EST. For each episode, Peels gets on LinkedIn Live and tells us, in 20 minutes or less, what he considers to be the top news stories from the 3D printing industry that week, and why they're important. Some of the stories in his roundup are ones we've covered at 3DPrint.com, and some are not, but they are all equally interesting and impactful!
October 17 – 18: Future of Electronics Reshaped
From October 17-18 in Berlin, Germany, TechBlick is hosting "The Future of Electronics RESHAPED," its flagship conference and exhibition. A total of 78 exhibitors will be at the event, which is a 50% increase from 2022, and some of the leading global companies will be attending, so there will be fantastic learning and networking opportunities. Event themes range from printed, flexible, and hybrid electronics to electronic textiles, printed sensors and actuators, smart skin patches, 3D printed electronics, and much more.
"Let's RESHAPE the Future of Electronics together, making it Additive, Sustainable, Flexible, Hybrid,  Wearable, Structural, and 3D."
You can register for the event here.
October 17 – 18: Accelerating Advanced Materials and Manufacturing Exchange
In Detroit, Michigan, also October 17-18, LIFT will present A2M2X (Accelerating Advanced Materials and Manufacturing Exchange). This is a dynamic platform for sharing technology and talent development insights, making connections, and hearing from manufacturing leaders who are exploring industry trends in materials science, systems engineering, manufacturing processes, and more. In addition to keynote and panel presentations, there will also be technology and talent tracks, a networking reception, emerging technology demonstrations, and more.
"The Accelerating Advanced Materials and Manufacturing Exchange (A2M2X) is where the future of materials science, manufacturing process technologies and talent development intersect!"
You can register for A2M2X here.
October 17 – 18: The Experience Stratasys Tour Continues
The Experience Stratasys Tour is taking its mobile showroom across the U.S., so educators, designers, and manufacturers have a convenient way to see the company's latest materials, 3D printers, and solutions. This week, the truck is in South Carolina, stopping first at Double Stamp Brewery in Greenville on the 17th, hosted by Prototyping Solutions. On the 18th, it stays in Greenville, but visits the Clemson University Center for Automotive Research, hosted by TriMech.
"Speak with 3D printing experts from Stratasys and our partners to find out how your organization can benefit from 3D printing – whether it's bringing a printer in-house or utilizing additive manufacturing services from Stratasys Direct. Let us show you how Stratasys is leading the global shift to additive manufacturing with innovative 3D printing solutions for aerospace, automotive, consumer products and healthcare."
You can register for the Stratasys Experience Tour here. Stay tuned for more dates and locations in the future!
October 17 & 19: Würth Additive Group Demo Days
Würth Additive Group continues its 3D Printers in the Wild events in Florida this week, stopping in Orlando on Tuesday, October 17th, and then in Fort Lauderdale on Thursday the 19th. This exclusive event series, taking place at a number of key locations across the U.S., will showcase the power of industrial 3D printing. Each one will cover 3D scanning and making digital models, workflows and software of reverse engineering, a diverse array of materials, digital inventory solutions, and automated post-processing equipment. Plus, if you have a challenge for the team, you can either send your STL file or CAD design early, or bring your part to the event.
"Industrial 3D Printing ain't easy, but we take a comprehensive approach to simplify it for everyone. Come learn how to make a digital model of a physical part and print it on demand."
You can register for the event here.
October 17 – 21: Fakuma International Trade Fair for Plastics Processing
The 28th edition of Fakuma, the top international trade fair for industrial plastics processing, will take place from October 17-21 in Friedrichshafen, Germany, offering a comprehensive overview of all plastics technologies, such as thermoforming and additive manufacturing. Nearly 1,500 exhibitors will be onsite to present their services and products, including several AM companies you may recognize, such as Arburg and AIM3D. There will also be a startup area, technical presentations and webcasts, a roundtable discussion on "Plastics – recyclable material instead of problem material!" and more.
"Fakuma 2023 will once again demonstrate that the highly complex subject of plastics can be incorporated into climate protection and circular economy, and that it's future-oriented in a very special way. The exhibitors are working on the challenges of circular economy and sustainability with tremendous innovative drive and dynamics."
You can buy tickets to Fakuma here.
October 17: TriMech on 3DEXPERIENCE Tools
TriMech will present a webinar on "Little Known Tools You Already Have for 3DEXPERIENCE" at 10 am EST on Tuesday the 17th. Attendees will learn about several of the apps within the 3DSwymer, Collaborative Designer, and Collaborative Industry Innovator roles from TriMech Solutions Consultant Ray Morrogh, as well as the deeper functionality in essential 3DEXPERIENCE platform tools. Several tools that are included in the base roles most platform users have access to will be investigated and demonstrated, such as creating and customizing dashboards.
"If you have purchased a license of SOLIDWORKS since July, you're probably aware that your license also included access to the 3DEXPERIENCE platform as well. Maybe you're using it to collaborate with vendors by using the share and markup capabilities, or maybe you're managing all of your change actions and engineering documentation on the platform, but this webinar will show you some great tools on the platform to boost your productivity that you already own in this package, but may not know about."
You can register for the webinar here.
October 17: Hybrid DfAM
Also at 10 am EST on the 17th, you can learn all about "Hybrid DfAM: Oqton presented by 3MF Consortium." Kirill Volchek, the CTO of Oqton, will explain hybrid DfAM to attendees, and discuss how to use Mesh, BRep, Lattice Beams, Implicit, and Voxels in the same tool—for both designing and manufacturing—to help remove bottlenecks and streamline your AM data pipeline, while also enabling high performance and efficiency without compromising design intent.
"There are several reasons why 3MF is a good choice for additive manufacturing, also known as 3D printing. One of the main advantages of 3MF is that it is a modern file format that can support a wide range of 3D printing features, including color, materials, and texture, along with the efficient communication of complex lattice structures with the Beam Lattice extension, manufacturing data at the voxel level with the Volumetric Extension along with slice and security information. In contrast, older formats like STL are very basic and only support a single color with no other information," the 3MF Consortium website explains.

"The full specification for the 3MF format, and implementation information for developers can be found on the 3MF Github repository."
You can register for the webinar here.
October 18 – 19: Midwest Design-2-Part Show
This week in Indianapolis, the Midwest Design-2-Part Show will be held from October 18-19. It's the region's largest design and contract manufacturing trade show, featuring more than 165 American suppliers to help you reduce costs, shorten the supply chain and get your parts manufactured on time. Over 300 service categories are represented at the show, including castings, plastics, machining, finishing, rubber, laser cutting, 3D printing/prototyping, and more.
"The Midwest Design-2-Part Show is the most efficient place to meet hundreds of high-quality American suppliers of custom parts, stock parts, and manufacturing services. From design and prototypes to production, finishing, and assemblies; get the instant answers you need at this show."
You can register for the free event here.
October 18 – 21: NASS 2023
The 38th annual meeting of the North American Spine Association (NASS) will be held in Los Angeles from October 18-21. This global multidisciplinary medical organization is dedicated to fostering ethical, high-quality, and value- and evidenced-based spine care through advocacy, education, and research, and NASS 2023 is a testament to all the hard work. The event will feature a Surgical Stadium Cadaver Lab, time for networking, the NASS Awards, and plenty of interesting presentations, symposiums, forums, and debates. There will also be a large Technical Exhibition, featuring some familiar AM industry names like 3D Systems, AddUp, Amnovis, Evonik, GE HealthCare, Renishaw, and more.
"At the spine industry's most attended event, you can connect face-to-face with high-level, influential decision-makers exhibiting at and attending NASS 2023."
You can register for NASS 2023 here.
October 19: Velo3D OEM Summit
The Velo3D OEM Summit will take place at the company's U.S. production headquarters in Fremont, California from 8:30 am until 5 pm PT on the 19th. This special event is for industry leaders, engineers, and experts who want to better understand the capabilities of Velo3D's advanced metal AM solution, and how it can elevate their business. Attendees will engage in networking, stay updated on industry trends, and learn actionable insights from industry leaders, including keynote speaker Tyler LeBrun, PhD, the Lead for Additive Manufacturing Qualification at Sandia National Laboratories, and Zeda, Inc.'s CTO Greg Morris, who will present a fireside chat. There will also be a Q&A with Velo3D's Founder and CEO Benny Buller.
"Immerse yourself in a day of insightful talks, real-world success studies, and unparalleled networking opportunities. Learn from our distinguished guest speakers who have harnessed Velo3D technology to improve their manufacturing capabilities."
You can register for the summit here.
October 19: ImplementAM in Charlotte
Portland, Oregon-based ImplementAM, which was just acquired by the Society of Plastic Engineers (SPE), organizes and facilitates one-day additive manufacturing workshops, and the latest one will be held in Charlotte, North Carolina this Thursday, October 19th, starting at 10:30 am EST. These events feature networking, expert speakers, and group activities to get you away from PowerPoint and engaging in a more interactive learning experience. Join ImplementAM at the Heist Brewery, and don't forget to vote for a local school in the Charlotte area to receive a 3D printer package and training from MatterHackers.
"Join us in Charlotte for a day of learning, collaboration, and networking. Expand your knowledge about the foundational 3D printing technologies and learn about the business cases behind additive manufacturing. We have expert speakers from major 3D printing machine OEMs, software providers, and service bureaus."
You can register for the workshop here. Bring a friend and get 40% off their registration!
October 19: Increasing Efficiency in EV Production with AM
Together with SAE International and its Automotive Engineering magazine, 3D Systems will hold a webinar about "How Additive Manufacturing Can Increase Efficiency in EV Production" at 2 pm EST on the 19th. The technology is helping to accelerate the shift towards efficiency in autonomous systems, electric vehicles (EVs), and more, as it can be used to improve vehicle systems like connectors and routing components, create custom jigs and fixtures, and optimize thermal management. Attendees will hear from Jaime Garcia, the company's Additive Solutions Manager for Automotive and Commercial Transportation, about how AM is transforming mobility, real-world applications, and other insights. There will also be a Q&A session after the technical presentation.
"This 60-minute Webinar will delve into the world of AM and its transformative impact on electric vehicles, autonomous vehicles, and the next generation of mobility as well as explore how AM can supercharge component and system development, verification, and manufacturing processes."
You can register for the webinar here.
October 19: 3D Systems Additive Insights Roadshow
In addition to the above webinar, 3D Systems also continues its Additive Insights Roadshow this week. The tour will stop at adia, Inc. in Hartford, Connecticut from 3-7 pm EST on October 19th, and attendees will have exclusive access to the company's experts, including product specialists and engineers. During the event, they will provide demonstrations, answer questions, and offer insights into how 3D Systems' materials, printers, and software solutions can address their applications, and empower businesses to design, iterate, and manufacture with improved precision, speed, and efficiency.
"Get inspired by real-world success stories and witness firsthand how companies across industries have leveraged 3D Systems' solutions to accelerate their product development, streamline production processes, and drive bottom-line results. From aerospace to prototyping to automotive, you'll see how additive manufacturing is transforming businesses."
Keep an eye out for future roadshow dates and locations!
October 19: 3D Printing Fixed Hybrid Dentures with SprintRay
Finally, SprintRay is holding a complimentary CE credit webinar about "3D Printing Fixed Hybrid Dentures" at 7 pm EST, also on Thursday the 19th. Led by Dr. Josh Nagao, the webinar will focus on the 3D printing workflow for fixed hybrid dentures, which enables same-day care and lifelike, lab-quality prosthetics with best-in-class fracture toughness. Attendees will learn about the first 3D printing resin cleared by the FDA for fixed hybrid dentures, in-office 3D printers and their uses, and more.
"Discover the first 3D printing resin FDA-cleared for fixed hybrid dentures that allows dentists to fabricate prosthetics in-office more efficiently to reduce patient appointments."
You can register for the webinar here.
Do you have news to share about any future webinars or virtual and live events? Please let us know!
Subscribe to Our Email Newsletter
Stay up-to-date on all the latest news from the 3D printing industry and receive information and offers from third party vendors.
---
Print Services
Upload your 3D Models and get them printed quickly and efficiently.