In this week's roundup, Stratasys continues its tour, and there are a few other in-person events, such as the Carbon Capture Technology Expo. Women in 3D Printing is holding a panel about kickstarting your AM career, while 3DHEALS will have one focused on 3D printed orthotics and prosthetics. Other webinar topics include Geomagic Freeform software, 3D printed extrusion dies, large-scale applications for the MELD process, and more. Read on for all the details!
3D Printing News Unpeeled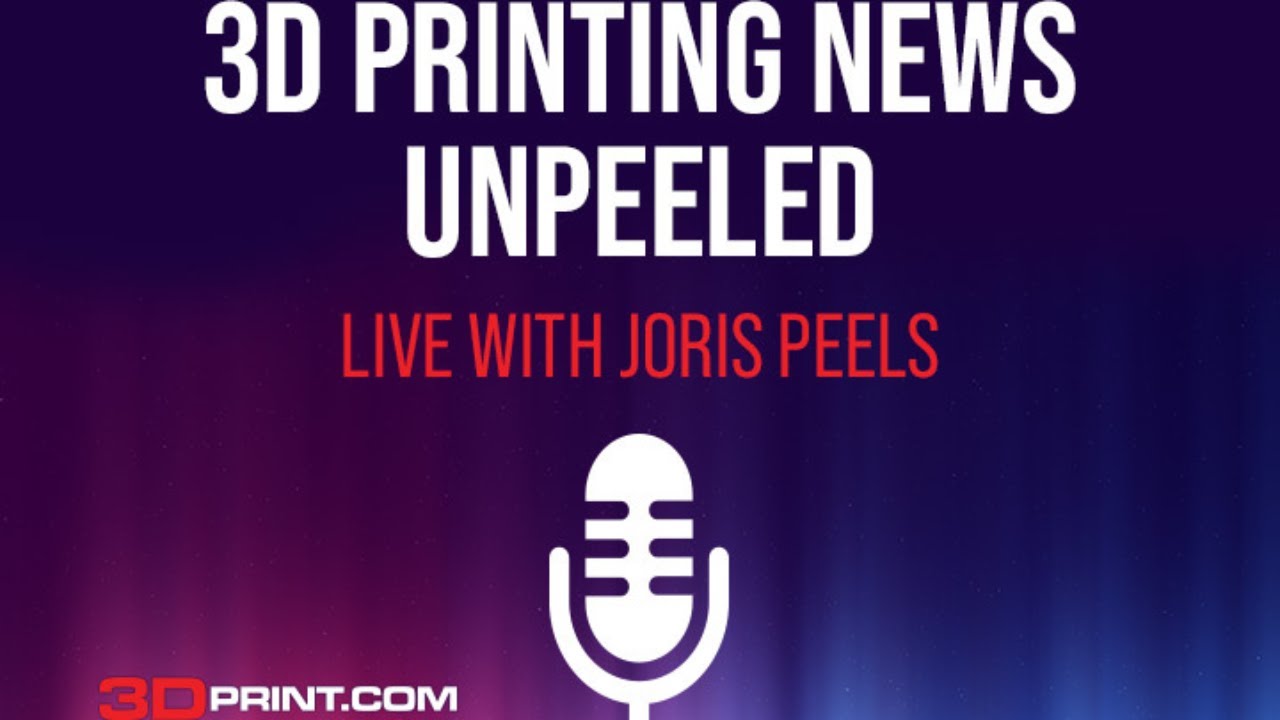 Our Executive Editor Joris Peels, who's also the Vice President of Consulting at SmarTech Analysis, offers a news livestream one to two times a week called 3D Printing News Unpeeled at 9:30 am EST. For each episode, Peels gets on LinkedIn Live and tells us, in 20 minutes or less, what he considers to be the top news stories from the 3D printing industry that week, and why they're important. Some of the stories in his roundup are ones we've covered at 3DPrint.com, and some are not, but they are all equally interesting and impactful.
June 20: The Experience Stratasys Tour Continues
The Experience Stratasys Tour is on the road again, its mobile showroom offering designers, educators, and manufacturers a convenient way to see the company's latest materials, 3D printers, and solutions. This week, the tour will be stopping in two states. On Monday, June 26th, you can find the truck at the Dave & Buster's in Kentwood, Michigan, sponsored by Stratasys Direct, and on the 27th, it's moving to Grand Rapids, with GoEngineer hosting at Fowling Warehouse. The tour moves to South Bend, Indiana on the 28th, hosted by GoEngineer at Studebaker Brewing, and finally, it will stop in Winona Lake, hosted at Cerulean, once again by GoEngineer.
"Speak with 3D printing experts from Stratasys and our partners to find out how your organization can benefit from 3D printing – whether it's bringing a printer in-house or utilizing additive manufacturing services from Stratasys Direct. Let us show you how Stratasys is leading the global shift to additive manufacturing with innovative 3D printing solutions for aerospace, automotive, consumer products and healthcare."
You can register for the Stratasys Experience Tour here. Stay tuned for more dates and locations in the future!
June 27 – 30: LASER World of Photonics
LASER World of Photonics, the leading trade fair and congress for photonics components, systems, and applications, will be at Messe München from June 27-30 this week, along with the World of QUANTUM and automatica trade fairs. Over 1,300 exhibitors from 40 countries will be attending to enjoy the show's combination of research, innovative technology, and industrial application sectors. Specific exhibition areas include laser systems for industrial production, optics, integrated photonics, sensors and measurement technology, imaging, biophotonics, and more. Plus, prizes will be given for "future-oriented" products and solutions from several of these areas, and the trade fair will also feature workshops and technical presentations.
"Whether its additive manufacturing, sensors, integrated photonics, medical technology or quantum technology: You won't get a more profound insight anywhere else. And nowhere else is their potential explored more thoroughly."
You can get a ticket for LASER World of Photonics here.
June 27: NAMIC Singapore & Temasek Polytechnic Workshop
On Tuesday, June 27th, NAMIC Singapore (National Additive Manufacturing Innovation Cluster) and Temasek Polytechnic have organized a workshop about "Implementing Standards and Maximizing Advantages in Additive Manufacturing: A Case Study of Commercial AM Product." Held at the Temasek Polytechnic Library, it will focus on the latest guidelines and standards in AM, along with best practices for process validation and quality control, benefits of design for AM, and more. In addition to hearing a case study about how the technology is being used to revolutionize commercial marine component fabrication, attendees will also have the chance to ask questions and engage with experts in the field, while enjoying refreshments as well.
"Participants will also learn how to overcome the challenges of scaling up AM from prototype to production.  Through case studies of successful AM products, participants will gain insights into the key factors that contribute to product quality, performance, and cost-effectiveness."
You can register for the workshop here.
June 28 – 29: Carbon Capture Technology Expo North America
North America's top event for carbon capture, utilization, and storage (CCUS), the Carbon Capture Technology Expo, is coming to Houston, Texas from June 28-29, focused on advancing the deployment and commercialization of carbon-removal technologies to reach a low-carbon future. Some of the world's leading experts will discuss the latest advances in CCUS technology, and unique ways of using CO2 in manufacturing processes, and to produce net-zero fuels. Several companies involved in the 3D printing industry will be exhibiting, including 3D Systems, Arkema, BASF, EWI, Saint-Gobain, Siemens Energy, and more.
"Since the beginning of the industrial era, carbon dioxide levels in the Earth's atmosphere have increased significantly. Tackling climate change is one the biggest global challenges that requires immediate action and many industrial sectors are now looking to new technology to help meet net-zero emission targets. Research conducted by the International Energy Agency (IEA) and the Intergovernmental Panel on Climate Change (IPCC) concluded that carbon capture is an essential technology in the fight to mitigate climate change."
You can register for the expo here.
June 28: Kickstart Your AM Career with Women in 3D Printing
At 11 am EST on Wednesday, June 28th, Women in 3D Printing will hold an online panel about how to "Kickstart your additive manufacturing career" as part of its Next Gen initiative to highlight career opportunities in the AM industry, and bridge the gap between industry and academia with a supportive, professional network. Moderator Anne Pauley, Technical Program Manager – Early Engagement at Pixel, Google, and Wi3DP Next Gen Leader, will lead a discussion with four early career engineers currently working in the AM industry.
"Learn how these women entered the industrial 3D printing sector, and the type of innovative work they do to make the world a more sustainable place."
You can register for the panel here.
June 28: LSPc Resin 3D Printing with Xometry and Nexa3D
Digital manufacturing marketplace Xometry now offers industrial resin 3D printing service, powered by Nexa3D's ultrafast Lubricant Sublayer Photo-curing (LSPc) 3D printing process. This Wednesday the 28th, at 1 pm EST, the two will hold a webinar, "What is LSPc? Xometry Launches Nexa3D's End-Use Resin 3D Printing." Attendees will get a technical overview of LSPc, learning what makes it so fast, how it compares to SLA and DLP solutions, and hearing about case studies where the technology was used instead of traditional manufacturing methods like urethane casting and injection molding. Plus, they'll compare, and learn the benefits of, engineered, general-purposed, and specialized LSPc materials, and have their questions answered.
"Join experts from Xometry and Nexa3D as they unveil this new technology, its benefits, and how its engineered materials create functional, end-use parts useful across various industries, including commercial, medical, dental, and manufacturing."
You can register for the webinar here.
June 29: TriMech Talks Geomagic Freeform Software
At 10 am EST on Thursday, June 29th, TriMech will hold a webinar on "Geomagic Freeform – Virtual 3D Modelling Design & Sculpting Software." Dave DiPinto, Geomagic Freeform Product Owner, and TriMech 3D Scanning Solution Specialist Brian Metzger, will provide an overview of the software and its capabilities. Plus, they'll cover two common workflows: a scan-based design for a protective wrist brace, and sculptural design tools that can be used in supposedly every industry.
"The industry's most comprehensive, organic, hybrid design software on the market, Geomagic Freeform enables you to solve complex, precision design and manufacturing challenges and easily address challenging tasks within existing scan-to-print or CAD-to manufacturing workflows."
You can register for the webinar here.
June 29: 3D Printed Orthotics and Prosthetics Panel by 3DHEALS
These final four webinars will all be held at 2 pm EST on the 29th, so you'll have to choose! The first is a panel by 3DHEALS on "3D Printed Orthotics and Prosthetics," moderated by W. Brent Wright, CP, BOCO, who practices at Eastpoint Prosthetics and Orthotics in Raleigh, NC and is the Clinical Director of the non-profit LifeNabled. 3D printing has brought some major advancements to the field, and offers some pretty big benefits, including customization, reduced lead times, cost-savings, improved design capabilities, and iterative prototyping. Wright and four expert panelists will discuss this topic in more detail.
"Overall, 3D printing has the potential to significantly improve the quality of life for patients in need of orthotics and prosthetics by providing customized, cost-effective, and efficient solutions. In this highly anticipated event for entrepreneurs, scientists, industrialists, and providers in the space, we want to invite you to join a stimulating conversation on the current status and future outlook of 3D printing in orthotics and prosthetics."
You can register for the panel discussion here.
June 29: 3D Printed Extrusion Dies with AddUp
The next webinar option is "Rethinking the Production Line with 3D Printed Extrusion Dies," presented by AddUp Inc. and hosted by Sammy Passell, a General Industry Applications Engineer with the company. Making molds, dies, and tooling is typically a good application for metal AM technology, because of their smaller production volumes. Plus, the tooling sector doesn't have the investment focused Design for Additive Manufacturing you'll find elsewhere, or a rigorous qualification system. The pros and cons of 3D printing these will be discussed.
"One partner saw an opportunity to use Powder Bed Fusion for an extrusion die to make one of their products. Yearly production volumes of roughly 100 dies coupled with a clear integration plan made additive a promising choice. While the original goal was strictly increased wear performance, they were able to improve throughput because of their redesign efforts."
You can register for the webinar here.
June 29: Extol & BASF Forward AM on Soft Touch Tooling
Together, Extol Inc. and BASF Forward AM will present a webinar on how to "Create Durable Soft Touch Tooling with Additive Manufacturing to Lower Costs and Tooling Time in Your Production." 3D printing and superior materials can help support the production of excellent soft touch tooling for the automotive industry, such as durable and wear-resistant aids, which take less time and cost less money to make when compared to CNC machining. Attendees will learn preferred soft touch tooling materials, tips and tricks for designing additive tooling, the challenges and benefits, success stories, and more.
"As automotive production workflows become more and more automated, continual reliance on tools at production increases. Tooling with Additive Manufacturing prevents machine downtime and serves as a cost-efficient alternative to traditional manufacturing. 3D printed soft touch tools, as interface between machine and end product, convince with outstanding design freedom, higher flexibility and durability."
You can register for the webinar here.
June 29: Large-Scale Applications for MELD
Finally, MELD Manufacturing is offering its "Large Scale Applications for the MELD Process" webinar for a second time. MELD is a solid-state process, which means that materials don't reach the melting temperature. This results in parts with full density and low residual stresses, but much lower energy requirements than fusion-based manufacturing process. Plus, the MELD process is able to print large metal parts at a very large scale, because it isn't restricted to expensive vacuum systems or small powder beds.
"Since MELD is open atmosphere, it does not need to be contained like many similar technologies.  Melt-based processes either have a container to hold metal powder or operate in a chamber that prevents oxygen from getting in while the laser is running. Either way, these containers automatically limit you in the size part you can build. MELD doesn't need a powderbed or a chamber. Without these constraints, MELD can make parts as big as you want."
You can register for the webinar here.
Do you have news to share about any future webinars or virtual and live events? Please let us know!
Subscribe to Our Email Newsletter
Stay up-to-date on all the latest news from the 3D printing industry and receive information and offers from third party vendors.
---
Print Services
Upload your 3D Models and get them printed quickly and efficiently.