We first heard of innovative CT-Bone technology three years ago, when Dutch company Xilloc reached an agreement with Tokyo-based Next21 K.K., the creator of CT-Bone, to bring 3D printable bone into hospitals in Europe. Back in 2001, Next 21 K.K. collaborated with the University of Tokyo and RIKEN on developmental research into the technology, which uses 3D printing to make synthetic bone grafts out of calcium-deficient HA material.
Now, after receiving an approval for manufacturing and marketing medical devices from the country's Ministry of Health, Labor and Welfare (MHLW), the company is announcing formal approval for a new technology to 3D print synthetic bone grafts, which can both fuse and be assimilated into a patient's existing bone.
There are currently four different types of existing bone grafts for patients with different kinds of bone defects and deformities: Autograft and Allograft (the most common), Synthetic Bone graft, and Xenograft. Custom synthetic graft materials are shaped from a heated and sintered block of material with machine tools, and is hard for natural bone tissue to absorb, which could lead to inflammation.
Autograft, which is the foremost transplant method in Japan, requires an additional surgery in order to remove a piece of bone from the patient's leg or hip, so patients have to go through a second invasive procedure and deal with the potential risks, like damage and infection, from extended exposure. Allograft from a bone bank is the most common in the US and Europe, but as it's harvested from cadavers, there are potential infectious and ethical conundrums to consider. Additionally, it can be hard to find a cadaver bone that's the appropriate size and shape to match a patient's original bone.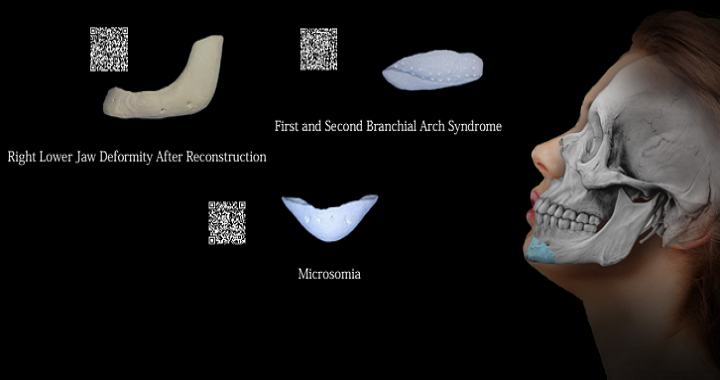 But, 3D printing makes it possible to reproduce the shape of the original bone with 0.1 mm accuracy, and CT-Bone also uses a curing treatment method to help with recrystallization. This the technology, as Next21 K.K. puts it, "most suitable for molding biomaterial like a bone graft."
CT-Bone does not use a sintering process to increase mechanical strength like other synthetic bones or 3D printed ceramics do, so it actually becomes physiologically activated; this helps the material in the custom implant fuse and assimilate to the patient's existing bone much more quickly.
While most typical bone implants are made from material like titanium or PEEK, or even cut and re-positioned bone from the patient, CT-bone is a 3D printable, calcium phosphate implant that's actually converted into real bone by the patient's own body.
After a CT-scan, Next21 K.K.'s biomedical engineers work with the surgeons to create a patient-specific implant (PSI), which can incorporate porosity and match the patient's anatomy perfectly, which helps facilitate bony ingrowth and good bone-to-implant contact. It only takes a few months post-implantation for CT-Bone to unify with the patient's existing bone.
Thanks to a subsidy from the New Energy and Industrial Technology Development Organization (NEDO), the company completed a pre-clinical study for CT-Bone, titled "Computed tomographic evaluation of novel custom-made artificial bones, "CT-bone", applied for maxillofacial reconstruction" and performed with support from the National Institute of Biomedical Innovation, Health and Nutrition (NIBIOHN). Co-authors include Yuki Kanno from the University of Tokyo, Takashi Nakatsuka with Saitama Medical School, Hideto Saijo, Yuko Fujihara, and Hikita Atsuhiko from the university, Ung-il Chung with the university's Graduate Schools of Engineering and Medicine, and Tsuyoshi Takato and Kazuto Hoshi with the university.
The abstract reads, "We fabricated custom-made artificial bones using three-dimensionally layered manufacturing (3D printing) process, and have applied them to patients with facial deformities. We termed this novel artificial bone the "CT-bone". The aim of the present study was to evaluate the middle-and long-term safety and effectiveness of the CT-bones after transplantation."
CT-Bone grafts were implanted into 23 sites on 20 patients with facial bone deformities and then evaluated through the use of CT scans post-op, minimally for one year and then maximally for seven years and three months after transplantation.
According to the paper, "No serious systemic events due to the CT-bone graft were found during the observation period (1 year postoperatively). In 4 sites of 4 patients, the CT-bones were removed due to local infection of the surgical wounds at 1-5 years postoperatively. Compatibility of the shapes between the CT-bone and the recipient bone was confirmed to be good during the operation in all of the 20 cases, implying that the CT-bones could be easily installed onto the recipient sites. During the CT evaluation (<7 years and 3 months), no apparent chronological change was seen in the shape of the CT-bones. Sufficient bone union was confirmed in 19 sites. The inner CT values of the CT-bones increased in all the sites. The longer the postoperative period, greater increases in the CT values of the CT-bones tended to be observed."
Next21 K.K. plans to commercialize CT-bone in the Japanese market, and initiate export to other Asian countries. Having already reached a license agreement with Xilloc for local manufacturing and sales of CT-Bone in the EU, the company will also expand sales to Europe.
Discuss this story and other 3D printing topics at 3DPrintBoard.com or share your thoughts in the comments below. 
[Images provided by Next21 K.K.]
Subscribe to Our Email Newsletter
Stay up-to-date on all the latest news from the 3D printing industry and receive information and offers from third party vendors.
---
Print Services
Upload your 3D Models and get them printed quickly and efficiently.