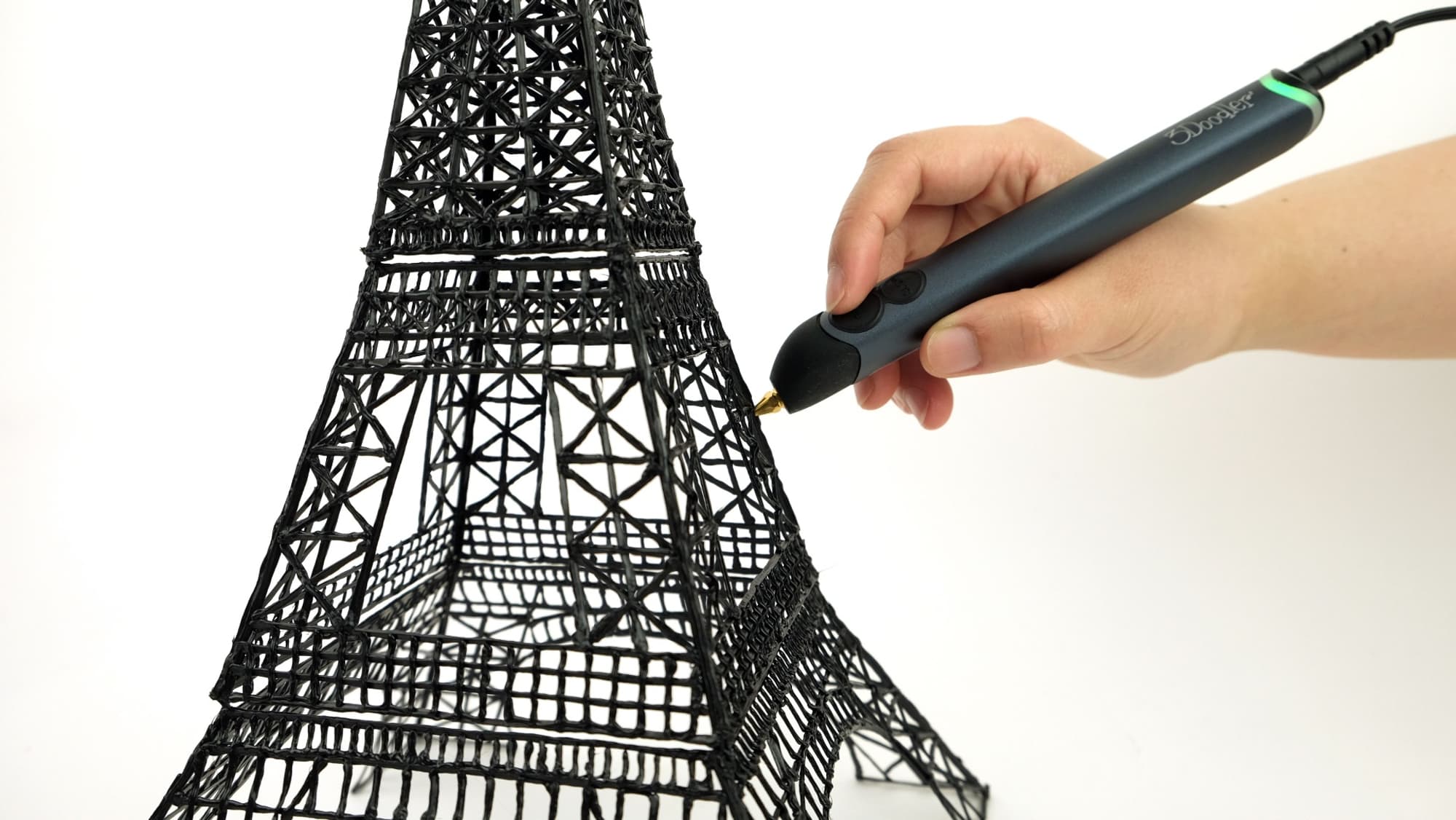 Ever since the toy company WobbleWorks LLC raised a whopping $2.3 million on Kickstarter for the first iteration of their 3Doodler 3D printing pen, the handheld device has taken the artistic world by storm. Last year, they improved their technology with the 3Doodler 2.0, which raised over $1 million with its own Kickstarter campaign, and have also recently unveiled the pre-order for the 3Doodler Start, a novice level 3D printing pen designed for younger kids. In 2016 alone, we've covered a number of unique uses of the 3Doodler, including the creation of fine art, complex fashion pieces, and even solid gold jewelry.
For those unfamiliar with this 3D printing pen technology, the 3Doodler essentially functions like a handheld FDM printer, using the human imagination to print 3D objects instead of a 3D design file. The device, which extrudes heated plastic that cools almost instantly into a solid, stable structure, is both compact and easy-to-use. WobbleWorks offers over 65 different plastic colors for the 3Doodler pen, and even have a line of specialty filaments that include Matte, Glossy, Glow, Flexy, and Sparkle plastics.
As they've continued to slim down and redesign their renowned 3Doodler pen, I'm always left to wonder just how much further WobbleWorks can take their 3D printing pen technology. The 3Doodler 2.0 has already established quite the reputation in the fine art world already; I even recently stumbled upon these 3D printing pens at the prestigious NYC-based Museum of Modern Art (MoMA) store, where they're currently being sold. Lo and behold, Wobbleworks recently announced that they'd be refining the 3D printing pen once again, this time under the name of the 3Doodler Create. The newest generation won't be vastly different from the predecessor, but will feature a number of refinements that will enhance the experience for 3D sketchers around the world.
As they've generally done since the first 3Doodler redesign, the 3Doodler Create has been made even sleeker than 2.0, and will be housed an aluminum case that currently comes in a "smoky blue finish," which will eventually be available in pink, yellow, green, and bright blue in the near future. Their newest pen will also be lighter in weight, more intuitive, and even easier to use.
Perhaps even more importantly, there have been some internal improvements as well. According to WobbleWorks, the new driver system will give users a smoother and more reliable 3D doodling experience. The 3Doodler Create will be able to operate at two different speeds and two different temperatures, giving the artist or enthusiast more control over their 3D sketches. The body of the latest 3D printing pen will feature a transparent panel, which will show the inner workings of the 3D printing pen in action. In addition, an ambient light bar has been equipped to tell users when the device is powered on.
This new version of the pen is already available for order on the 3Doodler website, offering a single pen, power adapter, and a set of colored plastic strands plus some tools for cleaning, nozzle removal, and adjusting temperature for the reasonable price of $99 USD. For those who've already purchased the 3Doodler 2.0, there's no need to fret, as WobbleWorks is offering customers the upgrade to the 3Doodler Create at a 50% discount.
If you're on the lookout for projects and ideas to help get you started with your 3Doodler experience, you can browse what other users have created and watch video tutorials on the 3Doodler community page. I'm not sure what will come next for WobbleWorks and their line of 3D printing pens, but they seem determined to keep enhancing their technology, which could someday be seen as the paint brush of the future.
Discuss your future plans for using this technology in the WobbleWorks 3D Printing forum over at 3DPB.com.
Subscribe to Our Email Newsletter
Stay up-to-date on all the latest news from the 3D printing industry and receive information and offers from third party vendors.
---
Print Services
Upload your 3D Models and get them printed quickly and efficiently.