Researchers Find Iron-Manganese Alloy Material Viable for 3D Printing Scaffolding to Regenerate Tissue
One hears the terms 3D printing and scaffolding thrown together often in the long list of 'what new technology can do for us lately.' But what is it really, and what are its implications?
Scaffolding itself is a vehicle used to regenerate, or re-grow, biological materials such as bone and tissue. The uses of artificial scaffolding in the engineering of tissue are being heavily researched and used in some cases, but with 3D printing, scientists are racing to the finish line—and beginning a new journey altogether for many disciplines, to include medicine, science, technology, and engineering.
Now, Dr. Prashant Kumta, at the University of Pittsburgh's Swanson School of Engineering, is using 3D printing to produce microscopic scaffolds of iron and manganese alloys to foster new bone and tissue growth. Iron is considered a good option for this as it presents great durability–though it does not offer enough corrosiveness. Using an iron-manganese combination, Dr. Kumta has discovered a 3D printed material that corrodes more effectively and rapidly. It has also been verified as a viable solution due to a 3D printed goat mandible researchers were able to produce working from a CT scan.
The research study is promising because it shows that indeed these scaffolds are significantly similar to those of bone and allow for good "cell viability" as well as "cell infiltration."
"What makes our materials unique is that we are printing novel proprietary alloys that are biodegradable," Dr. Kumta told 3DPrint.com.
While the traditional method of repairing damaged bone or tissue has been through grafting, recent contemporary theory and research has been leaning toward a more synthetic method to avoid issues such as pain and 'morbidity' from the donation site, and risk of disease and infection.
The obvious benefits are there with 3D printed scaffolds: we can make lots of them and they originate from a sterile, disease-free foundation. More importantly, the scaffolds need to be molded to the unique complexities and 'geometries' of the patient. That's quite something to pull off, right? Traditionally, yes. But that is, of course, the magic of 3D printing in that digital design allows scanning, tweaking, and then making new 3D prints as often as desired, time permitting.
"Direct manufacture of porous scaffolds into desired geometries address the needs of patients whose bone defect is outside the size range of pre-manufactured implants and allow for improved surgical outcome by providing  a custom fit to the anatomical site," state researchers Da-Trou Chen, et al., including Kumta, in "Novel Processing of Iron–Manganese Alloy-based Biomaterials by Inkjet 3-D Printing" published in Acta Biomaterialia by Elsevier.
With metals offering greater durability and success than plastics or polymers for artificial scaffolding, this has led researchers to give attention to attempting its use in 3D printing and use for tissue regeneration. With the iron-manganese combination, all the required elements come together for density, mechanical properties, as well as the required porous qualities for widespread
tissue formation.
"The proprietary Fe based alloys that have already been printed by our binder jetting printing approach is unique and demonstrates faster and improved degradation," Dr. Kumta told 3DPrint.com. "Similarly, we are showing demonstration of ability to print novel proprietary Mg based alloys also by the binder jetting printing approach… Both of these examples of novel alloys fabricated into 3-D constructs using our Additive Manufacturing approach is unique."
After complex research regarding the chemistry of the material to be used in 3D printing, it was agreed that the "measured tensile properties for the 3-DP Fe–30Mn were very similar to those of natural bone." Moreover, it was validated that the iron-manganese combination, 3-DP Fe–30Mn, offered higher corrosive properties than iron by itself. It also showed a "high level of cell attachment," regarding adhesion as well as infiltration. In short, that means that the 3D printed parts created using 3-DP Fe–30Mn in preliminary research seem to fit all the prerequisite requirements in terms of bio-corrosion, tensile mechanical properties, and "in vitro cytocompatibility studies."
Dr. Kumta and the researchers involved in the study are highly encouraged that the iron-manganese 3D printing material could be useful with scaffolds for the craniofacial area, as an example, and a good starting point in animals.
What do you think the implications are with 3D printing and scaffolding, if we can begin to replace bone, starting in animals? Tell us your thoughts in the 3D Printed Iron-Manganese Alloy Material forum thread over at 3DPB.com.
Prashant N. Kumta, PhD, is the Edward R. Weidlein Chair Professor with tenure at the Swanson School of Engineering and School of Dental Medicine at the University of Pittsburgh.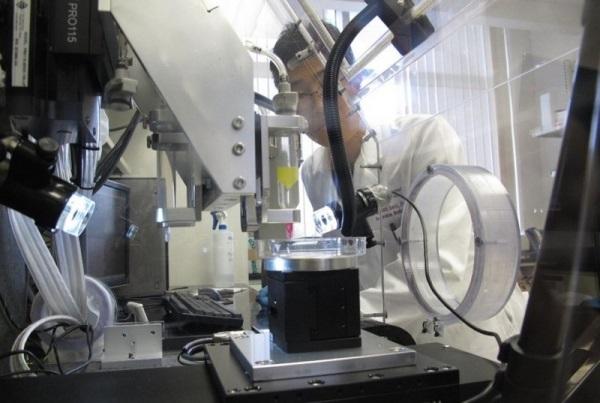 Subscribe to Our Email Newsletter
Stay up-to-date on all the latest news from the 3D printing industry and receive information and offers from third party vendors.
---
Print Services
Upload your 3D Models and get them printed quickly and efficiently.