It's rather crazy how many emails we receive on a daily basis asking us to suggest a 3D printer for a particular use. There are literally hundreds of different machines on the market, and several new printers launching each and every week. It can oftentimes be difficult to sift through all the clutter, especially if you are new to the industry. That's why I got together with some of the writers here at 3DPrint.com to crunch our heads together and come up with what we feel is a pretty solid list of printers, which you really can't go wrong purchasing.
These machines are listed in a particular order based on several criteria, but any printer that has made this list is probably not going to disappoint you in the long run. We used a combination of 3D Hubs' rating system, combined with Amazon.com reviews, other third party review sites, reader feedback, and the experiences of the team here at 3DPrint.com to choose and then rank these machines to the best of our ability. This list is not static and will change weekly as we feed additional information into our ranking methodology, and as new printers emerge onto the market.
LulzBot TAZ 5
Aleph Objects and their LulzBot brand is one of the hardest working 3D printing companies I have ever come across. They have been growing by leaps and bounds, and I truly believe this is because of one main
attribute–quality. The customer support is phenomenal, the printers are built on a completely open source framework, and the machines have some of the most useful features available on the market today. Although I have not seen the TAZ 5 in action or used it myself,  I have seen in action or used pretty much every one of their other machines and judging from the warm reception the TAZ 5 has received early on, I am willing to rank this printer as one of the top buys within the space. Boasting a spacious 298 x 275 x 250 mm build envelope, with the ability to print in a laundry list of materials, this printer should be on the top of your shopping list. With a company tag line of "Industrial Grade 3D Printing at Your Desktop," I will not be one to argue. Priced at $2,200, it's not the most affordable, but if you have the money to spend on a 3D printer, this likely is your best bet.
Pros: Open source, feature rich
Cons: Noise, ease of use
MakerGear M2
This 3D printer has to be ranked at or near the top of pretty much every 3D printer review site you will come across. Almost every review you will read, whether it be from Amazon where the last time I checked, 92 out of 97
reviewers gave it 5 stars, or the monthly 3D Hubs rankings, this is an exceptional machine for its price. The frame of this 3D printer is incredibly sturdy, and it utilizes some of the best components on the market. You will be hard pressed to find someone who has purchased this machine and has anything really bad to say about it. If you are looking for a printer which will perform just as well as any machine on the market, is priced lower than many of its main competitors, and has amazing customer support, this is the machine for you. This printer has a build envelope of 203 x 254 x 203 mm, and is priced at $1,775.
Pros: Customer support, print quality, sturdiness
Cons: Noise, ease of use
Zortrax M200
This machine continues to receive some of the highest user reviews on 3D Hubs among all 3D printers on the market.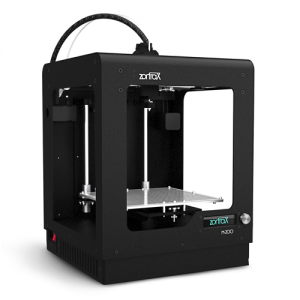 With a heated build platform, auto calibration, and a decent size build envelope of 200 x 200 x 185 mm, this machine packs a punch. It comes equipped with the company's Z-suite software making the conversion of a model to a 3D print as easy as '1…2…3'. Priced at $1,999, it certainly isn't the cheapest machine on the market, but as the saying goes, "You get what you pay for." The company certainly has put its best foot forward with both this printer and their entire still-developing ecosystem.
Pros: Print quality, accuracy, and ease of use
Cons: Material compatibility, connectivity
Printrbot Metal Simple
Brook Drumm is considered by many as one of the grandfathers of 3D printing. His
company, Printrbot, consistently releases quality products, which not only perform great, but are insanely affordable. This machine has won several awards, and continues to be one of the most well-received printers on the market today. With a build envelope of 150 x 150 x 150 mm, users are able to print items of a decent size, while not breaking the bank. Time and time again we have heard from users about how high the resolution of printed objects end up being, and the overall quality and sturdiness of the machine is apparent. In fact, priced at just $599.99 fully assembled, it's hard to go wrong with this machine.
Pros: Sturdiness, print quality, price
Cons: Small print envelope
Formlabs Form 1+ 
This printer steps away from the norm when it comes to desktop 3D printing, and uses an entirely different process, Stereolithography (SLA). Although it may be a bit messier than the FDM/FFF
processes, the Form 1+, by far, will give you the best overall print quality when compared to any of the other printers on this list. That's because SLA technology is simply more capable of printing intricate detail. The Form 1+ is perfect for the business setting as well as for the home. Instead of strands of thermoplastic filament, the Form 1+ utilizes a photosensitive resin which could best be described as a syrup. The resin is cured (hardened) as it is exposed to a laser beam. It is able to print at layer thicknesses as small as 25 microns and has a build volume of 125 x 125 x 165 mm. Priced at $3,299 it is the most expensive printer to make our list–however, it's really hard to even try and compare the Form 1+ with these other machines.
Pros: Print quality, ease of use, appearance
Cons: Cost to run (resin is expensive, electricity), material compatibility
MakerBot Replicator Mini
This is one of our favorites, not only because it's ranked high by users overall, but because it's small, elegant, and will enable you to open up access to the entire MakerBot
ecosystem. If you want quality and the backing of a $2.5+ billion company (Stratasys) behind your printer, the Mini may be for you. Equipped with an on-board camera to monitor your prints, and incredibly easy software for transforming your models into physical objects, the Mini's main shortcoming is its ability to only print with PLA, as well as its somewhat limited build volume of just 100 x 100 x 125 mm. If you are fine printing with PLA, which will still provide quite a range of materials options, and you aren't looking to print large objects, the MakerBot Mini is likely a great bet, priced at just $1,375.
Pros: Ecosystem, ease of use, connectivity
Cons: Noise, print speed
Flashforge Dreamer
Back in September the writers at 3DPrint.com were
provided one of these machines to review. Initially we gave it to a writer, Heidi Milkert, who had never had any experience using a 3D printer before. Remarkably, she was able to quickly figure the printer out and within hours had her first print sitting on her desk at the office. Case in point, this 3D printer is simple, reliable, and priced very affordably. With the ability to print with both PLA and ABS thermoplastic, and a build envelope of 230 x 150 x 140 mm, this machine is perfect for almost any 3D printing job. Priced at $1,299, this fully enclosed 3D printer is a solid buy.
Pros: Ease of use, print quality
Cons: Connectivity, noise
Ultimaker 2

Ultimaker is ranked up there with MakerBot as one of the top selling desktop 3D printer brands, and for good reason. The company has prided themselves on delivering high quality 3D printers which also look nice sitting on you table or desk. With layer resolutions as fine as 20 microns, and a build envelope of 223 x 223 x 205 mm, this machine is great for everyday home use. It will print with PLA, ABS, and U-Pet materials, is very easy to calibrate and get started, and is priced at $2,499.
Pros: Ecosystem, print quality
Cons: Cost to run, price
Airwolf HDL
Airwolf 3D is a name those within the industry often associate with quality performance and cutting edge architecture when it comes to 3D printing.  Although their typical machines cost in excess of $3000, the HDL was launched as a
means for the company to enter the entry-level space.  The machine is priced just under $2,295, and if your budget allows for it, this is a must buy. As with all Airwolf3D machines, the HDL is tested for 20 hours prior to shipping and comes pre-calibrated out of the box.  With a large 12″ x 8″ x 12″ build envelope and the ability to print at speeds of up to 150mm/s this machine is perfect for beginners as well as the 3D printing pro.  Another added bonus is the 6-month warranty and the exceptional technical support that Airwolf has come to be known for.   Additionally if the $2,295 price tag is too much, the company offers leasing options starting at just $50 per month.
Pros: Customer support, large size, material compatibility, easily upgradable
Cons: Price, single extruder
Prusa i3 Hephestos
Oftentimes the simpler the machine, the better it is. After all, the less likely it is for a part to malfunction if there are fewer parts overall. I'm a big fan of the RepRap movement, and have to say, some of the machines spawned from this movement are extremely capable, and best of all, affordable. The Prusa i3 Hephestos is of course an open
source machine which was developed by the bq Department of Innovation and Robotics. With a build volume of 215 x 210 x 180 mm, and available in three different versions, each with varying degrees of resolution as well as print speed, this printer would be good for teenage beginners all the way up to professional designers. Priced starting at €499 and going on up, it's incredibly affordable if you don't need all the bells and whistles found in other machines.
Pros: Community, open source, print quality
Cons: Ease of use, print speed, noise
Afinia H480
Utilizing some of the best linear actuators available on the market, this small, yet powerful 3D printer has been well received by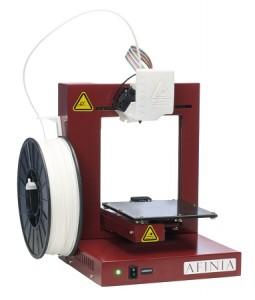 consumers and small businesses alike. It's an older machine–in fact, it was unveiled back in 2012–but still tops the charts when it comes to reliability and precision. Afinia has since produced newer machines, but their older printer, the H480, seems to have been a bit ahead of its time. The build envelope for this machine is not the largest, at 140 x 140 x 135 mm, but that doesn't stop reviewers from keeping it near the top in terms of 'best bang for the buck.' The H480 is priced at $1,299.
Pros: Print quality
Cons: Material compatibility, running cost (energy)
There you have it, out current list of the top 10 3D printers, when considering price, reliability, and quality. With new printers coming out weekly, please check back to this list weekly to see if anything has changed. We will also be adding new categories to the list in the future. Feel free to chime in with your opinion and provide your own personal insights in the '3D Printer Buyer's Guide' forum thread on 3DPB.com.
Subscribe to Our Email Newsletter
Stay up-to-date on all the latest news from the 3D printing industry and receive information and offers from third party vendors.
---
Print Services
Upload your 3D Models and get them printed quickly and efficiently.