One thing that is so fascinating about attending CES is that you hear about all of these companies that you never knew existed previously. For me, on Tuesday, one such company was Cincinnati, Ohio-based Polar 3D. As I walked by their booth, I noticed a slim, sleek looking 3D printer that appeared as though it didn't have the capabilities to print anything larger than a golf ball. As I walked up to the booth, I became more intrigued when I noticed that the build platform consisted of a round mirror.
As I soon learned, Polar 3D's 3D printer, according to the company, is the first personal 3D printer based on polar coordinates. While this statement may be true from a consumer point of view, I have seen other printers created that do use a similar technology. What makes this 3D printer so unique is its ability to print a rather large object using a machine with such a small footprint.
The 3D printer weighs only 10.3 lbs, and measures just 8″ x 12.5″ x 14″, but it is capable of printing objects with a diameter of 8″ and a height of 6″. When a print job is in session, you will notice something quite different than you would on a typical FFF-based 3D printer. This printer's extruder moves on the z-axis (up and down), as you would see on many standard 3D printers on the market today. However, what is so unique is how the X and Y axes move. Actually there are no X and Y axes, in terms of the hardware, as this printer utilizes polar coordinates, and in order to print an object, it spins the mirrored build plate around a central point, while the build platform only moves 4 inches back and forth in the Y direction. The spinning of the build platform, in conjunction with the 4-inch Y directional movement and the Z-axis movements of the hotend, allows for the printing of objects quite large for the size of the printer.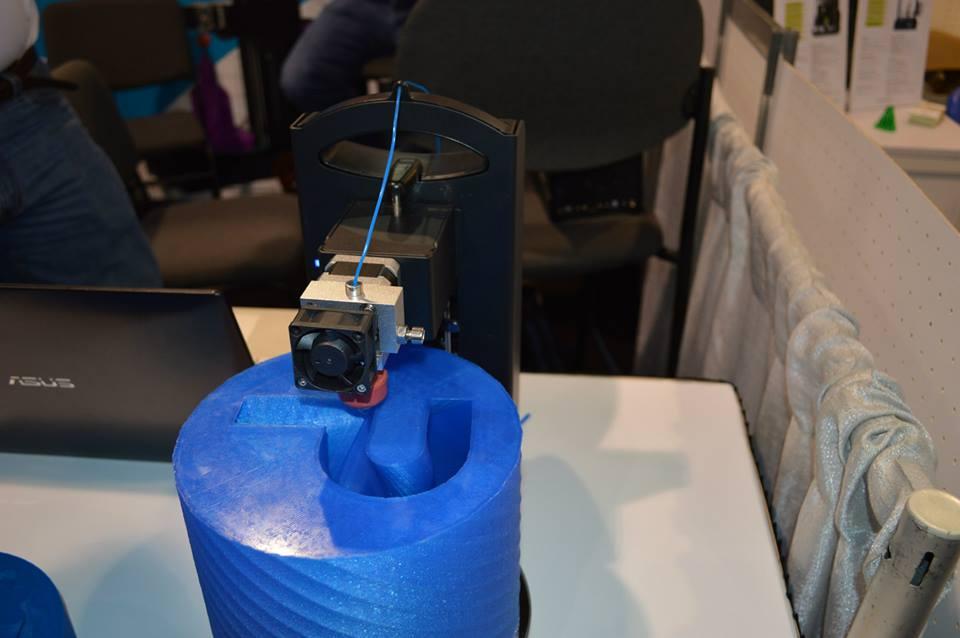 So, you may wonder what the results are of a print created on a machine like this. To my surprise, the print resolution was very good. The prints that were on hand were on par with those from most FFF-based printers I've seen.
As for the other specifications for the Polar 3D printer, which were not mentioned above, they are as follows:
Layer Resolution: 50-400 Microns
Positioning Precision: X Y: 10 microns, Z: 1 micron
Filament Diameter: 1.75mm
Nozzle Diameter: 0.4mm
Print Material: PLA
Software: Polar 3D Desktop 1.0
File Types Allowed: STL, P3D, OBJ
Weight: (while website says 9.1 lbs, we are told it's actually 10.3 lbs)
AC Input: 100 – 240 V, ~2 amps, and 50-60 Hz
Power Requirements: 12 V DC @ 8 amps
Connectivity: WiFi, SD card, or USB
The frame of the printer is made up of powder coated 14 gauge steel, and it utilizes 1.8 degree step angle motors with 1/16 micro-stepping. The printer is priced at $799, but they offer it to schools and students for just $599. It also features a built-in 1080P wide-angle HD camera that allows for remote viewing of print jobs.
"Polar 3D's mission is to introduce and expand 3D printing in education to inspire students to think like entrepreneurs," explained the company via their CES handout. "With its smaller footprint, unique Polar-coordinate system, and affordable price, Polar 3D is poised to become the 3D printer in the educational market."
The company is also introducing at CES 2015 three other features and programs that they will offer. They are:
Polar Ambassador Program: Gifted educators and students who support the Polar 3D mission, provide support to their peers, and represent Polar to their local communities.
Polar Cloud: An online social platform that allows educators to share their curricula and encourages students to collaborate.
Polar Challenge: Design challenges that foster innovation and creativity, whose winners are rewarded with Polar 3D Printers, scholarships, and internships at innovative companies.
The 3D printers are now available to order, and shipments are slated to begin in just over a week (January 15). What do you think about Polar 3D's unique 3D printing system? Do you think the $599-$799 price tag will make it attractive to students and educators? Discuss in the Polar 3D forum thread. Check out the video of the Polar 3D printer in action below.
Subscribe to Our Email Newsletter
Stay up-to-date on all the latest news from the 3D printing industry and receive information and offers from third party vendors.
---
Print Services
Upload your 3D Models and get them printed quickly and efficiently.