Things are slowing down this week, but we still have a few webinars to tell you about. Read on for all the details!
3D Printing News Unpeeled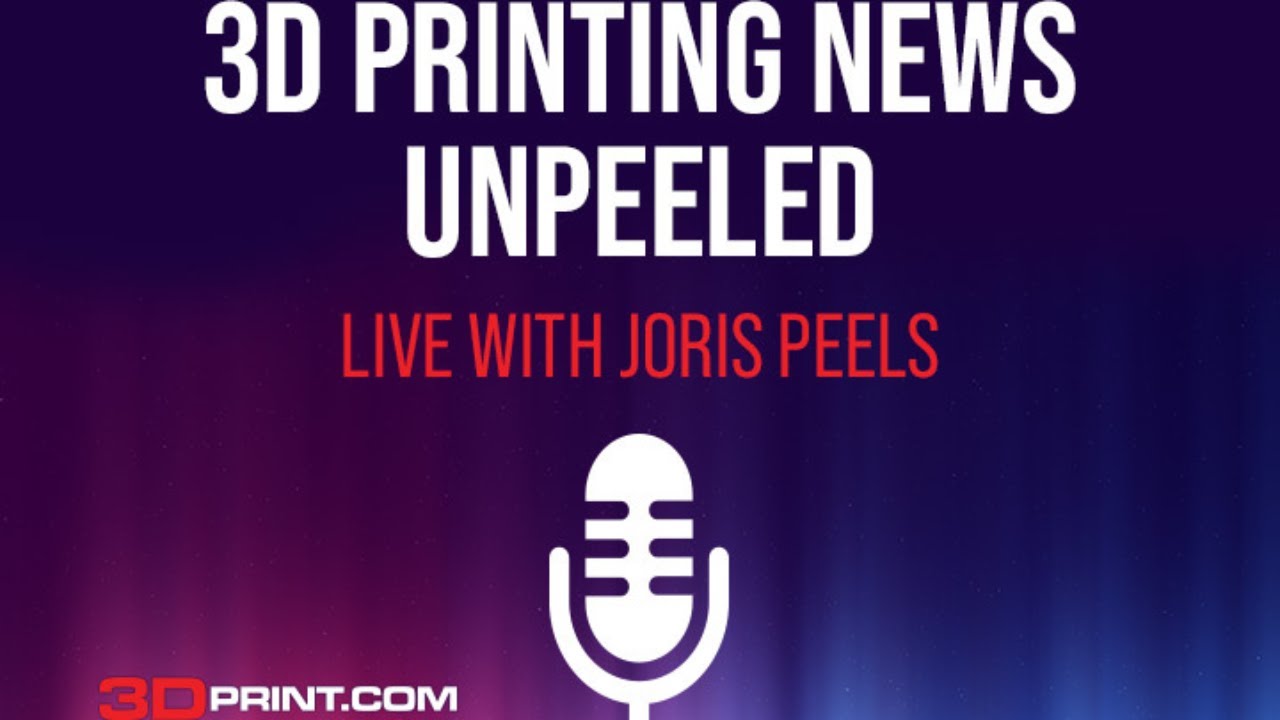 Our Executive Editor Joris Peels, who's also the Vice President of Consulting at Additive Manufacturing Research (AMR), offers a news livestream one to two times a week called 3D Printing News Unpeeled at 9:30 am EST. For each episode, Peels gets on LinkedIn Live and tells us, in 20 minutes or less, what he considers to be the top news stories from the 3D printing industry that week, and why they're important. Some of the stories in his roundup are ones we've covered at 3DPrint.com, and some are not, but they are all equally interesting and impactful!
November 21: High-Strength 3D Printing Aluminum Al5X1
At 10 am EST on Tuesday, November 21st, EOS will discuss the performance, capabilities, cost benefits, and more of its new Al5X1 "High-Strength Aluminum for 3D Printing." This is the newest addition to the company's aluminum material portfolio, and the lightweight, corrosion-resistant alloy has been tested by several leading aerospace, defense, and semiconductor companies. Attendees will learn all about the material, including its development, anodization process, why it only requires single-step heat treatment with no HIP (Hot Isostatic Pressing), how EOS was able to combine high strength with high elongation, and more.
"Learn more about an aluminum alloy engineered specifically for additive manufacturing (AM), but at a more competitive cost than other aluminum alloys with similar strength and elongation properties. EOS Aluminum Al5X1 delivers excellent performance and material properties with a combination of high strength and elongation."
You can register for the webinar here.
November 21: TriMech Teaches SOLIDWORKS Simulation & Simulia 2024
Also at 10 am EST on the 21st, TriMech will hold a webinar so attendees can "Get to Know SOLIDWORKS Simulation and Simulia 2024." The software now has several new tools for streamlining the sharing of results, as well as new performance improvements that can help reduce simulation time in both the Plastics and Finite Element Analysis tools. TriMech Solutions Consultant Joe McDonough will discuss how the three simulation tools offered by SOLIDWORKS have several exciting new updates that allow you to more easily create mesh, and check its sufficiency. He'll also explain how the Dassault Simulia portfolio can help you grow your business simulation capabilities, using the advanced solvers available through the 3DEXPERIENCE Platform.
"There are many new and exciting simulation updates for SOLIDWORKS 2024. This webinar will go through the most useful updates in all the simulation applications that SOLIDWORKS has to offer including Finite Element Analysis (FEA), Computational Fluid Dynamics (CFD), and Plastics Injection molding analysis."
You can register for the webinar here.
Recordings Available: AM Investment Strategies & 6K Additive/Agile Webinar
Recently, 3DPrint.com held two online events, but we wanted to make sure you knew that if you missed them, there's still a way for you to watch! The first, AM Investment Strategies, was hosted by Additive Manufacturing Research (AMR, formerly SmarTech Analysis) in association with Cantor Fitzgerald, the week before formnext 2023, with an introduction by Vice President of Formnext Sascha Wenzler. Moderated by Troy Jensen, Managing Director at Cantor Fitzgerald, the online roundtable offered an enlightening look at the 3D printing industry's current state and future prospects, with participation from Yoav Zeif, CEO of Stratasys; Jeff Graves, President and CEO of 3D Systems; Arno Held, Managing Partner at AM Ventures; Scott Dunham, Executive Vice President of Research at AMR; and Max Lobovsky, CEO of Formlabs. If you want to watch the recording, just register here.
Just a few days ago, 3DPrint.com hosted a webinar by 6K Additive & Agile Space Industries, all about "Getting to the Moon with AM." Moderated by our Editor-in-Chief Michael Molitch-Hou, the webinar featured Agile's Chief Engineer Charlie Garcia and Senior Additive Manufacturing Engineer Dustin Crouse, and 6K Additive's Chief Commercial Officer Nick Pflugh, as they discussed the specifics of Agile's A2200 engines, which will be used on a lunar lander vehicle, as well as the importance of Ni625 as the 3D printing material of choice. If you'd like to watch the recording, you can register here.
Do you have news to share about any future webinars or virtual and live events? Please let us know!
Subscribe to Our Email Newsletter
Stay up-to-date on all the latest news from the 3D printing industry and receive information and offers from third party vendors.
---
Print Services
Upload your 3D Models and get them printed quickly and efficiently.