In this week's roundup, Stratasys has a few stops on its road trip, and TCT 3Sixty is taking place in Birmingham. There are also webinars about automotive 3D printing, electron beam melting (EBM) technology, personalized drug delivery, and more. Read on for all the details!
3D Printing News Unpeeled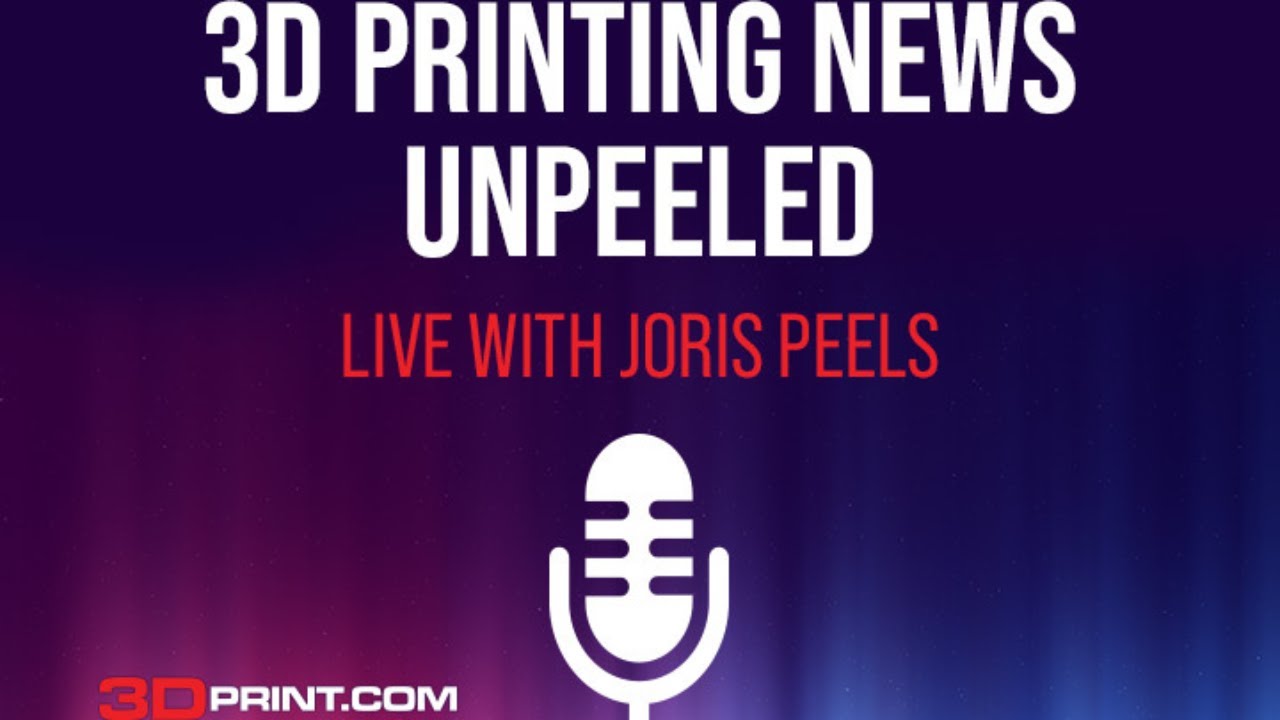 Our Executive Editor Joris Peels, who's also the Vice President of Consulting at SmarTech Analysis, offers a news livestream one to two times a week called 3D Printing News Unpeeled at 9:30 am EST. For each episode, Peels gets on LinkedIn Live and tells us, in 20 minutes or less, what he considers to be the top news stories from the 3D printing industry that week, and why they're important. Some of the stories in his roundup are ones we've covered at 3DPrint.com, and some are not, but they are all equally interesting and impactful.
June 5 – 9: The Experience Stratasys Tour
First up, the Experience Stratasys Tour is hitting the road again for another year. Its mobile showroom gives designers, educators, and manufacturers a convenient way to see the company's latest materials, 3D printers, and solutions. This week, the tour stops twice in Massachusetts, first in Woburn at Dave & Buster's, hosted by Stratasys Direct, on Monday, June 5th, and then in Marlborough, at the TriMech office, on Tuesday the 6th. On Wednesday the 7th, the tour moves to Connecticut for a stop in East Hartford, hosted by TriMech at CCAT. It hits the road again on Thursday the 8th, visiting North Kingston, Rhode Island at the R&D Technologies office. Finally, the tour heads back to Connecticut on Friday the 9th, stopping at the Stony Creek Brewery in Branford, hosted first by GoEngineer and then again by AET Labs.
"Speak with 3D printing experts from Stratasys and our partners to find out how your organization can benefit from 3D printing – whether it's bringing a printer in-house or utilizing additive manufacturing services from Stratasys Direct. Let us show you how Stratasys is leading the global shift to additive manufacturing with innovative 3D printing solutions for aerospace, automotive, consumer products and healthcare."
You can register for the Stratasys Experience Tour here. Stay tuned for more dates and locations in the future!
June 6 – 8: Addit3D, International Trade Show on Additive Manufacturing & 3D Printing
At the Bilbao Exhibition Centre in Spain from June 6-8, Addit3D, the International Trade Show on Additive Manufacturing and 3D Printing, will take place in the framework of the +INDUSTRY industrial platform. As of mid-March, nearly 500 exhibiting firms were confirmed for the 7th edition of this professional trade show focused exclusively on the industrial application of 3D printing. There will be a large exhibition floor, as well as a variety of Additive Talks that will address trending topics and user level cases, including 3D printing software, laser configurations for metal AM, post-processing, and more. Exhibiting sectors include machinery and systems, raw materials, consumables, 3D scanning, 3D print services, AM software, R&D, training and education, and more.
"Thanks to the exhibition area and the conferences, ADDIT3D has become a reference point for the industry and offers a unique opportunity to exchange information and technology, improve competitiveness of manufacturing processes and gain firsthand knowledge on the advances of this technology."
You can register for Addit3D here.
June 6: PPAP for Automotive with Stratasys
It's a busy week for Stratasys, first with its road show and then two webinars. The first of these, "PPAP for Automotive: Qualifying Additive Manufacturing for Real-World Production," will be held at 11 am EST (10 am CDT) on Tuesday the 6th. Attendees will hear from Fadi Abro, Stratasys; Kevin Sheehy, Stratasys Direct; and Luke MacInnes, Roush Performance Products, about how to qualify 3D printing for rigorous real-world production applications. They'll learn how Stratasys harnessed its SAF technology to print automotive production parts for Roush's version of F150, how Stratasys Direct used a Production Part Approval Process (PPAP) to validate the production method and ensure parts would be made to the OEM's requirements, and more.
"Additive manufacturing continues to blaze new trails – validating its use beyond rapid prototyping and into bridge-to-production and production parts. As AM continues to penetrate high-performance industries, scalable production methods that ensure quality and traceability are needed."
You can register for the webinar here.
June 7 – 8: TCT 3Sixty 2023
The UK's most influential 3D printing event, TCT 3Sixty, will take place this year in Hall 1 of the National Exhibition Centre (NEC) in Birmingham from June 7-8, with the inaugural TCT UK User Group meeting being held the day before at the Toute Suite, NEC. Nearly 200 exhibitors are signed up to showcase the best AM technology from around the world, and almost 100 experienced speakers will present across four stages. Other exciting show elements include the dedicated TCT Introducing Stage for new product launches and UK firsts, with presentations from Wayland Additive, Ricoh, Nexa3D, and others; the TCT Knowledge Bar, powered by Additive Manufacturing UK (AMUK); the black-tie TCT Awards on June 7th; TCT Inspired Minds, powered by CREATE Education, for T-Level college students; and much more.
"Our 2023 edition, in its new regular June timeslot, has more exhibitors and more products on the show floor than last year, a broader conference programme, and an array of exciting features too," said Duncan Wood, CEO of Rapid News Group, owners of TCT, said in a press release.

"Over the two days, prospective visitors will be able to get their hands on technology, learn and hear from experts, advance their knowledge and discover the next steps in their additive strategy. Whether you are evaluating the technology for the first time, adopting it into your business or looking to optimise existing equipment that you have, you will find insights and solutions to help move you forward."
You can register for TCT 3Sixty here.
June 7: EBM Processing Freedom with EBM Research Mode
GE Additive will present a webinar on "Unlocking the Full Freedom within EBM Processing with EBM Research Mode" at 10 am EST on Wednesday, June 7th. To learn how to create fully unbound beam scanning strategies, and about the extended flexibility available for EBM processes through EBM Research Mode, attendees will hear from Joakim Ålgårdh, Senior Product Manager for the GE Additive EBM Q10plus platform. Subjects will include the functionality and content of EBM Research Mode, how it can help with accelerated material development, how to visualize a scan strategy, and more, plus get to see a demonstrator case where optimized scanning strategies have been used.
"By utilizing the unique capabilities to rapidly change beam power and position, EBM offers the potential to tailor and optimize microstructures, hence the performance of various material systems. With the possibility to create fully free scan strategies, it will be possible to develop and optimize microstructural control even further; something that facilitates added flexibility in material and process development."
You can register for the webinar here.
June 7: Stratasys on GrabCAD Print Pro
In its second webinar of the week, Stratasys will present "GrabCAD Print Pro: High-Performance Prototypes and Manufacturing at Scale" at 11 am EST (10 am CDT) on June 7th. Shuvom Ghose, Go-To-Market Engineer at Stratasys, will provide attendees with in-depth demonstrations of the new GrabCAD Print Pro, which is the premium version of the standard GrabCAD Print, and help them better understand the software's improved capabilities.
"With enhanced features, you can minimize manpower, costs, and workflow disruptions. GrabCAD Print Pro offers tools that promote traceability, part detail accuracy, automation, and synchronization."
You can register for the webinar here.
June 7: Member Onboarding & Benefits Review for America Makes
America Makes will hold a Member Onboarding & Benefits Review session on Wednesday, June 7th, at 1 pm EST. Laurie Wittkugle, the Membership Coordinator for America Makes, and Tiffany Westbay, Membership Director and Deputy Operations Director, will lead the session and answer questions from attendees at the end.
"Valuable information about engagement opportunities, benefits offered and how to access them through the Member Portal and website, followed by a Q&A session."
You can register for the session here.
June 7: AMEC 3D Printing for Gears with AGMA & Skuld
Also at 1 pm EST on the 7th, the American Gear Manufacturers Association is holding its next free Emerging Tech webinar, "AMEC – A New 3D Printing Option For Gears and More." The AGMA welcomes Sarah Jordan, Co-Founder and CEO of Skuld LLC, which is focused on the new additive manufacturing evaporative casting (AMEC) process, along with other manufacturing innovations. AMEC is a hybrid method that can help solve 3D printing issues like slow deposition rates, high costs, and more. The webinar will show proof of concept gears that have been produced using the technology, go over the AMEC process and explain how it can solve several 3D printing issues, and more.
"Castings have long lead times.  Tooling is a painful expense for small volumes or legacy parts. 3D printing solves these but presents its own problems including high costs, limited materials, difficulty in qualification, and slow deposition rates.  AMEC is a new hybrid process that merges 3D printing with lost foam investment casting."
You can register for the webinar here.
June 8: Personalized Drug Delivery with 3D Printing
Finally, Allevi by 3D Systems will present a webinar about "Personalized drug delivery with 3D printing" at 11 am EST on Thursday, June 8th. Thomas McDonagh, an Allevi applications engineer, will discuss several topics related to pharmaceutical 3D printing, including the limitations of current medicine manufacturing technologies, current challenges and promising applications in the field, the potential of 3D printing for personalized drug delivery, and more.
"This webinar will give listeners an introduction to pharmaceutical 3D printing with a view to how the rapidly advancing technology can address the shortcomings of traditional mass-manufacturing technologies. There is a growing trend in healthcare towards "personalized" treatments in the search for more effective and timely drug delivery which 3D printing has the potential to realize. Attendees will gain a deeper understanding of the potential and promising applications of 3D printing for personalized medicine, alongside the challenges/research opportunities that must be addressed to realize this potential."
You can register for the webinar here.
Do you have news to share about any future webinars or virtual and live events? Please let us know!
Subscribe to Our Email Newsletter
Stay up-to-date on all the latest news from the 3D printing industry and receive information and offers from third party vendors.
---
Print Services
Upload your 3D Models and get them printed quickly and efficiently.