As the first quarter earnings season 2023 draws to a close, a glance at the financial summaries of both voxeljet (Nasdaq: VJET) and Shapeways (NYSE: SHPW) indicates an exciting combination of performance metrics. Although they reported an uptick in quarterly revenues, the companies also incurred net losses and observed shrinking gross profit margins. Moving forward, let's unpack these facets in greater detail and shed light on the forces shaping voxeljet and Shapeways' financial performance.
Shapeways' quarter ending March 31, 2023, was marked by growth in manufacturer registrations, platform engagement, and Software as a Service (SaaS) contract commitments. Indeed, it was the company's highest quarter on record in these areas. Notwithstanding these achievements, the company reported an increase in revenues but also observed a decrease in gross profit margins and escalated net losses and adjusted EBITDA (earnings before interest, taxes, depreciation, and amortization). These dynamics will likely evolve as Shapeways continues its push towards driving engagement on its platform and solidifying its SaaS commitments.
Company revenue increased 8% to $8.2 million compared to $7.6 million in the prior year, beating its expectations and guidance. Considering that revenue growth was primarily attributable to positive contributions from its software offering, CEO Greg Kress told investors during an earnings call on May 15, 2023, that this is a sign that company investments and focused strategic plan centered around its software SaaS sales and enterprise manufacturing solutions will help reach profitability in the second half of 2024.
"We are pleased with our early momentum as we build on Shapeways legacy additive manufacturing business and proprietary software to accelerate growth with a path to profitability," indicated Kress. "In particular, we are achieving traction with our software tools and services and, in the first quarter, saw momentum continuing to accelerate customer acquisition."
Kress expressed satisfaction with Shapeways' progress, particularly the positive reception of its new software OTTO, which aids auto manufacturers in digitalizing their operations. In addition, he noted its value to smaller manufacturers, enabling them to improve customer access, productivity, and manufacturing scope. Likewise, Kress was optimistic about OTTO's market acceptance, noting a 50% Q1 increase in SaaS sales bookings, contributing to future revenues.
Meanwhile, CFO Alberto Recchi attributed the year-over-year decrease in gross margin, from 45% to 40% to inflationary pressures, the adoption of new technologies, and a more varied product mix. As a result, the company plans to execute a cost reduction plan to optimize operating expenses and gross margins.
Shapeways' bottom line reflects a loss in adjusted EBITDA of $6.3 million compared to a loss of $4.3 million in the same period last year. Net losses for the quarter amounted to $7.4 million compared to $4 million in Q1 of 2022. The report also shows an increase in expenses mainly due to personnel costs, the acquisition of MakerOS last year, and the final expenses relating to the manufacturing facility move from Long Island City in New York to Livonia in Michigan.
As a result, Kress indicated that the company has begun executing a cost reduction plan to further reduce operating expense and optimize gross margin and expect to see these savings' positive impact beginning in the year's second half. Whether this move will result in layoffs, as it has for other companies in the industry, we still don't know.
Revenue Rise and Profit Challenges
Voxeljet's financial highlights for the first quarter spotlight a robust, nearly 30% year-over-year surge in revenue. This growth was propelled by a substantial 122.8% rise in systems revenue, primarily attributed to selling one large new printer. While voxeljet generally keeps pricing details confidential, a query by Brian Kinstlinger, an analyst from Alliance Global Partners, during the earnings call resulted in the disclosure of some figures. The company's smaller systems, like the VX200, are priced from Є200,000, whereas the larger VX4000 can cost up to Є1.65 million. In addition, the average selling price falls within the Є500,000 to Є600,000 range, providing deeper insights into the competitive pricing structure of these large-scale 3D printers.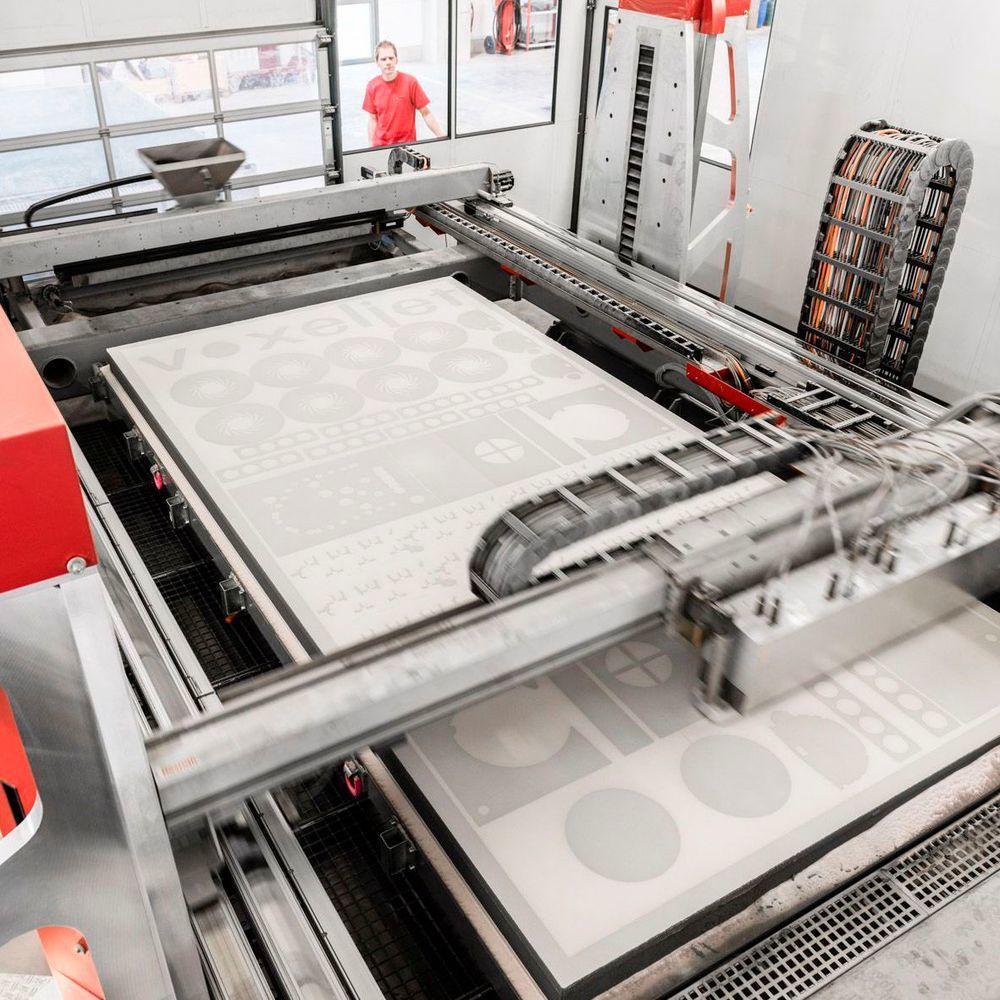 Despite the upward revenue trend, the company saw a slight dip in gross profit margin which slightly fell from 34% to 32%, and was mainly related to lower gross profits from its German and Chinese service centers. It also reported an operating loss of Є2.8 million and a net loss of Є3.2 million, or 34 cents per share, higher than the previous year's same quarter, higher than the last year's quarter.
"We continue to see challenges when it comes to lead times for certain electrical components for our printers, and we are working hard with our suppliers on this topic," suggested CEO Ingo Ederer.
On the bright side, voxeljet's future appears promising, with exciting projects on the horizon. Notably, a collaboration with GE Renewable Energy and Cadillac could further enhance its financial performance.
Ederer shared a schematic of voxeljet's massive new 3D printer with investors. According to the presentation, the upcoming VX9000 BFP, made in collaboration with GE, is expected to be the world's largest binder-jet 3D printer for producing critical components for the next generation of wind turbines called Haliade-X. From the slide (pictured below), the company aims for a build area of more than 60 square meters, more than seven times the build area of voxeljet's currently larger system VX4000. This voluminous build space paves the way for a drastic reduction in the number of separate components required, explained Ederer.
The CEO shared his enthusiasm for the project, with voxeljet taking the reins on the design, mechanical development, prototyping, and eventual commercialization of these new printers. Moreover, Ederer drew attention to several federal initiatives underpinning technologies, such as those in the Haliade-X offshore wind turbines, including a $9.8 billion investment in 2022. This funding landscape could yield significant benefits for voxeljet once their printer becomes operational.
Subscribe to Our Email Newsletter
Stay up-to-date on all the latest news from the 3D printing industry and receive information and offers from third party vendors.
---
Print Services
Upload your 3D Models and get them printed quickly and efficiently.