It's safe to say that, if you know Divergent Technologies is on the bill at a trade show, you need to get to that presentation. At the Additive Manufacturing Users Group (AMUG) Conference in 2022, CEO Kevin Czinger gave a keynote that offered a glimpse into its future vehicle roadmap. This year, as a part of a presentation by Steve Fournier, Additive Manufacturing Department Manager for General Atomic Aeronautical Systems Inc. (GA-ASI), Divergent CTO Michael Kenworthy revealed how the digital production startup designed, 3D printed, and robotically assembled a small drone for the legacy manufacturer. The lecture not only included how the maker of unmanned aerial systems (UAS) has deployed additive manufacturing (AM) in increasingly substantial ways, but also a video showcasing Divergent's robotic assembly technique, which was at least a first for me, if not the public at large.
3D printed parts on display from GA-ASI
Fournier outlined each AM technology GA-ASI is using, how it is using it, and how it may use it in the future. This ranged from more elementary prototyping across the company to large-scale lamination tooling and entire nose cones. Altogether, the firm relies on fused deposition modeling (from small to Big Area AM), selective laser sintering of polymers, laser powder bed fusion (LPBF) of metals, directed energy deposition, and binder jetting. So far, the company has over 240 parts currently flying on its latest UAS, but it is aiming to have 30 to 80 percent of the parts on its small UAS vehicles 3D printed.
"Really, these cool parts you see typically requires a village to come to fruition. So, we need to come to a point where automation—the technology works for us, not us for the technology, right?" Fournier said. "So, making those connection points viable and automated is really the end goal. And additive is in the mix of that. If you bring your design complexity, leverage topology optimization, you combine all these parts, soon you're going to find yourself not being able to manufacture that thing any other way, but with additive, right? So this is where additive becomes an enabling force, not the end goal. And that's the true story here."
As interesting as it was to see such an established manufacturer use 3D printing to such an extensive degree, there was no denying that a large part of the reason the hall had filled was to learn more about the recently announced partnership between GA-ASI and Divergent. The collaboration was a result of a meeting between Fournier and Czinger at last year's AMUG, demonstrating just how well the event seeds these types of relationships. Because Fournier had been looking to weave the digital thread across his AM Center of Excellence, he saw the immediate potential in Czinger's Divergent Adaptive Production System (DAPS), which begins with artificial intelligence-driven generative design moves to the rapid 3D printing of large metal parts on the SLM Solutions NXG XII LPBF system, and then sees those components assembled robotically with industrial arms and specialty adhesive.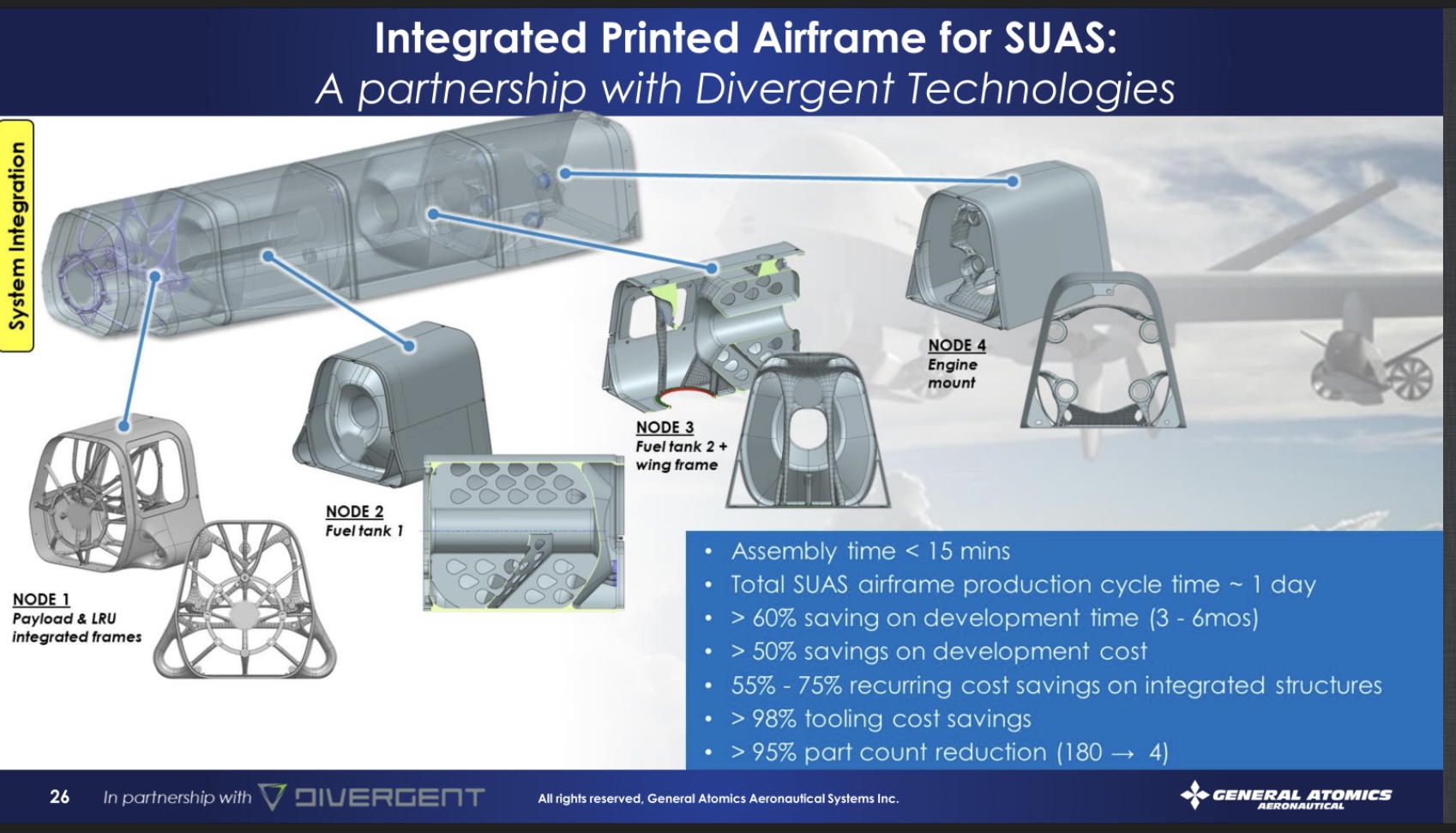 Czinger has previously hinted at the use of this adhesive in the past and glimpses of the assembly system have been made public. This presentation was the first I had seen complete footage of the process in near entirety.
Kenworthy explained, "Ultimately, as Steve highlighted, we're printing structures like this in hours. So, if you have a couple of these printers, you can effectively print a drone a day…which is starting to get interesting."
The numbers associated with the project are astounding. The part count was cut from 180 components to just four, via design consolidation. To assemble all four nodes, each of which could be 3D printed in under 13 hours on the NXGXII, requires less than 15 minutes. In other words, it could take just a single day to build this UAS fuselage. Development time was just three to six months, while development cost was cut by 50 percent and recurring cost savings are estimated to be 55 to 75 percent.
Kenworthy concluded with a point that Fournier's talk had been angling at from the start: the adoption of AM isn't about piecemeal solutions for the sheer purpose of using the technology. It's about a holistic view. Czinger had begun the company to address the need to create a flexible manufacturing process, tackling a systemic problem with a systemic solution.
"You have to build a system level solution to get all of these advantages. You can't focus on just one little piece of the puzzle, solve the whole problem, think at a system level, and deliver that," Kenworthy said.
Subscribe to Our Email Newsletter
Stay up-to-date on all the latest news from the 3D printing industry and receive information and offers from third party vendors.
---
Print Services
Upload your 3D Models and get them printed quickly and efficiently.