We're so used to 3D printing being disruptive that we don't, in my opinion, worry enough about being disrupted ourselves. Much 3D printing news is a seemingly endless me-too copycat conga line so we need to recognize when someone is doing something original. Fortify is doing something original, something original that is potentially disruptive to the 3D printing industry. The company has come out of obscurity to raise over $13 million for an integrated 3D printing solution for fiber-reinforced parts. Fortify is making strong DLP parts and can even align the fibers in these parts. Through correct fiber alignment inside a part, Fortify could potentially create properties that others could not match. Novel fibers could be used to make parts weakly magnetic but only in certain sections for example. Also tougher, stiffer and more durable DLP resin parts may take a traditionally smooth and detailed technology into new applications. Through better microstructural control the company could outperform other players by a significant margin. Boeing was already trying to put SLA parts on aircraft in the mid-nineties, will Fortify make that a reality? Or will light-cured resins always be brittle with low CSTs no matter how many fibers you put in them? Will their technology find broad adoption? Fortify has the potential to be truly disruptive if they through business development find, conquer and commercialize completely new parts and applications in spaces where their technology wins. Or the company could keep on seeking adoption and find only skepticism for a firm going its own way. Either way the company is going to have a very exciting number of years ahead of it. We interviewed Fortify CEO Josh Martin to find out more.
How did Fortify get started?
Fortify spun out of my research at Northeastern University. I completed my P.hD. under Professor Randall Erb at the DAPS (Directed Assembly of Particles and Suspensions) lab focusing on printing advanced composites. Throughout that process, I linked up with a few other engineers (Scott Goodrich, Andrew Caunter, and Dan Shores) at NEU and we decided to commercialize the technology. Around the same time,  Karlo Delos Reyes (one of Fortify's Co-Founders) brought funding to the University for graduate students to turn their research and technology into a company (what is now called the Origin Program). We were lucky that the additive manufacturing space was gaining acknowledgement and needed new materials to continue serving a variety of industries. All of these pieces came together and propelled us to join MassChallenge (the largest accelerator for startups) where we were the 2016 Gold Winner. Since 2016, we've closed two rounds of Venture Capital financing, totaling $13M.
What is it that you do?
Fortify is creating engineering solutions by leveraging fiber reinforced additive manufacturing. We are commercializing DCM (Digital Composite Manufacturing), a platform that combines software, hardware, and materials for a fully integrated additive solution that will replace many bulk machined parts and enable new levels of performance through 3D printing.
How does it work?
The Digital Composite Manufacturing platform leverages traditional digital light projection technology to print accurate parts with high resolution. Our hardware system leverages new types of processing to print filled UV curable resins. Particle alignment and process control is driven by our software, which can utilize finite element analysis to optimize the end product.
How do you optimize for microstructural control?
Control over the microstructure is driven by our electromagnetic alignment technology – fluxprint. Optimization is reached by simulation based techniques, which allow us to use boundary conditions on a part to predict a best-case alignment protocol.
How do you align the fibers?
Our electromagnetic alignment technology – fluxprint – allows for control over the orientation of our reinforcing additives. Part of our unique value add is the ability to tailor the response of a number of different reinforcing materials.
So these are short fibers? 
In most cases, yes. Using aligned short fibers allows us to strike a unique balance of mechanical performance and processability.
Does this mean that you can also do magnetic parts?
Yes, this would be quite easy for us to accomplish. It's worth mentioning that we currently tailor our materials so that the end-part has no bulk magnetic response.
How do your parts compare with traditional composites?
Traditional continuous fiber composites involve many labor intensive processes to achieve very high levels of performance. Applications that require large structural components (such as wind turbines and airplanes) will continue to leverage the traditional composite supply chain. However, for smaller and more complex parts, the cost to manufacture traditional composites often outweighs the performance benefit. Fortify is excited to bring our materials into these types of applications. Short fiber-filled engineering materials, such as glass-filled Ultem or PEEK, can be processed into more complex parts while providing valuable performance gains. However, these materials still present challenges that require machining operations and impose design constraints. Fortify is targeting a material performance-processability space that will directly compete with short-fiber filled engineering resins, and bridge the gap between filled engineering polymers and traditional composites.
Which materials can you do?
We are currently focusing our development on a number of ceramic reinforcements. We combine this with engineering thermosets from well known industrial suppliers like Henkel, DSM, and BASF.
Aren't these DLP materials too brittle?
Thermoset materials used in DLP technologies have made tremendous progress towards improved toughness. Fortify is excited to improve performance measured by fracture and impact toughness using our alignment technology.
Can you produce parts with a lot of cross-sectional area?
Yes, Fortify is not limited to printing latticed parts. Most of our injection mold tools are printed with a fully dense cross-section.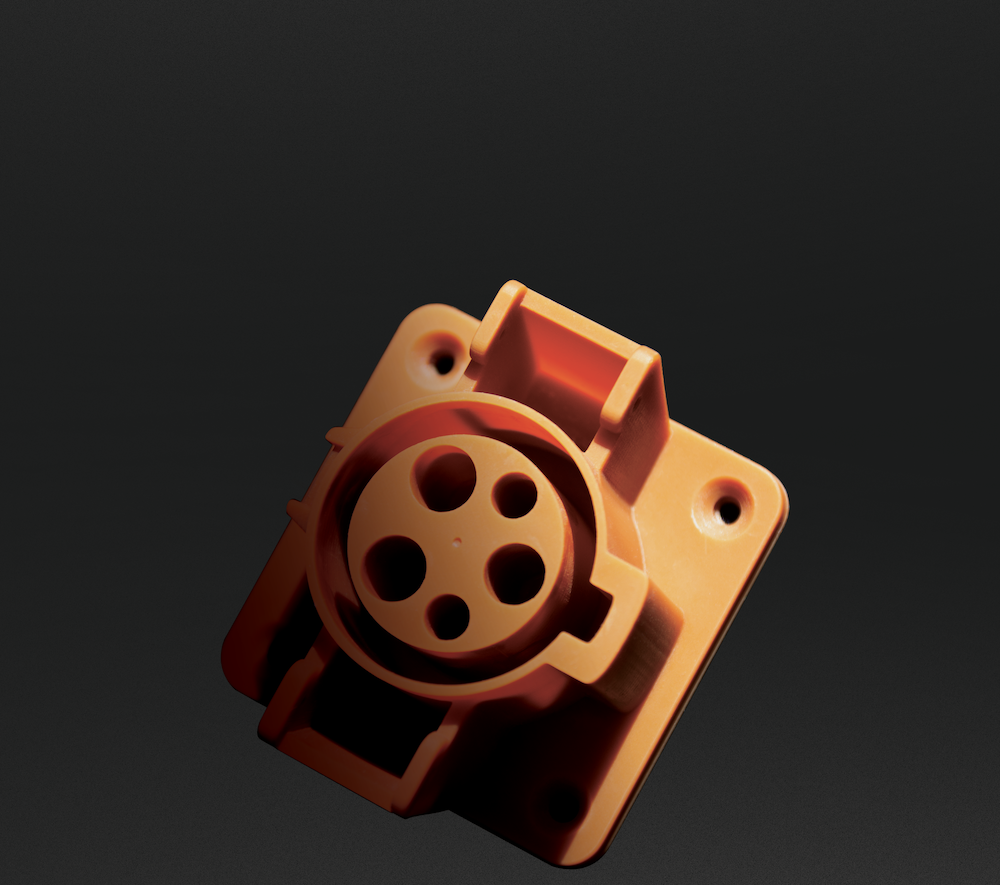 Is it problematic that composites are difficult to recycle?
It has been a focus of the industry for a while now. There are new recyclable thermoset systems coming to the market, but the performance keeps them from competing with the incumbent supply chain. Fortify is keeping an eye on this space, because we believe our additive technology could be used to bridge the gap, enabling fiber reinforced recyclable systems that can compete on a performance basis with traditional materials.
What are some of the emerging applications?
Our beachhead application at the moment is injection mold tooling. This is an application sought after by the 3DP space for a few decades. The relatively low adoption barrier makes it a great entrance into the market to allow us to prove our technology as we develop for production parts. Fortify is excited to develop towards applications that need better performance at temperature, such as electrical connectors, as well as other industries that require precision parts with wear resistance, such as gears and electromechanical components.
Will you sell machines, be a service?
We are looking to provide hardware systems and consumables to OEM's and contract manufacturers.
Who are you interested in partnering with?
We are actively seeking beta program partners. The perfect partner would be an organization that isn't completely new to additive, so has some familiar background, and has an exciting application that fits the small, complex geometry, high mechanical application space. This is an exciting time to join the Fortify network as we continue to prove our technology for EUP and streamline production and manufacturing for composites in real world applications. 
What advice do you have for a company new to 3D printing that wants to use it for manufacturing?
Get the right decision makers involved from the beginning when identifying areas of the business that would benefit from the use of additive. Each use case likely has a bias towards a particular technology. Once that technology is identified, it will take dedicated resources to validate and exercise the use case.
Subscribe to Our Email Newsletter
Stay up-to-date on all the latest news from the 3D printing industry and receive information and offers from third party vendors.
---
Print Services
Upload your 3D Models and get them printed quickly and efficiently.