At 3DPrint.com, we publish a lot of stories over the course of a year; 2,500 in 2017. As the news comes in and goes out to our readers, we take note of what trends are happening in the 3D printing world, but we can never fully predict which stories are going to stand out with audiences. It's interesting to take a look back at the end of the year and see just what stories resonated the most with readers, which ones were the widest-read by traffic. So as a new year of news begins, we looked back at 2017 to see what readers latched on to the most.
Here are 10 of our most widely trafficked stories from 2017.
10. 3D Printing While Female: 2017
This story was a follow up to 2016's
3D Printing While Female
, and looks at where we are right now as an industry in terms of diversity. There are still many challenges facing women in the 3D printing and general tech worlds, but progress is being made, as many of the women in our
Spotlight on Women
series have showed.
9. Exclusive First Look: GE Additive to Introduce Scalable Binder Jet Additive Manufacturing System
At the beginning of December, 3DPrint.com was invited for an exclusive first look at
GE Additive's
new binder jet additive manufacturing system.
The team
was challenged to deliver a new system on a tight deadline, and they did it on time and under budget, producing an impressive system we're looking forward to seeing more of in the future.
8. 3D Printing the Future of Surgery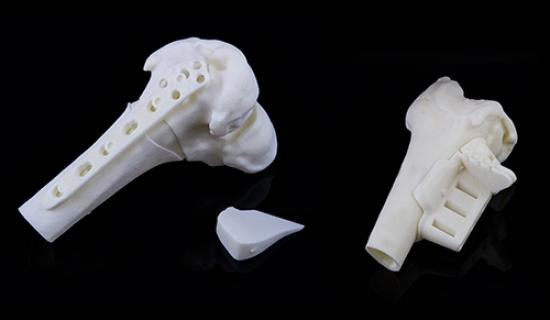 This article looked at how 3D printing is affecting surgery – and it's affecting it in big ways. From patient-specific surgical guides to 3D printed implants, the technology is allowing for faster, more accurate, and overall more successful operations with better rates of recovery.
It's good to have some guidance when it comes to buying a 3D printer, because it's tough to sort through all of the different types and models out there. This 3D printer guide was our way of sharing with you the 3D printers we find worth buying, and why, in order to help those in the market for 3D printers make informed decisions.
6. Markforged Goes Metal: Introducing the Metal X 3D Printer, Featuring New Atomic Diffusion Additive Manufacturing Technology
Markforged
, known for its high-strength carbon fiber 3D printers, introduced its first metal 3D printer at the beginning of the year, and with it an entirely new metal 3D printing technology. People were, needless to say, quite excited.
5. HP to "Double Down" on Commitment to 3D Printing in 2018, Introducing Full Color and Metal Capabilities
In October, HP Inc. previewed what people can expect from the company in 2018, and that included both metal and full-color plastic 3D printing. HP caused a great deal of excitement when it introduced its Multi Jet Fusion 3D printing technology in 2016, and the company has now announced that it plans to focus even more on 3D printing, bringing new innovations to the market.
4. Apis Cor 3D Prints a House in 24 Hours and Creates a Technological Showcase
3D printed construction company Apis Cor took a mere day to 3D print this habitable house, which featured cutting-edge technology supplied by a number of partners. The house demonstrated the effectiveness of Apis Cor's 3D printing technology, which is efficient, effective and requires almost no human intervention.
3. For the First Time in India, 3D Printed Titanium Vertebrae Restore a Woman's Damaged Spine
A 32-year-old woman with tuberculosis of the spine suffered severe damage to her first, second and third cervical vertebrae, threatening her with paralysis and even death. But a team of surgeons replaced her damaged vertebrae with a 3D printed implant, allowing her to walk normally. It was the first time such a surgery had been performed in India.
2. The Top 10 Most Significant 3D Printed Things
We gave you our opinion on what the top 10 3D printed things ever were, then we asked you to give yours – resulting in an inarguable, undeniable, 100% set-in-stone list of what are the most significant 3D printed things in the history of the world.
This article, along with this one, explored what happened with the now-infamous Tiko 3D printer Kickstarter campaign. The campaign was insanely successful back in 2015, but then the Tiko team was unable to deliver. Finally, at the beginning of this year, the company announced that they would be freezing operations; in November, they finally called it quits for good.  It became a cautionary tale that led many people not to trust crowdfunding campaigns, although as we've seen from many other campaigns throughout the year, people are still willing to bet their money on a good-looking product.
Honorable Mention
It's not an article, but aside form our homepage our most-trafficked page throughout the year was the landing page for our educational courses. We've enjoyed providing 3D printing learning opportunities for you this year, and we look forward to offering more in 2018!
What were your favorite stories in 2017? Let us know at 3DPrintBoard.com or below.
Subscribe to Our Email Newsletter
Stay up-to-date on all the latest news from the 3D printing industry and receive information and offers from third party vendors.
---
Print Services
Upload your 3D Models and get them printed quickly and efficiently.