Recently, we reported that Robo, the company previously known as Robo3D, was launching a Kickstarter for their soon to be released R2 and C2 3D printers. The printers are a departure from their first printer, the R1. While the R1 and the upgraded version, the R1+ (which is currently for sale on the Robo website), are open-frame machines with a moving bed, the R2 and C2 printers are enclosed and feature numerous improvements, including Wi-Fi capability and interchangeable heads. The R2 can even be upgraded to do dual extrusion (it comes standard with a single extruder).
It didn't take long for Robo to reach their funding goal of $100K. It was funded 100% within the Kickstarter campaign's first 3 hrs. By the time the Kickstarter ended, Robo had raised a total of $382,207. According to Robo, the top countries for backers were the US, Canada, Australia, Russia, UK, Germany, Mexico, France, Japan, and Netherlands. 63% of the funding raised was for an R2 3D printer, 22% for both machines, and 15% for the C2. Backers of the $1,499 C2/R2 bundle reward can expect to receive their C2 first, with the R2 shipping at a later date.
Robo also had some news and renders of the interchangeable print heads, which will work with both the C2 and the R2. There will be a laser engraving attachment and a paste extruder capable of printing clay, food, conductive ink and ceramics. While there are no updates yet on the cost of these upgrades, Robo says they'll work to keep the prices down, so that they are within reach to more customers.
The Robo C2 and R2 don't just have great hardware, they also have some pretty cool stuff on the software side. Rather than lock their consumers in to proprietary software, they are making everything open-source. Robo is using a custom ATMEGA board that was designed in-house, running the latest version of Marlin firmware. The all-in-one board is designed to be future compatible with planned add-ons, and the source code will be hosted on GitHub for users to modify as they wish.
The RoboOS is a Linux operating system that runs on a Raspberry Pi 3, and features open-source printer server OctoPrint at its core. In fact, many of the impressive features of the new printers are built around OctoPrint, including Wi-Fi and hotspot control, on-board STL slicing with CuraEngine, as well as video monitoring which is stock on the R2 and upgradeable with the C2. The LCD interface, which they call RoboLCD, is controlled by a Python app. Among other things, it allows you to easily set the Z Offset for leveling, has a filament change wizard that I assume works with the filament run-out detection system, and gives users full motor and temperature control and includes cold extrusion warnings and temperature limits.
Probably one of the most anticipated software programs for the Robo R2 and C2 is the Robo iOS app (Android version to be released at a later date). Beta testing is now open. Testers will get to try its Google Drive and Dropbox integration. All you have to do is link your cloud storage accounts to the Robo app to select either GCODE or STL files and send them to your printer!  There's also override control for CuraEngine, so you can set temperatures and infill density, and add a raft or even supports that will override your slicing profile presets in Cura. It also gives you complete manual control of the motors, heaters, fan and more, right from your iPhone. You can access all the files that are stored on the printer and even delete them through the app if you so desire.
The Robo App isn't limited to the R2 and C2 printers, which haven't been released yet. You can control any OctoPrint enabled printer through the app. Even if you don't have OctoPrint yet you can still check out the app in demo mode to see all it has to offer. Pretty neat!
"We are giving early access to the Robo App so our community can give us feedback on the app flow, suggest new features as well as uncover any potential bugs," said Braydon Moreno, Robo CEO and co-founder, "The app will be able to communicate with any printer running Octoprint, so it's not dependent on the brand of your printer."
There's a lot to like about Robo's new 3D printers and their software, especially the Robo App. If you want to beta test the app, you'll have to act quickly. The Robo App Beta Program will be limited to 2000 testers, so sign up today!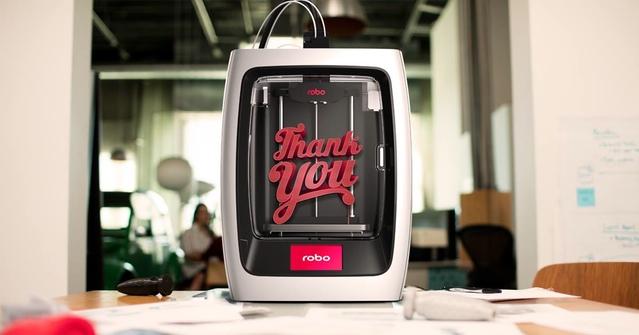 Subscribe to Our Email Newsletter
Stay up-to-date on all the latest news from the 3D printing industry and receive information and offers from third party vendors.
---
Print Services
Upload your 3D Models and get them printed quickly and efficiently.