There are a million and one uses for a 3D printer in the home. From decorations to utensils to toys, a 3D printer in the home can help you make all kinds of unique items that you just can't get anywhere else. Your kitchen is no exception; in fact, there are tons of amazing kitchen gizmos, gadgets and tools that are both easy to 3D print and can save you time and money by making them yourself.
A few weeks ago I was looking for something to hold my spatula, as the spoon dish that I had on my cooktop didn't fit the shape of a spatula very well, often resulting in a mess. It didn't take me long to find a perfect 3D printable holder that solved all of my problems. It held the spatula tight, and prevented huge messes on my counter tops while cooking. That inspired me to find more 3D printable projects and tools for the kitchen, and I think I came up with some winners.
Here are Ten 3D Printable Kitchen Things:
---
CUSTOMIZABLE BAG CLIP
Customizable Bag Clip by Walter Hsiao
Found on: MyMiniFactory
Cost: Free
This simple bag clip may not seem all that special at first glance, but it's been designed to be completely customizable. Not only can you 3D print the clips in any color filament so they match your kitchen, but the clip can also be printed in any size that you need. They can even be customized with labels, including braille.
The obvious use for these clips is for food bags like chips and bread, but they can really be used all over the house. They make great cable and cord wranglers, can be used as identification tags for bags and even work as a sturdy clothespin alternative.
---
SPATULA HOLDER
Found on: Thingiverse
Cost: Free
This simple model is probably the most used 3D printed item that I have in my home, because I use it just about every time that I cook. It's really useful, keeps your spatula handy without needing to lay it down on the counter, and it's small enough that it's easy to store away when not in use.
I wouldn't leave it on top of your stove when the cooktop is on, though; the PLA can get a little soft if you're not careful. But if it does get a little melty, who cares; it will only take a little over an hour to print a new one.
---
PUZZLE BACKSPLASH KITCHEN ORGANIZING SYSTEM
Found on: MyMiniFactory
Cost: Free
This puzzle patterned modular organizing system is an easy and inexpensive way to add some color and unique style to your kitchen or office. The puzzle pieces can be printed in any colors and assembled in a wide variety of layouts and configurations depending on the space available and your individual needs.
The parts can be assembled just as a simple backsplash, or they can have several functional elements printed on them, including hooks to hang utensils and several differently sized pots for storage.
---
EGG SEPARATOR
Egg Separator by Lloyd Roberts
Found on: MyMiniFactory
Cost: Free
This simple egg separator was made by an enterprising MyMiniFactory user to see how he could marry standard 3D printing filament with flexible materials like NinjaFlex. The result is such an easy-to-use kitchen tool that once you give it a try you'll wonder how you ever lived without it. The gadget is a really simple concept that prints in two parts: the nozzle is printed using standard PLA filament while the rest of the egg is made using flexible filament.
To separate eggs, just squeeze the gadget, put the nozzle up to the yolk of the egg and let go; the yolk will be sucked up, leaving the egg whites behind. Then you can use whatever part of the egg that you like, and finally make that all egg-yolk omelet that you always wanted to try. Just kidding, do not make an all egg-yolk omelet. You'll die.
---
SPAGHETTI PORTION MEASURING TOOL
Spaghetti Measure Tool by DESODesign
Found on: Thingiverse
Cost: Free
Whenever I make pasta I am constantly throwing away excess noodles because I have a bad tendency of making too much. It's pretty hard to eyeball exactly how many noodles will be needed, and the end result is too many noodles or too much sauce.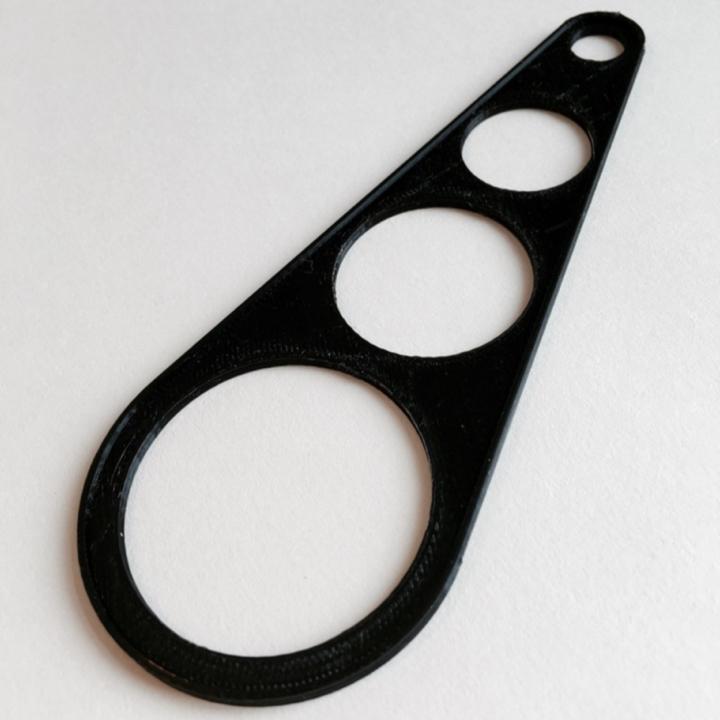 This simple tool can save you from wasting so much pasta with its simple design. Just fit the noodles through one of the three holes. Each hole corresponds to a serving size: either 1 portion, 2 portions or 4 portions.
---
SEED SEPARATING POPCORN BOWL
Popcorn bowl with seed separator by Mac Reiter
Found on: MyMiniFactory
Cost: Free
There is nothing more enjoyable while watching a movie than grabbing a handful of popcorn and shoving it in your face until you've managed to force it all into your mouth. It's one of those little joys in life that we often take for granted. Of course all that joy turns to misery when you accidentally grab a few unpopped kernels and end up with chipped teeth.
But this popcorn bowl includes a simple straining device that allows the unpopped kernels to harmlessly be separated from the popped kernels. Just shake the bowl a little bit and the kernels will simply fall into a reservoir at the bottom of the bowl. Just make sure that you're using food-safe PLA when you print it. There is also an OpenSCAD file included so you can alter the size of the bowl to fit whatever printing envelope you have.
---
WINE GLASS HANGER
Found on: MyMiniFactory
Cost: Free
If space is at a premium in your kitchen and you drink a lot of wine, then these 3D printable wine glass hangers are a great solution to conserve that valuable real estate. Just screw a few of these under your cabinets and slide your stemware in. The glasses will be kept out of the way, and because they are inverted they will remain dust free.
The stemware hangers can also be installed inside of a cabinet if you would rather keep everything contained, and they work exactly like they do when you see these types of hangers at a fancy bar. Just slide the bottom of the glass into the hanger and gravity will do the rest.
---
UNDER CABINET WINE BOTTLE HOLDER
multi position wine bottle holder by Makamaka
Found on: Thingiverse
Cost: Free
And while you're storing your wine glasses, you can keep a few bottles of wine safely stored underneath your cupboards along with them. These simple wine bottle holders will store bottles of wine safely out of the way and yet still close enough to grab a bottle quickly in the event of a wine emergency.
These holders can be 3D printed to match existing colors in your kitchen, or just in a neutral color to make them invisible. The simple design is super easy to install and simply screws up under any cabinet using 4 screws. The holder can be oriented to point the bottle in virtually any direction. The STL files even include a screw template so you won't have to guess where to place the screws.
---
CLOUD-SHAPED POWDER SHAKER
Cloud Shaker by Simone Fontana
Found on: MyMiniFactory
Cost: Free
You can put any powdery spice that you want into this cute cloud-shaped shaker. Salt, pepper, sugar and even leafy spices like oregano or basil will work. Just fill up the cloud, flip the switch to one of two different positions and you'll be ready to rain your favorite flavors down on your food.
It occurred to me that while this could be used for anything, it's perfect for something like powdered sugar or cocoa powder. Whether you're flavoring coffee or decorating pastries, this shaker is a cute way to do it.
---
MODULAR BACKSPLASH SYSTEM
Prism: A Modular Backsplash System by MinnesotaMade
Found on: Thingiverse
Cost: Free
If you liked the idea of the Puzzle Backsplash, but the design was too whimsical for you, then here is a great alternative. The modular Prism system is actually a very modern design, but depending on the colors that are used to print the parts it almost has a retro 70's vibe to it. By mixing and matching various colors, you could build a stunning backsplash that will be bold and bright, or one that has muted and neutral colors.
Other than the style, the Prism backsplash has essentially all of the same features as the Puzzle backsplash. That includes a customizable design, the ability to fit into a space of almost any size, and options like utensil cups and towel hooks.
---
Okay, that's it for this week. Thanks as always for reading and make sure that you update me on all of the 3D printing projects that you're working on, I love to see what you have extruding. You can email me or find me on Twitter @SJGrunewald.
Also, a quick note: A few days after I shared my list of 10 3D printable Suicide Squad models, the creator of one of the designs (the Harley Quinn handgun) took his STL files down and is no longer making them available for download. I'd just like to save you some time; I'm afraid that I no longer have those STL files. I only downloaded them to check out and then deleted them when I was done with the article. I very rarely keep STL files unless it's for something that I intend to 3D print myself.
It is also worth mentioning that I try to respect the will of the creator as much as possible, and that includes respecting any sharing or distributions licenses. So please don't contact me asking if I have any files that are no longer available, I'm afraid that I would feel very uncomfortable sharing those files against the wishes of the creator even if I still had them. Thanks for understanding and happy 3D printing!
Subscribe to Our Email Newsletter
Stay up-to-date on all the latest news from the 3D printing industry and receive information and offers from third party vendors.
---
Print Services
Upload your 3D Models and get them printed quickly and efficiently.