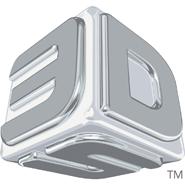 The last couple of years have been nothing short of a rollercoaster ride for the Rock Hill, South Carolina-headquartered 3D printing company 3D Systems. After showing continuous loses throughout 2015, former CEO Avi Reichental decided to step down back in October, and was replaced by former HP Executive Vyomesh Joshi, who soon-after laid forth a well-formulated plan to bring financial stability to 3D Systems. The year continued on with even more upper management shake-ups, as former COO Mark Wright and CMO Cathy Lewis both resigned, while former Kodak Executive John McMullen joined ranks as the new 3D Systems CFO.
Despite the massive changes in upper management, 3D Systems' 2016 financial reports seem to tell the same downtrodden story, at least for now. Their first quarter results revealed that increasing revenue losses and high operating costs were plaguing the company's success, while the recently released second quarter financial report proved to be a bit more optimistic, but 3D printer sales continued to keep the company in the red. Suffice to say, it hasn't been the easiest year for the 3D printing giant, and the latest bit of news regarding them seems to show more potential trouble on the horizon.
As Joshi attempts to drag 3D Systems back to prominence, yet another potential obstacle has risen in the way, this time in the form of an impending investigation and class action lawsuit. The Shareholder Rights Law Firm Johnson & Weaver, LLP is investigating potential violations of both federal and state securities laws by 3D Systems, as well as certain officers and board members. The court recently denied a motion to dismiss the class action lawsuit filed against 3D Systems, which could potentially leave them in more hot water with their already disgruntled shareholders.
According to Johnson & Weaver representatives, the class action alleges that the 3D Systems issued false and misleading statements regarding their ability to increase the capacity of its metal printing business, the actual demand for its consumer products, the value of multiple companies that they were acquiring, as well as their expected earnings. According to the class action suit, these allegedly false and misleading announcements about the 3D Systems' prospects led its shares to be traded at artificially inflated prices.
Johnson & Weaver released a statement to shareholders potentially looking to take action against 3D Systems:
"If you are a long term shareholder, continuously holding shares before November 2013, you may have standing to hold 3D Systems harmless from the damage the officers and directors caused by making them personally responsible. You may also be able to assist in reforming the Company's corporate governance."
Long-term 3D Systems shareholders who wish to discuss their rights are encouraged to contact Johnson & Weaver's Jim Baker by email (
jimb@johnsonandweaver.com
) or by phone (619-814-4471). The civil suit is still in its early stages, and the extent of the wrongdoing remains to be seen, but the impending case leaves Joshi and 3D Systems with yet another dilemma to overcome. Still, not all is lost for the 3D Systems and their legacy, as their second quarter showed strength in their healthcare solutions and slight improvements in their overall numbers. Regardless of the civil suit's outcome, 3D Systems has their work cut out for them, and they're likely going to need the shareholders on their side. How do you see this turning out? Discuss further in the
3D Systems Lawsuit
forum over at 3DPB.com. [Source:
Johnson & Weaver
]
Subscribe to Our Email Newsletter
Stay up-to-date on all the latest news from the 3D printing industry and receive information and offers from third party vendors.
---
Print Services
Upload your 3D Models and get them printed quickly and efficiently.