The 3D printing space can seem a fickle mistress, with huge promises and sometimes huge disappointments to go along with them. While many of the major players in the additive manufacturing industry have made promises to the moon and back, few have carried through on every aspect of their presented courses of action. One of the indisputably biggest names in the field has long been 3D Systems (NYSE:DDD), which has seen its fair share of highs and lows in recent history. Operations and the company's reputation have both been held back by lawsuits and other hiccups–such as earlier this week losing an $11.3 million arbitration.
It is amidst a background of swelling rumors and subpar stock performance that today the announcement has been made that 3DS President and Chief Executive Officer and Company Director Avi Reichental has stepped down, "effective at the close of  business on Wednesday, October 28, 2015, by mutual agreement with the Company's Board of Directors."
"We are profoundly grateful for the visionary leadership Avi has provided to our business and to our industry, and we wish him well in his future endeavors. As our industry continues to evolve and we look to the future, we are focused on aligning our resources and programs to best serve our customers and are excited about the many opportunities ahead," said Charles (Chuck) Hull, 3DS' Co-Founder, Director, Chairman of the Executive Management Committee and Chief Technology Officer.
Effective immediately, Hull will be stepping in to chair the Executive Management Committee. Hull, the creator of the first 3D printer, will be joined in his efforts on the new leadership structure by Interim President and CEO Andrew Johnson, as well as Executive Management Committee members Mark Wright and David Styka. Each of these will retain his current role within the company, as Johnson continues to serve as Chief Legal Officer; Wright, Chief Operating Officer; and Styka, Chief Financial Officer.
While Johnson will serve now as the interim lead, the Board of Directors is beginning a full search immediately to select a permanent President and CEO to stick with 3DS.
"Over the past 12 years, Avi has helped build 3D Systems into a global leader in 3D design and digital fabrication and we thank him for his many contributions," said G. Walter Loewenbaum II, Chairman of the 3DS Board of Directors. "We are fortunate to have such a knowledgeable and capable leadership team already in place that can execute on our strategic initiatives while we identify the right individual to lead 3D Systems into a new era."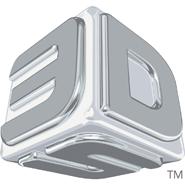 Immediately following the announcement, Reuters revealed that DDD shares have dipped seven percent in premarket trading.
What this move will mean for the future of 3DS is unclear as yet, while news continues to surface.
We've heard recent rumblings of other moves at the company that don't bode well, such as the alleged announcement yesterday that at least one facility will be closing down in the first half of 2016. A source told us that this was announced as a "cost savings measure" in the Andover, MA facility, which employs 80-120 people.
At the same time, I was touched by 3DS' Design Director Scott Summit's enthusiasm and optimism at last week's Inside 3D Printing Conference, in which he presented a keynote touching on the importance of people to 3D printing. Whether this spirit is shared by the company as a whole remains to be seen, as we continue to closely follow the latest.
"I am deeply grateful to have had the opportunity to lead and build this fine company for the past 12 years, and I am excited about its future," said Reichental in the official announcement.
What are your thoughts on this breaking news?  Discuss in the Reichental Resigns forum thread on 3DPB.com.
Subscribe to Our Email Newsletter
Stay up-to-date on all the latest news from the 3D printing industry and receive information and offers from third party vendors.
---
Print Services
Upload your 3D Models and get them printed quickly and efficiently.