Now that Halloween is officially over, we find ourselves on the verge of entering Christmas cookie season, so what better way to help you all bake the coolest and most unexpected cookies than show you the ten best 3D printable cookie cutters to spice up your holiday cookie exchange!
[Also please note that not all 3D printing materials are deemed food-safe, so be sure of what you're using to print!]
---
3D SPACE SHUTTLE COOKIES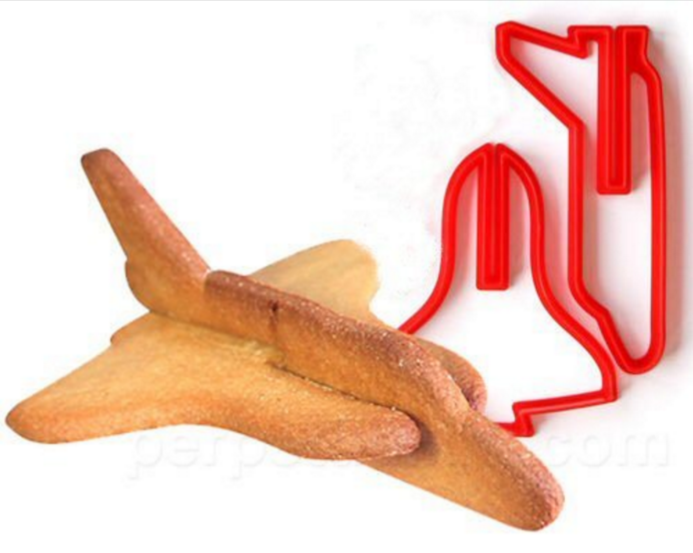 Space Shuttle 3D Cookie Cutter by animus
Found on: Thingiverse
Cost: Free
NASA may have discontinued their space shuttle program, but for many of us space nerds the shuttle will forever be the symbol of the space program. This set of two cookie cutters is designed so after baking both parts snuggly fit together and create a 3D space shuttle that can be launched directly into your mouth.
---
POO EMOJI COOKIES
Poo Emoji Cookie Cutter by CrimsonManeCreations
Found on: Etsy
Cost: $7.34
Okay, so maybe the idea of eating something in the shape of poo isn't the most appetizing, but it's hard to ignore the fact that the poo emoji is kind of adorable. And if you're really grossed out, then you can always make these and give them to people that you don't like with a sweet note attached telling them to eat poo. Are you being nice and making clever baked goods, or just being passive agressive? Only you'll know!
---
3D T-REX COOKIES
3D Dino Cookie Cutters – TRex by raccoonandcookie
Found on: CGTrader
Cost: $3.00
Has anyone else ever wondered if the people who live in the Jurassic Park world have ever tried cooking up some dino patties and making themselves a T-Rex burger? I've tried alligator and it tasted like dry chicken. Would a dinosaur taste like chicken, or because they are all genetically grown clones would they taste like chemicals? So it's just me who thinks about this stuff, huh? Well I'm sure that we can at least all agree that a T-Rex shaped cookie would be delicious thanks to this 3D printed cookie cutter.
---
INTERCONNECTING ESCHER BIRDS
Escher Cookie Cutter by bpijls
Found on: Thingiverse
Cost: Free
I'm sure everyone has seen the amazing artwork of MC Escher, but if not then you really should look up some of his incredible art. While he explored lots of media in his long career, he is incredibly well known for his drawings of geometrically shaped animals that would fit together exactly when reorientated. These bird-shaped cookies are from one of the most famous examples of these drawings, and as hard as it must have been for Escher to draw them, it would be that incredibly easy for me to fit them all together in my stomach.
---
PENIS-SHAPED COOKIES
3D Printed Penis Cookie Cutters – Set of 3 by NBNLingerieBoutique
Found on: Etsy
Cost: $9.99
Obviously I don't need to explain the proper use of these penis-shaped cookie cutters. Clearly they were invented so you can passive aggressively give them to the same person that you gave your Poo Emoji cookies to. Are you coming on to them? Are you just making a joke? Or are you telling them to eat a bag of… uhm, cookies? Once again, only you'll know.
---
MUSTACHE COOKIES FOR MOVEMBER
Mustache Cookie Cutters by dhulihan
Found on: Thingiverse
Cost: Free
Are people still doing Movember? It was all the rage for the last few years–the gist is, men grow out the facial hair that they typically shave in order to raise awareness for prostate cancer. It's a good cause that helps men learn about a serious health risk that they need to take seriously, but is also an excuse to not shave for a month. (Unless you're cool like me and never shave.) And if you find yourself follically challenged then you can just bake a bunch of mustache-shaped cookies and hand them out to other dudes while reminding them to get their bits checked out by a doctor.
---
THE FINGER-SHAPED COOKIES
Middle Finger Cookie Cutter by anonymous101
Found on: Shapeways
Cost: $19.99 and up (Depending on material)
Wow, the third cookie that I found that would be useful as a passive aggressive insult to the person that you bake them for. I may have anger issues mixed with the inability to be upfront with my feelings. Stop psychoanalyzing me! I'll bake you some pastries if you don't stop it!
And I just realized that these would also make great companion cookies for the Movember cookies above, and would really sell the 'get your prostate checked' message.
---
PUZZLE PIECE COOKIES
Puzzle Piece Cookie Cutters Set by The3DPrintStore
Found on: Etsy
Cost: $6.50+
No, I didn't pick these cookies because I think it would be good to give them to people who confuse you, I said stop psychoanalyzing me. But that would seriously be a good reason to give them to someone. Also, I would imagine it would be fun to put all of the cookies together in a pattern and draw a big picture on them. And the picture could be of a middle finger or something. Or a cat maybe. I dunno, use your best judgement.
---
THE WALKING DEAD COOKIE CUTTERS
Zombie Gingerbread Men Cookie Cutters by Jim Rodda
Found on: 3DShare
Cost: Free
Okay, stop it, everyone loves zombies and it seems like everyone is watching The Walking Dead, so this would not be confused for a threat at all. The set of two cookie cutters includes a walker cookie cutter and a fleeing victim cookie cutter.
---
PIRATE SKULL AND CROSSBONES COOKIES
Jolly Roger Cookie Cutter by Daniel Norée
Found on: MyMiniFactory
Cost: Free (Or $5.00 if you want them printed for you)
Arrrrrr, these are the perfect cookies for Talk Like a Pirate Day, or for the release party of the next Pirates of the Caribbean movie that you're planning on throwing. Or, yes, as a threat I guess, but that isn't what I was thinking when I found this I swear. Also, it's really weird that I keep talking about baking cookies for people that I don't like.
Oh man, I do need therapy don't I?
Subscribe to Our Email Newsletter
Stay up-to-date on all the latest news from the 3D printing industry and receive information and offers from third party vendors.
---
Print Services
Upload your 3D Models and get them printed quickly and efficiently.