The development of a video game is probably the last place that you would think to find rapid prototyping being used, but it turns out 3D printing played a key role in helping the game designers from Fallout 4 feel as real as possible. Mister Handy, the floating, nuclear multi-armed robotic butler, isn't a new character in the Fallout universe by any means. He'd previously been seen floating around, dishing out British-accented sarcasm and employing his buzz saw arm in Fallout 3. But when the designers of Fallout 4, the first Fallout game designed for the current generation of gaming consoles, got around to revamping him, they wanted to make him to feel real. That included redesigning the character from the bottom up, and creating a robot that could almost function in the real world.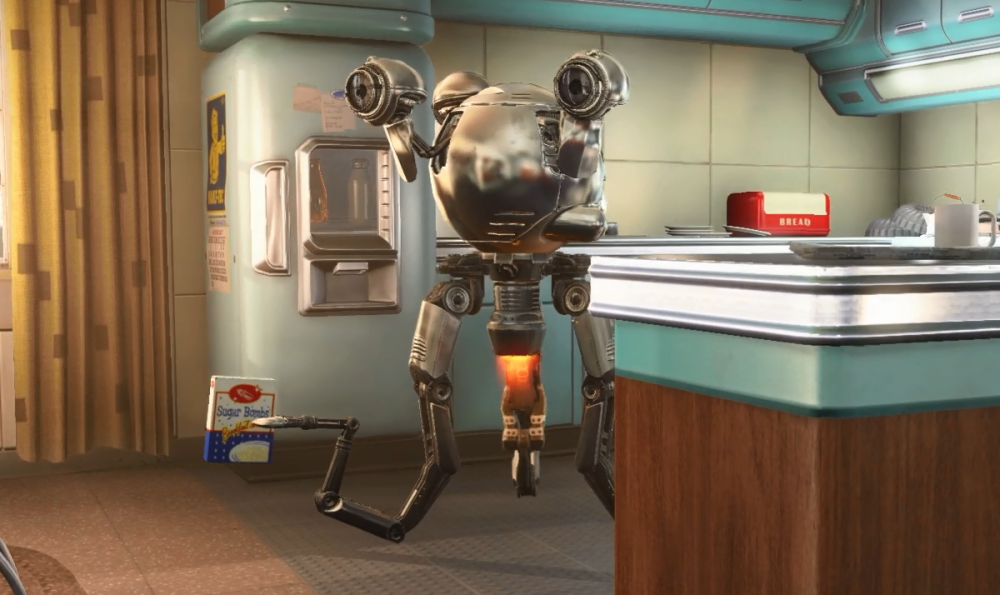 For Fallout 4 lead artist Istvan Pely and Mister Handy designer Dennis Mejillones making a Mister Handy robot named Codsworth, one of the first things that the game player sees, feel realistic was important to them for several reasons. The previous games had already set up some of the robo-butlers technology, like the silent, nuclear powered jet engine that allows him to hover in place, the multiple arms with a wide variety of tool attachments and of course the "humor emitter array" that has to be recharged between clever bon mots. Typically sci-fi video games don't need to explain how their technology would work in real life, but let's be real, nerds really like it when they do. And because game consoles are becoming so advanced, and the designers of Fallout 4 had room to include much more detail than in previous games, it became essential to make Mister Handy (named for all of his hands) as functional a robot as they could manage.
It turns out that designing a virtual robot is a lot like designing an actual robot, and that they face many of the same design challenges. The importance of the robot's structural design can't be downplayed; Mister Handy needed to be able to look as if he would really function or the illusion of realism would vanish. Considering how advanced robotics have become, if Mister Handy's arms didn't work the way real robotic arms work then it would be immediately noticed. So Mejillones turned to rapid prototyping to check his design, and after 3D printing all of the robot's parts to see how they would function a glaring design flaw became apparent.
"One of the most important aspects of it was functional. If this was built in the real world, how it would it work? There's a shoulder joint at the very top of one of his octopus arms, and it just wasn't structurally strong enough to hold, even in the 3D printed model. I had to rework how that joint works to increase its durability," Mejillones explained to Popular Mechanics.
So he went back to the drawing board and redesigned the weak arm joints, which required an overhaul of the entire robot to maintain the original look of the design. The Mister Handy robots designed for Fallout 4 aren't just a simple animated 3D model, they are a fully designed robotic device with hundreds of moving parts. The real world may not actually have things like nuclear batteries, but you better believe that Mejillones designed a spot in Mister Handy's complex 3D model where one would fit. That level of complexity wasn't just for show either, the game designers wanted realism, so if you need to use a handheld railgun to blow a Mister Handy apart, they wanted you to see all the parts and how they would fit together.
"I probably put in a hundred components. Quite a lot of parts in there. When you see this guy on the floor all ripped apart, it's really informing you on how these things are made. It's the kind of thing you don't really pick up on until you see him in pieces on the floor and you're like 'Oh my god. This thing has been constructed at a factory,'" Mejillones continued.
The 3D model was so detailed and realistic that when it came time for a life-sized Mister Handy to be made in the real world by Advanced Animations, the team that brought the Terminator robots to life at Universal Studios, they had half their work done for them. Of course a 3D printed model can only demonstrate so much of a real robot's functionality, so a lot more went into fabricating the six foot tall fiberglass and plastic replica.
"He floats, his arms move, his eyes move. He has a floating motion and some lighting effects. There's a dimmer on board for the thruster, there's a lot of good things about him. 'We had to try to figure how how to feed and support everything through the actual 3D model that we had. It's not like we could build something and then try to fit the covering over it to make it look like a robot. If we had that luxury, that'd be great but we never build a robot just to build a robot. We always have a robot and then everything has to fit inside," said Advanced Animations project lead for Mister Handy, Peter Stiebris.
Take a look at the working Mister Handy that was showed off at E3 2015:
The replica Mister Handy isn't real, sadly, but he uses some clever tricks to seem real. Including a hidden arm affixing him to the wall to sell the lighting effects that look like his hover engines, some good old fashioned sound effects and boring old electric-powered mechanics. And of course plenty of British sass really helps sell the illusion. All I know is that I better live long enough for real floating, buzz-saw armed robot butlers to be invented. But until then, I'll just have to buy Fallout 4 when it comes out on November 10th for Xbox One, Playstation 4, and PC.  What are your thoughts on this rather awesome 3D printed model?  Let us know in the Mister Handy 3D Print Forum thread on 3DPB.com.

And here is the trailer for Fallout 4 in case you haven't seen it yet:
Subscribe to Our Email Newsletter
Stay up-to-date on all the latest news from the 3D printing industry and receive information and offers from third party vendors.
---
Print Services
Upload your 3D Models and get them printed quickly and efficiently.