In my living room, I have sitting on my end tables two desktop 3D printers. Unfortunately this is the only area in my house where I have a place to put them. While these machines are a great conversation piece whenever I have guests over, I must admit that I'm quite embarrassed by the fact that I have two large pieces of machinery sitting in the living area of my home. Now, if these printers were portable — if they were able to fold up and be stored away — I would definitely have a more easy feeling about inviting guests over to my house.
The majority of 3D printers are large, clunky, and somewhat fragile machines. The idea of moving them back and forth between rooms, or in and out of a closet just isn't very feasible. We have seen several "portable" 3D printers come to market over the past couple years, but most are expensive or simply don't do what they say. This may be about to change though, with the new Afinibot Creality 3D printer now available at 3D Printers Online Store.
The new 3D printer kit features a decent size build volume of 130 x 150 x 100 mm and can print with a layer resolution of 100 microns. It is built with a sturdy aluminum and acrylic frame, and weighs just 4.9 kg (approximately 10.8 pounds). Best of all, it's priced at just $299 with even larger discounts available for higher quantity purchases.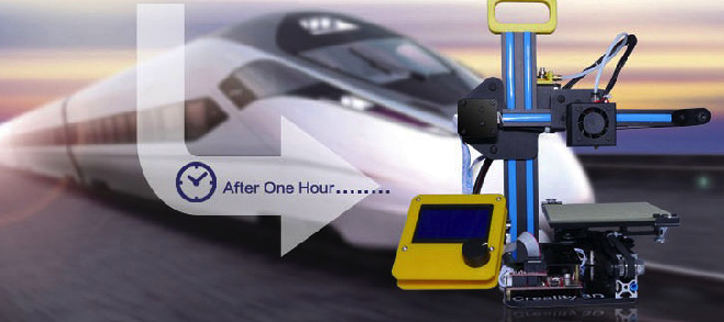 The machine is just one in a large line of 3D printers offered by 3D Printers Online Store, a vendor which prides itself on offering high quality 3D printers at very low prices.
"We are selling 3D printers for less margin of profit than other companies," Peter Smith, Founder of 3D Printers Online Store, tells 3DPrint.com. "You can find 3D printers almost equal to wholesale retailer prices. We prefer not to lose any customers."
The store takes extreme pride in ensuring that they have the lowest prices anywhere by offering a price match guarantee. On top of this very low price for the Afinibot Creality printer, they currently are offering several other highly discounted 3D printers as well.
As for the Afinibot Creality Portable 3D printer, you can find some additional specifications below:
Machine Size: 280 x 300 x 320 mm
Print Volume: 130 x 150 x 100 mm
Compatible Filament: PLA, Flexible Rubber (TPU) and Wood-Like Materials
Filament Diameter: 1.75mm
Nozzle Diameter: 0.4mm
Printer Speed: 40-120mm/sec
Print Plate: Glass, 135 x 165 mm
AC Input: 110-240V with Auto Adjustment
Extruders: Single
Connectivity: USB or SD Card
Software: Repetier-host, Cura
Supported File Format: STL, OBJ, Gcode
Printer Weight: 4.9kg
Warranty: 1 Year
It should be interesting to follow how well this printer sells, and if they elect to release similar products in the future. What do you think about the Afinibot Creality Portable 3D Printer? Do you think you would get use out of a 3D printer that is capable of being moved and stored away? Discuss in the 3D Printers Online Store forum thread on 3DPB.com. Check out the video of the printer below.
Subscribe to Our Email Newsletter
Stay up-to-date on all the latest news from the 3D printing industry and receive information and offers from third party vendors.
---
Print Services
Upload your 3D Models and get them printed quickly and efficiently.