Update: Thingiverse has removed the files after about 90 minutes, but not before over 115 individuals downloaded them
When the US State Department forced Cody Wilson to removed the design files from his website for the Liberator 3D printed single shot hand gun, this marked a turning point within several arenas. It showed us that gun control laws were outdated and that new technologies will continue to evolve in order to promote freedom, whether you are for or against it.
The forced removal of the files was a quick fix to an ever growing concern by the State Department. As Wilson is in the midst of a lawsuit claiming that the US government has violated his rights by their actions, the facts are that there are tens or even hundreds of thousands of individuals storing those files on their hard drive this very moment. Additionally, the files are certainly continuing to be shared, and without a doubt guns are being printed out all over the planet, based on Wilson's design.
Taking a glance back at history, we can see that it was impossible for the Recording Industry Association of America (RIAA) to make any major dent in the music file sharing explosion which took place a decade ago. In fact their actions likely exacerbated the problem by feeding those who were violating their copyrights with even more fuel to continue their violations. History can be an excellent crystal ball to the future, and in this case history will likely repeat itself. The State Department has their work cut out for them, as they can not police the entire internet, nor can they control or monitor what files individuals transfer to one another.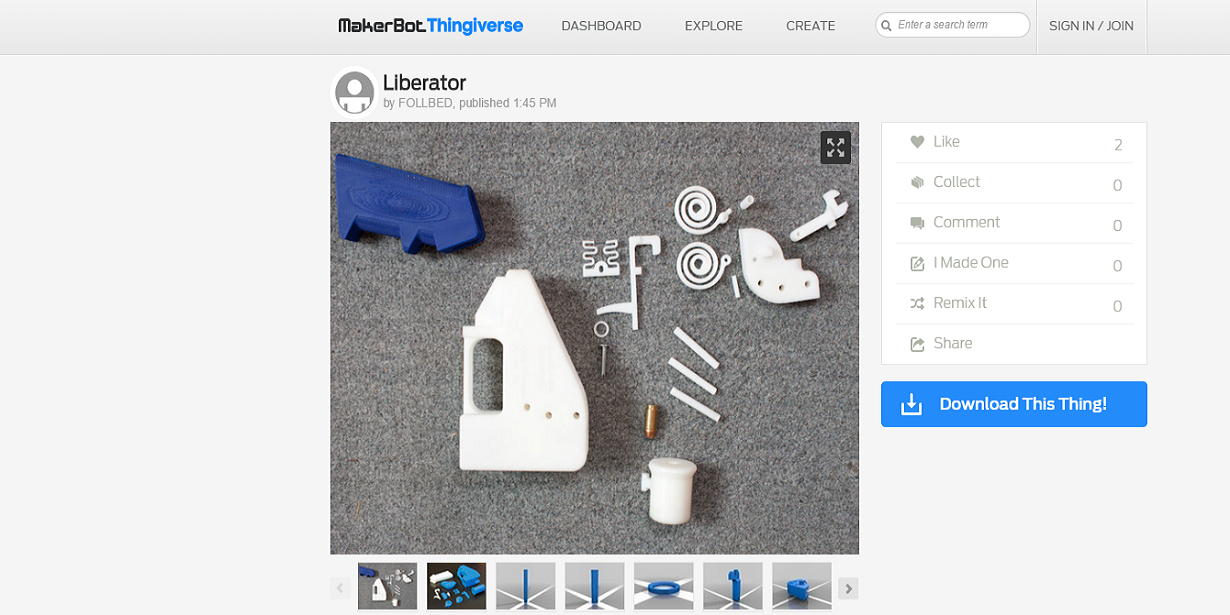 At approximately 1:48 PM EST an anonymous Thingiverse user uploaded all the files required to print out Wilson's Liberator gun. In under an hour the files were downloaded over 100 times, and despite the the upload clearly violating Thingiverse's terms of service, the files remain on the site and free to download for whoever wished to do so (Note that by the time you read this it's possible they will have been removed).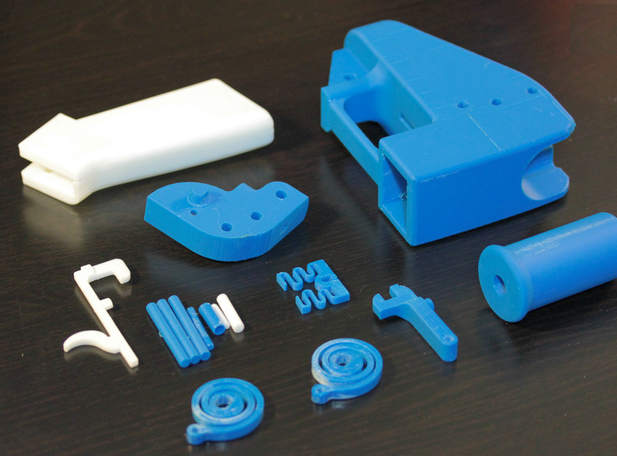 The files are the first that the user FOLLBED, who claims to be a man named Dino Popovic from the Czech Republic, has uploaded to the Thingiverse repository. Certainly the Stratasys-owned company will remove these files and likely ban the account which uploaded them, but when you have a system which allows uploads without a filter, this will continue to happen.
Although I appreciate what the State Department may be trying to do in protecting us from the crazies out there, it is difficult to make the case against the distribution of a set of files created by an individual under an open source initiative.
Have you downloaded these files? What are your thoughts on both the Government's and Wilson's stance on such file sharing? Let us know in the Liberator forum thread on 3DPB.com. As a disclaimer, by downloading and sharing any of these files you are clearly walking a tightrope where legalities are concerned. Downloader Beware!
Subscribe to Our Email Newsletter
Stay up-to-date on all the latest news from the 3D printing industry and receive information and offers from third party vendors.
---
Print Services
Upload your 3D Models and get them printed quickly and efficiently.