If you have a dog and a 3D printer, then perhaps you have experienced what I have. My dog is obsessed, not only by the printer itself, barking and growling at it as objects fabricate beneath its extruder, but also by every single object I print. For instance, yesterday my wife and I woke up with a half-chewed 3D printed model of ourselves at the foot of our bed. I usually try keeping the little fella away from my valuable 3D prints (at least they are valuable to me), but sometimes he gets into them and makes them his own toys.
Maybe there is a problem within the 3D design space, a problem that I'm certain my dog would agree exists. Maybe there just aren't enough 3D printable toys and games designed specifically for our canine friends. One talented design group from Zaragoza, Spain, called Empezando Diseño (in English: Beginning Design) and headed up by Beatriz P. Biel Aguilar, seems to agree with this assumption, as they have unveiled the files for a 3D printable game created specifically for dogs.
Empezando Diseño has published the design on 3D printing model repository Cults3D, and I have to say it's quite impressive. The purpose of the game is to help your dog develop its intelligence and behavior skills.
The way it works is quite simple. There is a round tray with 7 indentations in it. You will be required to place a dog treat in each of these 7 indentations and then cover each treat with one of several different 3D printed trinkets. Based on the trinket you use to cover each treat there will be a different skill
level required by the dog in order to retrieve the food. There are four levels available, which are as follows:
Large Rounded Piece: The difficulty level of this piece is ranked '0' by Empezando Diseño. It is large, has rounded edges, and is a breeze for most dogs to knock off of the treat, whether they use their mouth or another body part.
Roped Piece: The difficulty level of this piece is a '1'. Although its smaller than the rounded piece, it still protrudes considerably from the base and provides the dog with a loop to easily grasp with its teeth for removal.
Handled Piece: The difficulty level of this piece is a '2'. Although it is pretty much flush with the based when placed over a treat, there is a gap along one side of the piece to allow a dog to stick its face into the indentation and grab hold of it from one end.
Bone Piece (white): The difficulty level of this piece is a '3'. This piece is designed so that only a small portion lies outside of the indentation. A very skilled dog will eventually be able to remove this piece and retrieve their treat under it.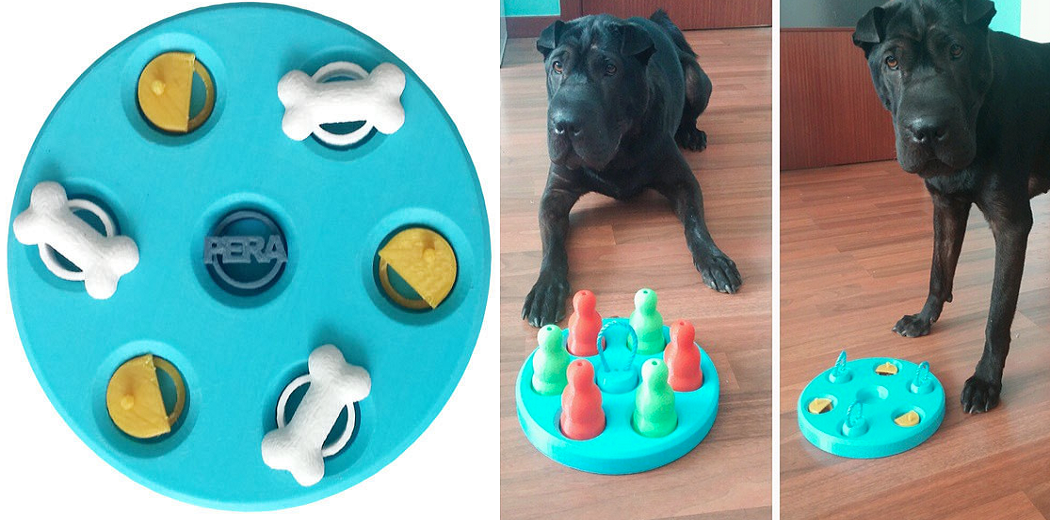 As for the base, it is light and moves easily on any floor, making it all the more difficult for canines to remove each game piece and get their rewards. The game is available in two sizes to suit different sized dogs, requires no support material, and the models can be downloaded off of Cults3D for just $8.95.
Let us know if you have downloaded and printed this out. How did your canine friend enjoys this 3D print created just for him/her? Discuss in the 3D Printed Dog Game forum thread on 3DPB.com. Watch Empezando Diseño's own dog master the game in the video provided below.
Subscribe to Our Email Newsletter
Stay up-to-date on all the latest news from the 3D printing industry and receive information and offers from third party vendors.
---
Print Services
Upload your 3D Models and get them printed quickly and efficiently.