Every four years we Americans have the privilege of voting in yet another presidential election, and no matter who ends up winning our votes, voters have already won in the simple fact that we were able to participate. The 2016 elections are rapidly approaching, and although the field has yet to completely emerge, we have a good idea of who the front runners will be for each party; Jeb Bush for the Republicans, and Hillary Clinton for the Democrats, despite her recent email controversy.
If you recall way back to 2008 when Barack Obama was running for President, there was a startup company called FCTRY, based out of Brooklyn, NY, and founded by Jason Feinberg and his wife Alyssa Zeller, who decided to create an Obama action figure. Within months they sold well over 150,000 toys, and garnered the attention of several major media outlets.
Here we are 7 years later, and Jason and Alyssa have just revealed their plans to make yet another action figure, this time one of Hillary Clinton. FCTRY has just launched a Kickstarter crowdfunding campaign where they seek to raise $15,000 to begin the mass production of their Hillary Clinton figurine. The couple hopes that the the action figures will become a national sensation like that of the Obama version, and ultimately help put Clinton back in the White House, this time as President.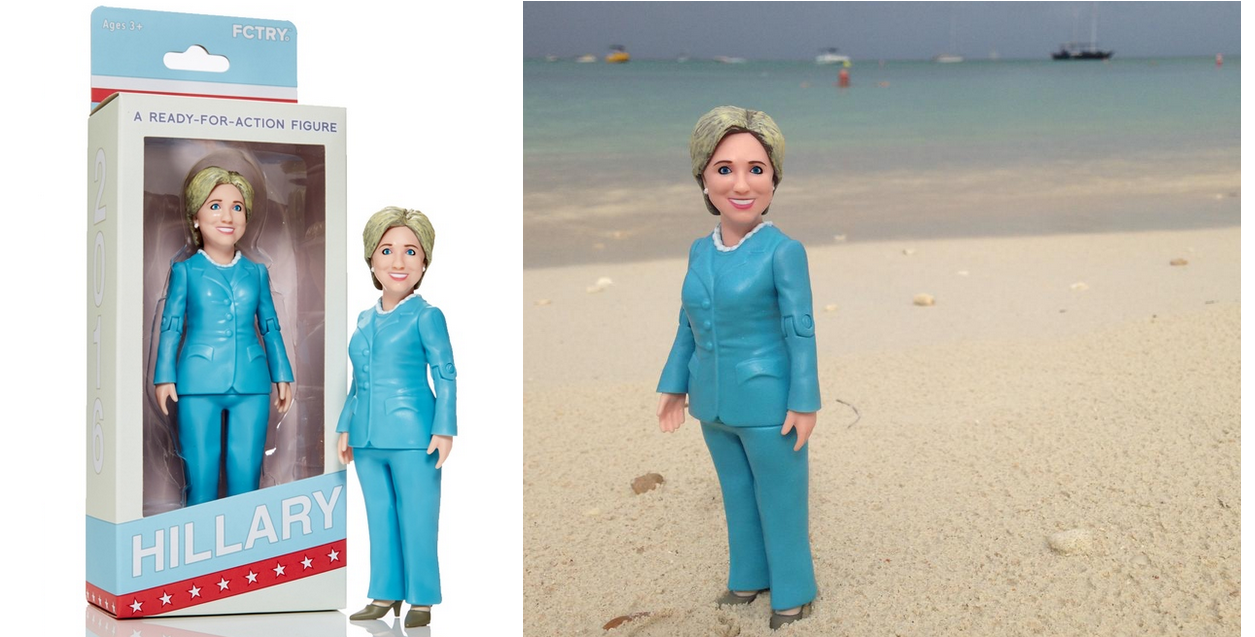 Jason and Allyssa have turned to renowned artist Mike Leavitt, who has been designing satirical sculptures in the form of action figures for years now. Leavitt has an incredible knack at creating life-like figurines via Zbrush and other CAD tools, like he has with this latest Hillary Clinton piece.
Once the design was finalized, Leavitt 3D printed a prototype, sent it off to FCTRY, and asked for feedback. Revisions were made and the process continued until a final design was chosen. At this point, at least for now, the work of the 3D printers was complete as FCTRY then sent the design off to get mass produced via an injection molding process.
As a means to help raise the necessary funding for mass production, Jason and Alyssa are offering rewards via their Kickstarter Campaign. For a pledge of just $1, they will send a postcard with your name on it directly to Hillary Clinton. For $15, you will receive one of the very first action figures released along with a postcard sent to Clinton. There are several pricier rewards as well, all which certainly will pique someone's interest.
What if you want the doll but can't afford or don't want to have to spend the $15? Well today is also your lucky day! FCTRY has partnered with desktop 3D printing powerhouse, MakerBot, to make the 3D model for the Hillary Clinton Action Figure available for free on Thingiverse for anyone with a 3D printer to fabricate from their home. The STL file is licensed under the Creative Commons – Attribution – Non-Commercial license, which will allow anyone to print the figure out for non-commercial uses.
FCTRY hopes that the action figure will not only help Hillary win the Presidency, but also act as an inspirational toy for girls and boys of all ages.
Let us know your thoughts on this Kickstarter campaign, the 3D printable action figure, and the upcoming election in general. Discuss in the 3D Printable Hillary Clinton Action Figure forum thread on 3DPB.com.  Check out FCTRY's Kickstarter pitch video below:
Subscribe to Our Email Newsletter
Stay up-to-date on all the latest news from the 3D printing industry and receive information and offers from third party vendors.
---
Print Services
Upload your 3D Models and get them printed quickly and efficiently.